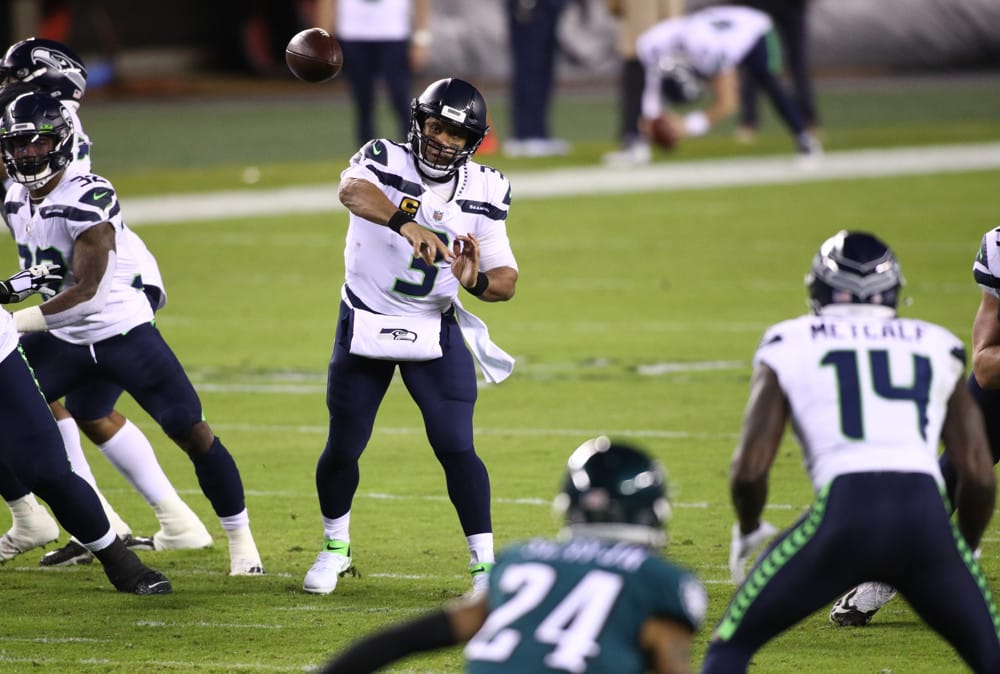 The Week 3 NFL Preseason games this weekend bring us a week closer to the first game of the regular season. Many coaches have opted to use the first two of the three games to evaluate bubble players desperate to make the final roster. Others have had their starters take a few snaps before turning the game loose to their backups. This final game is just as convoluted in strategy as the rest, but many coaches have already declared their intentions. If you've ridden the preseason ride this far, you already know the drill. Welcome to the last DraftKings breakdown of the preseason.
EXCLUSIVE SGPN FANTASY CONTENT
SGPN Fantasy Football Projections
2021 SGPN Fantasy Football Draft Kit
As is the case with any preseason contest, you are not necessarily looking to field starters. We have already seen several starters not even dress for their first two preseason games. Others have put on their uniform but never played a single down. The uncertainty of which starter will play and which won't is one you should avoid. Instead, it's wise to pay attention to practice reports, tweets, and other news out there.
Knowing which player could see more playing time in these games is crucial to cashing. This is especially now with three preseason games instead of four. This means coaches will have one less game to evaluate the bubble players and their rookies. Targeting these players can make for a profitable day if you choose the correct ones, which is the entire goal of this article. Here are some players to target as you build your DraftKings rosters. One thing you will notice is that all the players are priced exactly the same at $5,500. So, building your lineups is not so much about the salary cap, but the opportunity.
Week 3 NFL Preseason DraftKings Picks: Saturday 8/28
Russell Wilson (QB) Seattle Seahawks
Seattle will be rolling out its full complement of starters for their regular-season tune-up game. It will be the first time all preseason that we will see Russell Wilson take the field. It will also be the 2021 debut of D.K. Metcalf and Tyler Lockett. So far, the Seahawks' first unit has been cooling their heels watching backups fight for roster spots. In two attempts, those deep roster players have failed to win a game. One can only imagine how ready the starters are to finally step out into live game action after two weeks of pent-up energy.
Some pregame love for the 12s 💙@DangeRussWilson x #DENvsSEA pic.twitter.com/OSdumKmO2J

— 12s (@12s) August 22, 2021
Wilson will face the Los Angeles Chargers this week. It's not clear yet just how long Pete Carroll will leave his top talent on the field. It could be long enough to face the Bolts' defensive reserves. If that happens, it could lead to a couple of easy-scoring drives for Seattle. There are very few certainties in a final preseason game. Taking a chance though on the possibility that Wilson will get a couple of cracks at a second or third-string defense is worth at least some exposure this week.
Also consider: Trey Lance, Tom Brady
James Robinson (RB) Jacksonville Jaguars
Last week, Jacksonville's running game suffered a setback when Travis Etienne was injured against the Saints. While tragic for Etienne and his rookie season, the Jags are not left hurting at the position going into the 2021 season. They already have in their possession a rookie sensation that rushed for over 1,000 yards last season in James Robinson. Fantasy players love to chase after the next big thing, but Robinson is not even a year removed from being exactly that. So far this preseason, he's tallied only eight carries for 26 yards, but of course, that doesn't mean much.
This is a rebuilding Jaguars team but 'leadership' and 'motivation' are 2 words being used by some of their best young players: Trevor Lawrence, Rayshawn Jenkins & James Robinson.

Insight from Jags camp here with more coming on @NFLTotalAccess tonight. pic.twitter.com/HGCQQDUtOy

— Cameron Wolfe (@CameronWolfe) August 26, 2021
In their final preseason game, the Jaguars will be playing their starters. One would think that head coach Urban Meyer might hesitate to put his first team in harm's way after what happened to Etienne. The reports out of camp are to the contrary though and with Robinson now fully in control of the backfield, he'll need the reps. Coach Meyer has stated that he plays his guys until they look, "game ready." There is no guarantee that Robinson will need three or four drives to get there. Chances are though, he'll see enough action to make this a worthwhile Week 3 NFL Preseason DraftKings pick.
Also consider: Sony Michel, Ronald Jones
DeAndre Hopkins (WR) Arizona Cardinals
Arizona is among the teams this week that will be rolling out starters that have yet to see action this preseason. The team's official depth chart for this third week reveals that Kyler Murray will be leading the first team out onto the field against the Saints. Among those starting is DeAndre Hopkins who dominated the Cardinals receiving corps last season. He and Murray established a comfort level quickly which resulted in Hopkins achieving one of the best seasons of his career. Despite the lack of live reps so far this preseason, the chemistry is still there.
Football is a science.@ColtMcCoy x @DeAndreHopkins pic.twitter.com/4byOUrd2jw

— Arizona Cardinals (@AZCardinals) August 26, 2021
Final preseason game tactics certainly vary. That said, this one for Arizona should serve as a dress rehearsal for week one. Given the fact that the last two games have featured roster battles, the number ones should see a healthy amount of playing time. Part of that playing time is running the offense in full. In this circumstance, that means Hopkins should see plenty of targets in what could be an entire half of play. Even if he does only see one or two drives, one-third of Hopkins could be better than a full game of most backups.
Also consider: Marquez Callaway, Rodney Adams
Tanner Hudson (TE) Tampa Bay Buccaneers
The tight end position this preseason has been a wasteland. One of the only bright spots has been Tanner Hudson. In his two preseason outings, Hudson leads all tight ends in receiving yards and is the only one with over 100 overall yards. More than that, his 11 grabs are tied for first out of all pass catchers in total receptions. Last week, he led the entire team in both receptions (6) and receiving yards (74). He's clearly a focal point of the Tampa Bay preseason offense.
Tampa will be utilizing their starters in the final preseason game. It's possible this means Rob Gronkowski will see his fair share of action. Even still, Hudson has been involved enough so far to take a chance on him for your Week 3 NFL Preseason DraftKings rosters. No one else at the position has enjoyed as much success as he has so far. On the main slate this week, no other tight end offers sparks much confidence as does Hudson.
MORE FANTASY CONTENT
Fantasy Football Value Picks: Mid-Round Value Picks and Targets
SGPN Fantasy Football Cheat Sheets [PRINTABLE TIERS] – August 24 Update
Fantasy Defensive Outlook and One IDP Fantasy Player for all 32 Teams
Fantasy Football Injury Analysis: 5 Players to Avoid Drafting
10 Late Round Fantasy Targets: Fantasy Football Sleepers
Funny Fantasy Football Names 2021
Last Year's Fantasy Football Busts and their 2021 Outlook
Fantasy Football Draft Strategy: How to Draft with RB Zero
Fantasy Football Draft Strategy: How to Draft in SuperFlex