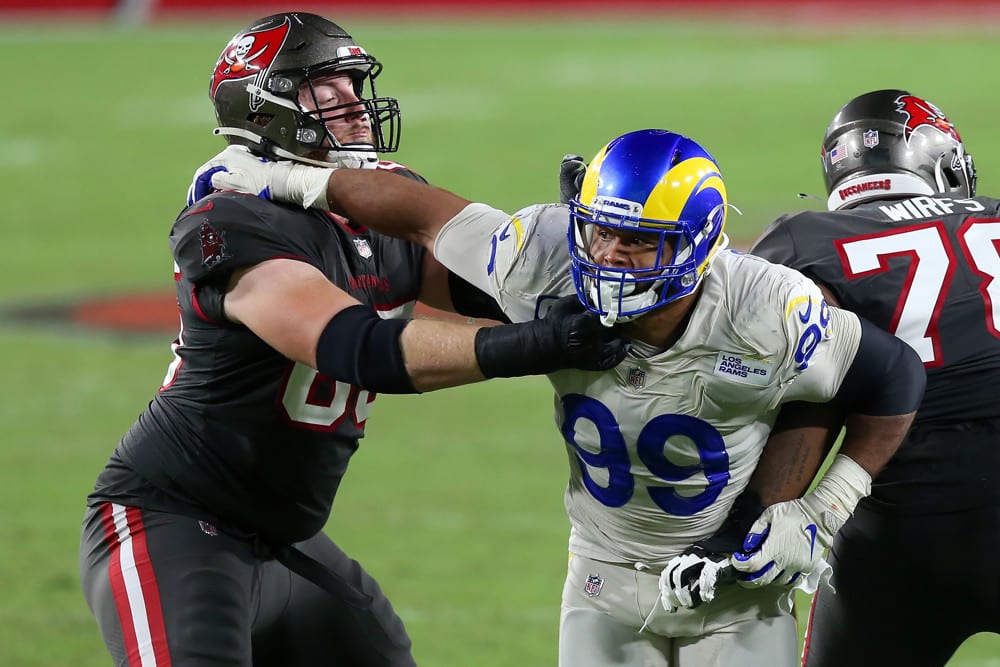 Los Angeles Rams – Best Bets 2021
2020 Los Angeles Rams Review
At 10-6 last year and with a win in the playoffs, you might expect the Rams to have had better than the 22nd most points for. They were the only team over .500 that failed to score at least 400 points over the course of last season. That, most obviously, had to do with their stingy defense, which allowed a league-low 18.5 points per game. The next best average in the NFC West was the Cardinals at 22.9 per game. While that discrepancy between their offense and defense was so large last year, you can expect it to be a bit less polar this season.

What's New for 21/22
With a receiving corps filled with talented stars like Cooper Kupp and Robert Woods, who were also joined by rookie Van Jefferson, there was really only one person to blame for the Rams' offensive woes. Unfortunately for Jared Goff, that is precisely what they did. They packaged the sixth-year veteran, along with two first-round picks and a third, in exchange for Matt Stafford. Stafford has always been a contender for passing yard leader, but with these targets, he should be even more impressive.
As if the passing game needed more of a boost, the Rams also went and signed Desean Jackson to a one-year deal. His injury history and the fact that he is already 34 years old make him kind of a question mark. However, with a low cap hit and with him being, at best, the #3 option, it is another nice off-season move for them.
Another big change to note for the Rams is the departure of their defensive coordinator, Brandon Staley. After a season like they had, it is no surprise that their crosstown neighbors, the Chargers, snatched him up to be their next head coach. While the defense looks mostly the same in terms of the depth chart, it'll be worth keeping an eye on how new hire Raheem Morris is able to manage the league's best defense.
Strength of Schedule
The strength of schedule for the Rams comes in at #10, just behind the Browns. They'll be playing an extra game on the road this year, as the added game unbalanced the schedule. If you get fired up for prime-time games, the Rams are probably going to be someone you see a lot of. They open on Sunday night with the Bears and also play another Sunday night game, one on a Thursday night, and two Monday night games. Nearly a quarter of their schedule will take place as a featured night game.
Season odds
Super Bowl +1500
NFC +750
NFC West +200
To Make Playoffs -200
Win Total o/u 10.5 +110
Last year's squad came a half win away from this win total. Even if we ignore all of the aforementioned additions that they made to bulk up their offense, they're adding another game this year. That alone with last year's team may be enough to get me to bite at this number. So when you factor those other aspects in here, I think they are a safe bet to get to at least 11 and hit the over.
Pick: Over 10.5 wins +110
If the Rams had not dropped their Week 16 tilt to eventual NFC West winner Seattle, they would have won the division themselves. They lost that game by getting virtually nothing going on the offensive side of the ball, managing just three Matt Gay field goals. Being that close and then making an addition like Matt Stafford, I think they make enough of a jump here to overtake the Seahawks and hold off the Niners.
Best Bet! Pick: Los Angeles Rams win NFC West +200

Los Angeles Rams Player Prop Bets
Most Passing Yards – Matt Stafford – +1000
In 2020 Matt Stafford put up 4084 passing yards while completing just over 64% of his passes. His best weapons at WR during that season were Marvin Jones and five games worth of Kenny Golladay. It would appear that he and the Rams receivers are a match made in heaven. In addition, he's incredibly durable, which is ideal for the 17-game season. With the exception of a quick blip in the 2019 season, Stafford has played every game for the last decade. Last year's passing leader, Deshaun Watson, has an unknown status and certainly won't play a full slate of games. I like Stafford to get a boost from his new guys and slide right into that #1 spot.
Pick: Most Passing Yards – Matt Stafford – +1000
Cooper Kupp Receiving Yards – o/u 1005.5
Last year, Kupp was just 32 yards away from this total as is. I feel like I'm beating a dead horse with the upgrade at QB, but it just makes such a huge difference here. Not to mention that Kupp only played 15 games last year and will get a chance at 17 in this season. It seems like a no-brainer to take the over here. The only hesitation on this line would be if you're concerned about his reported knee bursitis and other knee issues from last year. Those seem to be behind him, so that doesn't scare me away from this number at all.
Pick: Cooper Kupp Receiving Yards – over 1005.5 -130
Fantasy
You have to be enthused about a lot of their offensive weapons this year in fantasy. Woods and Kupp already featured as players that I target, but then you give them someone with a pedigree like Stafford to get them the ball. The change under center has bumped their ADP up quite a bit from where it had been in previous years. Woods now averages being drafted at #38 and Kupp at #45. I still like those numbers for them and wouldn't mind a late fourth-round reach for Kupp.
The only Rams offensive player I'm not loving at their current ADP is TE Tyler Higbee. It's not that Stafford ignores his TE – in fact, he had Darren Fells as a top 15 TE two years ago and TJ Hockenson in the top 5. However, I think the targets that the deeper threats are going to command are ultimately going to detract from his production.
Draft: Matt Stafford, Cooper Kupp, Robert Woods
Fade: Tyler Higbee
Good Luck!