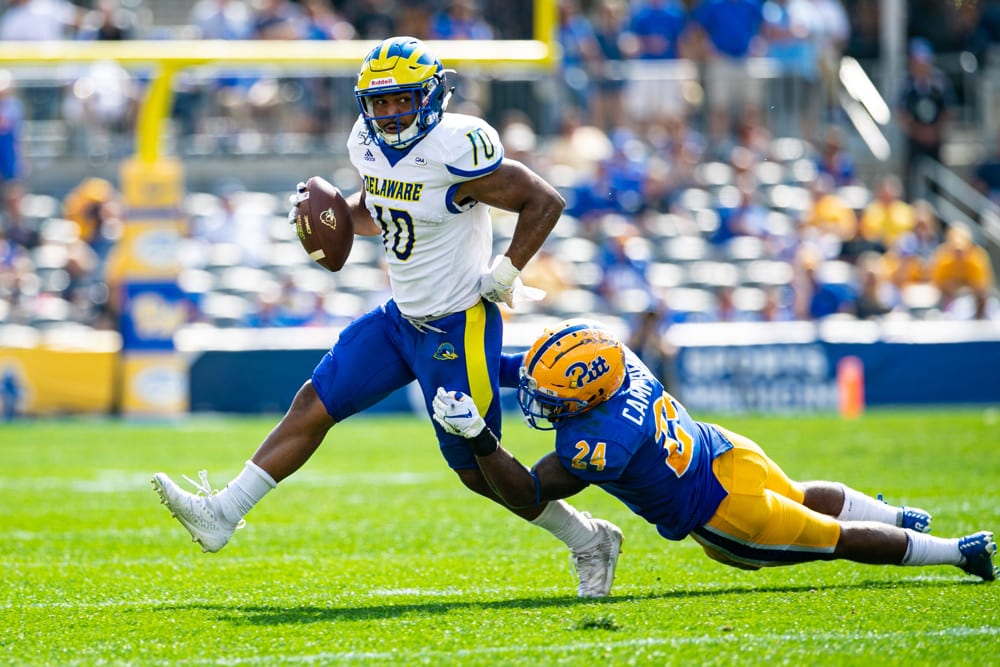 Welcome to the FCS Semifinals and your playoff setups and best bets. I'm a sucker for the little guy. The one who is given little to no chance to compete, let alone to win. It's because of this that I have scouted picks for you centered around that theme. It's usually easy to bet on the favorite. It takes skill and guts to bet on the dogs. Plus, it always feels better to win those bets in the end.
Here are two underdog picks that should have you happily cashing when the dust settles. Lines are provided thanks to our friends at PointsBet. If you want more betting action on top of these games make sure you check out PointsBet. There you can find the rest of the FCS games and much more. Plus, like we always do, we've got the hook up with a sweet deal. To find out what that is, you'll just have to click.

FCS Playoffs Semifinals Predictions: Top Underdog Bets
Who: Delaware Fightin' Blue Hens at South Dakota State Jackrabbits
When: Saturday, May 8th 9AM PDT ESPN
The Overview
The first game of the FCS Playoffs Semifinals pits two seven win programs against each other. The only difference between their records though, comes in a single loss for the Jackrabbits. South Dakota State's only blemish this season came early on in their matchup with North Dakota. Since then, they have won their last six games, including both playoff contests to get here. As for Delaware, the Blue Hens are undefeated in 2021. They enter the week with four wins and no losses in enemy territory where they'll find themselves again this weekend.
Last week, Delaware held off #4 Jacksonville State to advance while South Dakota State rallied in the second half to beat Southern Illinois. These two programs have only met each other once in their history back in the 2010 season. That day, the Blue Hens walked away with a 26-3 home win.
The Matchup
South Dakota State will lean as it has all season on its powerful rushing attack to lead the way. Between junior running back Pierre Strong, freshman running back Isaiah Davis, and their freshman quarterback Mark Gronowski, the Jackrabbits literally live up to the name. The three combined account for 1,771 of South Dakota State's 1,910 season rushing yards. They also have all 16 of the touchdowns by way of the ground game. In last week's win against the Salukis, Gronowski led the charge with his legs and his arm. He threw for 183 yards and two touchdowns while running for a team-leading 142 yards and another score. The Jackrabbits are no slouch defensively as they have allowed only two teams to score more than 25 points against them.
Delaware has relied all season on the leadership and the right arm of redshirt junior quarterback Nolan Henderson. He enters his semifinal matchup with 1,340 passing yards and 10 touchdowns. There hasn't been much running support for him this season. The 555 rushing yards this season from redshirt senior running back Dejoun Lee may seem great. Peel back farther though, and you'll find that almost half of them came in his 221 outing against Rhode Island. Henderson led the way last week in the Blue Hens' win against the Gamecocks. He threw for 239 yards and rushed for another 30. His play set up Delaware for both of their short rushing touchdowns. On defense, the Hens have held their opponents to just over 11 points per game. The squad also has 16 sacks and 11 interceptions to its credits.
It's been a fun ride for the Jackrabbits, but the Delaware defense should do enough to allow Henderson and company to win this FCS Playoffs Semifinals game.
The Pick: Delaware Moneyline
---
Who: James Madison Dukes at Sam Houston Bearkats
When: Saturday, May 8th 11:30AM PDT ESPN3
The Overview
The cream has certainly risen to the top of the FCS playoff bracket as two unbeatens clash in this matchup. Sam Houston has charged their way into the FCS Playoffs Semifinals in impressive fashion beating all eight of their 2021 opponents. Equally as impressive is the Spring James Madison has enjoyed. The Dukes sit with seven straight wins, no losses and a #1 ranking in the nation heading into Saturday's contest. These two programs are meeting for only the second time in history with JMU beating the Kats 65-7 in 2016.
The Matchup
Last week, Sam Houston sent the defending FCS champions of the last three seasons home when they beat North Dakota State 24-20. The Bearkats jumped out to an early lead only to watch it slip away in the second half. Late in the game, the Kats redshirt junior quarterback Eric Schmid ran the ball in for a six-yard touchdown to take the lead. Their defense stopped the Bison on fourth down on the next drive to hold on for the win. Schmid is far and away the focal point of his offense. Last week was another example of this as he led the team in rushing with 36 yards to go with his 227 passing yards.
He leads an offensive that is no stranger to points. The squad has had games where they've scored 71, and 62 points. Their defense has been stingy against the run not allowing a single rusher to reach the 100-yard mark in the last 19 games.
James Madison has fought their way through cancellations and postponements to get to the postseason. They've outplayed their opponents with a tremendous defense that has 48 tackles for a loss, 18 sacks, and 10 interceptions on the season. Their offense starts with redshirt senior quarterback Cole Johnson. He has thrown for 1,362 yards and eight touchdowns this Spring. He and freshman wideout Antwane Wells continued their season-long chemistry by connecting for two touchdowns in the Dukes' win against North Dakota last week. Senior running back Percy Agyei-Obese punched in two runs for scores as well. James Madison has limited their opponents well this season allowing only the Fighting Hawks to eclipse 20 points.
Sam Houston will ride the momentum of a hard fought battle against the 2019 FCS champions and will win this FCS Playoffs Semifinals game outright.
The Pick: Sam Houston Moneyline
---
Related Content
FCS College Football Final Four (Ep. 1002)
College Football Picks
College Football 2021 Surprise Teams & FCS Playoff Recap | The College Football Experience (Ep. 648)