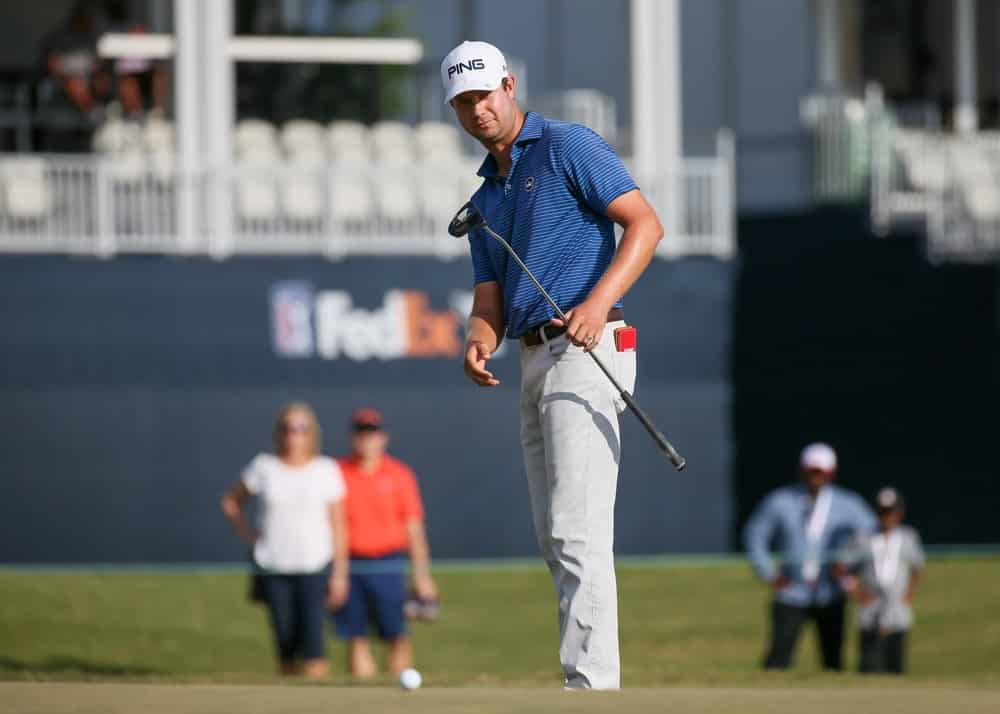 For those who missed it, please check out the 2020 3M Open Preview and Betting Strategies column  for the types of golfers you should look to target for your bets.
With that in mind, here's who I like this week at TPC Twin Cities (with odds courtesy of MyBookie.ag).
Champions Futures (with Top 10 Prop Odds)
Russell Henley – 30/1 (+300): While I have some concerns about the putting and the short game, there are not many guys in the field striping it as well as Henley. Since the PGA Tour returned Henley has gained 1.78 strokes off the tee and with his irons, which was a big reason why he recorded a Top 10 at the Workday Charity Open. Henley also is incredibly accurate off the tee and tends to avoid big numbers on the scorecard, two important attributes to have on a golf course with so many hazards on it.
Harris English – 35/1 (+300): There probably isn't a better-rounded golfer in the field than Harris English. Since the PGA Tour returned, English has gained about 0.75 strokes in both ball striking and on and around the greens, indicating he's firing on all cylinders. This trend isn't just a short term fluke either, as it lines up with his long term trends this year too. In a weak field, English is in position to grab his first win since 2013.
Brendon Todd – 50/1 (+450): Brendon Todd has already won twice this year on the PGA Tour and is angling for his third. While the iron play is a little suspect right now, he's very accurate off the tee, doesn't make a lot of big mistakes on the scorecard and has one of the best short games and putting on the PGA Tour. We know he has the upside to win, which makes his 50/1 price appealing this week.
Henrik Norlander – 55/1 (+500): Norlander is going to be a trendy pick because of his recent form, but the 55/1 price on him to win this week is still pretty reasonable. Norlander has gained 0.9 strokes with his ball striking over his last four tournaments, one of the strongest clips in the field. He also is very accurate off the tee and has been riding a hot putter. Against a weak field, this could be his week.
Others to Consider (with Top 20 Prop Odds):
Ryan Moore – 60/1 (+250): The recent results don't look pretty, but Moore had a very good final round at the Memorial. In tough scoring conditions he gained 2.57 strokes tee-to-green on the field, one of the best showings of the day. Moore is very accurate off the tee and doesn't make big mistakes on the golf course, and if his putter shows up he could claim victory.
Ryan Armour – 70/1 (+330): Armour hit a speed bump at Muirfield Village with a missed cut at the Workday Charity Open, which snapped a two tournament streak of Top 10 finishes. Armour's accuracy off the tee and his suddenly hot putter should put him back into contention with an outside shot at a victory.
Pat Perez – 110/1 (+450): It's been a while since Perez has been in contention for a victory but he's shown certain attributes over the last few weeks that give some promise. He's putt well since the PGA Tour returned, and has had a few tournaments where he demonstrated good iron play. He's also fairly accurate and doesn't make a lot of mistakes on the scorecard. The problem is he hasn't been able to square all of this in the same tournament, which has produced some mediocre performances. Nevertheless, the pieces are there and if he puts it all together he has the upside to win.
Other Positional Props
Paul Casey Top 10 (+220): The problems with Casey are simple – everything he gains off the tee and with his irons is given right back up with his short game and putting. This year Paul Casey has gained just under 1.5 strokes off the tee and with his irons, only to give up 1.1 shots around and on the greens. At some point that has to regress towards something at least average. In addition, he wasn't as bad as the results last week indicated. He made a mess on Hole No. 12 in the 2nd round and took an 8 on the scorecard, which was the sole reason why he missed the cut. Call it a hunch his consistency tee to green gives him a big edge on the field, however his deficiencies with his short game should limit his ceiling to a Top 10 finish.
Lucas Glover (+150) and Doc Redman (+200) Top 20: These two are very popular picks this week, and it's easy to see why. Both players are demonstrating some awesome ball striking at the moment. My hang-up with each, however, is I simply don't trust their short game or putting enough to make me want to invest in a futures bet to win the tournament, or even have a Top 10 finish. As hot as both of them are to the masses, they only have two Top 20 finishes between them since the PGA Tour returned. Given the weak field this week, I like both to record another Top 20, but that's about as far as I'll go with them.
Other Top 20 Props to Consider – Troy Merritt (+300), Chase Seiffert (+450), Chesson Hadley (+500), Austin Cook (+600), Tim Wilkinson (+1400)
Missed Cut Props
Brooks Koepka – +270: I love Brooks Koepka. He's made me a ton of money over the years, especially in the majors. But his game just isn't right at the moment and I don't see how this week will be any different. He continues to find trouble off the tee, is striking his irons inconsistently and reportedly the knee hasn't got any better even after the off season surgery. I'm not really sure why he's playing this tournament, especially given he'll likely play the next two weeks at places he'll be looking to defend wins. In any event, I don't see either his peak form or his mental focus in it this week, and I think it will be a short appearance at TPC Twin Cities.
Others to Consider – Carlos Ortiz (+170), Wyndham Clark (+120)
Matchup Props
Tommy Fleetwood -155 vs. Brooks Koepka: Piggy backing off the Koepka discussion above, I like a returning Tommy Fleetwood to beat Koepka head to head this week. There's a lot more juice on this matchup prop than I'm comfortable with, especially because Fleetwood is coming off a long layoff. Yet, TPC Twin Cities seems to fit an accurate and consistent player like Fleetwood is. The floor Fleetwood presents this week is probably higher than Koepka's ceiling, which is why Tommy should beat Brooks one on one.
Troy Merritt +105 vs. Charley Hoffman: While neither excite me all that much this week, the more accurate Merritt is much less likely to put himself in bad spots off the tee than Hoffman is at TPC Twin Cities, reducing the chances he'll put up big numbers on the scorecard. Merritt's ball striking has also been a little better than Hoffman's over the last few tournaments, and he should best him head to head.