This week, bettors once again are faced with the challenge of a limited sample size to determine what types of golfers to bet on, as the PGA Tour takes it's second trip to Minnesota for the 3M Open at TPC Twin Cities.
Here's everything to know about the 3M Open before placing any wagers on it.
The Field
With a WGC next week and the PGA Championship the week after that, the 3M Open unfortunately drew the short stick as most major players are planning on skipping the event. After being spoiled the last two weeks with star studded fields, this week's leaderboard will surely see a lot of unfamiliar names to most casual fans.
Headlining the field are two struggling stars in Brooks Koepka and Dustin Johnson. Brooks' struggles continued last week at Muirfield Village as he searches to find some form ahead of defending both his WGC FedEx and PGA Championship titles. He also apparently is still dealing with a balky knee. As for Dustin Johnson, he went from hero to zero last week, finishing next to dead last at Muirfield Village in his first start since winning the Travelers.
Another name of note in the field this week is Tommy Fleetwood, who makes his first start on the PGA Tour following the restart. Fleetwood had opted to remain in Europe as the COVID-19 pandemic raged around the world, and this will be his first start worldwide since the Arnold Palmer Invitational.
Other notable players in the field this week include Tony Finau, Matthew Wolff, Paul Casey, and Bubba Watson. Other than the already mentioned names, however, this field is mostly made up of middle to lower tiers of players on the PGA Tour.
For the full field, click here.
The Golf Course
TPC Twin Cities was first opened in 2000 and was designed by Arnold Palmer with consultation from Tom Lehman, Minnesota's favorite golfer. The property was once a sod farm, and Palmer and Lehman transformed it into the current 18 hole layout. The greens at TPC Twin Cities are bentgrass, run about 12-12.5 on the stimpmeter (slightly faster than average) and don't have very complex undulation to them.
It wasn't long before the golf course hosted a professional event, as it became the home of the 3M Championship for the Champions Tour until 2018. With the reshuffling of the schedule and the PGA Tour's desire to move more tournaments to bigger markets, this year's 3M Open took the place of The Greenbrier on the schedule and made its debut for the PGA Tour in 2019.
Let me first start by saying something nice about TPC Twin Cities. Like almost all golf courses in the TPC network, it is in immaculate condition. The greens are in excellent shape, there's no dead spots in the fairways or rough, and the bunkers are smoothly raked with soft sand. Though TPC golf courses can be a bit of a burden on the wallet, one can expect fantastic course conditions for the amount of money someone forks over for a round or a membership.
With that said, TPC Twin Cities is an absolute catastrophe of golf course design.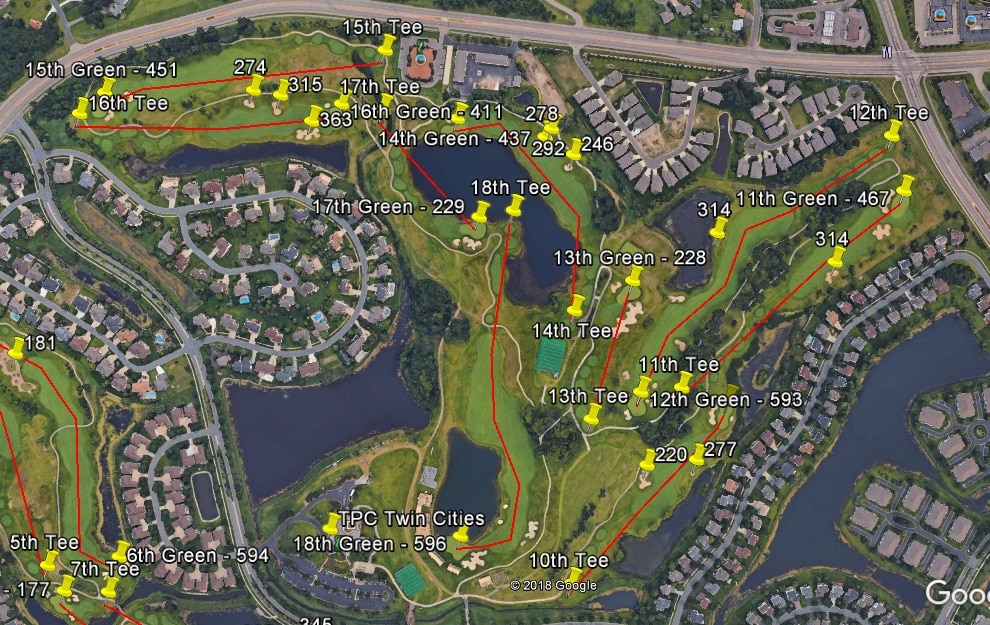 If EA Sports gave an 11 year old a two liter of Mountain Dew and asked them to design a custom golf course for one of the Tiger Woods video games, the output would be TPC Twin Cities. "Oooooo, let's put a water hazard here! And let's put a bunker here! And look, here's another giant water hazard over here. MOAR BUNKERS! Can I put the Metrodome in the middle of the 12th fairway?"
Seriously, this golf course is a complete overindulgence of hazards and a huge mess tee to green for several holes. There's absolutely nothing natural about the golf course itself. Don't believe me? Here's what the property looked like before they broke ground.
In all, 12 of 18 holes on the golf course brings water into play off the tee or on the approach shot. There's nothing wrong with strategically placed water hazards or bunkers to challenge players. But the manner in which they're placed at TPC Twin Cities seems with more of the intention of showing off and peacocking instead of placing them in a strategic fashion.
Worse off, there's a lot of placement of bunkers where they just don't make any logical sense. There are a few holes on the golf course that feature fairway bunkers where only a gross misshit off the tee is capable of putting it into play. For example, the 1st hole features a fairway bunker that requires a 256 yard carry from the back tees (where the pros will play it) and only 198 yards to carry from the blue tees (where most mid handicappers will tee it up from).
Only a poor tee shot will bring this bunker into play, which leaves one to wonder why Palmer and Lehman are doubly punishing a poor tee shot on this hole? That bunker would be much better served up the fairway or on the opposite side where the landing zone widens up. This issue can also be seen on holes 3, 6, 10 and 14, where there are bunkers off the fairway that are only accessible by poor tee shots that doubly penalize a player.
Nonsensical bunkering can also be found on Hole No. 7, supposedly a drive-able Par 4:

The official yardage on the scorecard from the tips is 381, but I suspect they'll move the tee boxes up to give an incentive for someone to try and drive for the green. But for us mere mortals who often have a 50/50 shot of either hitting a good drive or a snap hook off the tee, why would anyone try and go for the green with the way this hole is set up? Not only is it a big carry over the water hazard down the left side, but players also have a huge bunker 40 yards short of the green one would have to carry as well. There's also a large bunker short right guarding the green, as well as fairway bunkers hugging the entire right side. In order for us common folk to drive the green, you'd have to hit almost a perfect right to left tee shot to fit perfectly down the narrow neck of the fairway to avoid all the water and sand down the hole.
I'm sure the good folks of Minneapolis are proud of this golf course. It's in great shape and they probably take pride in how tough it is on us mere mortals. But just because a golf course is "tough" doesn't mean it's good. If you're reading this and are a mid to high handicapper, you probably would be pretty hard pressed just to break 100 with all the trouble on each hole. Who really wants to sign up for that while also forking up a ton of money for a private membership there and knowing you could lose an entire box of Titlist Pro V1's anytime you play 18.
With all that said, last year's 3M Open delivered one of the most exciting finishes on the PGA Tour in 2019:
Betting Strategies
Like the Rocket Mortgage Classic a few weeks back, bettors are faced with the task of trying to figure out if what they saw last year is a good road map to follow before placing bets. And also like the Rocket Mortgage Classic, the incredibly weak field means bettors will have to try and make leaps of faith on mostly average to mediocre players.
To start, let's look at what worked last year at TPC Twin Cities in terms of the importance of skill sets and how scores were dispersed on the leaderboard:

Both these charts tell pretty much the exact same story – ball striking tee-to-green was incredibly important. Scores overall were driven at an above average clip through performance off-the-tee (primarily through accuracy) and with iron play, with a lack of emphasis  in scrambling and putting. One might think that the incredibly low scores seen in 2019 would make this week's tournament a putting contest, but because the golf course has so many hazards off the tee and is very soft it's those who avoid trouble and are able consistently hit it in close proximity to the hole are the ones who should shine.
It's also important to note that these figures above are very closely correlated to those that were important at Muirfield Village. If anything, this event will probably resemble that of the Workday Charity Open in terms of how players end up towards the top of the leaderboard. Ball striking will be king and help bettors find the guys they want to bet on, and the winner of the tournament should be around -20 for the week.
The problem is that this field is littered with mediocre to poor ball strikers on the PGA Tour. As such, it's important to try and find diamonds in the rough and lean more on short term trends with their ball striking than long ones. Otherwise, it'll be hard pressed to find anyone to like.
Lastly, the golf courses that most closely correlate to TPC Twin Cities in terms of the importance of relative skill sets are Innisbrook, Sea Island, TPC Deere Run, TPC River Highlands, TPC Southwind and Muirfield Village. Players in the field this week with great histories on these golf courses include Dustin Johnson, Paul Casey, Bubba Watson, Jason Dufner, Charles Howell III, Ryan Moore, Brian Harman, Scott Brown, Nick Watney, Charl Schwartzel, Austin Cook and Chris Kirk. That doesn't necessarily mean to target these players, but presents a prototype of the types of players who should play well at TPC Twin Cities.