Hello, my fellow fantasy football freaks. Over the last month or so we have been going division by division answering the biggest FF questions for every team. In case you have been too busy not watching sports, not going out, and not having any fun, this is the summary. Be sure to check out the column for each division which goes into much greater depth than provided here. Happy drafting!
NFC East
See full column here.
1. Can Daniel Jones make a second-year leap?
Team: New York Giants
The Giants will be playing from behind a lot and Jones has an opportunity to put up a lot of yards and touchdowns. He'll need to cut down on the turnovers, improve his accuracy and hope for better play from his O-line to reach his fantasy capacity. If everything goes well, he'll break into the top 15 fantasy QB's. He's not yet full-time starter material, but as a backup, I am targeting him in later rounds in all formats.
2. How productive will the Eagles WRs be?
Team: Philadelphia Eagles
Jalen Reagor will have a solid rookie season and be the #1 almost by default. I expect about 50 catches for 700 yards and 5 TD's. I worry about DeSean Jackson and his age and injury history. The third receiver (whether it's Ward, newly acquired Marquise Goodwin, or someone else) won't be fantasy relevant.  As with the last couple years in Philly, it will be more about the TE's than the WR's.
3. What should we expect from CeeDee Lamb?
Team: Dallas Cowboys
Lamb will have a decent rookie campaign. His stats could closely resemble Randall Cobb's last year (55 catches for 828 yards and three TD's) with the possibility of a few more touchdowns. However, as expected for a rookie WR on the Cowboys, his current ADP is much too high for me. I'll steer clear unless he unexpectedly slips.
4. How productive will Dwayne Haskins be?
Team: Washington Redskins
Haskins started 7 games last year and struggled mightily. As a Redskins fan, I never wanted to draft the dude and I haven't been proven wrong yet.  This year, new coach Ron Rivera will rely on his defense and ask his quarterback to limit his mistakes. Washington does not have the skill players around Haskins to make him look good and the game plan should be conservative. Avoid at all costs.

NFC North
See full column here
5. How will Stefon Diggs departure affect the Vikings offense?
Team: Minnesota Vikings
I'd expect a career high number of targets for Thielen this year (somewhere around 170) and I think he has a chance to put up 1,200-1,300 yards and 8-9 touchdowns. While Thielen may benefit from Diggs' departure, it will hurt the overall passing attack and Kirk Cousins' fantasy potential. His yardage will stay stagnant while his touchdowns drop and interceptions increase. This moves Cousins down from around the 15th ranked QB closer to the 20th.
6. Which Bear will get the majority of snaps at QB?
Team: Chicago Bears
At this point, most depth charts still have Trubisky starting over Foles. However, for fantasy purposes, Nick Foles is the QB to own. If Trubisky gets the initial nod, it's really a matter of when, not if, he screws it up and they turn to Foles. Especially given his familiarity with the offensive coaching staff, Foles can be productive. Keep him on your radar. In leagues with deep rosters, he's worth a stash.
7. Other than DeVante Adams, who's going to catch some passes for Aaron Rodgers?
Team: Green Bay Packers
I'd go with Allen Lazard. With another year under his belt, and with the expectation that Lazard is firmly entrenched as the #2 behind Adams, I'd expect him to increase his catches by 15 balls which would result in another 225 yards and a couple more touchdowns. I'd say a final stat line of 50 catches for 700 yards and 5 TD's is in play with an even higher upside possible. I like Lazard as a deep sleeper this year.
8. Who will emerge from the crowded Lions backfield?
Team: Detroit Lions
The split could be 60% DeAndre Swift and 40% Kerryon Johnson. Swift is the running back to own especially in PPR leagues where he's is expected to catch more passes. However, since the NFC North column was released, I've tempered expectations a bit. I'm now projecting 750 rushing yards, 300 receiving yards, and a combined 8 TD's for Swift. Johnson will get 550 on the ground, another 150 through the air, and 5 TD's. The RBBC here limits the potential for both.

NFC South
See full column here
9. How much gas does Todd Gurley have left in his tank?
Team: Atlanta Falcons
Gurley is an improvement over DeVonta Freeman but don't expect his #'s to look anything like they did a couple of seasons ago. I don't trust his knee and I don't trust the offensive coaching staff to emphasize the run game. I expect Gurley's stat line to resemble his 2019 numbers with a few less TD's. I'll spend my 2nd or 3rd round pick elsewhere and if he reverts to the RB he once was, I'll be the first to admit I was wrong.
10. Is Tom Brady a top 10 fantasy quarterback?
Team: Tampa Bay Buccaneers
Yes. Depending on your league and it's scoring, TB12 probably finished somewhere between the 12th and 15th best QB in 2019. While Brady may be 42 years of age, he is now on an offense loaded with playmakers and coached by QB-friendly Bruce Arians. Brady's passing yardage should be in the low to mid 4K's while his TD's should reach the high 20's.  Sign me up.
11. What should we expect from Emmanuel Sanders?
Team: New Orleans Saints
With all due respect to Ted Ginn and Tre'Quan Smith, the Saints haven't had a legit #2 threat since Bradin Cooks or Willie Snead. Emmanuel Sanders's 2020 stat line should fall in between what Cooks did in 2016 and what Snead did in 2015, maybe 72 catches for 1,000 yards and 6 TD's. Sanders is squarely on my radar and I figure I can get him fairly late in drafts. I'm buying big time on Emmanuel Sanders this year.
12. What kind of numbers will Teddy Bridgewater put up?
Team: Carolina Panthers
I've always liked Teddy B and I believe he has a chance to have a solid season in Carolina. He is firmly entrenched as the starter and this team could be better than expected. There are a lot of unknowns with this team, but I feel good about Bridgewater as a backup fantasy QB (in deeper leagues) and you should be able to get him dirt cheap. I'm buying.

NFC West
See full column here
13. Is DK Metcalf in store for a huge second year?
Team: Seattle Seahawks
I'm bullish on DK Metcalf. This is the year when he begins to separate from Tyler Lockett. Lockett is a fine receiver who I have nothing against, but Metcalf could be a superstar. Just wait for his craft to catch up with his raw skills. Metcalf will have more targets, yards, and TD's this year than Lockett.
14. How will the SF backfield split carries?
Team: San Francisco 49ers
Looking at last year's stats it's fairly easy to see that Raheem Mostert was more effective with his touches than Tevin Coleman. The overall rushing game might regress slightly but Mostert and Coleman should absorb most of Breida's carries and yardage. I expect Mostert's stat line to be around 900 yards and 9TD's and Coleman's to be 700 yards and 6TD's. I've been seeing Coleman getting drafted slightly ahead of Mostert and I disagree. Give me Mostert over Coleman.
15. Is it RBBC in LA and who's the primary?
Team: Los Angeles Rams
Sean McVay knows the Rams need to run the ball better. A lot of it will depend on better offensive line play but they need a running back to step up as well. Although this is a situation to monitor in the preseason, Cam Akers should lead the Rams in carries, yardage, and TD's by year end. Malcolm Brown and Darrell Henderson haven't shown me much so Akers will get the opportunity. We could see 750 yards and 8TD's on the ground and another 250 yards and a TD through the air. High upside here as well. I'm buying.
16. What should be expected from the Kyler Murray to DeAndre Hopkins connection?
Team: Arizona Cardinals
With the addition of a true #1 receiver and with a year under his belt, Murray will improve from a top 10 QB to a top 5 QB. The great thing about Murray is his rushing yards provide a high floor. As a passer, he should improve in his second year. I'd expect his yardage to increase to around 4,200 and his touchdowns to 26 or 27. Kyler is a top 5 QB in 2020.
Hopkins will also be a WR#1, again, of course. He should catch over 100 balls, amass over 1200 yards and score at least 8TD's which would be a slightly better year than 2019. Pencil him in easily as a top 10 WR with a top 5 ceiling. He should be the 3rd to 5th receiver taken off the board.

AFC East
See full column here
17. Can Le'Veon Bell bounce back from a subpar 2019?
Team: New York Jets
I'm calling for Bell to get back over 1,000 yards with about 8TD's and similar receiving stats from last year. He'll be a top 15 fantasy running back this year and a nice RB2 especially in PPR formats. I'm buying Le'Veon and rolling the dice that he still has some productive years in him.
18. How good is Tua Tagovailoa as an NFL QB?
Team: Miami Dolphins
I expect Ryan Fitzpatrick to start initially and lead the Fins for at least the first 1/3 of the year which obviously limits Tua's season long fantasy production. Eventually Tua will see the field and with his running ability, he should have some nice fantasy outings. It's not a bad play if you can get him late and stash him on your bench. He also has some real appeal in best ball formats and of course, keeper leagues. However, I'm concerned that his ADP will be way too high for me in redraft leagues especially if the hype train continues to gain steam. I'm passing on Tua in 2020.
19. What should we expect from Stefon Diggs in Buffalo?
Team: Buffalo Bills
The Bills passing game should improve this year and a reasonable expectation should be 500-600 more yards and 5-6 more touchdowns which would put them in the top half of the league in both categories. Diggs should rack up about 900 yards and 6-7 touchdowns while John Brown and Cole Beasley take a back seat to Diggs and their production declines. Diggs is a low-end WR2 but a high-end WR3. If you are expecting more production, I don't see where it comes from.
20. Can Cam Newton be CAM NEWTON again?
Team: New England Patriots
Well, with the signing of Cam Newton things have certainly changed since I wrote the AFC East column on June 18th. Like most, I was not high on Jarrett Stidham and the addition of Newton all but squashes any value Stidham had this coming year.
Yeah, he's got the flashy name, was once an NFL MVP, and is now on the Patriots, but I'd temper my expectations. This isn't going to be 2015 again where he threw 35 TD's and ran for another 10. New England still suffers from the same issues Brady faced the last couple of years: average at best weapons at the skill positions. Plus, with Newton's injury history who knows how long he can stay healthy and how much extra fantasy points he can get with his legs. He's intriguing in best ball formats but only a QB2 in standard leagues.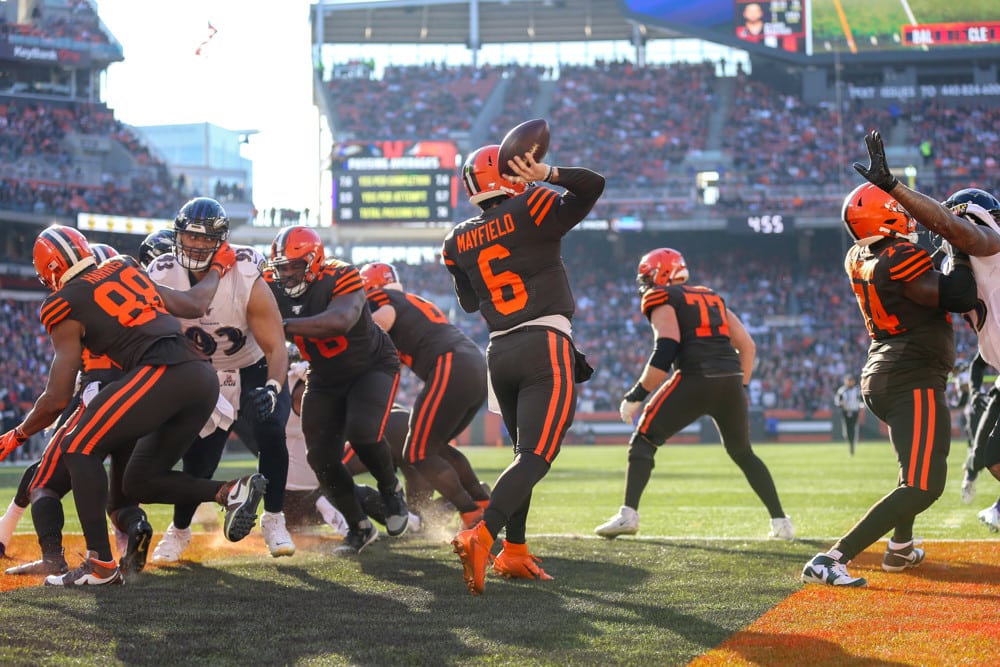 AFC North
See full column here
21. Can Baker Mayfield put together the year he was expected to have in 2019, in 2020?
Team: Cleveland Browns
Call me a sucker for Baker Mayfield but I believe he'll have a bounce-back year in 2020. Freddie Kitchens was way over his head as a head coach. Replacing him with Kevin Stefanski, the former Vikings offensive coordinator, can only be a positive for the Browns offense. Plus, this is an offense loaded with top notch skill position players. Mayfield will be drafted as a backup but will finish as a top 15 QB with a chance of cracking the top 10. That's QB1 range in most leagues.
22. Question: Can James Conner get back to RB1 status?
Team: Pittsburgh Steelers\
It might be as simple as James Conner needs a healthy Ben Roethlisberger in order to perform respectively from a fantasy perspective. If that's the case, I don't have a lot of faith in the 38yr old to play a full season. There's too high of an injury risk with both Roethlisberger and Conner to have faith in the Steelers running game this season. I'm passing on James Conner this year at his current ADP.
23. Can Joe Burrow be a starting fantasy QB?
Team: Cincinnati Bengals
Joe Burrow is my favorite rookie QB to own this year. He's the most pro ready and he's the only guy who will be given the reigns on Day 1. He's got weapons at his disposal but needs better play from his offensive line. Cincy is a bad team that will be down early and often. They will throw frequently and if Burrow can just get a little bit of time, he can make some plays. Expect close to 4,000 yards and 20TD's. He's more attractive in best ball leagues where you can ride the ups and downs of a rookie QB. He's got a bright future (if the Bengals don't screw it up) but only a QB2 this year.
24. Can JK Dobbins be fantasy relevant in 2020?
Team: Baltimore Ravens
Dobbins seems to be everyone's favorite RB sleeper this year. While I can appreciate the reasons why, it's just too crowded of a backfield to expect big time production in 2020. There's a reason why Baltimore drafted JK, but Mark Ingram and Gus Edwards will still receive plenty of work. Dobbins will get his feet wet in 2020 with heavier workloads in future years. I'm passing on him in 2020 at his current ADP in redraft leagues but love his potential in keeper leagues.

AFC South
See full column here
25. What are Ryan Tannehill's fantasy prospects for the coming year?
Team: Tennessee Titans
Last year, Tannehill threw for 2,742 yards and 22 TD's to only 6 INT's in 11 games of football or an average of 250 yards and 2TD's per game. Those stats extrapolated over a full 16 games would place the veteran QB inside the top 12 for passing yardage and inside the top 5 for passing TD's. I'm buying shares of Ryan Tannehill in 2020. You can draft him late and he could be a top 15 QB. I'd love him as a backup or your QB2 in leagues where you start two QB's.
26. How will the backfield carries be divvied up in 2020?
Team: Indianapolis Colts
While Jonathan Taylor has a high ceiling, Marlon Mack is a pretty damn good RB himself and the two are destined for an even time share.  I'd expect 800-900 yards and 8 TD's for Taylor and 700-800 yards and 6TD's for Mack. This is a situation where you hope one of the backs gets injured so the other can be a lead dog. Both will be effective but the even split limits their potential. I wouldn't over-invest in either.
27.What can we expect from the passing game minus DeAndre Hopkins?
Team: Houston Texans
I'm not very high on the Texans wideouts as it appears Bill O'Brien is going for quantity over quality. Cooks is the only guy that has WR#1 history but was his disappointing 2019 an aberration or a sign that he's lost a step? Will Fuller has shown glimpses of promise but is injury-prone and most likely a better supporting guy than a #1 wideout. Randall Cobb is entering his 10th season and his best years are behind him.
While I'm down on the wideouts, I'm still a DeShaun Watson guy and especially if other owners are scared off due to the Hopkins departure. As long as Watson can stay heathy, he'll still put up big numbers. He should be going a few rounds after the first 4 or 5 QBs which provides value if you are looking at drafting a QB that early.
28. What can we expect from a young and talented wide receiver corps?
Team: Jacksonville Jaguars
The one bright spot on this Jacksonville team might be the wide receiver unit. The Jags return their top 4 wideouts from a year ago and bring in second round draft pick, Laviska Shenault. Plus, this year it will be the Gardner Minshew show after proving himself quite well as a rookie.
I'm high DJ Chark this year as I expect his catches, yardage and TD's all to improve slightly compared to last year. I would be very pleased with him as my WR2. The addition of Chenault takes away balls from the rest of the WR's. I'm fading Conley, Westbrook only has limited value in PPR leagues, and Chenault is only worth a pick in keeper leagues.

AFC West
See full column here
29. Can Courtland Sutton emerge as a WR1 this year?
Team: Denver Broncos
Yes. Sutton will catch 10-15 more balls for 150 more yards and a couple more TD's compared to last year. That's pretty darn close to WR1 numbers. He will outproduce his current ADP and I'm targeting him in all formats. With the departure of Emmanuel Sanders, Sutton is the clear cut #1 target for Drew Lock and this Broncos offense. I'm expecting much better production from the Broncos passing game this year as well. They should easily throw for at least 600 more yards and 8 to 10 more TD's and Mr. Sutton will be the primary recipient of the extra offensive output.
30. Is Josh Jacobs a top 5 fantasy RB?
Team: Las Vegas Raiders
Nah, let's not get crazy here, no hot takes from me. Josh Jacobs is a fine running back but barring big time injuries at the position, he will finish outside the top 5. In PPR it might even be outside the top 10. He's got the talent but his situation on the Raiders limits his potential. The Silver and Black only had the 24th ranked offense last year and it doesn't project to be vastly improved. Plus, Jacobs doesn't offer much in the passing game. I'd expect about 1,250 yards on the ground and 10 TD's. A nice season, but not top 5.
31. How will the QB situation unfold and who will be fantasy relevant?
Team: Los Angeles Chargers
I'm a Tyrod Taylor fan and I expect him to hold off Justin Herbert for at least a good portion of the season. Herbert will be the last of the 3 rookie QB's drafted in the top 10 to receive playing time. Furthermore, I have doubts whether he'll ever develop into a franchise QB. While he has all the measurements, he often stumbled when on the biggest of stages in college football. I like Taylor as a backup and in best ball leagues. You can pick him up on the cheap and he'll provide you with quality production. I'm buying Tyrod Taylor and I'm avoiding Justin Herbert.
32. Can Clyde Edwards-Helaire be an RB1 in 2020?
Team: Kansas City Chiefs
Edwards-Helaire is already projected atop the depth charts in KC but don't expect him to be a bell cow. The backfield will be a timeshare mostly between him and Damien Williams. While the rookie's pass catching abilities seem to make him a perfect fit in Andy Reid's offense, a shortened preseason will pose challenges. We could see Williams getting more work early in the season while Edwards-Helaire gets his feet wet and eventually takes over.
I expect 700 yards on the ground, another 500 in the air, and 8 TD's. His ceiling is a low-end RB1 but RB2 is more likely with greater upside in PPR, best ball and keeper leagues. I've been seeing some mock drafts where people are reaching for the rookie in the mid 2nd round. I love Edwards-Helaire as a 3rd rounder just don't reach up too far for him.