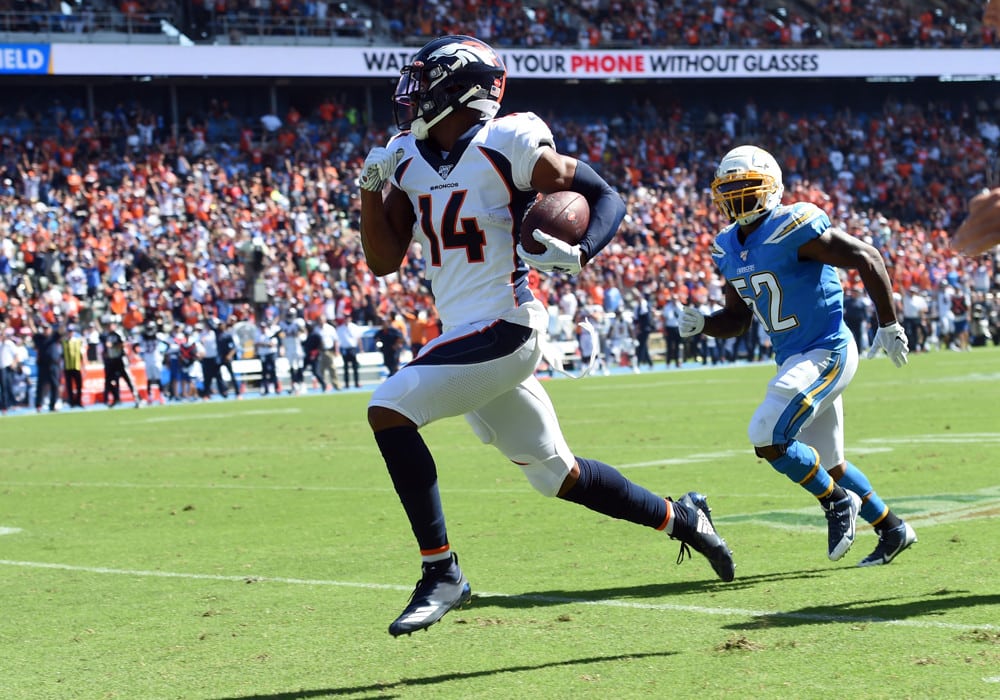 Last but not least, it's AFC West time! Check out the NFC East, NFC North, NFC South, NFC West, AFC East, and AFC North, and AFC South if you missed them.
Team: Denver Broncos
Question: Can Courtland Sutton emerge as a WR1 this year?
Most fantasy rankings have Courtland Sutton ranked around the 20th WR (or as a WR2). On the surface, this would appear accurate for a guy who caught 72 balls (tied for 30th most in the league) for 1,112 yards (19th most) and 6 TD's (tied for 24th most) a year ago. Certainly not mind-blowing stats deserving of a WR1 status, right?
While that may be accurate for last year, I'm here to project this coming season and there's a lot to be excited about. First, last year the Broncos had Joe Flacco start 8 games, Brandon Allen start 3 games, and rookie Drew Lock start the other 5. Not exactly the QB situation of every wide receiver's dreams. This coming year it will be the Drew Lock show and entering his second year, he appears ready to make a giant leap.
In addition to a stable quarterback position, the Broncos traded Emmanuel Sanders midway thru the 2019 season. It was obvious that the emergence of Courtland Sutton made Sanders expendable. The result is Courtland Sutton is firmly entrenched as the Broncos #1 receiver and top target for the young QB to grow with.
Denver had the 28th ranked passing offense last year and only threw for 16 touchdowns (dead last in the league). I'm expecting much better production from the Broncos offense this year. Denver should easily throw for at least 600 more yards and 8 to 10 more TD's and Mr. Sutton will be the primary recipient of the extra offensive output.
I predict Sutton will catch 10-15 more balls  for another 125-150 yards and a couple more TD's in 2020. That's pretty darn close to WR1 numbers. I'm all over Courtland Sutton this year. He will outproduce his current ADP and I'm targeting him in all formats. Yes, he can be a WR1, expect a big 2020.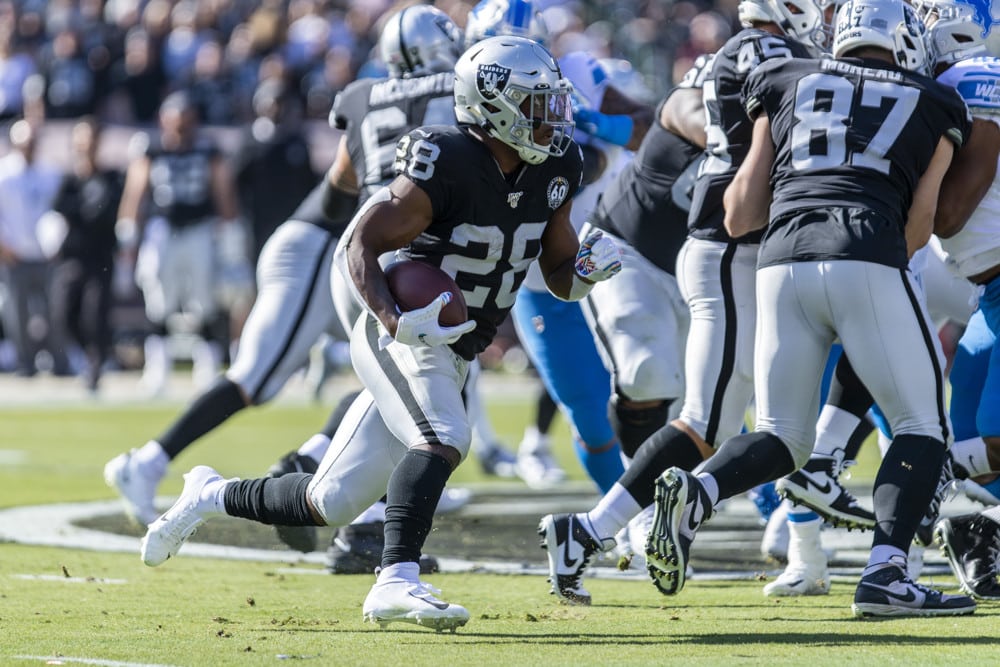 Team: Las Vegas Raiders
Question: Is Josh Jacobs a top 5 fantasy RB?
In his rookie campaign, Josh Jacobs showed he belonged, running for 1,150 yards (7th most for RB's) and 7 TD's (tied for 14th) with a solid Y/A of 4.8 (tied for 9th best) in only 13 games. All 6 RB's ahead of Jacobs in yardage played at least 2 more games. If the Alabama RB can stay healthy during his second season, he should be in store for more big time production.
Most fantasy rankings have Josh Jacobs somewhere between the 7th and 10th highest RB this year. It feels like the top 6 in some order will contain McCaffrey, Elliott, Barkley, Henry, Cook, and Kamara. If Jacobs is going to finish in the top 5, who can he leapfrog here?
First, there are a couple factors that are not in Jacob's favor. The Raiders only had the 24th ranked offense in 2019 and the QB and WR positions are still liabilities.  I'd be surprised if we see expanded offense production this year.  In contrast, all of the aforementioned RB's play for offenses that ranked higher than the Silver and Black.
Second, Jacobs needs more production in the passing game if he's going to ascend up the rankings. Last year, he only caught 20 balls for 166 yards. The Raiders use Jalen Richard (36 catches for 323 yards) as their primary receiving RB and it doesn't appear that will change this coming season.
Can Jacobs finish inside the top 5?  Nah, let's not get crazy here, no hot takes from me. Josh Jacobs is a fine running back but barring big time injuries at the position, he will finish outside the top 5. In PPR it might even be outside the top 10. He's got the talent but his situation on the Raiders limits his potential. I'd expect about 1,250 yards on the ground and 10 TD's.  A nice season, but not top 5.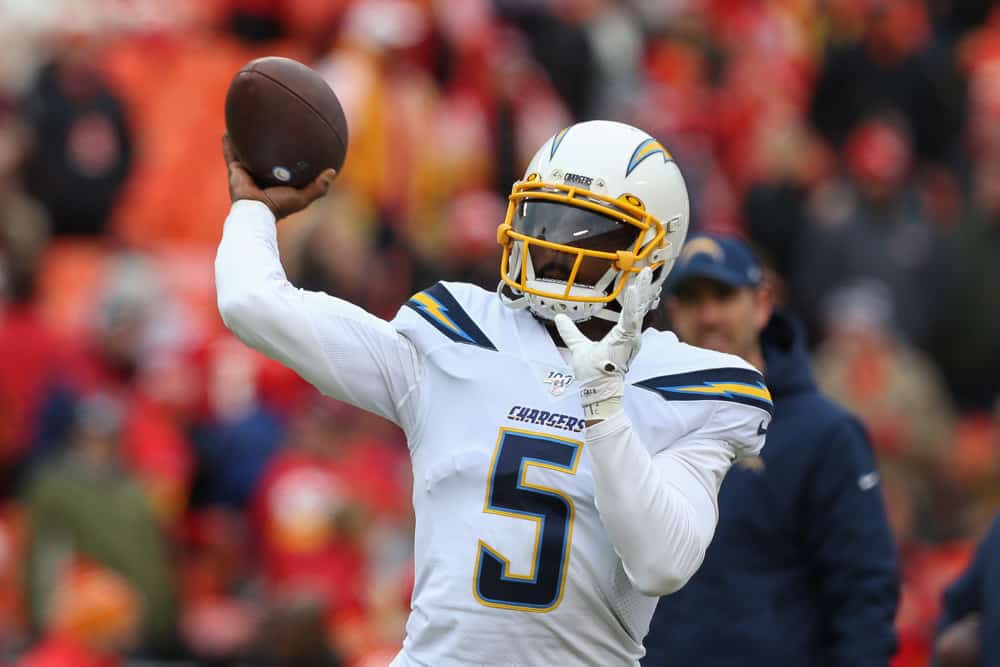 Team: Los Angeles Chargers
Question: How will the QB situation unfold and who will be fantasy relevant?
I'm a Tyrod Taylor fan. He's been an effective QB everywhere he's been under center. As a starter in Buffalo for the majority of 3 seasons, he had a 22-20 record which isn't too shabby considering we're talking about the Bills. I expect Taylor to get the nod to start the season. The bigger question is how long he can hold onto it?
The Chargers have a week 10 bye this coming year. While the first 9 weeks (shown below) include a couple tough road games and a home game against the defending Super Bowl Champions, it's fairly manageable overall. There's a real chance the Chargers could be 5-4 or 6-3 going into the bye. If Tyrod is playing good football and the Chargers are in playoff contention, it could be awhile before we see Justin Herbert.  I expect Herbert to be the last of the 3 rookie QB's drafted in the top 10 to receive playing time.
The Chargers actually have a pretty solid supporting cast too. The glaring weakness the last couple of years was a terrible offensive line and Bryan Bulaga and Trai Turner have been brought in to help solidify it.  Plus, the mobility of Tyrod Taylor is a bitter fit than the statue-like, Phillip Rivers. There's also talent all over the skill positions and if the defense is healthy, they can be formidable.
I have major question marks concerning rookie QB Justin Herbert. While he has all of the measurements a team desires in a franchise QB, he often stumbled when on the biggest of stages in college football. I will not be targeting the rookie in any fantasy drafts this year. In contrast, I like Taylor as a backup and in best ball leagues. You can pick him up on the cheap and he'll provide you with quality production.  I'm buying Tyrod Taylor and I'm avoiding Justin Herbert. 
Team: Kansas City Chiefs
Question: Can Clyde Edwards-Helaire be an RB1 in 2020?
Last year, KC had the 5th best offense in the NFL and that was with Patrick Mahomes missing a couple starts due to an injury. However, the Chiefs only totaled the 23rd highest amount of rushing yards in the league. Damien Williams led the team with almost 500 yards while LeSean McCoy, Darrell Williams, Darwin Thompson, and Spencer Ware all pitched in to varying degrees. Although Damien Williams ran for over the century mark in the Super Bowl, Andy Reid appears hesitant to make him the lead dog. Thus, enter first round pick Clyde Edwards-Helaire into the mix.
Edwards-Helaire is already projected atop the depth charts in KC but don't expect him to be a bell cow. The backfield will be a timeshare mostly between him and Damien Williams. The most intriguing aspect about the rookie is his ability in the passing game. Last year at LSU, in addition to running for over 1,400 yards and 16 TD's, he caught 55 passes for 453 yards. It's not hard to see why he could be a perfect fit in the KC offense.
While a perfect fit on paper, Edwards-Helaire will face some challenges. With the recent news of the NFL cutting the amount of preseason games in half, it will be an uphill battle for all rookies to be ready for the season opener. Pass protection is always an area of concern for rookie running backs. While there's nothing exactly special about Damien Williams, he's a rock-solid veteran who won't make many mistakes. We could see him getting more work early in the season while Edwards-Helaire gets his feet wet.
Overall, I expect a nice year from Edwards-Helaire. We could see 700 yards on the ground, another 500 in the air, and 8-10 TD's. That's a low-end RB1, high-end RB2 with great upside in PPR, best ball and keeper leagues. It's easy to see why he has such a high ceiling:  the lead back on one of the beast offenses in the league who also catches passes. However, I've been seeing some mock drafts where people are reaching for the rookie in the mid 2nd round. I love Edwards-Helaire as a 3rd rounder just don't reach up too far for him.