Although every NFL offseason is chock full of fantasy football question marks, it seems like 2020 takes it to the extreme. Whether it's new starting quarterbacks in new places, the annual coaching carousel, or Covid related issues (when will the season start, how will the preseason be handled, etc) there's a lot to digest and project before we all start drafting. For the record, I may have already completed a couple of best ball drafts, but I digress.
So I'm here to lend a helping hand. Over the next few weeks, I'll go division by division highlighting the biggest fantasy football question marks per team. First up is my beloved NFC East (I have the unfortunate displeasure of being a Redskins fan).
RELATED
10 Biggest X Factors for 2020 Fantasy Football Rankings
Team: Philadelphia Eagles
Question: How productive will the WRs be?
The 2019 Eagles wide receiver unit was such a complete disaster you had to almost feel sorry for Carson Wentz. Alshon Jeffrey, who only played in 10 games due to injuries, led all receivers with 43 catches for 490 yards and four TD's. Nelson Agholor, who only played in 11 games due to injuries, was finished second best with 39 catches for 363 yards and three TD's. Free agent signing DeSean Jackson also only played in three games due to injuries. Other receivers to log significant playing time (Greg Ward, JJ Arcega-Whiteside, Mack Hollins, and others) were largely ineffective.
Fast forward to 2020, it's late May and the receiver depth chart is still uncertain. We know that Nelson Agholor left via free agency to join the Las Vegas Raiders and that DeSean Jackson should be back. However, at 33 years of age, exactly how effective Jackson will be remains to be seen. The main question mark surrounds Alshon Jeffrey and if he'll return. It has been expected by many that he could be released after June 1st due to health concerns and speculative tension between Jeffrey and Wentz.
Going into the NFL draft, help at the wide receiver position was a necessity and the Eagles snagged TCU's Jalen Reagor with the 21st overall pick. Reagor is 5-11, 206 pounds and projects as the deep threat playmaker that Philly desperately needed in order to open up the field. The question is if Reagor can step in and become the #1 on day one, which has to be the expectation.
That leaves us with the question of how productive the Eagles receivers will be this year. In 2018, Philly's top three receivers (Jeffrey, Agholor, and Golden Tate) caught a total of 159 balls for 1,857 yards and 11 TD's. As eluded to earlier, these #'s dropped to 110 catches for 1,107 yards and eight TD's in 2019. I believe 2020 will more closely resemble 2018 than last year. Reagor will have a solid rookie season and be the #1 almost by default. I worry about DeSean Jackson and his age and injury history. The third receiver (whether it's Ward, newly acquired Marquise Goodwin, or someone else) won't be fantasy relevant.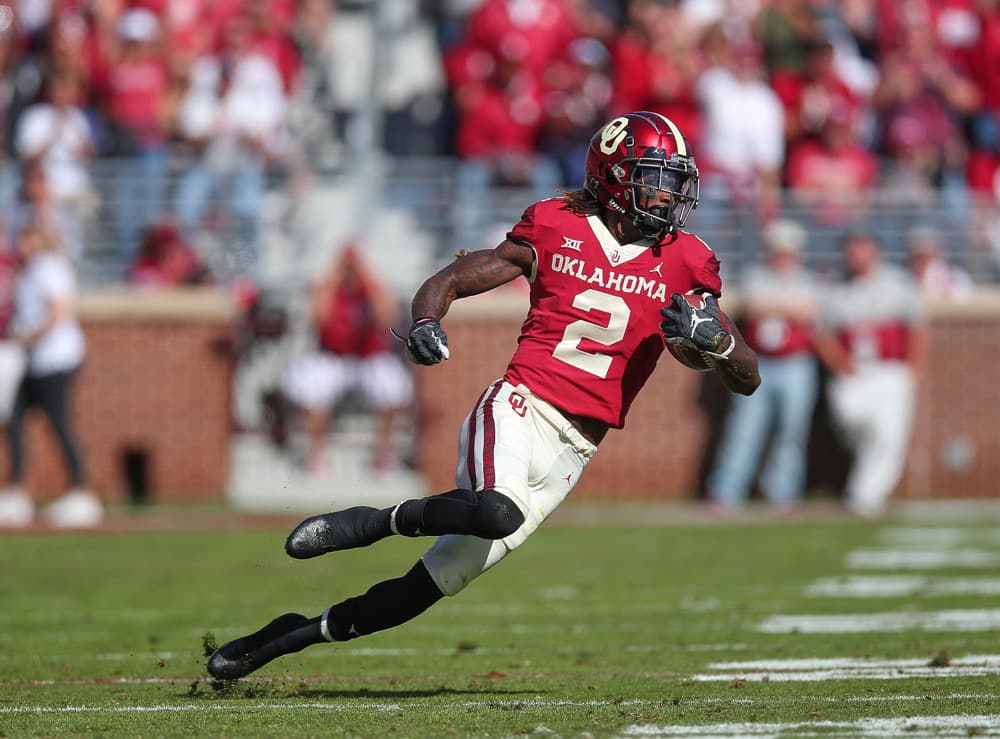 Team: Dallas Cowboys
Question: What should we expect from CeeDee Lamb?
With the 17th pick in the first round of this year's NFL draft, the Cowboys, somewhat surprisingly, snatched up Oklahoma WR CeeDee Lamb. With two 1,000 yard receivers returning from a year ago (Amari Cooper and Michael Gallup), the Cowboys apparently drafted for luxury rather than necessity. Perhaps their strategy was to draft the best player available which wound up neglecting a defense in need of help. As far as Lamb's fantasy prospects, you have to wonder how many balls will be available in an offense with so many established veterans.  There's several things to consider.
First, the Cowboys have a new head coach in Mike McCarthy but they retained Kellen Moore as offensive coordinator. It's unusual for a new coach not to hire his own coordinators and it will be interesting to see the impact on the offense. McCarthy's best years in Green Bay were the early to mid-2010's. It's expected that, at least initially, Lamb will be on the field as the third wide receiver. Looking at McCarthy's track record in his best years with the Packers, the third receiver put up the following statistics:
Second, there's a good chance the mini-camps and preseason will be shortened due to Covid-19. It is unclear how that will affect rookies but it's safe to assume they may be further behind than during a normal year. Therefore, if anyone expects Lamb to push Gallup and be Prescott's second option, it's unlikely.
Third, Dallas's third receiver last year (Randall Cobb) posted 55 catches for 828 yards and three TD's. Not a bad season for the nine-year veteran whose best days are behind him. The average fan may not be aware, but Dak Prescott threw for the second highest amount of yards (4,902) and the fourth amount of touchdowns (30) last year. While the passing attack was humming, Ezekiel Elliot also ran for 1,357 yards (fourth highest in the league) and 12 TD's. In other words, the Cowboys offense was a juggernaut where a third receiver has fantasy value.
CeeDee Lamb will have a solid rookie campaign. His #'s could closely resemble Cobb's last year with the possibility of a few more touchdowns. However, due to the fact that Lamb was a first-round draft pick by the Cowboys, he will likely be over-valued in most drafts. Rookies tend to be drafted higher than deserved and Lamb projects to be a "sexy" pick especially among novice owners. I plan to steer clear unless he unexpectedly slips down the draft.
RELATED
Draft Diaries: Fantasy Football Dynasty Startup, SuperFlex & TE-Premium
Team: New York Giants
Question: Can Daniel Jones make a second year leap?
Danny Dimes had an up and down rookie season for the Giants. He started 12 games and threw for 3,027 yards, 24 TD's, and 12 INT's with a 61.9 % completion percentage and an 87.7 QB rating. He also lost six fumbles which brings his turnover total to 18. The skill positions are set: Saquon Barkley is one of the best running backs in the game, the wide receiver trio of Golden Tate, Sterling Shepherd, and Darius Slayton are formidable, and Evan Engram is a dangerous threat in the passing game as a tight end. The only real question marks are if Daniel Jones can be more consistent and if a shaky offensive line can improve after adding 4th overall pick Andrew Thomas.
It's not uncommon for rookie QB's to struggle with turnovers and accuracy. Jones had the 13th most interceptions and only the 25th highest completion percentage. The real mark of how promising a young QB's future is how he performs in Year Two. The quarterback's feet are now wet and the game should start to slow down. Can Jones make the leap?
Looking at his 2019 stats in more depth, it's a bit concerning that arguably his four best games (shown below) came against lower tier opponents. If these games are removed from his season stats, his TD/INT ratio is 15/12. In his defense, most quarterbacks put up gaudier numbers against bad teams and their stats would look less impressive if their best games were removed from the equation as well. Plus, it should be noted that three of the four games below were on the road.
Overall, I'm torn on Daniel Jones. In full disclosure, I am a Duke fan and I am rooting for him to do well. However, like most, I thought it was a huge reach drafting him where the Giants did and I'm still unsure of his long-term potential. What I am sure of is the fact that he plays on a bad team with a bad defense. The Giants will be playing from behind often and Jones will have the opportunity to put up yards and touchdowns. He'll need to cut down on the turnovers, improve his accuracy and hope for better play from his O-line to reach his fantasy potential. If everything goes well, his ceiling could be a top 15 fantasy quarterback which puts him close to a starter depending on league size. You could certainly do worse than Jones as your backup QB and I am targeting him in later rounds especially in best ball leagues.
Team: Washington Redskins
Question: How productive will Dwayne Haskins be?
It was tough to choose just one question mark for my Washington Redskins when uncertainty surrounds the entire team. The RB unit consists of the often-injured Derrius Guice, the aging Adrian Peterson, newly acquired journeyman Peyton Barber and possibly draft pick Antonio Gibson (no one is sure if he'll play RB or WR). Speaking of WR's, can the lone bright spot on last year's offense, Terry McLaurin, repeat his sensational rookie campaign and will other wide-outs step up and produce? Can Jeremy Sprinkle handle the role as primary tight end with the forever-concussed Jordan Reed departing? All good questions but this is the NFL in 2020 – it all starts and ends with your quarterback. For the Redskins, it will be second year man Dwayne Haskins.
Haskins started 7 games and threw for 1,365 yards, seven TD's, seven INT's, with a paltry 58.6 completion percentage. If we extrapolate those #'s over a 16 game season, the rookie QB would have thrown for 3,120 yards (23rd in the league), 16 touchdowns (29th in the league) and 16 INT's (4th most). It was week 4 vs the Giants when Haskins got his first playing time and tossed three interceptions in just over 2 quarters of football. As evident by the statistics, the rest of the season wasn't exactly all sunshine and roses either.
In Haskins defense, the Redskins were a complete dumpster fire in 2019 and would have made Joe Montana look bad. Yet, there is reason for hope in 2020. New coach Ron Rivera comes to town along with new offensive coordinator Scott Turner (the son of former Redskins coach Norv Turner). Rivera is actually a good coach (unlike Jay Gruden) and had success in Carolina with Cam Newton at QB. Turner is a bit of an unknown. He's had several jobs around the league but only once as an offensive coordinator (on an interim basis in 2019) for the Panthers after Rivera was let go. In addition to the new coaching staff, the Redskins defense actually has a chance to be good this year.
So what's the verdict on Dwayne Haskins for year two, you ask? Well, I'm not a fan. I wasn't a fan when the Redskins drafted him and nothing transpired in his rookie year that changed my mind. Rivera will rely on his defense and ask his quarterback to limit his mistakes. Washington does not have the skill players around Haskins to make him look good and the game plan should be conservative. The Skins will try to win ugly this year and that doesn't bode well for fantasy production. Haskins will be a bottom 10 fantasy quarterback.
RELATED
10 Biggest X Factors for 2020 Fantasy Football Rankings
Draft Diaries: Fantasy Football Dynasty Startup, SuperFlex & TE-Premium