We're going division by division and it's NFC South time! Check out the NFC East and the NFC North if you missed them.
Team: Tampa Bay Buccaneers
Question: Is Tom Brady a top 10 fantasy quarterback?
Yes. Depending on your league and it's scoring, TB12 probably finished somewhere between the 12th and 15th best QB in 2019. While that certainly isn't anything spectacular, Brady wasn't exactly put into the best position to succeed by his former team. The only reliable receiver on the roster was Julian Edelman who was the 4th highest targeted WR in the NFL even with missing 3 games due to injuries.
The rest of the ragtag group of wideouts consisted of Phillip Dorsett, Jakobi Meyers, Josh Gordon (for six games only), Mohamed Sanu, N'Keal Harry, and even Antonio Brown (for one game). Furthermore, with Gronk retired, the Pats TE's were the 39 yr old Ben Watson and no-names Matt LaCosse and Ryan Izzo. It's almost remarkable that Brady was able to finish as high as he did with this group he was throwing to.
There is cause for concern if you are thinking of drafting Tom Brady as your starter. First, he is 42 years of age and we all know father time is undefeated. Looking at his stats over the last three years, his fall has been rather precipitous. While some of the drop off is attributed to a shrinking supporting cast, some of it lies on Brady too.
The GOAT is now in Tampa taking over for the departed Jameis Winston. In 2019, Winston finished between the 3rd and 6th highest (depending on your league) fantasy scoring quarterback. In reality, he was a better fantasy quarterback than he was an actual QB. Although he led the NFL in total passing yards (5,109) and he threw for 33 TD's (second highest in the NFL) he also led the league with a ridiculous 30 INT's. To put that into perspective, the second highest amount of picks thrown was 21 by Baker Mayfield. Winston averaged more than 2 INTs per game. He only had one game in 2019 where he went without throwing a pick. I owned Famous Jameis in one league and lemme tell ya, it was a roller coaster.
Bruce Arians runs a QB friendly system and there isn't a better one-two punch at wideout than Mike Evans and Chris Godwin. Additionally, Brady has convinced Gronk to come out of retirement to join a TE group already consisting of OJ Howard and Cameron Brate. There isn't another team in the NFL that has a better group of pass catchers on its roster. Match that with the coaching of Bruce Arians and you have what could be a dream situation.
The only question is if Brady has any more juice in the old right arm of his. Compared to Winston's from last year, I expect Brady's yardage to drop into the low to mid 4K's, the TD's drop into the high 20's and the INT's to dramatically decrease to somewhere around 10. That ain't too shabby of a season, so sign me up. I'm buying shares of TB12 this year. He will be a top 10 QB and I'm more than comfortable with him as my starter.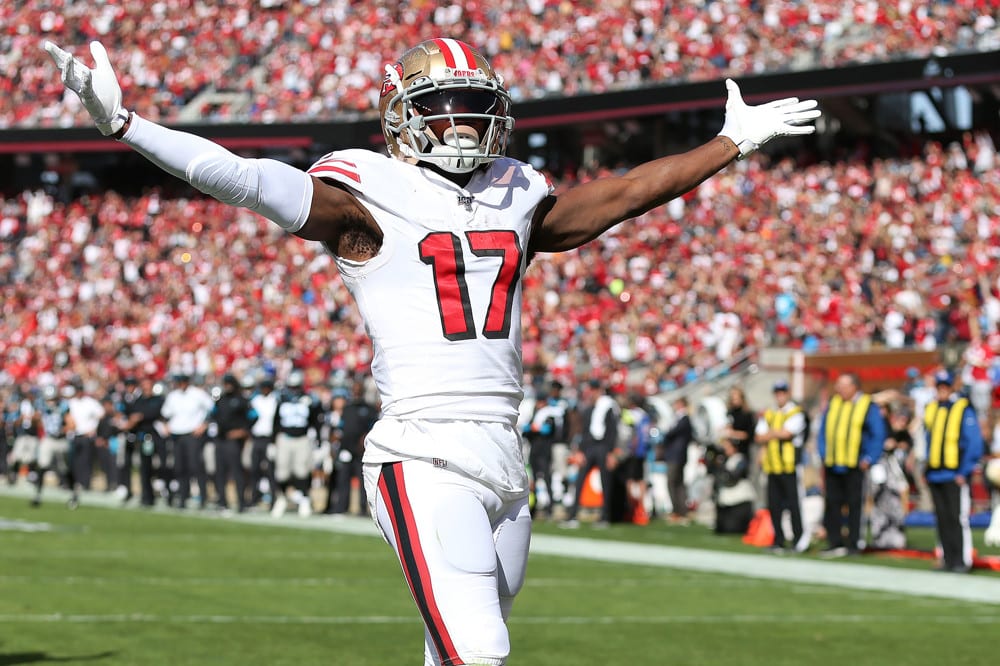 Team: New Orleans Saints
Question: What should we expect from newly acquired Emmanuel Sanders?
From 2014 thru 2016, Emmanuel Sanders had three consecutive 1,000 yard seasons for the Denver Broncos. 2017 and 18 were marred by injuries and poor QB play before Denver traded him to San Fran in October of 2019. Combining his play for both teams last year, Sanders caught 66 balls for 869 yards and 5 TD's. However, his postseason was unusually quiet only totaling five catches for 71 yards in three games which made him expendable.
I've always been an Emmanuel Sanders fan and I believe he has been underrated for most of his career. After playing the last several years on poor passing teams with average to bad quarterback play, he is finally on an offense where he can put up some numbers. However, he is entering his 11th season and by now WR's usually lose a step or two. It remains to be seen how much Sanders has left in the tank, but he should be penciled in as the Saints #2 receiver, behind Michael Thomas, from day one. The opportunity is there.
In order to predict Sanders' #'s in 2020, we should look at the Saints #2 WR's stats in recent years.

With all due respect to Ted Ginn and Tre'Quan Smith, the Saints haven't had a legit #2 threat since Bradin Cooks or Willie Snead. Emmanuel Sanders's 2020 stat line should fall in between what Cooks did in 2016 and what Snead did in 2015, maybe 72 catches for 1,000 yards and 6 TD's. Sanders is squarely on my radar and I figure I can get him fairly late in drafts.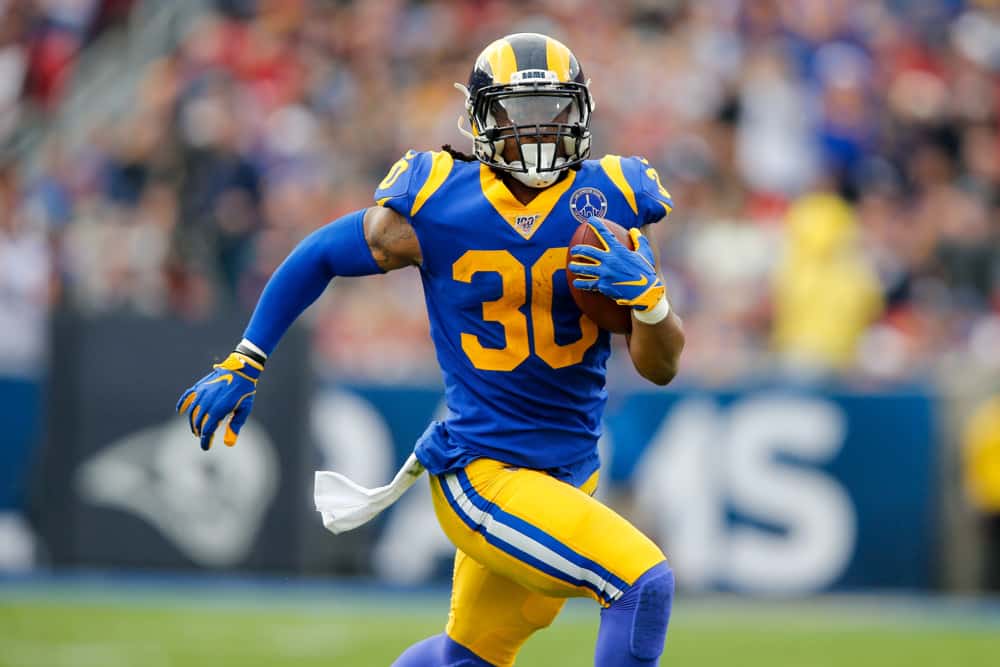 Team: Atlanta Falcons
Question: How much gas does Todd Gurley have left in his tank?
After averaging a career low 3.6 yards per carry and only scoring 2 TD's in 2019, DeVonta Freeman was not retained by the Atlanta Falcons. Instead, the Falcons looked to free agency where they signed Todd Gurley away from the Rams. Both Freeman and Gurley are past their primes, but Gurley should be viewed as an upgrade. The question is what can we expect from the Atlanta running game in 2020?
Todd Gurley had monster seasons in 2017 and 2018 but hasnt been the same since that bizarre injury that limited his play in the 2018 postseason. By looking at his last three seasons, we can see the dramatic drop-off. He isn't a top running back anymore and I wouldn't expect him to be a bell cow in Atl.

Along with Gurley, the Falcons bring back Ito Smith and Brian Hill. Gurley is at the top of the depth chart but these guys will get carries too. As evident by the chart below, the Falcons rushing game the last couple of years has been abysmal. In 2016, the OC was Kyle Shanahan who is known for superb play calling and creating open lanes for running backs. He is currently doing the same thing for the 49ers (2nd best rushing attack last year). Steve Sarkisian let the once potent rushing game go limp during his tenure as OC in 2017 and 2018 and things only got worse last year under current OC, Dirk Koetter.

Gurley is an improvement over DeVonta Freeman but don't expect his #'s to look anything like they did a couple of seasons ago. I don't trust his knee and I don't trust the offensive coaching staff. Remember, before Koetter came back as OC, he was head coach in Tampa for 3 years. During those 3 years, his team's rushing attack finished 29th, 27th, and 24th in the league. What makes you think he's going to pound the rock this year? I expect Gurley's stat line to resemble his 2019 numbers with a few less TD's. I'll spend my 2nd or 3rd round pick elsewhere and if he reverts to the RB he once was, I'll be the first to admit I was wrong.
Team: Carolina Panthers
Question: What kind of #'s will Teddy Bridgewater put up?
A new day is dawning for the Carolina Panthers in 2020. They have moved on from Cam Newton and brought in Matt Rhule as head coach. They are in the midst of a rebuilding project that could take a few years, but I believe they have a chance to be sneaky decent this year and could surprise a few people.
After head coaching gigs at Temple and Baylor, Rhule was a hot commodity in the offseason and the Panthers may have struck gold. He brought in wiz kid and 30Yr old Joe Brady as OC who was last the passing coordinator at LSU helping Joe Burrow win the Heisman. This is a big step up and it'll be interesting to see how Brady does especially given his young age and lack of experience.
With Cam Newton gone, the Panthers picked up Teddy Bridegwater via free agency from the Saints to start at QB. Although it seems like he's been around forever, Teddy B only came into the league in 2014. After a couple of starting seasons in Minnesota, playing mostly as a game manager, he backed up Drew Brees in 2018 and 19. Last year, he started six games (the Saints went 5-1) and posted the stats in the chart below. If we extrapolate these #'s for a full 16 game season, he would have thrown for over 3,650 yards with 24 TD's and 5 Int's. While those numbers might not blow anyone away, that would put him with the 16th most yards and 13th most TD's in the NFL.
It's a valid argument that the Saints have a better supporting offensive cast than the Panthers, but Carolina does have some nice pieces. McCaffrey is one of the best running backs in the league and Robby Anderson joins DJ Moore and Curtis Samuel to form a solid WR trio. Additionally, Ian Thomas has potential at TE now that Greg Olson is gone.
I've always liked Teddy B and I believe he has a chance to have a solid season in Carolina. He is firmly entrenched as the starter and this team could be better than expected. There are a lot of unknowns but I feel good about Bridgewater as a backup fantasy QB (in deeper leagues) and you should be able to get him dirt cheap.  I'm buying.
READ ALSO