We're going division by division and it's NFC West time. Check out the NFC East, NFC North, and NFC South if you missed them.
Team: Seattle Seahawks
Question: Is DK Metcalf in store for a huge 2nd year?
All DK Metcalf did in his rookie season was put up 58 catches for 900 yards and 7 TD's. A complete physical specimen at 6'4 and 229 lbs, the former Ole Miss Rebel stepped in right away and looked the part. He finished the year in the top 30 in receiving yards, top 20 in TD's, and top 15 in yards per catch. The sky is the limit for this young phenom.
While his inaugural campaign was impressive, those stats only placed him around the 25th to 30th best fantasy WR. Depending on the depth of your fantasy league, that may only be worth a flex spot. The Seattle offense returns just about everyone, including the #1 WR Tyler Lockett. The question is if there is enough opportunity for Metcalf to improve his 2019 stats enough to make him a WR2 or better.
Russell Wilson has played 8 full seasons in the NFL and in 2019, his passing completions, attempts, and yardage was 2nd highest in his career (only behind 2016) and his passing TD's was third highest (behind 2016 and 2017). His 516 attempts were 12th highest in the league while his yardage was 6th highest, and his TD's 3rd. This seems pretty close to a ceiling for the Seattle passing game.
Therefore, if Metcalf is to improve his #'s he needs to take market share from Lockett. The charts below show the 2019 reg season and postseason stats for both receivers. It takes time for a QB to get on the same page with a rookie WR which explains why Metcalf's reg season catch per target ratio (.58) is that much worse than Lockett's (.75). What's promising is the yards per reception advantage in Metcalf's favor and his TD per catch ratio. Wilson should be more comfortable with Metcalf in YR2. You can already see the gap being bridged from the regular season compared to the playoffs.
I'm bullish on DK Metcalf this year. I believe he takes targets, catches, yardage, and TD's away from Lockett. Lockett is a fine receiver who I have nothing against, but Metcalf could be a superstar. Just wait for his craft to catch up with his raw skills. Metcalf will have more targets, yards, and TD's this year than Lockett.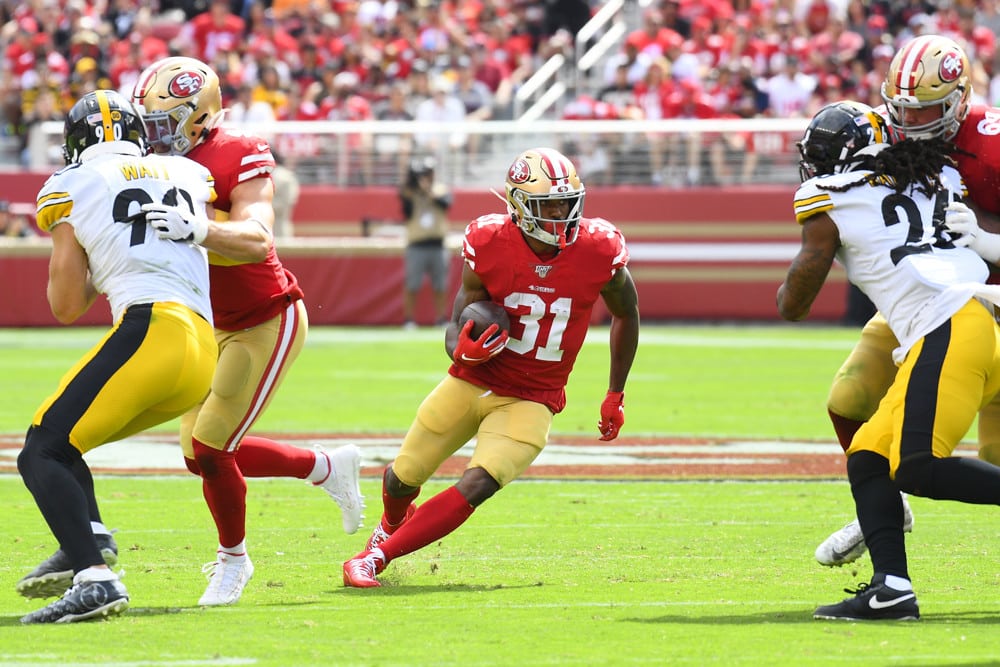 Team: San Francisco 49ers
Question: How will the SF backfield split carries?
In 2019, the 49ers ran for the second highest amount of yards (only behind the Ravens) in the NFL. Wherever Kyle Shanahan goes, a strong running game follows. As a team, San Fran ran for 2,305 yards and 23 TD's (most in the NFL). The lion share of the yardage and scores came from the three-headed monster of Raheem Mostert, Tevin Coleman, and Matt Brieda.
It was difficult to project on a week-to-week basis which RB would get the bulk of the work. As shown below, Mostert and Coleman received the same exact amount of carries (although Coleman missed two games). Matt Breida left via free agency so perhaps the three-headed monster, now only has two mouths to feed. Keep an eye on Jerick McKinnon who missed the last two seasons with knee injuries. If he's back and healthy, the monster might regain that third head again.

So what can we expect in 2020? Looking at the #'s it's fairly easy to see that Mostert was more effective with his touches. While I believe he's the best RB on the team, the carries will continue to be split. The overall rushing game might regress slightly but Mostert and Coleman should absorb most of Breida's carries and yardage. The 3rd back (either MicKinnon or Jeff Wilson) will still play a minor role. I expect Mostert's stat line to be around 900 yards and 9TD's and Coleman's to be 700 yards and 6TD's. I've been seeing Coleman getting drafted slightly ahead of Mostert and I disagree. Give me Mostert over Coleman.
Team: Los Angeles Rams
Question: Is it RBBC in LA and who's the primary?
Todd Gurley is gone which leaves the Rams with a backfield consisting of Malcolm Brown, Darrell Henderson, and rookie Cam Akers. The trio is young, unproven, and inexperienced. The old man in the group, Malcolm Brown, is entering his sixth year in the league, all with the Rams. Although a veteran, he's never rushed for over 255 yards in a season and only has six career touchdowns. I don't have much confidence that he'll be fantasy relevant this year unless there's an injury.
I was a fan of Darrell Henderson coming out of Memphis last year and I was expecting him to push Todd Gurley more than he did. On the season, Henderson only ran for 147 yards on 39 carries and failed to find paydirt. The running back position is typically one where a rookie can start producing immediately so there are some red flags as to why Henderson didn't contribute more. The second year back has to prove it to me before I invest in him again.
The Rams drafted Florida State's Cam Akers in the second round of this year's draft. He comes into a nice situation playing for a team just a year removed from a super bowl berth and at a position where he can play right away. The 5-10, 217lb RB twice ran for over 1,000 yards during his 3yr stay in Tallahassee. His strengths include his size, power, and athleticism but needs to improve his pass protection if he wants to be on field.
The Los Angeles Rams had only the 26th ranked rushing offense in 2019 which may be a big reason why the failed to make the playoffs and were just a game over .500.
Sean McVay knows they need to run the ball better. A lot of it will depend on better offensive line play but they need a running back to step up as well. Is Cam Akers the man to accomplish this? Although this is a situation to monitor in the preseason, I'd be surprised if he doesn't lead the Rams in carries, yardage, and TD's by year end. Brown and Henderson haven't shown much so Akers will get an opportunity. We could see 750 yards and 8TD's on the ground and another 250 yards and a TD through the air.
Team: Arizona Cardinals
Question: What should be expected from the Kyler Murray to DeAndre Hopkins connection?
In his rookie year, Kyler Murray threw for 3,722 yards (15th best in the NFL) and 20 TD's (21st) with a 64.4 completion percentage (15th best) and 12 INT's. He also ran for 544 yards (2nd highest among QB's) and 4 more touchdowns. All in all, it was a nice first season that placed him in the top 10 fantasy QBs.
What makes his year even more impressive was the fact that Arizona didn't have a legit #1 receiver. Old man Larry Fitzgerald is no more than a solid possession WR at this point in his career. Christian Kirk has showed promise, catching 68 balls for over 700 yards and 3TDs, but he shouldn't be your top guy. Additionally, they didn't get much from the TE position where Charles Clay and Maxx Williams together failed to go over 450 yards.
Enter DeAndre Hopkins. The 8yr pro was acquired via trade with the Houston Texans. Hopkins is a top 5 WR in the NFL and gives the Cardinals a legit #1. He'll be best friends with Kyler Murray from day 1 and should take this offense to new heights. While Fitzgerald and Kirk made for a below-average #1 and #2, they should be an excellent #2 and #3.
There's a great chance Kyler Murray improves from a top 10 QB to a top 5 QB. Baring injuries, it appears Lamar Jackson and Patrick Mahomes are locked in at #1 and #2. After that, it's wide open. Murray will be competing with the likes of Russell Wilson, Dak Prescott, DeShaun Watson and others for the third and following slots. The great thing about Murray is his rushing yards provide a high floor. As a passer, he should improve in his second year. I'd expect his yardage to increase to around 4,200 and his touchdowns to 26 or 27. Kyler is a top 5 QB in 2020.
DeAndre Hopkins will also be a WR#1 of course. He should catch over 100 balls, amass over 1200 yards and score 8TD's or more which would be a slightly better year than 2019. There's always some unknowns when a veteran goes to a new team, but this offense should be humming and Hopkins is simply a stud. Pencil him in easily as a top 10WR with a top 5 ceiling. He should be the 3rd to 5th receiver taken off the board.