We're going division by division and it's AFC North time! Check out the NFC East, NFC North, NFC South, NFC West, and AFC East if you missed them.
Team: Pittsburgh Steelers
Question: Can James Conner get back to RB1 status?
James Conner was being drafted in the first round of most leagues in 2019. After Ben Roethlisberger went down early in the season with an injury, the Steelers offense was never the same. Whether it was Mason Rudolph or Devlin Hedges as QB, Pittsburgh could never get the passing attack going which led to loaded boxes and opposing defenses keying on stopping the run game. Additionally, Conner battled his own injuries and only played 10 games.
In those 10 games, Conner only ran for 464 yards and 4 TD's and caught 34 balls for another 305 yards and a TD. When injured last year, his backups Benny Snell and Jaylen Samuels were also largely ineffective. Perhaps it might be as simple as James Conner needs a healthy Big Ben in order to perform respectively from a fantasy perspective.
If that's the case, it may be another subpar season for Conner since the oft-injured 38yr old Roethlisberger is entering his 17th season. In those 16 previous seasons, Big Ben has only started all 16 games four times (2008, 2013, 2014, 2018). Its not a coincidence that Conner had a much better year in 2018 with Big Ben compared to 2019 without the head QB.
While the Steelers still have a top 10 offensive line unit in the league, Roethlisberger seems unable to change the way he plays QB. He holds onto the ball way too long and tries to escape the rush with his legs too often. He needs to take a page from other QB's in his age range (Brady and Brees) who get rid of the ball quickly and mostly avoid big hits. However, I have no confidence that this old dog can learn new tricks.
There's too high of an injury risk with both Roethlisberger and Conner to have faith in the Steelers running game this season. Conner is a fine running back but there's too many red flags here.  I've been seeing an early 3rd round ADP which puts him in the same range as other running backs like Le'Veon Bell, Austin Ekeler, Kenyan Drake, and Devin Singletary. I'm passing on James Conner this year at his current ADP.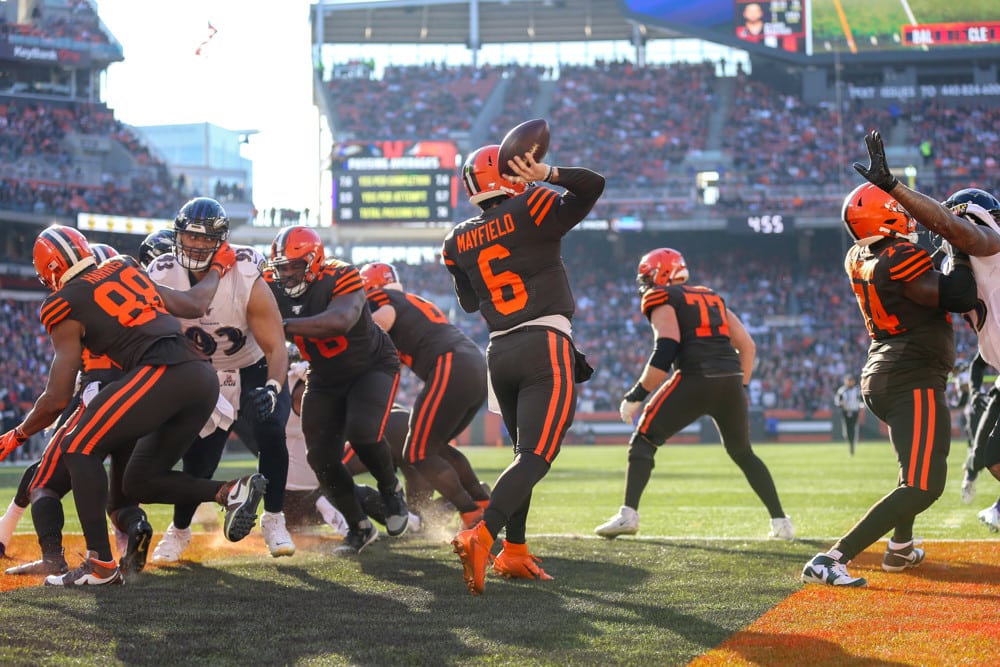 Team: Cleveland Browns
Question: Can Baker Mayfield put together the year he was expected to have in 2019, in 2020?
While everyone was high on Mayfield and the Browns last year, he appears to be flying under the radar going into 2020. Last year was a total failure, but he did manage to throw for over 3,800 yards (14th in the league) and 22 TD's (tied for 16th). The big knock on Baker was the 21 interceptions (2nd most in the league) and the abysmal 59.4 completion percentage. If Mayfield is going to make a jump in 2020, he'll need major improvement in these categories.
Freddie Kitchens was way over his head as a head coach and now finds himself in a more suitable position, as tight ends coach for the Giants. Kevin Stefanski, the former Vikings offensive coordinator, steps in as head coach. Honestly, I don't know how Stefanski will do as head man but he's got to be an upgrade over Kitchens. This can only be viewed as a positive for Mayfield.
Also in Baker's favor is the fact that the Browns are loaded with top notch skill position players. There's not a better backfield duo in the NFL than Nick Chubb and Kareem Hunt. Odell Beckham and Jarvis Landry are again one of the best WR's combos in the league, and the Browns brought in Austin Hooper to pair with David Njoku at tight end. It sounds crazy to say it, but the Browns are loaded.
Depending on your fantasy league, Mayfield probably slipped into the top 20 QB's last year even though he was typically being drafted as one of the first ten. The reverse will be true in 2020. He'll be drafted as a backup but will finish as a top 15 QB with a chance of cracking the top 10. That's QB1 range in most leagues.  The Browns have the targets off their backs and with a new head coach, they should play more open and freely. I'm once again jumping on the Baker Mayfield wagon this year as his value and upside are too attractive to ignore. If he burns me again, maybe I'll finally learn my lesson.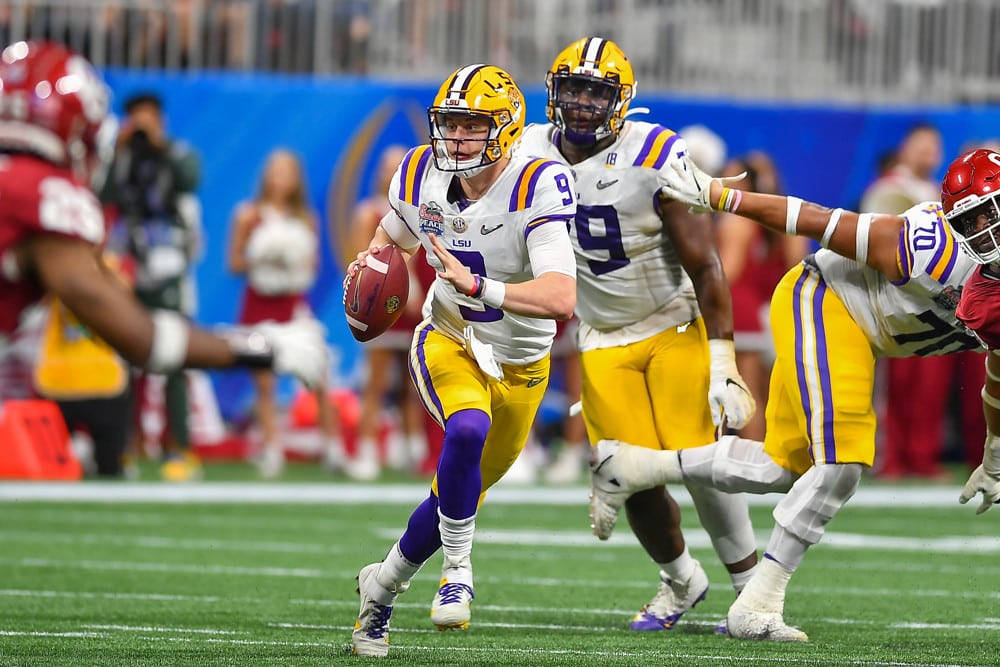 Team: Cincinnati Bengals
Question: Can Joe Burrow be a starting fantasy QB?
Joe Burrow is my favorite rookie QB to own this year. He's the most pro ready and he's the only guy who will be given the reigns on Day 1. He also has AJ Green, Tyler Boyd, John Ross, and rookie Tee Higgins to toss the rock to. Additionally, Joe Mixon and Gio Bernard in the backfield make this offense look respectable on paper. The rookie QB has weapons at his disposal.
Unfortunately for Burrow, his offensive line is one of the worst in the NFL. In 2019, the O-Line ranked 30th in the league and they failed to address these needs in the offseason. They didn't sign any lineman in free agency and only drafted one OT in the 6th round. If you don't have the hogmalies upfront, it might not matter who you have running routes or throwing passes.
In 2019, the Bengals had Andy Dalton start 13 games and Ryan Finley start the other 3. Combined, Bengal QB's threw for the 19th most passing yards but only the 28th most TD's. These #'s will improve in 2020. Cincy is a bad team that will be down early and often. They will throw frequently and if Burrow can just get a little bit of time from his line, he can make some plays.
Burrow will throw for close to 4,000 yards and 20 TD's this year. Like most rookie QB's, he'll also throw too many interceptions, have a poor completion percentage, and have a couple awful games. I'm a fan if you can get him late in best ball leagues where you can ride the ups and downs better than if he was your starter in a redraft league. I'm a Burrow fan but he's a QB2 in 2020.
Team: Baltimore Ravens
Question: Can JK Dobbins be fantasy relevant in 2020?
The Baltimore Ravens had the top ranked rushing offense in the NFL last year and by a pretty wide margin (991 more yards than the 2nd place 49ers). Of course, it helps when your QB runs for over 1,200 yards himself. Even without Lamar Jackson, Mark Ingram ran for over 1,000 yards, Gus Edwards ran for over 700 yards, and Justice Hill even got in the mix, running for 225 yards. All of these guys return and the Ravens spent their 2nd round pick on Ohio State RB J.K. Dobbins.
We all watched Dobbins slice through defenses and run over opponents as a Buckeye and while he has a bright future, can we expect him to be fantasy relevant this year? The Ravens rushing offense is most likely going to see some regression in 2020. Expect fewer yardage and touchdowns to be split among all these ball carries.
In Dobbins' favor, the injury-prone Mark Ingram is entering his 10th year in the league and has only played 3 full seasons. Baltimore will be careful to monitor his workload and split carries fairly evenly. However, if Ingram goes down, who's to say Dobbins steps in as the starter? Gus Edwards is arguably one of the best backup running backs in the league entering his 3rd year. He actually averaged a better yardage per attempt than Ingram last year (5.3 Y/A vs 5.0) and already has 5 games over 100 yards rushing in just two seasons primarily as a reserve.
At this point, I have seen Dobbins with a 12th round ADP and Gus Edwards with a 14 round ADP. There's no doubt Dobbins has a lot of potential, but this isn't his year. Being that Ingram isn't in the team's long range plans, Dobbins will get his feet wet in 2020 with heavier workloads in future years. While he's a very interesting target for keeper leagues, in redraft leagues there's other running backs (Cohen, Howard, Moss, Vaughn, Scott, Evans, etc) being drafted in the same range that I prefer over JK. I'm passing on him in 2020.