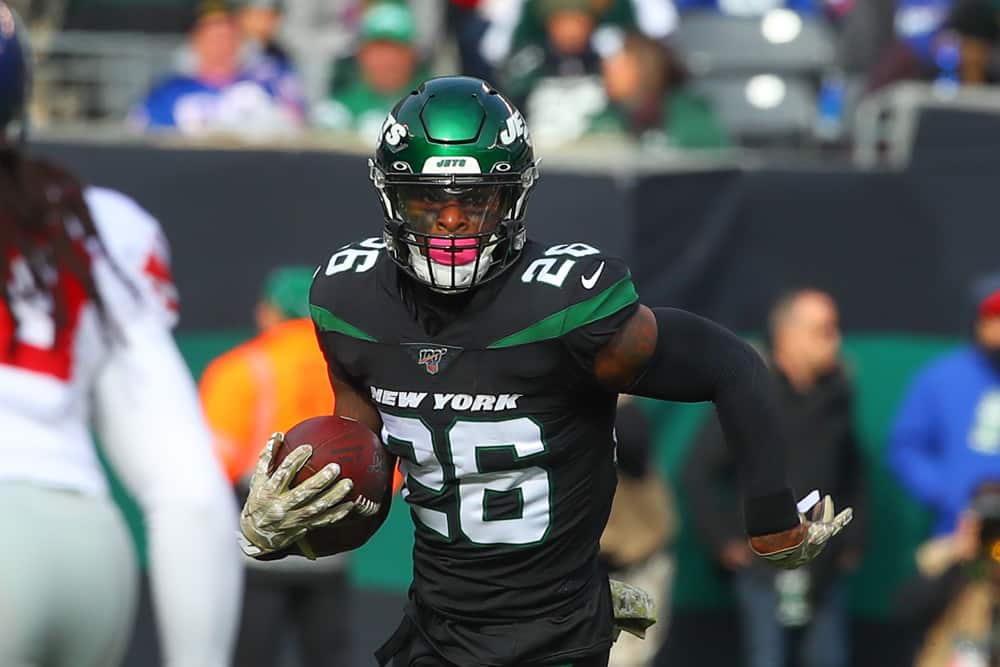 We're going division by division and it's AFC East time! Check out the NFC East, NFC North, NFC South, and NFC West if you missed them.
Team: New York Jets
Question: Can Le'Veon Bell bounce back from a subpar 2019?
After sitting out a year in 2018, Le'Veon Bell's return to football in 2019 did not go as well as expected. In 15 games, he only ran for 789 yards and 3TD's with a measly 3.2 yards per carry average. The Jets had the 31st ranked total offense, the 31st ranked rushing offense, and the 31st ranked offensive line play.
At least the coaching staff was smart enough to get Le'Veon the ball in the passing game. He caught 66 balls for 461 yards and another TD. The three games Sam Darnold missed due to an injury were complete nightmares and certainly didn't help a struggling running game. The Jets were a mess in 2019. It can only go up from here, right?
Yes, it can and it will. First, the offensive line has been completely over-hauled. The Jets signed center Connor McGovern, guard Greg Van Roten and tackle George Fant, re-signed guard Alex Lewis, and spent their first round draft pick on tackle Mekhi Becton. If you are a Jets fan, you are expecting this unit to be vastly improved. If this comes to fruition and Darnold can stay healthy, the Jets offense has a chance to greatly improve upon that 31st in the league ranking from a year ago.
While Bell should be the focal point of the offense, the Jets did bring in the age-less Frank Gore and drafted RB La'Mical Perine in the 4th round.  Last year's backups (Bilal Powell and Ty Montgomery) have departed. Gore has been a TD vulture these past few years and should cut into Bell's carries but I don't think he'll have a large impact on the offense. Perine has got a bright future but probably won't play much as a rookie. Last year, Bell received 71% of all RB carries and 90% of all RB receptions for the Jets while missing 3 games. If he's healthy for all 16, his share could even increase this year.  In today's NFL, it's not easy to find teams that'll focus solely on just one back like the Jets will.
So what can we expect from Le'Veon this year? Remember, this is a guy who was a former first round fantasy draft pick for multiple years. I'm calling for Bell to get back over 1,000 yards with about 8TD's and similar receiving stats from last year. He'll be a top 15 fantasy running back this year and a nice RB2 especially in PPR formats. I'm buying Le'Veon and rolling the dice that he still has some productive years in him.
Team: Miami Dolphins
Question: How will Tua fare in 2020?
As the Tua hype train is building up steam, allow me to pump the brakes. Tua's camp recently put out some workout videos that have caused a media stir and left some with the impression that he may be ready for week 1. A nice in-depth piece on this can be found at the Pro Football Network. For the record, even if he's healthy, there's no way they roll him out Week 1 on the road against the Patriots who happened to have the top ranked defense from a year ago.
Speaking of health, the Fins aren't going to take any chances on bringing Tua in early especially with Ryan Fitzpatrick currently atop the depth chart. In case you forgot, Fitzmagic won 3 out of the last 5 games for Miami last year and can play good football, albeit usually in small chunks. Tua's situation resembles Justin Herbert's more than it does Joe Burrow's. The chart below shows the Dolphins schedule for the first portion of the season. Not only do they play 4 of the 6 games on the road, but they also play against 4 top 10 defenses from a year ago.

I expect Fitzpatrick to play at least most of these initial six games which obviously limits Tua's season long fantasy production. It's just a matter of time until Fitzpatrick has a bad game or two where he tosses too many picks. Eventually Tua will see the field and with his running ability, he should have some nice fantasy outings. It's not a bad play if you can get him late and stash him on your bench. He also has some real appeal in best ball formats and of course, keeper leagues. However, I'm concerned that his ADP will be way too high for me in redraft leagues especially if the hype train continues to gain steam. I'm passing on Tua in 2020.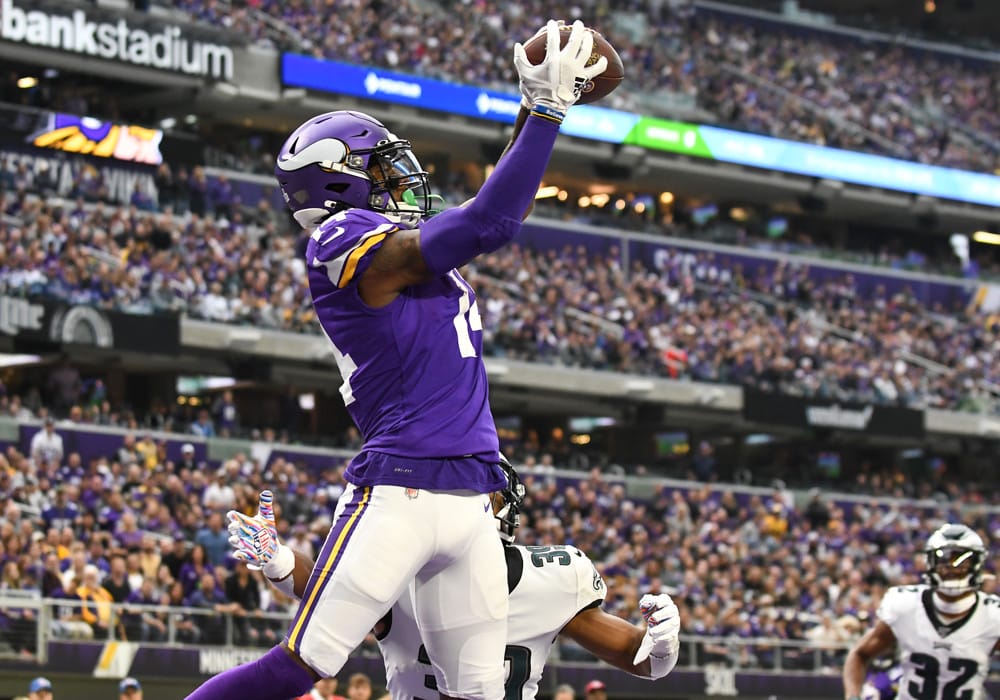 Team: Buffalo Bills
Question: What should we expect from Stefon Diggs in Buffalo?
In 2019, the Buffalo Bills only threw for the 26th most passing yards (3,229) in the league and the 24th most passing TD's (21). The lion share of the yardage and touchdowns came from John Brown (1,060 yards, 6TD's) and Cole Beasley (778 yards, 6TD's) who are both returning. Now enter Stefon Diggs into the equation.
Diggs should come in as the #1 receiver and relegate John Brown to the deep threat while Beasley mans the slot. This is now a very formidable trio that should give defenses fits. The question from a fantasy perspective is if the entire passing game can improve to the point where all three mouths can be fed. Specifically, for the sake of this column, can Diggs get enough touches to justify his 5th round ADP?
In order to do so, the Bills need to throw for 500-600 more yards this year and 5-6 more touchdowns. A total of 3,800 yards and 27 touchdowns would put the Bills in the top half of the league in both categories. This should be the expectation and I feel that Buffalo will make the leap.
John Brown's production will take the biggest hit as he'll get about 200 less yards and a TD or two less. Cole Beasley will also see a decrease of maybe 100 yards and a couple TD's. This opens the door for Diggs to rack up about 900 yards and 6-7 touchdowns. If you are expecting more production, I don't see where it comes from. He's a low-end WR2 but a high-end WR3.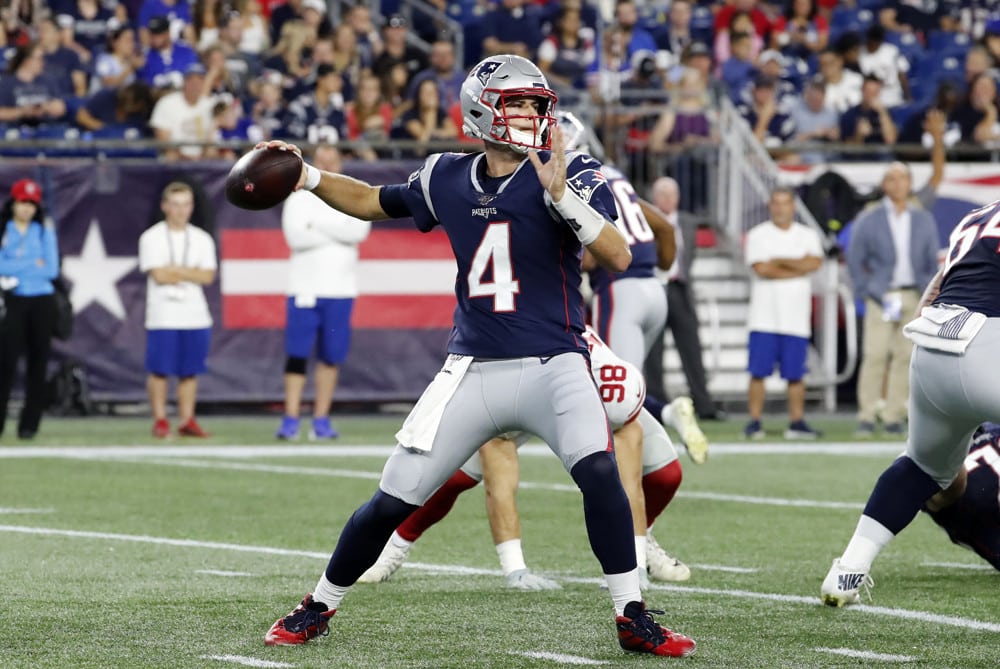 Team: New England Patriots
Question: What will Jarrett Stidham's 2020 stats look like?
This is unchartered territory. The Pats haven't started a season without Tom Brady starting at QB since 2001. Kids graduating high school this year weren't even born yet. That's ridiculous. 2008 was the year Brady went down for the season in Week 1 and Matt Cassel stepped in, but that feels like a lifetime ago. The only other year that Brady didn't start all 16 games was in 2016 when Jimmy Garoppolo and Jacoby Brissett each started two games due to a Brady injury.
So what can we expect from Jarrett Stidham in 2020? Last year, the Pats still threw for the 8th most passing yards and 16th most passing TD's in the league. I would expect Belichick to lean on his defense this year, emphasize the run game and take the ball out of his inexperienced QB's hands as often as possible. Therefore, New England should drop to a bottom 10 team in passing yards and passing TD's.
Julian Edelman is still the only proven wide receiver on the team. Not only did the Patriots fail to address the QB position in the offseason, they also didn't improve the WR's (unless you consider Marquise Lee an upgrade), or the tight end position. On the flip side, I suppose this could be viewed as a vote of confidence in Stidham and the young skill players.
Back in March, there were all kinds of crazy rumors about veteran QB's (Cam Newton, Andy Dalton, Jameis Winston) possibly coming to the Pats. Yours truly wasn't buying it and I predicted Belichick to roll with Stidham. Does the old ball coach know something we don't? At one point, nobody knew who Tom Brady was either, right?
There's no hot take here. Stidham is a fantasy backup QB at best. He's worth a flyer in deep leagues with extended rosters but that's about it. The QB position is too deep and there are just too many unknowns here. Like most, I'm not high on Stidham in 2020.
Check out the NFC East, NFC North, NFC South, and NFC West if you missed them.