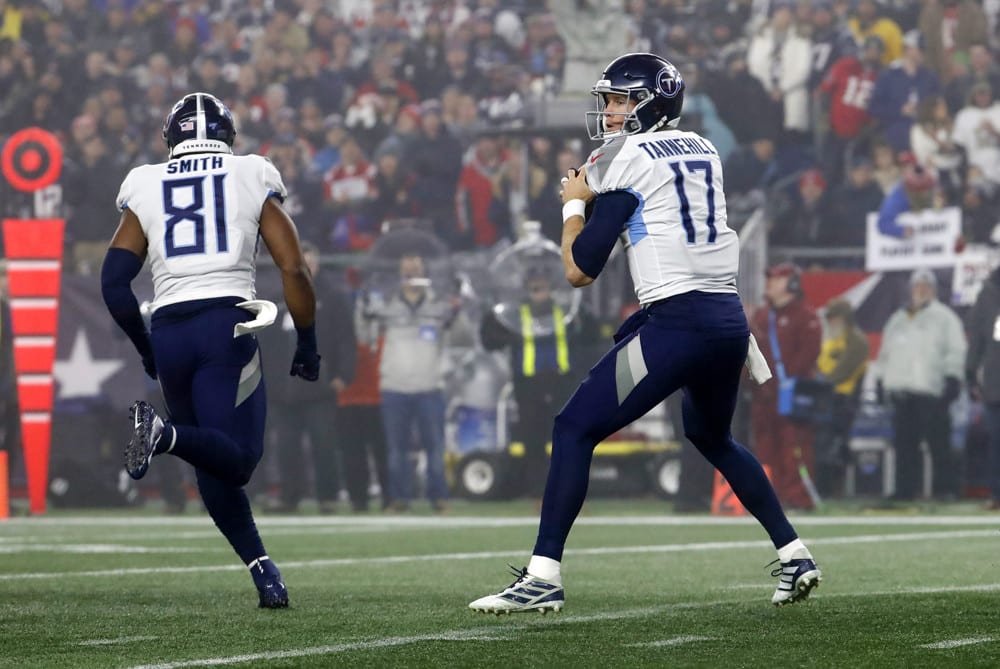 We're going division by division and it's AFC South time! Check out the NFC East, NFC North, NFC South, NFC West, AFC East, and AFC North if you missed them.
Team: Tennessee Titans
Question: What are Ryan Tannehill's fantasy prospects for the coming year?
Who's buying Ryan Tannehill as a legitimate QB fantasy prospect this year? Here's a guy who only threw for 369 yards and 5 TD's in a combined 3 playoff games last year. Granted, the Titans were winning by beating the hell out of defenses with a punishing running game and didn't need to throw the ball but was that by design or out of necessity?
At first thought, I was down on Tannehill. He had a nice 2019 stepping in for Mariota, and he showed glimpses of potential in Miami, but the Titans are a run first and defensive-oriented team. It's hard to trust anyone not named Derrick Henry on this offense. With the QB position as deep as ever, Tannehill was an after-thought to me.
Then I looked at his stats: He threw for 2,742 yards and 22 TD's to only 6 INT's in 11 games of football or an average of 250 yards and 2TD's per game. Extrapolated over a full 16 games, that's 4000 yards and 32 TD's which would place the veteran QB inside the top 12 for passing yardage and inside the top 5 for passing TD's. Additionally, he picks up a decent amount of rushing yards and rushing TD's that helps raise his floor.
I'm not saying Tannehill is going to throw for more than 30 TD's this year, but 4,000 yards is within reach. The Titans are not going to run Derrick Henry into the ground early in the season. They'll be looking for a balanced attack in order to save their best player for later in the year. AJ Brown and Corey Davis are a nice combo at wideout and Jonnu Smith and Anthony Firkser are two intriguing young tight ends. Plus, they have a top 10 ranked offensive line. The Titans aren't the Kansas City Chiefs, but they got some players here.
I'm buying shares of Ryan Tannehill in 2020. You can draft him late and he could be a top 15 QB. I'd love him as a backup or your QB2 in leagues where you start two QB's.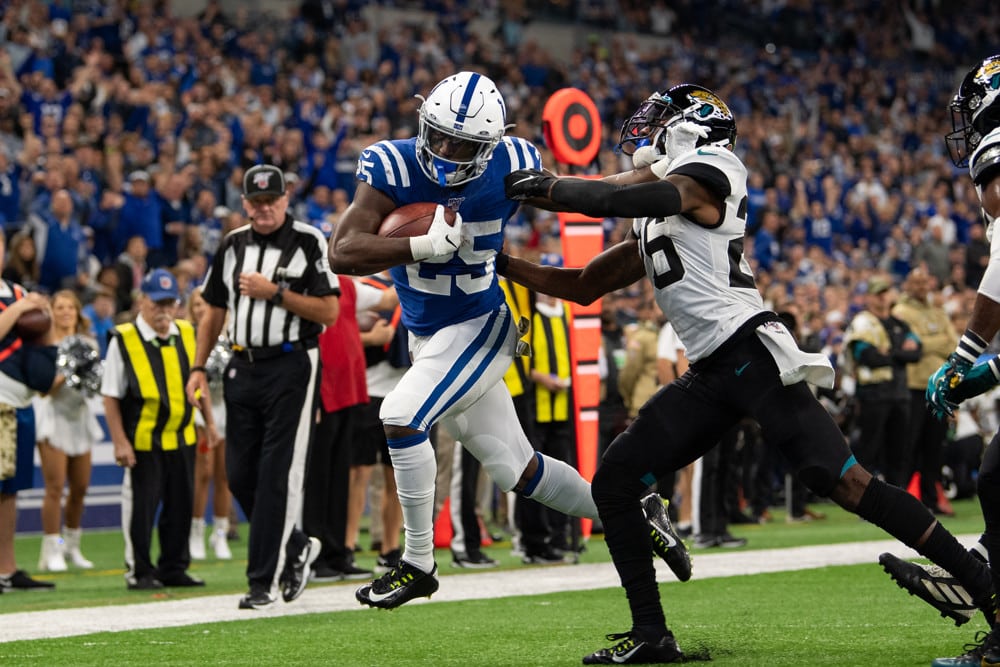 Team: Indianapolis Colts
Question: How will the backfield carries be divvied up in 2020?
In 2019, the Colts ran for the 7th most rushing yards in the league behind one of the best offensive lines in football. The rushing attack was still effective even with the Colts having the 30th ranked passing offense. With Phillip Rivers taking over at QB, I'd expect the Colts to have a more balanced attack in 2020.
Marlon Mack ran for over 1,000 yards and scored 8 TD's in 14 games while backups Jordan Wilkins, Jonathan Williams, and Nyheim Hines all received meaningful touches. Except for Williams, all RB's return, plus the Colts drafted Jonathan Taylor out of Wisconsin in the early second round. Suddenly, we have a lot of mouths to feed here.
Forecasting this coming year, Mack and Taylor will share most of load with Hines only coming on the field on some passing downs. There's no doubting Taylor's long-term potential but Marlon Mack ain't too shabby either. Early indications out of Indy sounds like we could be in for a 50-50 split on an offense that won't be as run-focused as it was a year ago.
Jonathan Taylor has the higher ceiling and the Colts drafted him for a reason. Although the time share split may start as 50/50, it could eventually transition into 60/40 in his favor. I would still only expect 800-900 yards and 8 TD's for Taylor and 700-800 yards and 6TD's for Mack. This is a situation where you hope one of the backs gets injured so the other can be a lead dog. Both will be effective but the even split limits their potential. I wouldn't over-invest in either.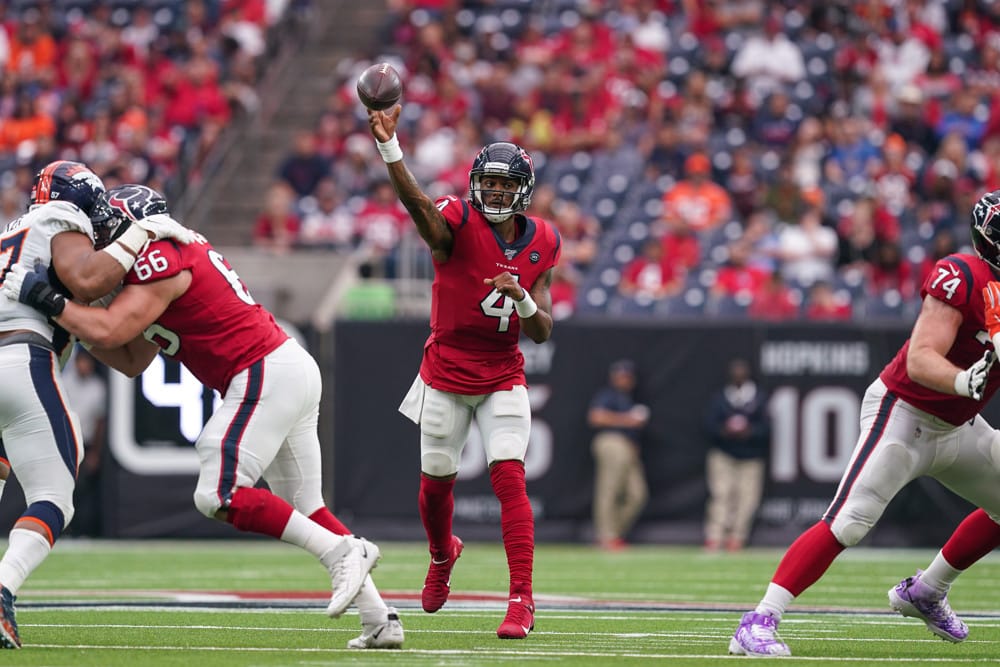 Team: Houston Texans
Question: What can we expect from the passing game minus DeAndre Hopkins?
Last year, the Texans threw for the 15th most passing yards and 13th most passing touchdowns with DeAndre Hopkins and DeShaun Watson both playing 15 games. As we all know, Hopkins is now an Arizona Cardinal. In his place, Houston has brought in Brandin Cooks and Randall Cobb. The two newcomers will pair with Will Fuller, Kenny Stills, and Keke Coutee. Apparently, Bill O'Brien is going for quantity over quality.
While this new quintet has a lot of depth, it lacks a receiver the caliber of Hopkins. As the stats below show, Cooks is the only guy that has WR#1 history. Was his disappointing 2019 an aberration or a sign that he's lost a step? Will Fuller has shown glimpses of promise but is injury-prone and most likely a better supporting guy than a #1 wideout. Randall Cobb is entering his 10th season and his best years are behind him. Stills is nothing more than a decent #3 receiver and Coutee hasn't shown us much.
If you haven't figured it out yet, I'm not very high on the Texans wideouts. However, I still like DeShaun Watson in 2020 especially if others are fading him. I've seen a lot of QB rankings drop Watkins from the top 5 QB's to 6-10 with some projecting him just outside the top 10.
That's ludicrous. As long as Watkins can stay heathy, he'll still put up big numbers. I expect an increase in passing yardage while passing touchdown remains similar (he's thrown for 26 in each of the last two seasons). As always, his rushing abilities provide a nice floor although I'm concerned his 7 rushing TD's from a year ago might regress to only 4 or 5.  I'm buying DeShaun Watson in 2020. He should be going a few rounds after the first 4 or 5 QB's which provides value if you are looking at drafting a QB that early.
Team: Jacksonville Jaguars
Question: What can we expect from a young and talented wide receiver corps?
Vegas has the Jags win total for 2020 set at 4 ½ which is the lowest total in the league. In other words, Vegas thinks Jacksonville is the worst team in the NFL. While that may be bad for Jags fans (if there are any) it might not be for the Jags receivers and their fantasy prospects. If your team sucks, you'll be down, and you'll throw the ball a lot, got it?
The Nick Foles experiment in Jville was short and disappointing. This year, it's all about Minshew Mania as the second year QB is the unquestioned starter and team leader. In 2019, the combo (Foles started 4 games and Minshew started 12) threw for 3,760 yards (16th most) and 24 TD's (18th most) with just 8 INT's. That's not a bad season for the passing game considering a rookie 6th round draft pick was your starter most of the year. The Jags should throw for more yardage and TD's this year.
The one bright spot on this Jacksonville team might be the wide receiver unit. The Jags return their top 4 wideouts from a year ago and bring in second round draft pick, Laviska Shenault. In 2018, the Jags drafted WR DJ Chark in the second round and all he did last year was catch 73 balls for over 1,000 yards and 8 TD's. Chris Conley and Dede Westbrook both had solid seasons going over 650 yards each and combining for another 8TD's while Keelan Cole pitched in for another 360 yards and 3 TD's.
If the passing game improves, and with the potential emergence of another mouth to feed, how will these receiver stats look like in 2020? The chart below breaks down last year's stats and projects this coming year. Chark is the #1 and has a growing rapport with Minshew. He won't be affected by the addition of Shenault. Conley and Cole will take the biggest hits while Westbrook remains as the over-the-middle possession receiver.
I'm high DJ Chark this year and would be pleased with him as my WR2. Shenault has a lot of promise but needs a year to get acclimated to the NFL before he is fantasy relevant. For example, as a rookie Chark only caught 14 balls for 174 yards before exploding in his second season. Shenault might have a similar trajectory. I'm buying Chark, I'm selling Conley, Westbrook only has limited value in PPR leagues, and Chenault is only worth a pick in keeper leagues.