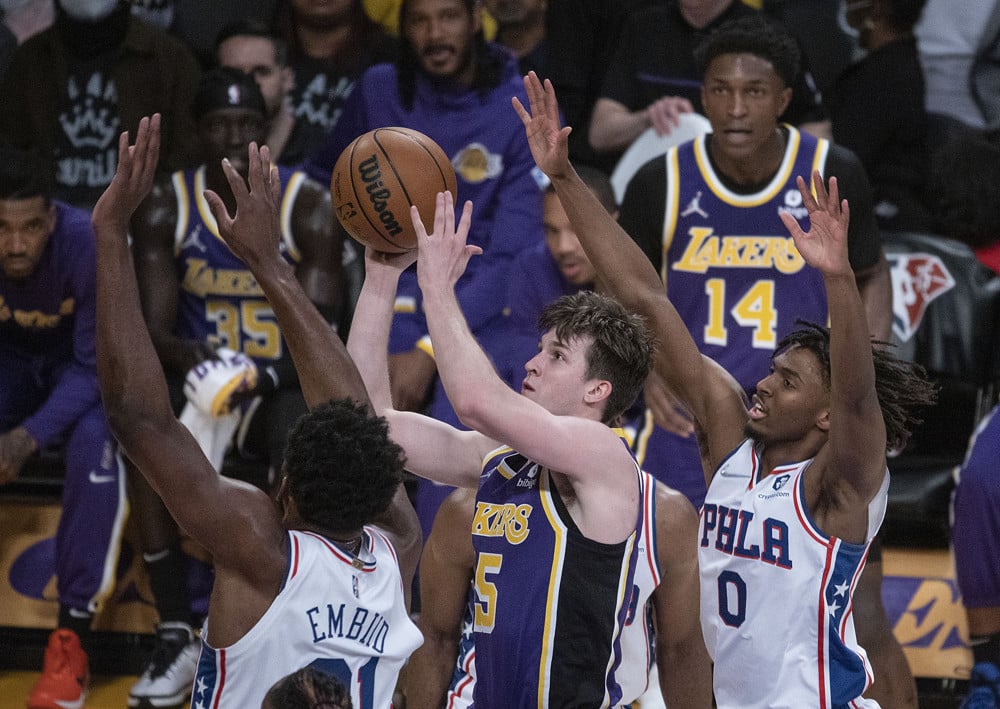 The playoffs can be difficult when putting together an NBA daily fantasy lineup (that is, unless you followed out hot tips on Wednesday). The usage of players swings wildly, and matchups and familiarity rule the day. But, lucky for you, we've weeded through all the noise for Friday's games and put together another one sure to put you back in the money.
Go here for daily free NBA picks!
NBA Daily Fantasy Lineup for Friday – April 28th
PG – Malik Monk – SAC – $5,500
In addition to just loving everybody playing in the high-scoring Sacramento vs. Golden State games – Monk has been playing way above his salary levels. Five of the six games so far this series, he's gone for 33 or better. In the last two (the games where De'Aaron Fox was banged up), his scoring picked up. You can count on that to continue here.
SG – Austin Reaves – LAL – $5,800
Over the past couple of games, Reaves has emerged as a solid distributor. Although he only averaged about 3.5 dimes a game on the season, he's dished out six each in the last two games. Combine that with some more work on the boards, and he should continue to be worth his weight in NBA daily fantasy lineups.
SF – LeBron James – LAL – $10,100
If I'm dishing out big cash for a star this Friday, give me LeBron at home trying to close out a series. That alone is enough to really love him here. However, I also love that he's coming off one of his worst fantasy games. The last time he dipped under 40 fantasy points in a game, he responded with four straight games over 50.
LEBRON JAMES CLUTCH. 🔥🔥🔥

— Hoop Central (@TheHoopCentral) April 25, 2023
I mentioned that I like almost anyone in this game (more to come from it later), but Wiggins sticks out for what he's doing on the defensive end. In the series, he has 11 blocks and four steals. That gives him a great base, even if he's less active on the offensive side – which I don't think will be true of anyone in this one.

C – Draymond Green – GSW – $6,400
Oh, hey, look! Another guy from this game.
Green has flirted with a triple-double for a couple of games in a row – breaking 40 fantasy points in both of those contests. He's shooting way more right now too. He has 12 attempts per game over the last two after averaging just 5.5 in the first two.
G – Jordan Poole – GSW – $5,400
Am I beating a dead horse? Quite possibly, but I do not care. If you're looking for production, plenty of players are scoring in this series. Poole is getting a lot of those dimes as of late, and his salary comes in low enough to justify getting him in those NBA daily fantasy lineups.
Malik Monk to Jordan Poole:

"Guard me."

(via @markhaynesnba)

— Hoop Central (@TheHoopCentral) April 27, 2023
F – Trey Lyles – SAC – $3,400
Lyles is averaging right around 5.0 points and 5.0 boards all series. Is that something you want to build a team around? Probably not, but you need a cheap option and maybe one person who isn't on the Warriors. He satisfies both of those things with a high floor.
UTIL – Kevon Looney – GSW – $5,900
I'm not trolling here. I am going with yet another Warrior here to fill out the roster. Domantas Sabonis can't seem to keep Looney off the boards. He's gone for at least 14+ in each of the last three games and had 20 in two of those. Even if he doesn't score at all, he'll be valuable for NBA daily fantasy lineups.
If you'd like even more information that could help your NBA Daily fantasy lineup, be sure to check out the NBA Gambling Podcast. The guys are dropping weekly episodes to make you the smartest guy at the bar.