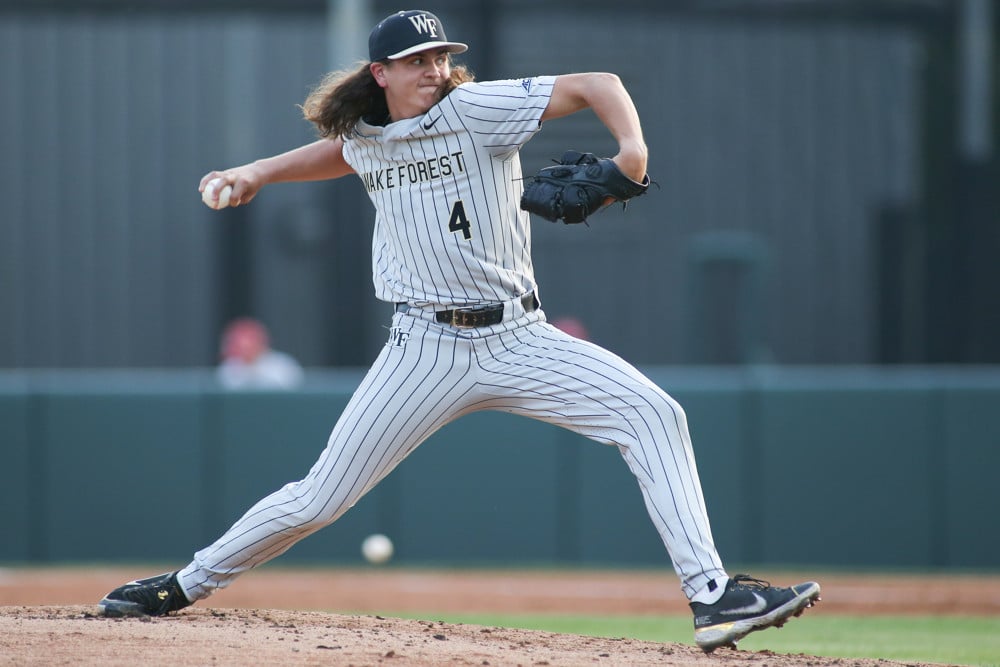 College baseball betting futures can be fun in multiple ways, just like in any other sport. Bettors will either commonly ride a favorite, find a sleeper in the Top 25, or dabble with long shots. There are five different plays included in this article that fall into five different price categories that could entertain your bankroll. However, I firmly believe that each College World Series (CWS) bet mentioned in this piece will not have a better price than it does today.
If you are one who likes to hedge, these plays offer great opportunities down the road too. One last thing, if you find a sportsbook that offers plus-money NCAA Baseball Tournament Omaha Appearance futures go ahead and place those if you like the price as well.
College Basketball's NCAA Tournament just wrapped up, and if you're a casual college sports fan transitioning into college baseball, we welcome you. For those that have been watching each weekend, this article can still apply to you too.

NCAA Baseball College World Series Futures To Bet Right Now
I have a few things that I believe in when betting on futures. First, I try to find value with teams that could host. The selection committee's Top 16 seeds all host regionals. The top 8 control their own destiny to the College World Series. If a Top 8 team wins a regional, they will also host a super regional.
Second, when betting futures on baseball in general, I believe that "great pitching beats great hitting." Of course, everybody loves home runs, but on any given day, I think an average pitcher with his best stuff can shut down a great offense.
In the College Baseball NCAA Tournament format, a team NEEDS at least two stud starting pitchers and at least two reliable relief pitchers to make it through a weekend of maybe five games in three days. A pitching staff with good depth that can limit walks and rack up strikeouts is never a bad thing.
Third, defense matters when betting on college baseball. Sometimes we forget that these players are amateurs, not professionals and that 80% of them will never make the MLB. Errors are much more common in the NCAA game than in the pro game. A team NEEDS above-average defense to win many games in a short time span. Any common mistakes can be costly in the College Baseball NCAA Tournament format.
The Longshot: Dallas Baptist +12500 (PointsBet)
At the time of this writing, Dallas Baptist is on the come up. The Patriots are on an 11-game win streak, the longest streak the program has had since 2015. DBU currently sits 15th overall in RPI, an important tool for seeding teams in the NCAA Baseball Tournament field.
I'm not guaranteeing that Dallas Baptist will host a regional because the NCAA selection committee is terribly inconsistent. It's a long shot, but all you can say is that DBU has set themselves up RPI-wise to be a worthy contender to host a regional. However, if the Patriots are labeled as a #2 or even a #3 seed in a regional, they could get placed in a regional West of the Mississippi River. A draw against a PAC 12 or Big 12 team (those two leagues have underwhelmed this year) could be favorable for DBU.
The toughest stretch of DBU's schedule is behind them. The Patriots went 7-5 in the weekend series at Southern Miss, at Charlotte, at Louisiana Tech, and at Florida Atlantic. The C-USA didn't deal their new toy in the baseball conference any favors in the schedule, but they've tackled all those quality road series. There's just one more hurdle in Dallas Baptist's way this season at UTSA (currently the number one team in the C-USA).
The Analysis
Dallas Baptist's pitching staff ranks in the top 25 nationally in four categories. 10th in strikeouts per 9 innings (11.2), 18th in ERA (3.84), 21st in hits allowed per 9 innings (7.74), and 25th in shutouts (3). Albeit not in the top 25, DBU is also above average in limiting walks, only allowing 4.04 per game, good for 69th (nice).
The Patriots excel defensively as well. They have the best fielding percentage in C-USA (.978), which is currently a greater percentage than the program's single-season best of .977 from 2018. The Pats also have 77 stolen bases which is good for 18th in the nation in the country's 74th-best scoring offense averaging 7.5 runs per game.
All four of Dallas Baptist's starting pitchers have a sub-4.50 ERA. Ryan Johnson (4-2) has a 2.86 earned run average (ERA), 71 strikeouts (K), and 11 walks (BB), in 50.1 innings pitched (IP), with an opponent's batting average (BAA) of .173. Braxton Bragg (4-1), 4.08 ERA, 51 K, 10 BB, in 46.1 IP. Zach Heaton (3-1), 2.36 ERA, 29 K, 13 BB, in 30.1 IP, with a BAA of .200.Bryson Hammer (4-3), 4.41 ERA, 37 K, 24 BB, in 34.2 IP, with a .216 BAA.
The Pats also have two reliable relievers in, Brady Rose and Alec Baker, that have sub-2.50 ERAs. That quality of a rotation, with two go-to guys, is almost unheard of in college baseball, and it's something that can definitely carry a team to a National Title.

The Outside of the Top 25 Value Play: NC State +6500 (FanDuel)
NC State is currently on a five-game winning streak and has put the toughest stretch of their schedule behind them. NC State survived early season weekend series against Miami Florida, Virginia, Boston College, Louisville, and Wake Forest. All of whom are ranked in the Top 25 by D1Baseball. The Wolf Pack currently sits 8th in the RPI with one challenging series remaining in conference play (AT No. 16 North Carolina).
Pack9 is in a prime position to host a regional in the NCAA Baseball Tournament, maybe even a Super. NC State's strength of schedule ranks ninth in the country. They have played 17 of their 35 games this season against teams currently ranked in the RPI Top 25. The Wolf Pack also hold a perfect 18-0 record against opponents with a current RPI ranking below 50th.
The Analysis
NC State holds a 17-1 record when scoring first this season. The Pack has scored in the first inning 14 times and has scored in either the first or second inning 19 times in 2023. Head coach Elliott Avent's squad ranks inside the Top 30 nationally in four of the most important offensive stat categories. 24th in scoring (8.4 runs per game), 28th batting average (3.08), T-30th in home runs (59), and 29th in on-base percentage (.412).
The Wolf Pack are one of the better pitching and defensive teams in the country as well. NC State has a .974 fielding percentage. Add in a 3.89 Team ERA (21st), and they have only allowed 3.26 walks per game (16th).
The top three starting pitchers for NC State all have sub-4 ERAs which is great for a power conference team. Matt Willadsen (4-2), 1.89 ERA, 51 K, 17 BB, in 52.1 IP, with a .196 BAA. Logan Whittaker (3-2), 3.83 ERA, 46 K, 9 BB, in 49.1 IP, with a .230 BAA. Dom Fritton (2-2), 2.08 ERA, 50 K, 13 BB, in 43.1 IP, with a .189 BAA.
Justin Lawson and Sam Highfill also give the Pack two trusty relievers in the pen. Highfill's name may sound familiar as he was one of NC State's star players from the 2021 CWS run that ended in an NCAA debacle.
At the plate, the Wolf Pack have three starters with an OPS above 1.000. In addition, LuJames Groover has a .345 batting average (BA or avg), a .458 on-base percentage (OBP), and a .549 slugging percentage (SLG). For future reference, those three stats are the most important "standard" baseball stats to a hitter and are often referred to as a "slash line."
"Gino" Groover also owns a (weighted runs created plus) 140 wRC+ (100 is the nation's average) and only strikes out 8% of the time. Will Marcy is slashing .333/.451/.571 with a 144 wRC+, and 16.5% K rate. The last hitter for NC State you should keep an eye on is Jacob Cozart. He has a .336 avg, .433 OBP, and .575 SLG, with a 137 wRC+.
Avent's NC State program is still hungry from that heartbreak in 2021. The Pack would love nothing more than to shove it back into the NCAA's face by winning a National Championship.
The Top 25 Value Play: East Carolina +4000 (BetRivers)
East Carolina has had the talent to go to Omaha a few times in the past decade. However, it's safe to say that they are just college baseball's version of Gonzaga basketball. The Pirates have been in the NCAA Baseball Tournament 19 times in the past 24 years, but they have had terrible luck. Three of their four most recent ejections from the Super Regional round are 2016 at Texas Tech, 2019 at Louisville, and 2021 at Vanderbilt.
Then they got the chance to host their first-ever Super Regional against Texas last year. The Pirates won game one, but then after torrential downpours and rain delays, Texas pulled off the reverse sweep to go to Omaha. All four programs are mainstays in college baseball, and the three road supers were in extremely tough home environments to play in.
Rolling with a current nine-game winning streak East Carolina is another great look to win the College World Series. ECU is ranked 9th in the RPI right now, which could set them up as a Top 8 National seed again. Fortunately, @TheColbyD's Pirates also have the toughest part of their schedule already behind them.
The Purple and Gold have made the more NCAA Baseball Tournament appearances than anybody else in the country who has yet to make the College World Series in Omaha. However, that trend is bound to snap soon, and when it does, East Carolina may just go win the whole damn thing.
The Analysis
The East Carolina pitching staff continues to excel. The Pirates' top eight innings eaters own ERAs under four. The staff checks in at 12th in the country with a 3.55 ERA and 372 strikeouts against 113 walks in 317.1 innings of work.
The Pirates are also among the national leaders in (walks and hits per inning pitched) WHIP 1.19 (6th), their strikeout-to-walk ratio 6th in the country (3.29), only 7.49 hits allowed per nine innings (12th), with 3.2 walks allowed per nine innings (13th) and 10.6 strikeouts per nine innings (17th).
ECU's top 3 starters, Trey Yesavage, Josh Grosz, and Carter Spivey, all have ERAs at 3.05 or lower. Yesavage has 82 strikeouts and only 13 walks. Grosz 56 K, 25 BB, and 33 K, 11 BB for Spivey. It's an elite trio with plenty of experience and excellent depth in the arm barn behind them.
In the batter's box, Josh Moylan (1.049), Jacob Jenkins-Cowart (1.010), and Justin Wilcoxen (1.007) all own a tremendous OPS. The lineup doesn't just rely on those three bash brothers, though. East Carolina's top eight hitters all have batting averages of .299 or above. The Pirates also field it really well, with a good percentage of .975. It's hard to believe with all of the success as of late but Cliff Godwin might have the best all-around team he has ever had in Greenville.
Tragic Magic
One last thing that we, The College Experience, believe in… tragic magic. WEEE BEEELIEEEVEEE (sorry that's a podcast thing) that when something heartbreaking in a community happens, the sports team rallies together and wins (or covers) their next game or does something big during the same season.
On February 10th, 2023, Jeff Charles passed away. Charles was a legendary radio broadcaster for East Carolina sports. He was donned "The Voice of the Pirates" after calling some of ECU's most memorable games on the gridiron and hardwood, including 15 bowls and over 1,000 basketball contests. He also served as play-by-play announcer for ECU Baseball until the late 1990s. If there was ever a time for East Carolina to break through, it's now.
The Top 10 Value Play: Virginia +2000 (BetRivers)
Virginia doesn't play another ranked opponent until the second-to-last weekend of the season. After that, they will host No. 12 Louisville for a series. The Cavaliers are ranked 6th in the RPI as of this writing. Barring an unexpected collapse Virginia should be a Top 8 National seed. Head coach Brian O'Connor has been at the helm for the Cavs since 2004.
O'Connor has led the Wahoos to five Omaha appearances in the past 14 years. Virginia was the runner-up in 2014 and won it all in 2015. O'Connor has plenty of CWS experience, and once again, he has built up this ball club to be one of the National contenders this year.
The Analysis
The Cavaliers are the only team in the country to rank in the top-15 in the nation in batting average (1st), ERA (4th), and fielding percentage (12th). Virginia is top 10 in the nation in runs with 337 (4th), on-base-percentage .438 (5th), and scoring 9.4 RPG (6th). The 'Hoos lineup also ranks 1st in the country in doubles (102) and hits (445). Of the 371 strikeouts (14th) recorded by Cavalier pitching, 129 have come looking, and that's most of any staff in the country.
Virginia boasts a stellar starting rotation of three guys with ERAs below 3.20. Brian Edgington (6-1), 2.36 ERA, 54 K, 15 BB, in 49.2 IP. Jack O'Connor (4-1), 3.18 ERA, 41 K, 18 BB, in 45.1 IP. The third guy, Connelly Early, is actually the Cavaliers' 4th (midweek) starter. Early is tied for the most wins of any ACC pitcher with eight. He has a 3.05 ERA, 49 K, 13 BB, in 41.1 IP.
As a graduate senior, Nick Parker came into the year slated to be the leader of the staff. Unfortunately, he hasn't been as good as the rest of the pack, but he will definitely make a great impact in the postseason push.
Jake Gelof and Kyle Teel may be the best duo of hitters in any lineup in the country. In total, UVA has four hitters with an OPS above 1.000. In addition, three batters have an average over .400. The Cavs have an incredible all-around group that is poised to make some noise in June.
The Favorite: Wake Forest +1000 (DraftKings)
To be clear, on "The College Baseball Experience," I announced that I bet Wake Forest at +3000 to win the College World Series. Even though there is still a tough road in front of D1Baseball's No. 2 ranked Demon Deacons, they have given me absolutely no reason to jump ship now. Wake Forest is currently 3rd in the RPI with plenty of opportunities in front of them to improve that ranking.
The Deacs have only made two trips to the College World Series; their last appearance came back in 1955. That is Wake's one and only National Title. I seriously believe that they could add another Natty this year.
The Analysis
Wake Forest's pitching staff leads the nation in strikeouts, strikeouts-per-nine innings, WHIP, strikeout-to-walk ratio, and ERA. The Deacs staff also rank first in the ACC for ERA and top-2 nationally in every other category. The trio of weekend starters for WF doesn't have an ERA above 2.05.
The reigning ACC Pitcher of the Year, Rhett Lowder, is dealing once again. Lowder is 8-0 on the season with a 1.43 ERA, 67 K, 11 BB, in 63 IP. Wake Forest's SP2, Josh Hartle, is 6-1, with a 1.94 ERA, 73 K, and 9 BB in 46.1 IP. The Demon Deacons' SP3, Sean Sullivan, would be an Ace anywhere else in the country. Sullivan is 5-1 with a 2.05 ERA, 74 K, and 9 BB in 44 IP.
Wake's top nine most-used pitchers all have ERAs of 4.65 or below. Camden Minacci resides in the bullpen. Minacci has nine saves on the season with a 2.65 ERA. He is maybe the best closer in all of college baseball. The depth of Wake Forest's pitching staff is insane and makes it the best collection of pitchers in the country.
Six of Wake Forest's hitters have an OPS above 1.000, and eight of them have a batting average above .300. Up and down the order, head coach Tom Walter has dudes. Whether it's hitting for power or average, the Deacs can get the job done at the plate. So far, a little more than halfway through the season, Brock Wilken (17) and Nick Kurtz (11) have double-digit home runs. Leadoff hitter Tommy Hawke has a .495 OBP and eight steals on the year. Hawke is a perfect table setter.
I think Wake Forest is the most complete team in the country. Therefore they are my favorite team, as of April 20th, to win the College World Series.
---
The College Baseball Experience
Experience the BETTOR side of college baseball with The College Baseball Experience of the Sports Gambling Podcast Network. The pod has been gambling successfully on NCAA Baseball all year. The group will have you covered with college baseball betting picks weekly on the Road to Omaha through the College World Series bracket until the end of the College World Series.
RELATED CONTENT