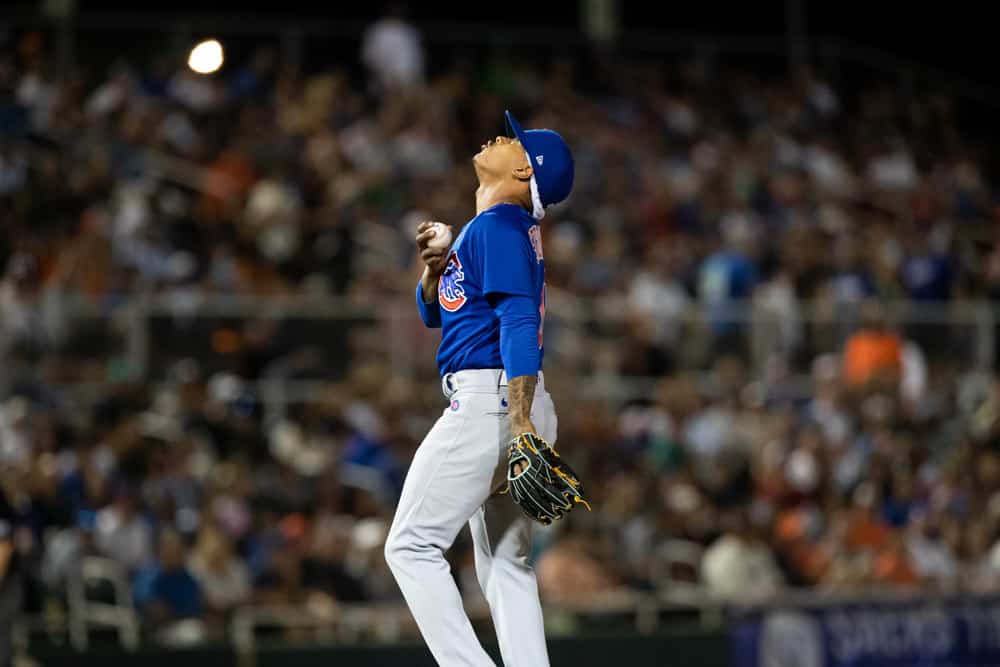 The lockout has ended, and we are finally ready to play baseball. It's been an interesting off-season for the players and the teams. For the moment it looks like they have figured everything out and now we are just three weeks away from opening day. This article will focus on the pitching prop market for the 2022 season. How will certain guys perform with their new team? Will we see regression? Cy Young winners? You will find all that and more in this article.
SGPN MLB Preview
Fantasy Baseball Rankings
MLB Pitching Props
Pitching Sleepers to Target in Draft
Fantasy Baseball Bounce-Back Targets
10 Rookies for Fantasy Baseball
Hitting Props for all 30 Teams
American League Preview – Odds, Win Totals & more
National League Preview – Odds, Win Totals & more
Funniest Fantasy Team Names
Sleeper Hitters to Target in Fantasy Baseball
MLB Awards Best Bets – MVP, ROY & more
MLB Pitching Previews: 2022 Pitcher Props For All 30 MLB Teams
2022 Pitcher Props – NL East
Atlanta Braves
Max Fried (U 175.5 K's, -114)
If the Atlanta Braves want any chance at defending their World Series title, it needs to start at the top of the rotation with Max Fried. He had one of his best seasons last year, striking out 158 batters. The line for his total strikeouts on the season is at 175.5, but he's only gone over that number once in his career. Fried is a guy who does get injured as well. Never bank on a player to go down but with his history, this number seems high. Even with Fried having another solid season, my line on his K's prop is around 171. I'll dive under 175.5 K's (-114)
New York Mets
Jacob deGrom (Cy Young, +400)
The Mets are coming off a very disappointing season with their ace only being able to throw 92 IP. Jacob deGrom is back and finally healthy, hoping to pitch the entire season. With the additions the team has made to their rotation and defensively, I expect the Mets to be serious contenders this season. Jacob deGrom has shown us his entire career that he is consistently getting better. If you look at the years he's won the Cy Young, deGrom has been able to put together a full body of work that blows away the competition. If deGrom is able to stay healthy and have another record-breaking season, I expect him to be right there in the Cy Young running. At +400, I'll take Jacob DeGrom to win another Cy Young award.
2022 Pitcher Props – NL Central
Milwaukee Brewers
Corbin Burnes (O 224.5 K's, -114)

There is no doubt that Corbin Burnes had the best year of his career last season. He struck out 234 batters in just 167 IP. We don't have too much of a sample size for Burnes, but he has shown us if he can stay healthy, he can get a lot of strikeouts. Burnes went way over this number (224.5) by 10 strikeouts. I imagine him having another outstanding year and pitching more innings for the Brewers. 224 K's is a high number, but I think he goes over it. I'll go o224.5 Ks for Burns at (-114)
Cincinnati Reds
Luis Castillo (U 199.5 K's, -114)

Luis Castillo hasn't been in the majors that long but has been a pivotal part of the Reds rotation. Castillo didn't have his best statistical season last year, but the Reds are hoping he can turn things around. His K prop sits at 199.5 and Castillo has only gone over this number once in his career and it was his best year. Having to strikeout 200 batters is a tall task for anyone and I don't think we can trust Castillo to achieve that this upcoming season. As inconsistent as he's been, I have to lean u199.5 Ks for Castillo at (-114)
2022 Pitcher Props – NL West
San Francisco Giants
Logan Webb (U 186.5 K's, -114)

Logan Webb was one of the biggest surprises of the MLB last year. Out of nowhere, Webb developed into one of the best pitchers in all of baseball. He will be at the top of the Giants rotation looking to have another solid season. He's only been in the majors for three years and last year was his first year being one of the Giants starters. I do think Webb will follow up his performance with another solid season, but to jump almost 30 strikeouts seems a bit much. I think he'll be able to log in more IP and have more strikeouts, but I'll bank that he falls just underneath the number. I'll dive u186.5 K's (-114)
Los Angeles Dodgers

Walker Buehler (U 208.5 K's, -114)

After finishing fourth in the Cy Young race last year, Walker Buehler is looking to have another solid season for the Dodgers. Last season Buehler went just over this number with 212 strikeouts in 207.2 IP. The line is at 208.5 strikeouts which seems a bit high since Buehler has only gone over this mark twice in his career. There's no doubt I think he'll have another successful season for the Dodgers, but striking out 209 batters is a challenge for anyone. You got to think he's due for some regression at some point in the season. I'll bet he doesn't get to this number so, u208.5 K's (-114) is the play for me.

2022 Pitcher Props – AL East
New York Yankees
Gerrit Cole (Cy Young, +475)

Cole has a terrific season, going 16-8, striking out 243 batters in 181.1 IP. You have to believe Cole was pretty upset not winning the Cy Young award after having a season of the ages. I think Cole will come into this season determined and ready to work. The one concern I have with him winning the award is if the Yankees don't produce and give him the support he needs, it will be difficult for him to get the votes needed. The Yankees underperformed last season and if they want to reclaim their position at the top, they're going to have to do a better job at closing out games. If they get Cole enough wins and he produces like his normal self, I think he has a real shot at the award. I'll take Gerrit Cole to win the AL Cy Young at +475.
Toronto Blue Jays
Kevin Gausman (U 209.5 K's, -114)

Kevin Gausman should have no problems making the jump from the NL to the AL. Gausman got a nice five-year $110 million dollar deal from the Blue Jays this offseason. After the season he just had, I'm surprised he didn't get more. Gausman went 14-6 with the Giants last season with a 2.81 ERA, striking out 227 batters. His best season by far, but besides last year his highest number of batters that he struck out was 179 back in 2017 for the Orioles. I think he fits in perfectly with this Blue Jays team and I am very confident he'll thrive, but 209.5 seems high for a guy who only hit this number once in his 11-year career. I'll dive u209.5 (-114) K's for Gausman.
2022 Pitcher Props – AL Central
Chicago White Sox
Lance Lynn (O 192.5 K's, -114)

Lance Lynn sits on top of a very good White Sox rotation. Coming off one of his best seasons in his 11-year career, Lynn will try to do even more for the team. He's bounced around the league, but no matter where he's gone, Lynn has put up great numbers. Now, Lynn's prop is high, but I think he's in the perfect situation with the White Sox to have success and win. In his first year with the club, Lynn went 11-6 and had one of the league's lowest ERA at 2.69. Lynn did fall under this strikeout number last season but has gone over this mark twice in his career. I think if Lynn can stay healthy, he has a shot to get more strikeouts than last year. I'll go o192.2 (-114)
Cleveland Guardians

Shane Bieber (U 235.5 K's, -114)

Besides Gerrit Cole, I think Shane Bieber will be right there in the race for AL Cy Young. Bieber is coming into his fifth season and has already established his name as one of the league's best pitchers. Bieber has missed some starts these past couple of years but was still able to walk away with the AL Cy Young award in 2020. His K prop is one of the highest on the board and he has shown us that if he can stay healthy throughout the whole season, he can get this number. However, I do think the number is a little high. No doubt, when healthy Bieber is one of the best in the league, but he's only been able to strike out 200 or more batters once in his career, back in 2019. One year out of four seasons, I bet he doesn't reach this number. I'll dive u235.5 (-114) K's for Shane Bieber.
2022 Pitcher Props – AL West
Seattle Mariners
Robbie Ray (U 243.5 K's, -114)

The 2021 AL Cy Young Award winner is on the move to Seattle and boy did he get paid. Five years for $115 million as he now leads a young Seattle team at the top of their rotation. Ray and Chris Flexen sitting at top of the rotation is a nice one-two punch. After his best season last year, Ray will be looking to make the Mariners contenders in the AL West. His strikeout prop is one of the highest, but Ray just went over this number last season, striking out 248 batters. However, besides last season Ray has never gone over this mark. 243.5 is a really high number, I think we see some regression for Ray coming to a new team trying to build some chemistry. U243.5 (-114) is the play for me.
Oakland Athletics
Sean Manaea (U 178.5 K's, -114)

After being on the trade block for most of the off-season, Sean Manaea has remained at the top of the Athletics rotation. Manaea had a solid season last year, striking out 194 batters with a 3.91 ERA. In Manaea's six seasons with the Athletics, he's only gone over this number once and it was last year. I do agree with the respect he's been getting because I anticipate him having another solid season being the leader of their rotation. But 178.5 K's seems a bit high. The Athletics traded away a few of their guys who produced runs for this team. Not having them will hurt this pitching staff. I'll dive u178.5 K's (-114).
Related Content