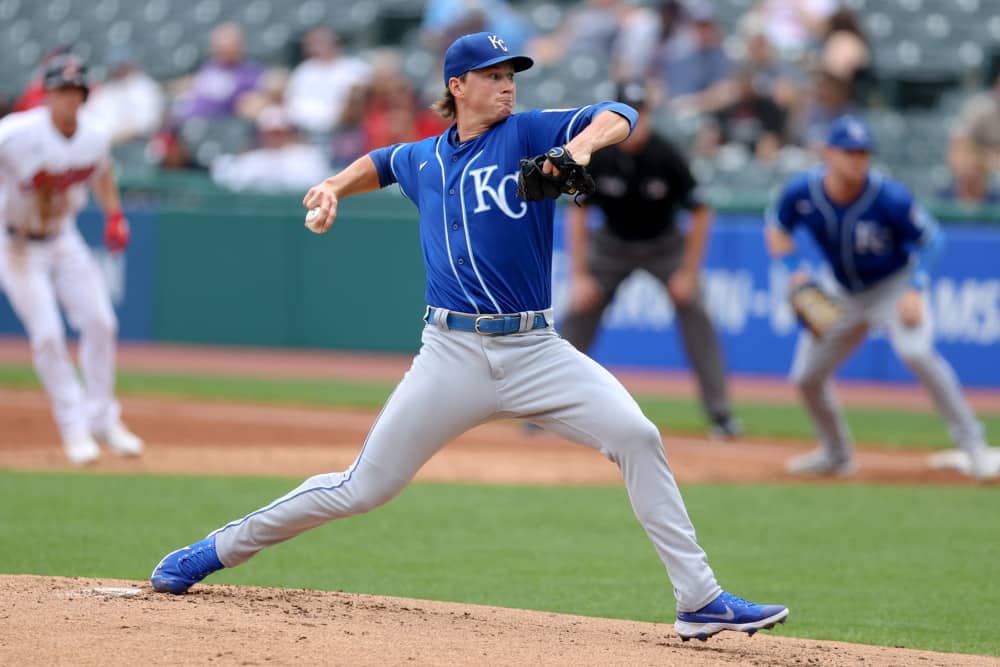 I've got bad news for you: there is no way you're bagging Gerrit Cole, Robbie Ray, and Jacob deGrom all on your fantasy team. At least you aren't doing so without some pretty incompetent competition. However, that doesn't mean that you can't put together a solid rotation to take you to fantasy glory. The key to any great rotation lies entirely in the back end. Every team will have their front of the rotation guys, but it's the pitching sleepers at the bottom of the roster that can make or break it for you. So we're here to help you with a list of guys to grab towards the end of the draft that will make you look like a certified genius.
SGPN MLB Preview
Fantasy Baseball Rankings
MLB Pitching Props
Pitching Sleepers to Target in Draft
Fantasy Baseball Bounce-Back Targets
10 Rookies for Fantasy Baseball
Hitting Props for all 30 Teams
American League Preview – Odds, Win Totals & more
National League Preview – Odds, Win Totals & more
Funniest Fantasy Team Names
Sleeper Hitters to Target in Fantasy Baseball
MLB Awards Best Bets – MVP, ROY & more
5 Pitching Sleepers to Target
Brady Singer – KCR
Back-to-back years with an ERA between four and five certainly doesn't garner you a lot of attention, but Brady Singer has some peripheral stats that suggest he could have a big year. Firstly, his FIP was a lot lower than his ERA, which means he may have been at least a little unlucky. But even apart from stats like that, he's putting up numbers that are actually helpful to your fantasy team right now. Over his MLB career, Singer has struck out 192 batters in 192.2 innings – that's just short of one an inning. Being that he's only 25 and may mature a bit on the hill, he's one of my favorite pitching sleepers.
JT Brubaker – PIT
Like Singer, JT Brubaker is in his 20s, plays for a bad team, and strikes out a ton of guys. Shouldn't that be enough to draft him as your favorite of the pitching sleepers right there? Well, his 5.36 ERA last year likely puts a halt to that. So why am I big on him anyways? In the minors, he did an amazing job at limiting home runs – even in an environment that seems to be accelerating the rates. Last year in the majors, he gave up 2.0 per nine innings, which is nearly twice his worst year on record. If that number regresses even slightly towards the mean, Brubaker and those strikeout numbers look juicy.
Huascar Ynoa – ATL
In his first five starts in the 2021 season, Huascar Ynoa struck out 34 batters. That's nearly seven per start, which is already impressive. It becomes even more eye-opening when you add in that he only threw 26.1 innings in that stretch. Shortly thereafter, Ynoa punched a wall and missed a considerable amount of time. Not only was he on track to get Rookie of the Year votes, but with strikeouts like that and an ERA barely over three, he may have been a fringe All-Star. He came down to Earth upon returning, but a late-round stab in the dark may net you one of the better pitching sleepers here.

Nick Martinez – SDP
You won't likely remember Nick Martinez from last year because he wasn't in the MLB. Playing for the Fukuoka SoftBank Hawks over the last couple of years, Martinez has looked incredible. He's racked up plenty of innings and had a minuscule 1.62 ERA last year. There's plenty of precedent for pitchers heading over to Japan and coming back much better (see Mikolas, Miles). The Padres clearly see his potential as one of the better pitching sleepers as well, handing him $20 million dollars over a four-year deal. While that rotation is a bit crowded, they've been dinged up in recent years. That should make sure that Martinez gets his chance to shine.
Eliser Hernandez – MIA
You could probably list any young Marlins starter as one of the better pitching sleepers and nobody would doubt you. Eliser Hernandez might be the most overlooked of them all though. You can thank the fact that he only threw 51.2 innings and that all of his rates dropped from the shortened season. However, he's always been a strikeout machine, and if he can get those walks back down and pitch a full season, who knows what we'll see.
Make sure to check out all the great MLB coverage we have to offer and be sure to listen to each of the MLB podcasts that we have in tow – The MLB Gambling Podcast and the forthcoming Fantasy Baseball Podcast. They may even have some more pitching sleepers for you. 
Related Content