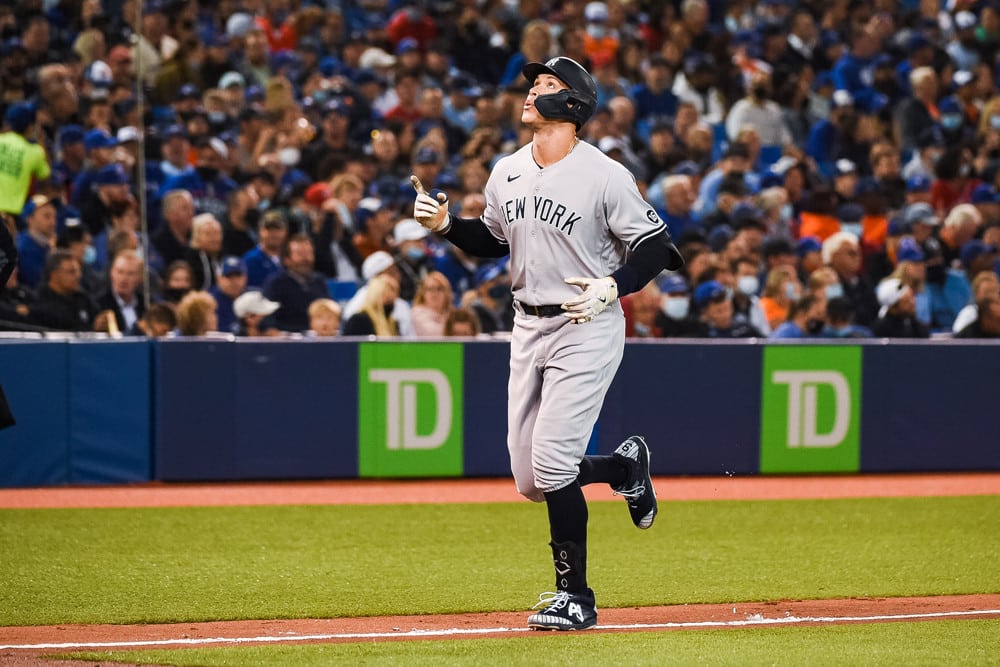 Well, it looked dicey for a time there but it looks like we are getting a full baseball season in 2022. There is no love lost between MLB and MLBPA but baseball must go on. It has been an odd few years starting with a pandemic shortened season and culminating with a lockout that threatened to cancel the 2022 season altogether. Once baseball activities resumed the transactions came at a fast and furious pace and a few teams are looking a little different heading into the 2022 seasons as we look at our American League Preview.
Familiar Faces in New Places: What Does the American League Look Like Heading into 2022?
Even with these changes and major additions (who saw the Twins adding Carlos Correa?), a few usual suspects lead the pack in World Series odds. Were the additions of Carlos Correa, Gary Sanchez, and Gio Urshela enough to boost the Twins into the playoff picture? Conversely, were the additions of Josh Donaldson and Isiah Kiner-Falefa enough to keep the Yankees near the top of the AL and offset their losses? Let's preview the American League and see who the favorites are to win the World Series, what key additions each team made, what players were lost by each team this offseason, and where we expect their win totals to land.
SGPN MLB Preview
Fantasy Baseball Rankings
MLB Pitching Props
Pitching Sleepers to Target in Draft
Fantasy Baseball Bounce-Back Targets
10 Rookies for Fantasy Baseball
Hitting Props for all 30 Teams
American League Preview – Odds, Win Totals & more
National League Preview – Odds, Win Totals & more
Funniest Fantasy Team Names
Sleeper Hitters to Target in Fantasy Baseball
MLB Awards Best Bets – MVP, ROY & more
2022 MLB World Series Odds & Win Totals: American League Preview & Picks
American League Preview: AL West Division
Oakland Athletics
2021 Record: 86-76
2022 Win Total: 70.5
2022 World Series Odds: +15000
Outlook: The Athletics are a bit of a bummer. They are so good at developing young talent and it seems like every few years those young guns catch fire and the A's make a playoff run that takes half the league by surprise. The American League feels more fun when the A's are making noise. Unfortunately for us, that is not happening this year. The A's are in the middle of a fire sale and already sold off cornerstone All-Stars Matt Chapman and Matt Olson to the Blue Jays and Braves, respectively.
This team is the definition of cheap and has sold off the entirety of its core. There are rumblings that pitchers Sean Manaea and Frankie Montas could be out the door sooner rather than later. The A's will likely develop all of their prospects well but it will be a few years before they are competitive again. Save your money and do not bet on the A's unless it is the under on their win total.
My Pick: Under 70.5
Houston Astros
2021 Record: 95-67
2022 Win Total: 91.5
2022 World Series Odds: +1000
Outlook: The Astros are the Astros. They have a strong young core and have essentially returned the same team to the field since 2017. This is not a knock on the team, as they are perennial playoff contenders and often find themselves in the ALCS as they did last year. The Astros were the champions of the American League but fell to the red-hot Braves in the World Series. Their 91.5 win total may feel low until you consider that the face of their franchise, Carlos Correa, is now playing shortstop for the Twins and they did not do much else to improve the roster in the offseason. Sure, they managed to resign Justin Verlander, but he is another year older and coming off Tommy John Surgery.
When Verlander is right he is a Cy-Young candidate every year, but can he be trusted coming off major elbow surgery? There are a lot of questions marks surrounding the Astros in 2022 and I do not feel comfortable counting on them to be the same team they always have been. They may still win the division, but I do not see them running away with the American League. There are at least three to four teams I would bet on to win the World Series before looking the Astros' way.
My Pick: Under 91.5
Seattle Mariners
2021 Record: 90-72
2022 Win Total: 83.5
2022 World Series Odds: +4000
Outlook: The Mariners are a sleeper favorite of mine. I think this may be the year they challenge the Astros for the West. I know they have the longest playoff drought in the MLB, but with an expanded playoff picture and a weakened Astros team, I think this is the year they do it. The Mariners may have had the best offseason in the sport and I do not think it is even close. A hot close to the 2021 season had them knocking on the door of the postseason and they opened their wallet to make that push stronger in 2022. They pried the AL CY Young winner in Robbie Ray away from the Blue Jays with a five-year $110 million dollar contract and added an instant ace to their staff.
The Mariners didn't stop there as they took advantage of a Reds team more interested in reducing their payroll than competing and added a couple of All-Star sluggers in OF Jesse Winker and 3B Eugenio Suarez. Both are capable of slugging their way to 25+ homer seasons and adding even more pop to an already potent lineup. The retirement of Kyle Seager hurts but the additions of Winker and Suarez should be more than enough to offset the loss of any offense from the hot corner. They even added to the bullpen by adding Sergio Romo and getting Ken Giles back from injury. This team is deeper and more experienced. Watch out. They could be a sneaky fun option to bet on to win the World Series with juicy +4000 odds.
My Pick: Over 83.5
Los Angeles Angels
2021 Record: 77-85
2022 Win Total: 83.5
2022 World Series Odds: +3500
Outlook: The Angels are a maddening team to watch year in and year out. They boast the best player in the league and arguably two top five players in the league in Mike Trout and Shohei Ohtani. Yet, every year, they are on the outside looking in come playoff time. Sure, injuries have not been kind to the halos and Trout missed a lot of time last year but Ohtani became the face of the league. Baseball's only true two-way player, Ohtani was on fire for the entirety of the 2021 season with 46 homers and 100 RBIs while managing to pitch to nine wins and a 3.18 ERA. The Angels have a lot of pop in that lineup with Trout, Ohtani, Jared Walsh, and Anthony Rendon leading the way, but always seem to falter because they lack pitching.
Can the Pitching Hold up?
Adding pitching depth was obviously a point of emphasis this offseason and the Angels did just that by adding Thor himself, Noah Syndergaard. They didn't stop there and shored up their pitching rotation by adding Michael Lorenzen. They also showed some love to the bullpen and added Aaron Loup, Ryan Tepera, and Archie Bradley. This team looks a lot more complete heading into 2022 and if they can stay healthy, they look like a competitor for a playoff spot. The Astros have taken a step back, the A's have thrown in the towel, and the MLB added an extra spot to the postseason in each league. If not now, when? Looks for the Angels to win over 83.5 games and push for a playoff spot. I am not sure they are quite World Series ready yet but should be a fun team to watch down the stretch.
My Pick: Over 83.5
Texas Rangers
2021 Record: 60-102
2022 Win Total: 74.5
2022 World Series Odds: +10000
Outlook: The Rangers spent a lot of money this offseason. This might have been a surprise to some. Also surprising was that not only did they come home with one of the top-tier shortstop options on the market in a historically elite shortstop free agent class, but they also came home with two of them! They agreed to monster contracts with Corey Seager (who will be manning shortstop) and with 2021 breakout start Marcus Semien who agreed to man second base for the Rangers.
The Rangers have shored up an elite middle infield for years to come, but will it be enough? Probably not this year, but it was a good step forward. They added Jon Gray to be the ace of their staff and Greg Holland to shore up their bullpen, but their pitching still needs work. They have some thumpers in the lineup and likely will be more of a playoff contender in 2023.
My Pick: Under 74.5
American League Preview: AL Central Division
Minnesota Twins
2021 Record: 73-89
2022 Win Total: 81.5
2022 World Series Odds: +5500
Outlook: The Twins are intriguing. I don't LOVE them this year but they are surely better than they were last year. Adding arguably the best shortstop in the league in Carlos Correa sure helps. They also now boast former Yankees Gary Sanchez and Gio Urshela in their Lineup. They also added Sonny Gray at the top of their rotation. If everyone performs, the pitching holds up, Dylan Bundy bounces back, and Byron Buxton stays healthy, the Twins could definitely challenge for a wild card spot. I still think the Central is the White Sox's division to lose but the Twins will be better than last year.
My Pick: Over 81.5
Chicago White Sox
2021 Record: 93-69
2022 Win Total: 91.5
2022 World Series Odds: +1200
Outlook: The White Sox were good last year. The White Sox will be good again this year. They did not have many holes to fill this offseason and therefore had a pretty underwhelming offseason. The White Sox still boast one of the best hitters in the league in Jose Abreu and have the ever-exciting Michael Kopech transitioning back to the rotation. This team did manage to add to their bullpen by signing Kendall Graveman and Joe Kelly. The White Sox also plugged a hole at second base by signing Josh Harrison. Harrison is not a sexy option but is more than serviceable at the position. The Central still goes through this team. The real question is, can they compete with the juggernauts coming out of the East when the playoffs start?
My Pick: Over 91.5
Cleveland Guardians
2021 Record: 80-82
2022 Win Total: 76.5
2022 World Series Odds: +10000
Outlook: The Guardians are lame. The team name and the team itself. There is literally nothing to be excited about here. They changed their name and let a bunch of players walk in the offseason. They are basically returning the same team they had in 2021 minus some depth. What they do boast is one of the lowest payrolls in baseball and have no interest in competing in 2022. Move on.
My Pick: Under 76.5
Kansas City Royals
2021 Record: 74-88
2022 Win Total: 74.5
2022 World Series Odds: +6500
Outlook: It does not feel that long ago that the Royal went to back to back World Series, won one of them, and felt like one of the most exciting young teams in baseball. All that is left from those young exciting teams is Salvador Perez who has found the fountain of youth and started nuking homers like he is Barry Bonds. Other than that, the Royals are pretty below average. They have a lot of young no-names but DO boast the #1 prospect in baseball in Bobby Witt Jr. Maybe they are working towards another young core that can make another run in a few years, but again, they are not likely to compete in 2022.
They brought back a familiar, but much older face, from their past in Zack Greinke. His best days are behind him but he is a lot of fun to watch on the mound. The Royals will probably steal a few series here and there but expect about the same win total as last year.
My Pick: Under 74.5
Detroit Tigers
2021 Record: 77-85
2022 Win Total: 77.5
2022 World Series Odds: +6500
Outlook: The Tigers have not been good for a few years but they seem to have a plan. The Tigers started to spend big bucks this offseason, which means they feel they are ready to compete in the near future. They brought in All-Star shortstop Javier Baez on a huge deal and shored up their starting pitching by signing Eduardo Rodriguez away from the Red Sox in free agency. You get the feeling this was Phase 1 in a plan to compete in the next few years, but it was encouraging to see. They lost Matthew Boyd in the offseason but the additions outweigh the subtractions here. The Tigers will be a fun young team to watch.
My Pick: Over 77.5

American League Preview: AL East Division
Tampa Bay Rays
2021 Record: 100-62
2022 Win Total: 89.5
2022 World Series Odds: +1700
Outlook: I can never quite get a read on the Rays. Every year I think, "there is no way they win the AL East again" and they generally prove me wrong. You get the feeling a lot of teams in the MLB want to be the Rays but cannot replicate their execution. This organization is always near the bottom of the league in payroll but manages to outcompete the powerhouses of the AL East (Red Sox, Blue Jays, Yankees) on a regular basis even though they are all generally near the top of the league in spending. This is probably history repeating itself, but I am a little lower than most on the Rays in 2022.
The division is stacked. Say what you want about the Yankees' underwhelming offseason acquisitions, or lack thereof, but they still currently boast the second-highest odds to win the World Series. Who are they tied with? The Blue Jays (+900) who also happen to be in the same division. The Red Sox have slightly lower odds (+2200) but were in the ALCS last year and added Trevor Story this offseason.
The AL East is going to be a gauntlet and I think this may be the year it finally catches up to the Rays. They did not do much to boost their lineup in the offseason and lost Nelson Cruz. They added Corey Kluber to a good rotation so an above-average pitching staff and another step forward from Wander Franco might be what the Rays are banking on. Probably best to ignore me here as I can never quite get a good read on this franchise.
My Pick: Under 89.5
New York Yankees
2021 Record: 92-70
2022 Win Total: 91.5
2022 World Series Odds: +900
Outlook: The general consensus is that the Yankees get an "F" for their 2022 offseason moves, if you can even call them that. They had a gaping hole at shortstop and the 2022 offseason boasted a historically good free-agent class of shortstops. It was almost a shoo-in that the Yankees would come away with one of them – until it wasn't. They opted to make a questionable trade with the Twins that allowed Minnesota to clear the payroll needed to sign Carlos Correa themselves. Brian Cashman is generally regarded as a good general manager but this felt like he got his pants pulled down for everyone to see.
The Yankees felt strongly enough about their own shortstop prospects (Anthony Volpe, and Oswald Pereza) and about the Gold Glove defense of Isiah Kiner-Falefa that they chose to sit out this historic free-agent class. This is the closest to "cheap" we have ever seen from the Yankees, who have seemed hesitant to spend money in recent years.
The End of the Evil Empire?
Is this the end of the evil empire? Hardly. They still boast a payroll in the top five of the league and can roll out a lineup that still puts the fear of God in opposing pitching staffs. Aaron Judge and Giancarlo Stanton are still one of the deadliest duos in the league and these towering athletes are both capable of putting up 40+ homer seasons. Where the Yankees' offseason becomes frustrating is that they chose to become marginally better as opposed to significantly better to save a few dollars. They are now hoping one of their shortstop prospects is the next Derek Jeter and that just feels like an unfair expectation for a young stud. In addition, a lot has to go right.
Most of the team will need to stay healthy and they are banking on bounce-back seasons from DJ LeMahieu, Aaron Hicks, Joey Gallo, and Gleyber Torres. This feels like a risky game to be playing, but the Yankees are likely to still compete for the division and are still capable of matching up with anyone in a win-or-go-home series in the AL. I am taking the over but don't feel great about it.
My Pick: Over 91.5
Toronto Blue Jays
2021 Record: 91-71
2022 Win Total: 92.5
2022 World Series Odds: +900
Outlook: The Blue Jays are scary. If the current playoff format was instituted last season they would have been a playoff team. They missed the playoffs by one game even though they managed to score 100+ more runs than the Yankees, who snagged the final wild-card spot. The Blue Jays could have easily stood pat and brought the same terrifyingly electric lineup back for another go at it. Instead, they sent a bunch of prospects to the Athletics for Matt Chapman and made their lineup just that much deeper. They are tied with the Yankees for the second-best odds to win the World Series, and rightfully so.
The losses of Marcus Semien and Robbie Ray are tough, but they managed to add Chapman and Kevin Gausman. To offset those losses and arguably improved, even if slightly. The Jays have one of the best lineups and best rotations in the league while also managing to improve their defense in the offseason. They could win the AL East and represent the AL in the World Series.
My Pick: Over 92.5
Baltimore Orioles
2021 Record: 52-110
2022 Win Total: 62.5
2022 World Series Odds: +30000
Outlook: The Orioles are bad. And to make matters worse, they share a division with four teams that could all make the playoffs and challenge for the AL crown. That is a tall task for any team, let alone a young team with one of the lowest payrolls in the league. Another team that seems to be more interested in saving money than winning, it is hard to find anything to be inspired about when looking at the Orioles' roster and their outlook for 2022. At least they did not completely sell out and hung on to Cedric Mullins and Trey Mancini. Outside of those two, there aren't many reasons to be excited about this team. I hate to say it but Mancini and Mullens could be auditioning to join a contender at the trade deadline.
My Pick: Under 62.5
Boston Red Sox
2021 Record: 92-70
2022 Win Total: 85.5
2022 World Series Odds: +2200
Outlook: I will be honest – the Red Sox win total and World Series odds both seemed a little low to me. This team was just in the ALCS last season weren't they? Sure they lost Eduardo Rodriguez, but they added Trevor Story. The AL East is the toughest division in baseball and that surely has something to do with it. Maybe a regression to the mean after catching fire as a wild card team in the playoffs is likely? Either way, the Red Sox are a good team. Their pitching staff has a lot of question marks as Chris Sale hasn't been the same and struggles to stay healthy. James Paxton could be a solid addition if he can stay healthy but it is hard to be inspired by some of their pitching additions, including the 42-yeard old Rich Hill.
Even after adding a thumper like Trevor Story, this team likely takes a step back this year but still challenges for a spot in the expanded playoffs. I still like the over on their win total but anything can happen with the Jays, Yankees, Rays, and Red Sox beating up on each other all season.
My Pick: Over 85.5
Look Ahead
Make sure you check SGPN regularly for updates to our MLB rankings, picks, updates, and more!
Related Content