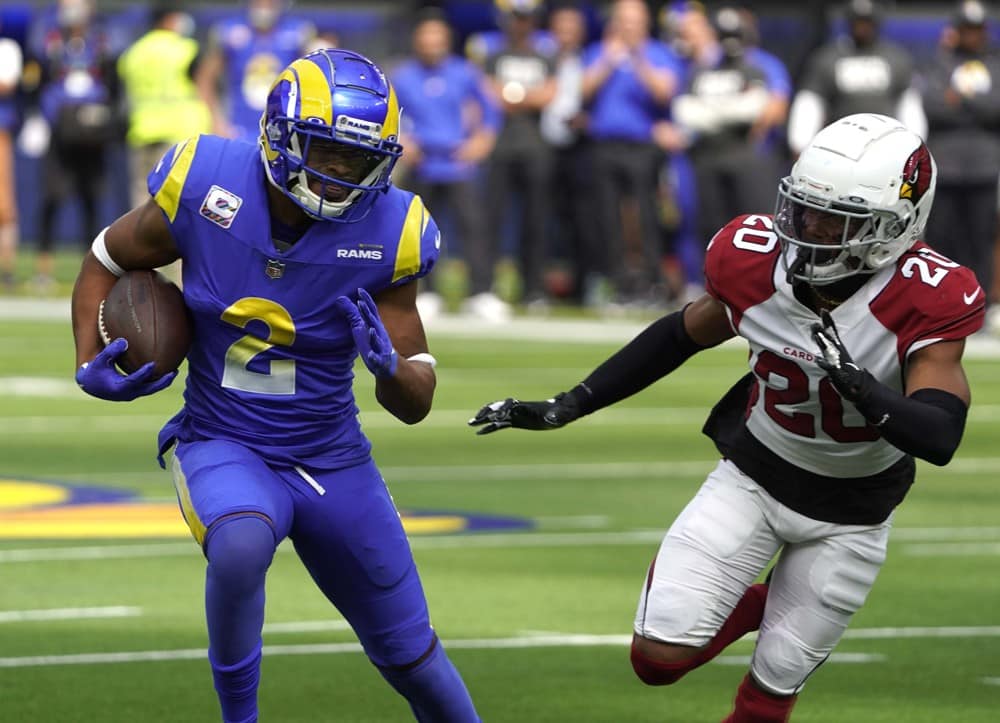 As we enter the second wave of bye weeks in the league, let's take a look at the SGPN Week 7 Fantasy Rankings update. On top of scheduled weeks off, we are seeing injuries start to take their toll on fantasy rosters. Start or sit situations are getting increasingly harder to figure out without a little help. The SGPN fantasy football staff is hard at work to help you make those tough decisions. Feel free to use these rankings to help you set your Week 7 lineups.
It's easy to access our collective staff rankings which we've done with the help of the FantasyPros expert platform. These are updated each week to keep up with the ever-changing landscape of the NFL week to week. Among the staff rankers are Dan Titus, Nick Dant, Scott Reichel, Ryan Kramer, Sean Green, Rod Villagomez, Jeremy Popielarz, and Adam Pelletier.
SGPN Fantasy Football Rankings Week 7 Update
Elijah Mitchell (RB) San Francisco 49ers
Coming into the season, Trey Sermon garnered a majority of the rookie running back hype in San Francisco. Through the first six weeks of the season, Elijah Mitchell has stolen quite a bit of that thunder. Mitchell shot out of the gates with a 100-yard performance in his first game as a professional football player. He also scored his first NFL touchdown. After a couple of missed games due to a shoulder injury, Mitchell came back in Week 5 and resumed his lead back role. While it wasn't a fantasy feast, his nine carries were the most by any Niners back. Worth noting, Sermon registered a single carry.
This week is defined by even more byes and several injuries to Top-10 running backs. As such, our staff has decided that Mitchell is a Top-15 back. This is in keeping with a majority of the other expert rankers who have the rookie as the #15 running back on the board. The only dissenter of the crew is Nick Dant who has him rank at #19 overall. Nick sees both Javonte Williams and Antonio Gibson as more valuable than Mitchell this week. Mitchell will have a decent chance to earn his RB2 ranking this week against the Colts. Indianapolis has been tough at times this season, but are coming off of a game in which Mark Ingram managed to gain 73 yards against them.
D'Ernest Johnson (RB) Cleveland Browns
What happens when every running back on your roster winds up on the injury report? The answer is… You fire up the pride of the Alliance of American Football's Orlando Apollos, D'Ernest Johnson of course. Johnson is no stranger to stepping in as a relief back for the Browns. Last season, he turned in a 95 yard performance in Week 4 against the Cowboys after Nick Chubb departed in the first quarter due to injury. That is basically the entire book on the unofficial AAF champion Johnson. He'll get to at least add another chapter to that book this Thursday night in a battle of two heavily wounded teams.
Despite his lack of sustained and proven production thus far, Johnson finds himself on the tail end of the RB2 conversation. He's a consensus #24 in the rankings given his warm body status on a beat up Cleveland team. His quarterback is not 100% and therefore may see a few more carries as a result. Once again, Nick has skewed the curve with his #18 ranking for Johnson. He has some help though, as Sean Green has placed the backup to the backup in the 20th position. Johnson has shown he's capable of a big game when given the chance. He'll certainly need to be in your lineups if you are without Hunt or Chubb, who have both been ruled out this week.
Robert Woods (WR) Los Angeles Rams
It seemed as if the Matthew Stafford era in Los Angeles was going to be the end of the reign of Robert Woods on the Rams. Over the first few weeks, the former Lions signal caller formed a bond with Cooper Kupp that seemingly excluded everyone else. Then, in Week 5, Stafford remembered Woods existed and all was right in the world again. Against Seattle, Woods caught 12 of 14 targets for 150 yards. It was good enough to land him as WR14 on the week. Last week though, he came back down to Earth with only two catches for 31 yards. He did manage to salvage some value with a touchdown catch in the game. Even still, he's only managed to finish a week inside the Top-24 three times this season.
That hasn't stopped our crew from setting Woods safely inside the WR2 conversation in our Week 7 Fantasy Rankings. He comes in ranked #16 almost across the board. With no real deviation, it seems that our staff feels as if last week's showing against the Giants was more of an outlier from his climb back to the top rather than a regression back to his mean. He can't ask for a better situation for another blow up game this week as his quarterback sets his sights on a revenge game. You can expect Stafford to want to light up his former team. Any and all of his pass catchers deserve a bump this week. It certainly explains why Woods has increased value.
T.J. Hockenson (TE) Detroit Lions
Nothing is more telling of the cavernous lack of tight end value after the Top-4 than the fact that T.J. Hockenson finds himself ranked as TE6 this week. Hock started off the season with two strong outings. It seemed as if he was making a bid to enter the top tight end conversation. Since then though, he, and the Lions have cooled off considerably. Last week was his best outing since Week 2 and even still he finished outside the range of a fantasy starter. He's been the definition of a boom or bust player all season long with far more bust than boom. It's because of the sheer drop off in talent alone that he finds himself ranked where he is this week.
It could be that our staff is also expecting Jared Goff to get amped for his side of the revenge game against his old team. As much as all the Rams players should get a boost this week due to the narrative, the Detroit offense also deserves some added value. When you consider that below him are the likes of Mike Gesicki, Ricky Seals-Jones, and Hunter Henry, you can understand why Hockenson lands where he does this week in our Week 7 Fantasy Rankings.
Related Content
Week 7 NFL Thursday Night Football DraftKings Picks: Broncos vs. Browns
NFL Week 7 Injury Updates I SGPN Fantasy Football Podcast (Ep.37)
Week 7 Fantasy Football Injury Report
FAAB Waiver Wire Week 7 Guide
Early Week 7 Waiver Wire Fantasy Football Targets