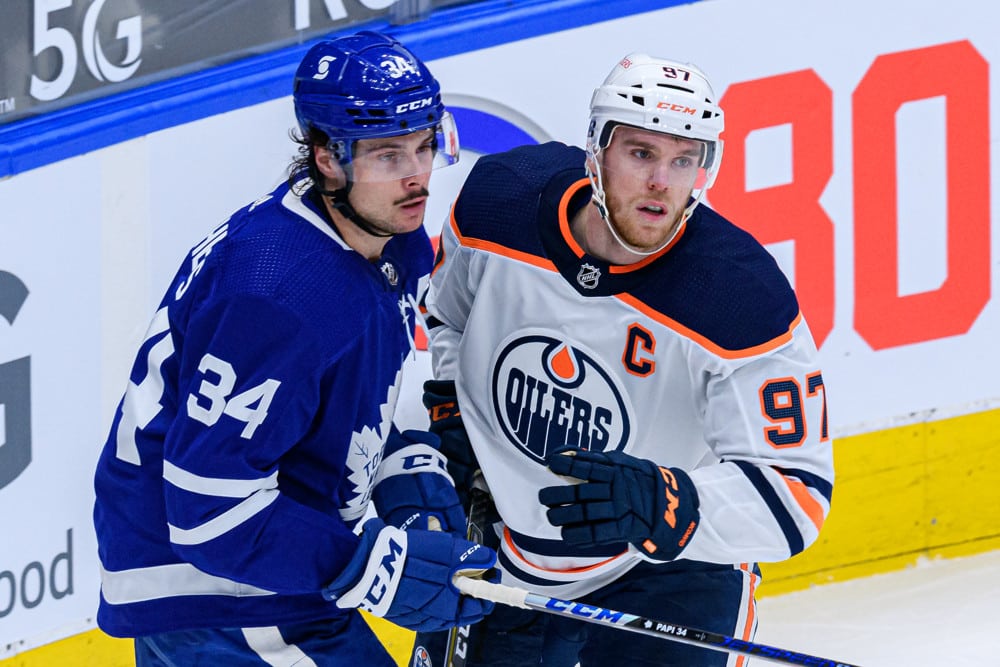 We are happy to introduce the Hockey Gambling Podcast! The Hockey Gambling Podcast is the first show dedicated to the NHL on the Sports Gambling Podcast Network. In our debut episode, Ryan Gilbert, Talon Jenkins, and Joel Meyer preview the 2021-22 season division by division with time spent on each and every one of the 32 NHL teams.
NHL Season Preview For All 32 Teams
The boys start out their NHL preview with the Atlantic Division, featuring a clear top four and bottom four teams. After that are the two best divisions in the league, the Central and Metropolitan. Both of those divisions have several teams that could make the playoffs –– and make a run. The guys break down each team and give their picks for who will make it out of those gauntlet divisions. Finally, they finish out with the Pacific Division, the weakest in the league beyond the Vegas Golden Knights.
Key Timestamps:
Atlantic Division – 00:02:18
Central Division – 00:29:15
Metropolitan Division – 00:51:36
Pacific Division – 01:11:50
Stanley Cup Predictions – 01:32:43
---
Make sure to subscribe to the Hockey Gambling Podcast on Apple and Spotify. Leaving us a rating and review would go a long way! Ryan, Talon, and Joel will be your guides this season talking hockey, having fun, and hopefully making some money for #DegenNation!
Bookmark our NHL Picks page where we provide daily picks for every single game!
---
NHL Division Previews:
Atlantic Division Preview & Betting Guide: Maple Leafs, Lightning, Bruins, Panthers
Atlantic Division Preview & Betting Guide: Canadiens, Red Wings, Senators, Sabres
Central Division Preview & Betting Guide: Avalanche, Wild, Stars, Jets
Central Division Preview & Betting Guide: Blues, Blackhawks, Predators, Coyotes
Pacific Division Preview & Betting Guide: Golden Knights, Oilers, Kraken, Flames
Pacific Division Preview & Betting Guide: Canucks, Kings, Sharks, Ducks
Metropolitan Division Preview & Betting Guide: Capitals, Flyers, Devils, Blue Jackets
Metropolitan Division Preview & Betting Guide: Islanders, Rangers, Penguins, Hurricanes