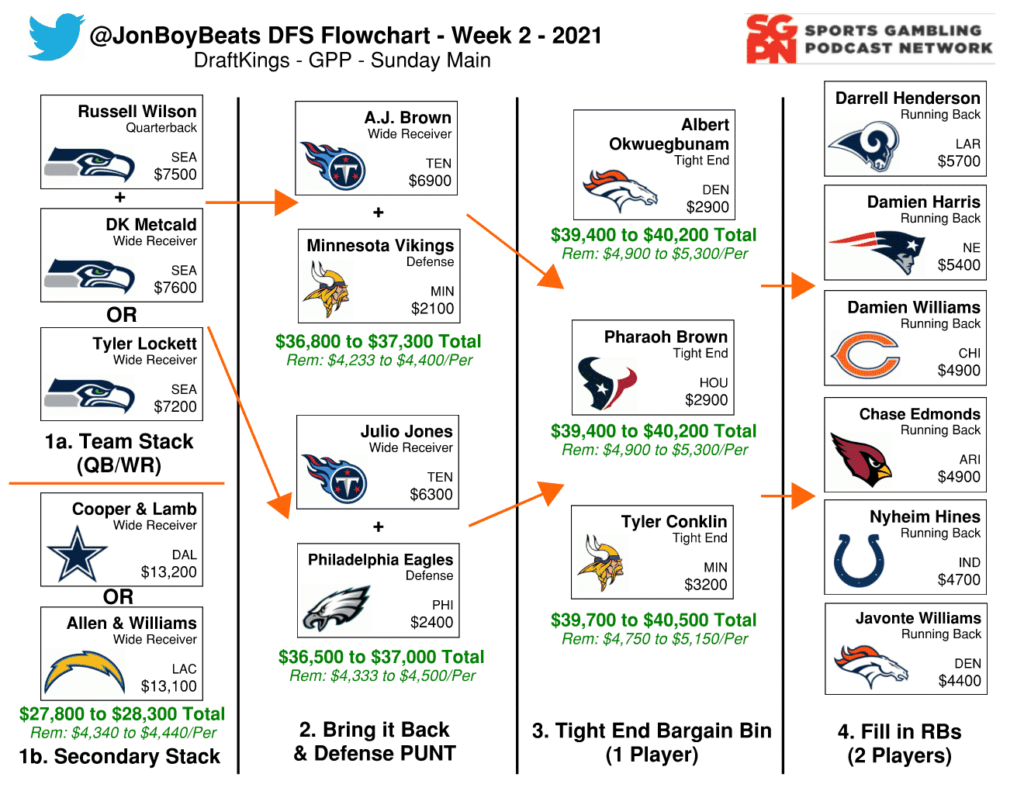 Buckle in folks, we've got a wild ride in The Flowchart this week. I have been writing this article for three weeks now, and I think this is the most unique flowchart I have ever created. A close second is Week 11 from last year, which did pretty well (top 3-5% in GPPs). We definitely have quite a few options on this slate, and I think it will be really important to think about how to get different. Let's dive into the Week 2 DraftKings Flowchart!
EXCLUSIVE SGPN FANTASY CONTENT
SGPN Fantasy Football Rankings
Week 2 Fantasy Football Injury Report
First, if you missed the Introduction article, please give it a read and make sure your head is in the GPP mindset to start the season. Second, even though The Flowchart is currently pretty injury-free, we never know what is going to happen over the next 24 hours. I will ALWAYS ALWAYS ALWAYS post my thoughts/changes to The Flowchart on Twitter, so please follow me there to stay up to speed. Finally, I am starting a new season-long project called The Workload Report which you can read about in this thread, however, if you simply sign up for the free subscription, you will get an email notification every time The Flowchart goes live this season.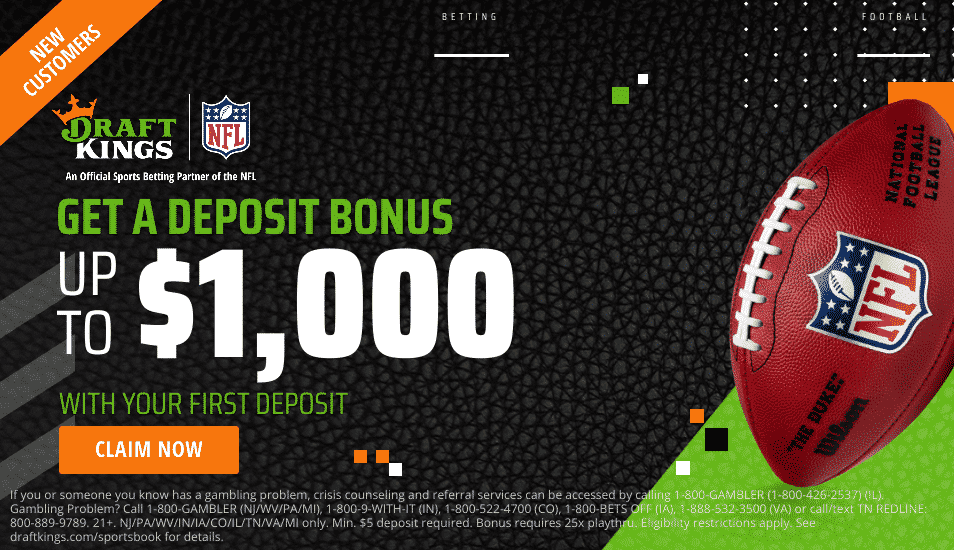 Week 2 NFL Flowchart – DraftKings DFS
Game Stack
My favorite game of the week is Tennessee @ Seattle, but the only issue is it is a very expensive one to stack. Russell Wilson and the Seahawks were hyper efficient against the Colts last week, but Tyler Lockett and DK Metcalf both found the end zone. To start this weekend's flowchart, I am advising to take Russ plus only one of his stud WRs in a single stack. This combo, will also provide some good leverage against Chris Carson, who is lining up to be pretty high rostered this week. As you will see, there is a ton of optionality this week, so I think it's a great slate to try and load up The Flowchart in the 20 max contests.
For those who followed The Flowchart in Week 1, you know that Ryan Tannehill led us to the deep back-end of GPP contests. Even though the Titans were in a perfect game script, they weren't able to pile up the passing stats in garbage time that we hoped for. For this reason, I expect Tennessee to be very low-rostered but once again they find themselves in a high total game based on the Vegas odds. For the bring-it-back options in this game, I am giving the option of rostering Julio Jones or A.J. Brown. If you are keeping track at home, that is now four different starts to your lineup that you can create based on the main game stack.
Secondary Stack
Sometimes, secondary stacks appear naturally in the backend of The Flowchart, but this week I am really trying to force it and increase the correlation in our lineups. It's no secret that the Cowboys and Chargers game is going to be really popular this week. A lot of people are going to target Dak and Herbert stacks, so if you are planning on playing this as a game stack, it will be very important to think about leverage and how to be contrarian. If people don't play Dak and Herbert, I think the next logical step will be to include one Cowboys receiver and one Chargers in each lineup. I am choosing to attack this game a bit differently. 
I would expect that there won't be too many lineups that include Amari Cooper + CeeDee Lamb and don't have Dak or a Chargers WR. On the flip side, I don't expect that there will be a lot of lineups that include Keenan Allen + Mike Williams and don't have Herbert or a Cowboys WR. This is how we will plan on being different this week, but still having some pieces of the most explosive projected game on the slate. Should be fun to watch as you sweat the DraftKings contests you entered using the Week 2 Flowchart!
Tight End & Running Back Bargain Bin
Now that we have loaded up our Wide Receiver and Flex positions with four absolute stud receivers, it's time to start looking at the bottom of the salary pool to help fill in the gaps. Keep in mind, we are now up to eight different combinations of QB plus 4 WRs through the first two columns.
In Column 3, we are choosing a punt Tight End to help provide us some more salary relief on the Running Backs in Column 4. Something that I will probably go more into depth in future weeks is the RotoViz weekly Game Level Similarity Projections. I use these to help validate some of the projections, and it's nice because it helps define probabilities that a player comes in at certain value thresholds. All three of the Tight Ends this week are very cheap and show up nicely on the GLSP projections, which means they theoretically have a good chance of not putting up a complete zero.
In the final column this week, I am listing six different RBs that are all relatively cheap and projecting to be low-rostered. Darrell Henderson and Damien Harris are both RBs who saw bellcow workloads in Week 1. Chase Edmonds and Javonte Williams are in 1A/1B running back situations and are clearly the more explosive guys in their backfield. Nyheim Hines and Damien Williams are secondary RBs but are the preferred pass-catching options on their teams so they provide access to the potential ceiling games that we need when playing GPP lineups. Low floors, but high ceilings.
That wraps it up for Week 2, hopefully, we can end up on the better side of variance this week and see some lineups land atop the leaderboards! Good luck!
RELATED CONTENT
Ten NFL Week 1 Fantasy Football Reactions
Week 1 NFL Fantasy Overreactions I SGPN Fantasy Football Podcast (Ep.27)
SGPN Fantasy Football Rankings Week 2 Update
DraftKings Price Changes and Values: NFL Week 2
College Football Fantasy Picks: DraftKings CFB DFS Targets & Values for Week 3