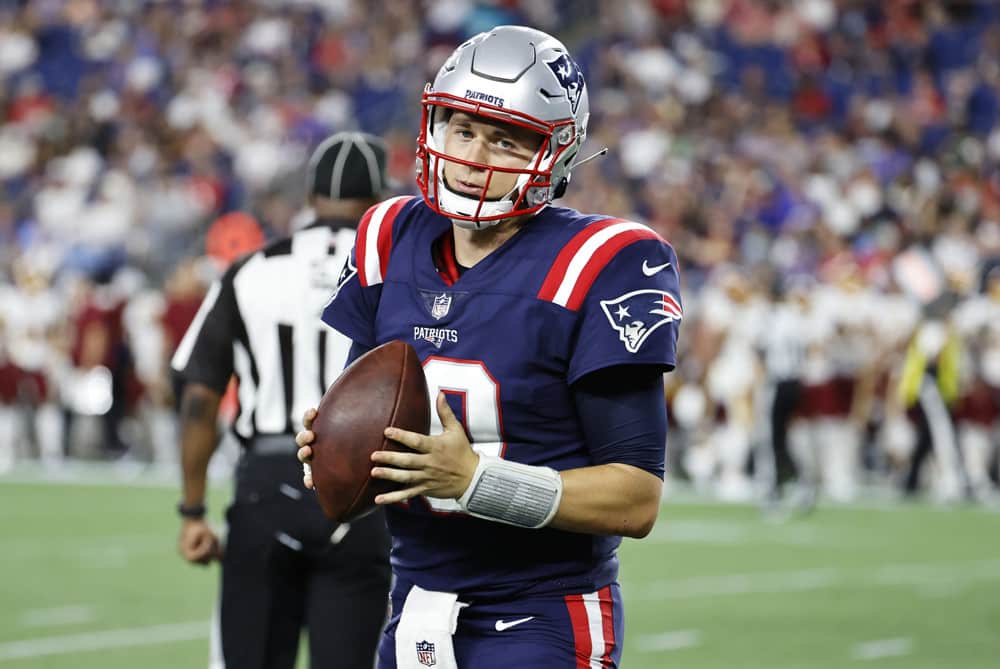 We have made it! The preseason is finished folks, the NFL season is just weeks away, also it's draft week! I am here with an update on the SGPN rankings, I will walk you through a few players who fell and some who rose. Do not forget to check out our draft kit, it will help you dominate your leagues this season! Without further ado let's dive right into those rankings!
EXCLUSIVE SGPN FANTASY CONTENT
SGPN Fantasy Football Projections
SGPN Fantasy Football Rankings
With just the click of a button, you can have access to the fantasy football rankings of eight fantasy football experts: Dan Titus, Nick Dant, Scott Reichel, Ryan Kramer, Sean Green, Rod Villagomez, Jeremy Popielarz, and Adam Pelletier. However, NFL depth charts and news can easily change our perceptions of individual players. That is why these rankings will be updated every single week.

Gus Edwards (RB) Baltimore Ravens
In the preseason finale, J.K. Dobbins suffered an ACL tear, leaving Gus Edwards to handle the rushing workload in 2021. This unfortunate injury has allowed Edwards to shoot up our rankings. As a result, Edwards has moved up in my rankings to RB20. Gus is a strong powerful runner who carries enough speed to also escape outside if needed. In this Greg Roman-led offense we will see Edwards and the ground game used a ton. However, his lack of passing volume will limit his ceiling in PPR leagues.
Edwards is a great RB2 option on any fantasy team, look to target him in rounds 6-7 currently.
Corey Davis (WR) New York Jets
A storyline that has carried with Corey Davis his whole career was his lack of ability to be an "Alpha" wide receiver. With the move to New York where he is taking over the lead role, many people dropped him in their rankings. Most people including myself worry he will revert to old ways and struggle as the guy. However this offseason he has shown nothing to suggest that. He has looked great in limited preseason action, along with displaying great chemistry with rookie quarterback Zach Wilson. For these reasons, I have moved him up in my rankings to WR32.
In PPR formats Davis will carry WR2 upside with a safe WR3 floor, and he can be drafted in the 9th or 10th round currently.
Henry Ruggs (WR) Las Vegas Raiders
Henry Ruggs is due a big uptick in work with the recent cut of John Brown. Ruggs was drafted as a field stretcher and game-breaker. We saw a small sample of this last season, however, he never emerged as a top fantasy asset. He should step into this same role in 2021, without John Brown, this is guaranteed for me. I hope to see him take a step forward this season and possibly make a leap into WR3 territory.
Currently, he has moved up my rankings to WR53. However, he does carry a ceiling of a WR3 this season if he can win the role as the second option. So he could be a huge value at his current ADP  of  WR49.
Brandon Aiyuk (WR) San Fransisco 49ers
Brandon Aiyuk has been a hot topic all offseason, he was the guy to own in the 49ers offense for many experts. However now with the preseason complete and a little more information, I have moved him down my rankings. He has fallen to WR34. The main concern I have with Aiyuk is his limited targets. Last season Aiyuk produced most of his points in weeks without Deebo Samuel and George Kittle active. As a result, how can we assume that he is now the main guy, we can't. This is still Kittle's offense, and with Jimmy Garoppolo under center for the foreseeable future, Aiyuk has a limited upside.
Currently, Aiyuk is being drafted at his ceiling at WR23, in rounds 5-6. This is too rich for me I would rather look to add a running back or other top wide receiver option.
Mac Jones (QB) New England Patriots
A big riser this afternoon as New England waived veteran quarterback Cam Newton. Mac Jones jumped up to my rankings to QB23 for me, right behind Carson Wentz. Throughout camp and the preseason, Mac has displayed great accuracy and touch on every ball he has thrown. This was enough to win the starting job, with that he jumps into fantasy relevance. He however will only be relevant in two-quarterback leagues this season.
I expect his ADP to rise greatly over the going days, look to target him in the 9th to 10th rounds of two-quarterback or SuperFlex leagues currently.
Gerald Everett (TE) Seattle Seahawks
Everett took his talents up the pacific coast this offseason, moving from Los Angeles to Seattle. This brought a surprising dip in his value. For me, I was concerned about the fact that the Seahawks want to run more and possess two top-tier wide receivers. However with some digging recently and the word out of camp. I found new light on Gerald Everett, moving him up my rankings to TE15. Over Carroll's tenure as a head coach, he targets the tight end position at least 100 times a season. With the clear advantage athletically Everett has over the rest of the tight end room.  I expect him to see a majority of these targets.
With this, he has TE1 upside for sure with a safe floor of TE2. It will all depend on how many red-zone targets he receives. He can be drafted in your later rounds and be a sleeper candidate in 2021.
Bryan Edwards (WR) Las Vegas Raiders
Bryan Edwards had an injury-plagued rookie season, due to this he saw his value drop. For most of the offseason, Edwards has been showing great improvement year over year. The word out of camp is that he looks like he is in great shape and has worked hard over the past year to improve. This has been evident this preseason as he has shown a good connection with Carr. With the recent cut of John Brown, he has moved up the rankings, currently ranked as WR40 for me.
With the passing game going through Daren Waller I fear the upside is limited here with Edwards. I do Believe he has WR3 upside if he finds a larger role in the red zone, however.
MORE FANTASY FOOTBALL CONTENT
Fantasy Football Draft Strategy: How to Draft with RB Zero
Fantasy Football Draft Strategy: How to Draft in SuperFlex
10 Late Round Fantasy Targets: Fantasy Football Sleepers
Fantasy Football Injury Report: August 26 Update
Fantasy Football Risers: Preseason Stars and Top Performers
Impact Rookies to Draft for 2021