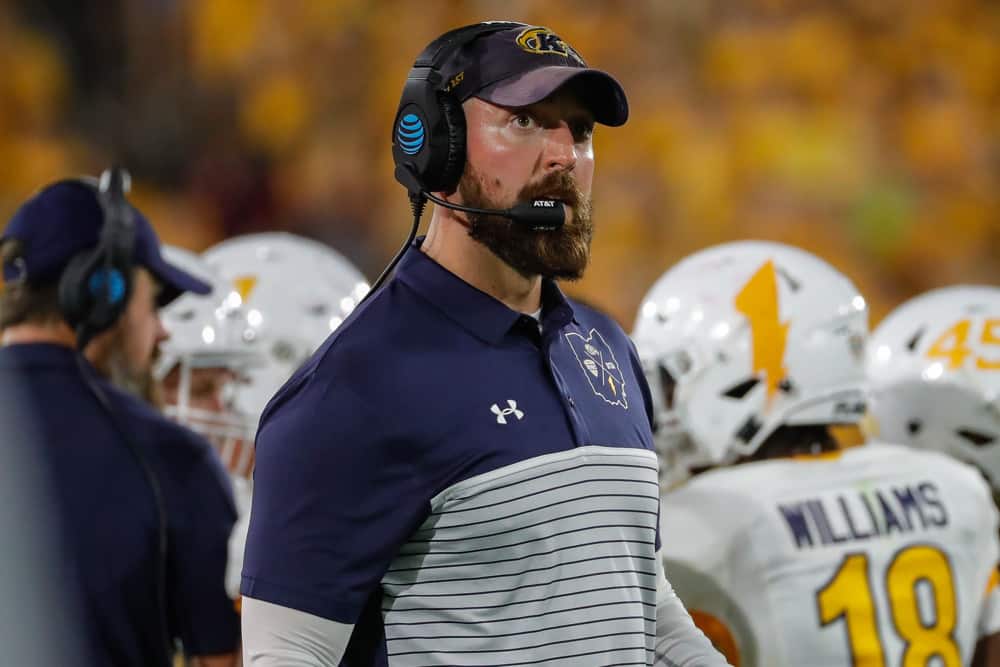 Over the course of the week, we'll be ranking the top 130 coaches in college football.

Ranking the top college football coaches is never easy and the list can change as the years go. This list has some great coaches that I believe are on the verge of doing great things at their universities but based on their track record I could only rank them where I think they belong.
College Football Coach Rankings (101-130)
College Football Coach Rankings (76-100)
Here, in my opinion, are the 51st-75th best coaches in college football
College Football Coach Rankings (51-76)
It's no secret Lewis has caught the eye of some power 5 conferences in college football with the turn around job he is leading at Kent State. After a 2-10 opening year with Kent State Lewis has been 10-7 since including a Frisco bowl win in 2019. Plus, since leaving Syracuse we've really seen that offensive with the Orangemen fall apart.
52. Philip Montgomery (Tulsa)
Montgomery is an underrated head coach and he's coming off a season where Tulsa cracked the top 25 and had a undefeated regular season in the AAC. He's taken the Golden Hurricane to a bowl game in 3 of his 6 years and has one double digit win season with Tulsa.
53. Bill Clark (UAB)
Clark has done an unbelievable job at UAB and every year there's talk that a power 5 job might grab Clark. Coach Clark stayed the course with UAB when their program stopped and started up again. Clark is 40-22 at UAB which when you factor in how difficult it is to restart your program has to be doing one of the best jobs in the country. Clark has one 11 win season at UAB and one at Jacksonville State and all of his teams have been bowl eligible.
Brown is one of my favorite coaches in America and I wouldn't be surprised if he's in the top 20 in the next few years when you look at his track record. Brown played Wideout at Kentucky under Mike Leach & Hal Mumme before becoming an assistant coach for the likes of Umass, Sacred Heart, Delaware, Texas Tech & Kentucky. He then became the head coach at Troy where he was 35-16 as a head coach and had wins at LSU, Nebraska, and Appalachian State. His 2016 Trojans only lost at Clemson by just 6 points. Brown is 11-11 in two years in Morgantown but he walked into a pretty terrible situation but quickly rebounded with a 6-4 covid season a year ago.
55. Sonny Dykes (SMU)
Another Mike Leach disciple in coach Dykes. Dykes, has really done a great job at SMU & Louisiana Tech. Sure, he didn't make the cut at Cal going just 18-30 but Sonny won 10 games at SMU just a few years ago and has them as a steady bowl team year in and year out.
Chryst is a bit of a mystery play here. Sure, he's had four double digit win seasons in Madison but he's coming off a 4-3 shortened season and he did have a 19-19 head coaching record when he was at Pitt. Alvarez has had Wisconsin kind of coach proof so it's hard to get a read on just how good of head coach Chryst is but if he adds another double-digit win season it will be hard to argue with the numbers.
57. Justin Wilcox (California)
Wilcox is just 21-21 during his tenure at Cal but he walked into to a situation where he really had to change the culture and team identity. Plus, last year was a disaster year with covid and injuries but make no mistake Cal is a much better football team because Justin Wilcox. I truly believe he's a much better coach then 57th. I think Cal could be a solid play to win the Pac 12 North if they can just stay healthy.
58. Blake Anderson (Utah State)
Anderson is the new head coach at Utah State but he comes from Arkansas State where he was the head coach for the past 7 seasons where he went 51-37. His record was actually better then that if you consider just how bad last years Arkansas State team got hit with covid and still played their games. Coach Anderson had the Red Wolves bowling every single season minus the covid season. Anderson was also a successful offensive coordinator  at UNC and Southern Miss.
Heupel's career record is really impressive but I guess the question to ask yourself is what coach wouldn't of been able to succeed at UCF after Frost set them up so good? Heupel went 28-8 as a head coach there but last season only went 6-4 and you saw some regression in UCF. Now he's the new head coach at Tennessee so they'll be more heat on a bad season in Rocky Top. Heupel's record is what lands him here but we really want to see more.

60. Mario Cristobal (Oregon)
All in total Cristobal has been a head coach on the FBS levels for 10 years but has a career record of 52-57. He's been great at recruiting but I've often wondered about his clock management skills. Coach Cristobal has had just one double-digit win season in 10 years but does have a 25-10 record at Oregon which isn't too bad. I just need to see more out of him in Eugene for me to crown him like most of the mainstream media does.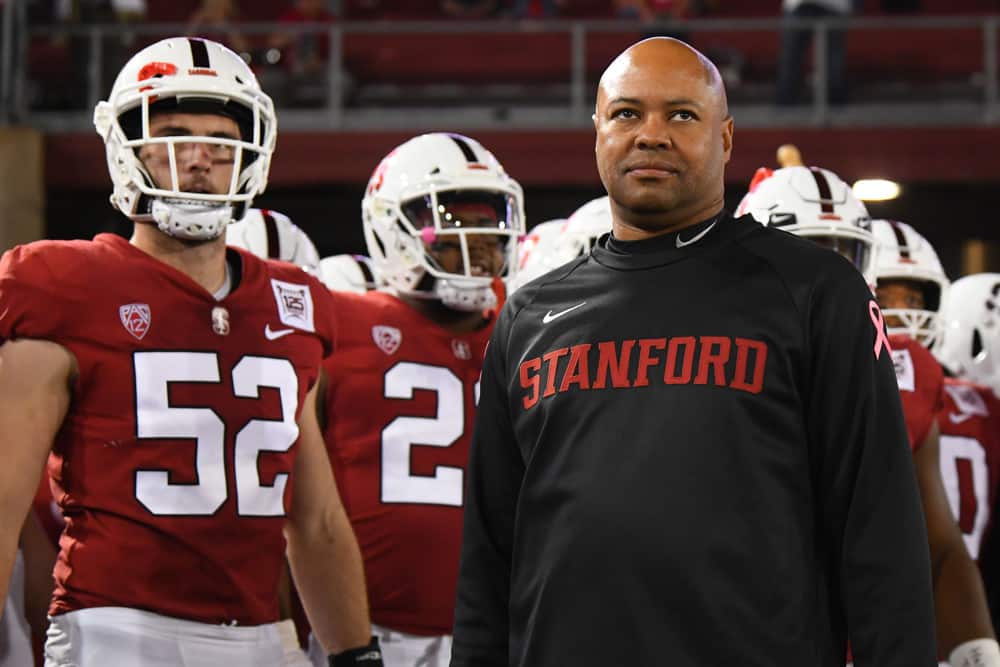 Shaw is 90-36 as a head coach so perhaps that alone should have him ranked higher up. However he did inherit a program that was rolling when Jim Harbaugh left for the NFL. Shaw though has maintained a good football team in Palo Alto and has only one losing season in his tenure. I feel like the program is headed in the wrong direction pre covid but perhaps a strong year for Shaw will have him back in the top 30.
This is big season for Purdue and Jeff Brohm but I still don't think the guy should be on the hot seat just yet. Brohm was 30-10 as head coach of Western Kentucky for three seasons. During that tenure he had two double-digit win seasons before leaving for Purdue. Purdue was really bad prior to Brohm's arrival but he managed to take the team to two bowls in his first two seasons. Since then Brohm is just 6-12 but I do think injuries and covid were certainly to blame for this. I look for Purdue to get back to bowling this year in what could really be a pivotal year in West Lafayette.
63. Rick Stockstill (Middle Tennessee)
Stockstill is 94-92 in 15 seasons at Middle Tennessee. Coach has been bowl eligible in 10 of his 15 seasons in Murfreesboro, Tennessee. Sure, he's had just one double digit win season in his 15 years but this is Middle Tennessee we are talking about here. Stockstill, should have the Blue Raiders back bowling again this season.
Fuente is a bit of mystery when it comes to ranking the head coaches of the FBS. Yes, he did an unbelievable job turning the Memphis Tigers into a winner but facts are he's only 64-49 as a head coach and he's had two losing seasons in three years in Blacksburg. Sure, you can make the argument that the Hokies were effected by covid perhaps more then anyone else in the country but he also inherited a program with big expectations. Fuente has had two double digit win seasons with one occurring at each stop but he needs to win 8 games this year just to save his job.
"Hello. You play to win the game" For that quote alone i feel like i should chart Edwards higher and really when you get down to it he's done a decent job at Arizona State. Far better than I would have guessed. His first two seasons were winning years in Tempe and then came last year's covid disaster of a season that still gave them a 2-2 record. This year they are projected to be a 9 win team so clearly Edwards has the momentum heading in the right direction. Now can they live up to the hype is the question?
66. Mike Neu (Ball State)
Yes, I really do have Neu at 66th despite having a career record of 22-34 as a head coach of Ball State. It's Ball State and it took time to build up this program but they won the MAC last year and this year they'll projected to be a bowl team again. If he can continue to maintain this in Muncie, Indiana then he's got to climb up the charts.
67. Bret Bielema (Illinois)
Bielema has a nice combined career record as an FBS head coach sitting at 97-58 overall but it's almost like the Paul Chryst angle all over again. Sure, Bielema has had four double digit win seasons at Wisconsin but at the same time Alvarez seems to make it work with whoever they have as head coach. Bielema left Wisconsin for Arkansas and ended up going 29-34 as the head coach of the Razorbacks and had zero double digit win seasons.
68. Butch Davis (Florida International)
Butch Davis is an interesting coach to rank. Sure, he left two of his previous schools with a ton of NCAA problems but the reality is he's a winner. Davis has a career record of 86-64 and although he went winless at 0-5 during the covid season at FIU he had been to three straight bowls prior to covid. Plus he upset the Miami Hurricanes in 2019. I do think this is a big year for Davis and the Panthers.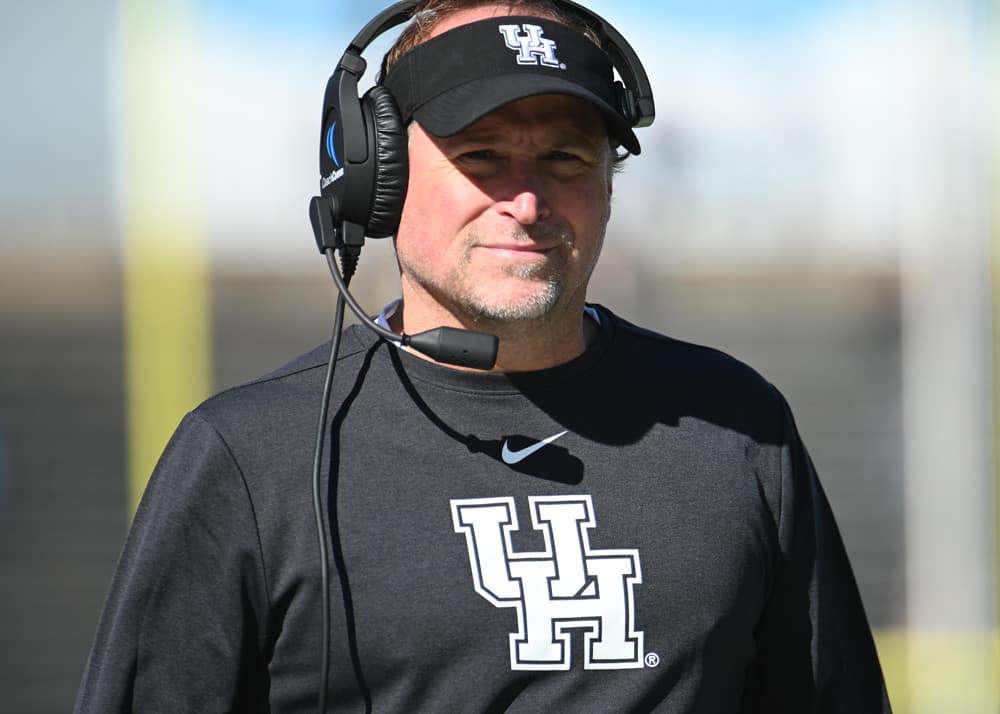 69. Dana Holgorsen (Houston)
Holgorsen is an interesting coach to evaluate. He had two 10 win seasons at West Virginia and only one losing season in 8 years. Since going to Houston though things haven't been so great. Holgorsen is just 7-13 as the head coach of the Cougars and I'm well aware he kind of punted on the first year and purposely redshirted a ton of players. The next two years should tell all about Holgorsen and his marriage with Houston.
70. Jay Norvell (Nevada)
Norvell is 25-21 as the head coach of Nevada and has the program rolling after three straight bowl appearances in his four year tenure. This year's Wolfpack team should be a team to watch out for and could have power 5 schools calling for Jay Norvell.
71. Will Healy (Charlotte)
Healy is just 22-31 as a college football head coach but if you look into the job he did with Austin Peay you'll understand why I have him this high. Healy was hired away by the Charlotte 49ers in 2019 and he's just 9-10 as the head coach of Charlotte but I've been impressed with his teams and I believe he's got this program headed in the right direction.
72. Lane Kiffin (Ole Miss)
Kiffin is an interesting coach to grade because he's had a lot of decent jobs for a guy still somewhat young. Kiffin was just 7-6 at Tennessee which was okay I guess. However, Kiffin's 28-15 record at USC was hard to take. Sure, he had one 10 win season with the Trojans but the program was certainly headed in the wrong direction. Kiffin did have really good run at Florida Atlantic where he went 26-13 as the head coach of the Owls before getting hired at Ole Miss where he went 5-5. Jury is still somewhat out on Kiffin but we'll know a lot more in next year or two.
73. Terry Bowden (Louisiana Monroe)
This is a really underrated coach if you look at the track record. Bowden has a undefeated season at Auburn and had a 47-17 record with the Tigers. Then Bowden went to North Alabama where he 29-9 as the head coach before leaving to Akron. Once at Akron went just 35-52 but the program was horrible pre-Bowden and he led the Zips to a MAC Championship game just a year before his firing. ULM made a great hire in Bowden and I expect in a year or two the Warhawks will be back bowling.
74. Skip Holtz (Louisiana Tech)
Holtz has been a winner everywhere he has been a head coach with exception to his run at South Florida where he was only given 3 years. One could wonder if he would of gotten the Bulls over the hump in year 4 and 5 but we'll never known. Holtz went 34-23 as the head coach of Uconn before moving on to East Carolina where he went 38-27 and made a bowl game in 4 of the 5 years he was in Greenville. Since being fired from South Florida Holtz went on to Louisiana Tech where the Bulldogs are 61-41 with him at the helm. Holtz only has one losing season in his 8 years with Louisiana Tech and that was year one.
75. Todd Graham (Hawaii)
Todd Graham is an interesting one here because he's been the head coach of 5 different FBS college football programs and for the most part he's been somewhat successful at every stop. Graham spent one year at Rice and he took them to a bowl and a winning season which doesn't happen to much at Rice. Graham then went to Tulsa where he had three 10 win seasons in four years. Then next Graham went to Pitt where he bolted to Arizona State after one 6-6 season. Graham then had two double digit win seasons at Arizona State and only had two losing seasons in Tempe before the Sun Devils pulled the plug. Graham then landed the Hawaii job and really overachieved my expectations in year one with a 5-4 season.