Over the course of the week, we'll be ranking the top 130 coaches in college football.

Ranking the top college football coaches is never easy and the list can change as the years go. This list has some great coaches that I believe are on the verge of doing great things at their universities but based on their track record I could only rank them where I think they belong. Here is my list from 76-100.
Here, in my opinion, are the 76th-100th best coaches in college football
College Football Coach Rankings (76-100)
Yes, I know I just listed a guy who is 9-22 as a head coach but let me tell you I am a big believer in what Jonathan Smith is doing at Oregon State. When he took over the program it was completely in shambles and it's taken some time to get to this point but Oregon State should be a bowl team this year and I think could be a low-key player in the Pac 12 North.
Helton is 45-23 as the head coach of the Trojans and he's been on the hot seat for what seems like years. Helton's had two double-digit win seasons in Los Angeles but he also has a 5-7 season and an 8-6 season. Those won't cut it at USC. Plus he's just 2-7 vs Notre Dame & Oregon and just 2-4 vs Stanford. Helton is 5-1 against UCLA though. Helton also has losses to BYU, Washington State, Iowa & Cal and at USC those don't really cut it.
78. Shawn Elliott (Georgia State)
Elliott is 22-25 as the head coach of Georgia State which on paper isn't much but considering just how bad Georgia State was prior to Elliott's arrival it's saying something alright. Elliott has had three winning seasons in four years with the Panthers and has grabbed some nice wins over Tennessee, Army, East Carolina and he's taken down Western Kentucky twice in bowl games. Elliott has this program headed in the right direction.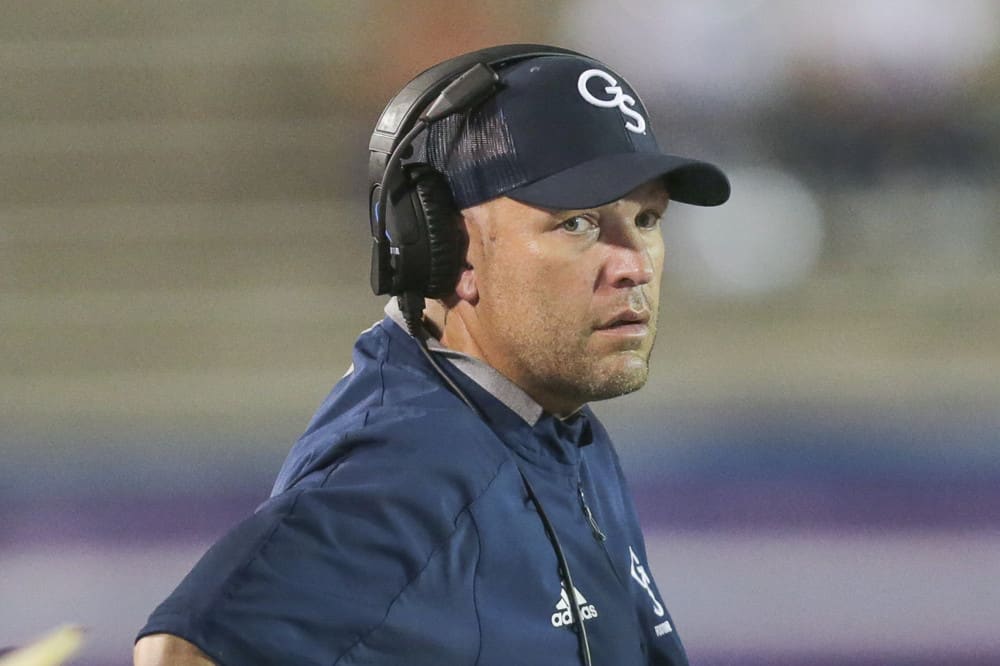 79. Chad Lunsford (Georgia Southern)
Chad Lunsford continues to shine at head coach for Georgia Southern. Lunsford is 27-18 as the head coach of the Eagles and well he's been bowling in all three of his years as head coach of Georgia Southern and has one double-digit win season going 10-3 in 2018. The triple option attack is alive and well under Lunsford and Georgia Southern.
80. Dino Babers (Syracuse)
Babers is 61-52 all time as a head coach but Syracuse is coming off a 1-10 season where tons of his players opted out and well covid really hurt what he was building. Babers has had double-digit win seasons at Eastern Illinois, Bowling Green and Syracuse though so maybe he should be higher on this list. First, he needs a solid 2021 with the Syracuse Orange to ensure he still has a job.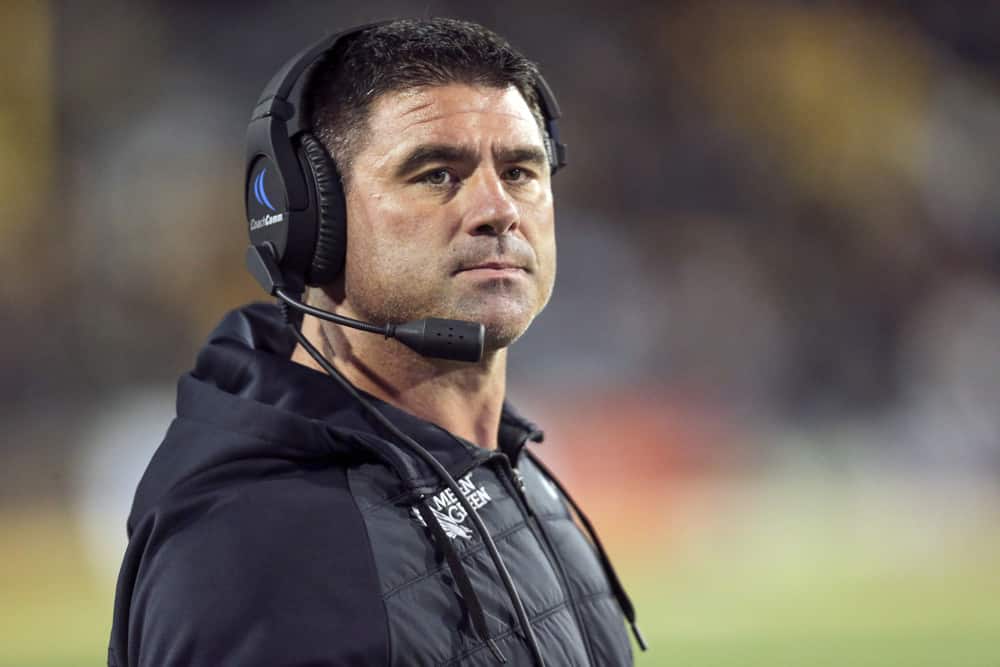 Littrell is famous for being the guy who dropped Mike Leach's dummy playbook for Texas to grab back in 1999 but he's also been a great hire as head coach of North Texas. Yes, Littrell is only 31-31 as head coach of North Texas but prior to hiring Littrell North Texas only had one .500 or better season the decade before. Since the hire of Littrell, he's taken the Mean Green to four bowls in five seasons although he's yet to win a bowl game. Littrell has had two 9 win seasons in Denton.
82. Sam Pittman (Arkansas)
For the most part from here on out it will be mostly first-year head coaches or new hires that haven't coached a game yet. Sam Pittman is entering the 2nd year of being the head coach of Arkansas and despite a bad first year record wise, there was plenty to be optimistic about. The Razorbacks had been a doormat in the SEC of late but since Pittman took over they went 3-7 in his first year but really it should have been 4-6 after the SEC refs admitted the wrongdoing in the Auburn Arkansas game. Plus, he was coaching a 10 game SEC-only schedule, and well, they got dealt the worst hand as far as scheduling went.
83. Jeff Traylor (UTSA)
I must admit I was somewhat of a skeptic of the hire of Jeff Traylor when UTSA announced the hire but I was really impressed with Traylor in year one with the Roadrunners. First off, UTSA had only had one winning season in the past six seasons but instantly Traylor took the Roadrunners to a 7-5 season which was the 2nd most wins in a season in school history. Traylor lost 5 games but four of the five were by a score or less. Traylor certainly has the program headed in the right direction after one year in San Antonio.
84. Jeff Hafley (Boston College)
Hafley is much like the Traylor hire to me. Instantly you could see a difference in his Boston College team from the season before and although he went just 6-5 in year one in Chestnut Hill you can see the momentum being built. Hafley is recruiting well at Boston College and well if you take a deeper dive into the schedule you'll see they lost two games by 6 points or less and fared decently against Notre Dame.
85. Willie Taggart (Florida Atlantic)
Taggart is a hard one to rate because he's had some success at Western Kentucky and even a double-digit win season at South Florida. For all of that though he really struggled at Florida State and went just 7-5 in his one season at Oregon. Even last year which I know was extremely tough on first-year coaches considering they had no spring ball and a shorter camp but still 5-4 at Florida Atlantic was a bit of a letdown. Plus, his teams always remain as one of the most penalized teams in the country.
86. Jake Spavital (Texas State)
Yes, Spavital is just 5-19 as a head coach at Texas State but this program is headed in the right direction. Sure, they were just 2-10 a season ago but this Bobcats team lost 4 games by a score or less and 5 games by 10 points or less. They nearly beat Boston College, Louisiana Lafayette and Georgia Southern. This is one where I just say trust the process.

87. Chuck Martin (Miami OH)
Perhaps I should rate Martin higher just for his 74-7 record at Grand Valley State. Regardless, Martin is a good football coach and it's hard to win at Miami, Ohio but after struggling his first few years he's rattled off three .500 or better seasons in a row and won a MAC Championship just two years ago. Martin should have the Red Hawks bowling again this year.
88. Tyson Helton (Western Kentucky)
Tyson is the brother of Clay Helton if you didn't know and well he's due for a big year with Western Kentucky in year 3 of the Helton era. Helton is just 14-11 in his two seasons in Bowling Green, Kentucky but he's made a bowl game in both seasons and year three is normally when you start to see the program turn a corner.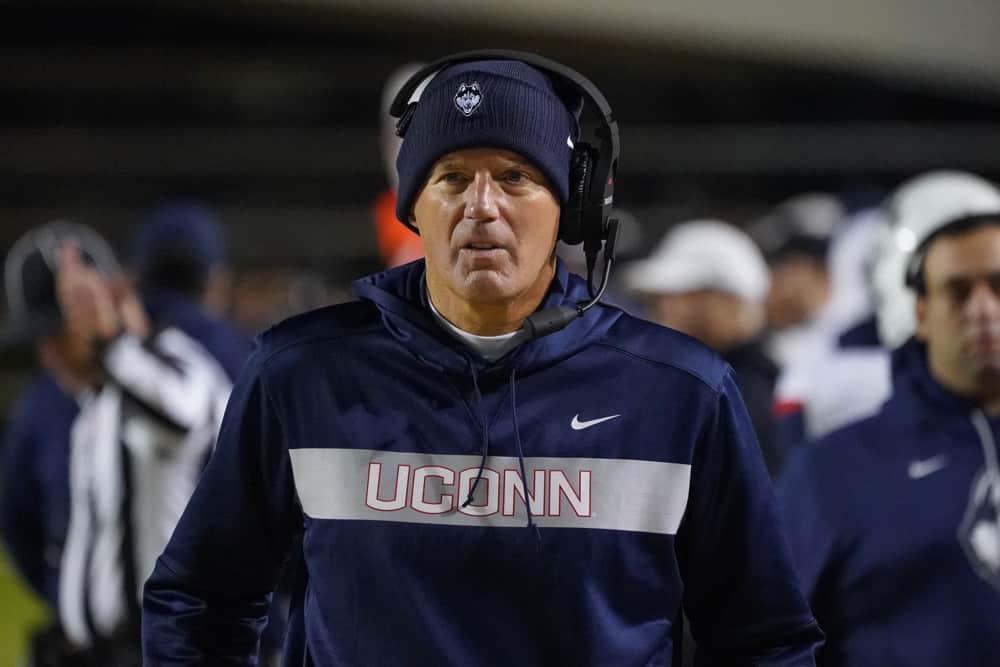 89. Randy Edsall (UConn)
This is flat out one of the hardest coaches to rank. Edsall is the guy who actually made Uconn a successful program and brought them up from the FCS ranks. Edsall had 7 .500 or better seasons at Uconn and had 4 eight-win seasons and 2 nine-win seasons and even got them to a BCS game and grabbed a win over Notre Dame. Then Edsall left for Maryland where he had two winning seasons in his 4.5 years in College Park. Now he's back at Uconn where he is 6-30 in three years but his contract was extended this past year in a year where Uconn decided to not play football. When Edsall was at Uconn during his first run he had a similar start where he was 9-24 in his first three years before landing a 6-6 season. Could the Huskies and Edsall do it yet again?
90. Mike Norvell (Florida State)
Much like most of the first-year coaches from a season ago they probably deserve a pass considering they didn't get spring ball and had a shortened camp. Norvell was just 3-6 at Florida State last year and they had some games they were just completely blown out of but when you look at what he did at Memphis you get encouraged. Sure, you could say Justin Fuente built Memphis and Norvell walked into the perfect situation but still the guy had a 38-15 record at Memphis and had two double-digit win seasons. The jury is certainly still out for him in Tallahassee though.
91. Rod Carey (Temple)
Carey is kind of similar to Norvell because Dave Doeren had built up Northern Illinois and then gave the keys to Carey where he had a great run going 52-30 at Northern Illinois before taking the Temple Owls coaching job. In year one at Temple, Carey led the Owls to an 8 win season and things looked great but then came last year's COVID-shortened season where the Owls went just 1-6. I think Carey is a decent coach and it wouldn't surprise me one bit if he gets Temple back on the winning side of things but until then I think this is where he fits.
92. Jim McElwain (Central Michigan)
I must admit I might have overlooked this one with Jim McElwain placing at #92. Sure, he struggled at Florida some but let's not forget he has double-digit win seasons at Colorado State and Florida and an overall head coaching record of 55-36. He's only had one losing season in his whole career of being a head coach and that was year one at Colorado State. Since taking the Central Michigan job McElwain has gone 11-9 and perhaps in year three he'll make his biggest impact on CMU.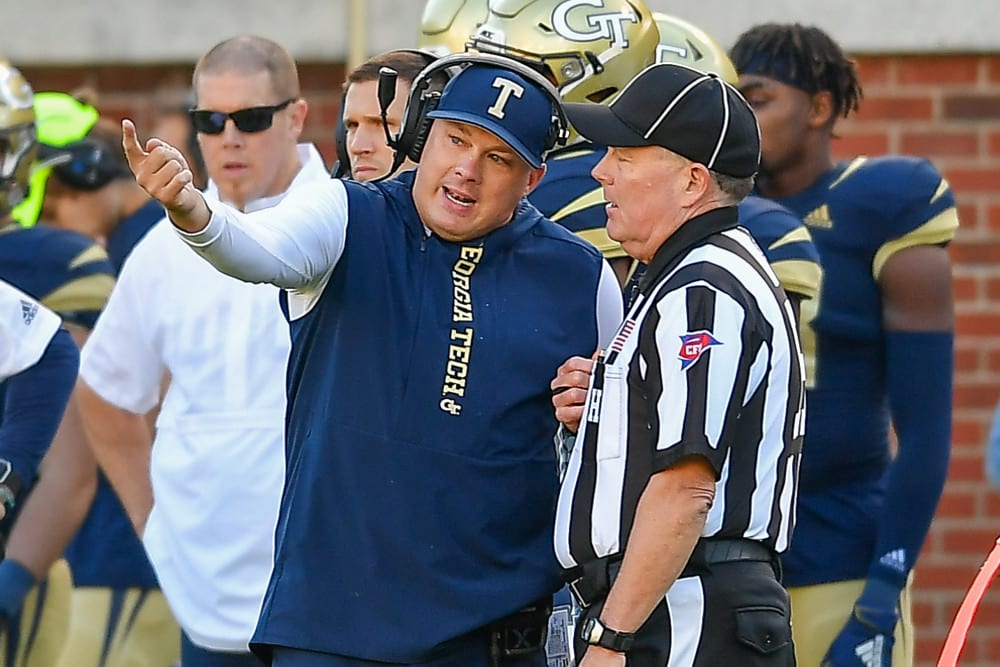 93. Geoff Collins (Georgia Tech)
Geoff Collins is probably the right man for Georgia Tech. He'll just need some time after taking over a team that used to be a triple-option team. Collins is just 6-16 in two seasons in Atlanta but prior to that he was 15-10 as head coach of Temple and took the Owls bowling both years he was in Philadelphia. We knew this process with Georgia Tech would take some time so we must give Collins a bit of a break here.
94. Jason Candle (Toledo)
Candle is 38-21 as head coach of the Toledo Rockets and he's had one double-digit win season which led to a MAC Championship. Coach Candle has also never had a losing season in Toledo but he is just 10-8 in his past two seasons. This year is a big year for Candle as some may wonder where the momentum of the program is at.
I'm not really sure what to think of Manny Diaz as a college football head coach. He's 14-10 in two seasons at Miami and he's coming off an 8 win season with the Hurricanes but still, he had a losing season in year one and had losses to Florida International and Louisiana Tech that just doesn't happen at Miami. Sure, his 8 win season last year seems decent but they still don't pass the eye test to me.
96. Matt Wells (Texas Tech)
It's no secret this is a huge year for Matt Wells at Texas Tech. There are reports fans aren't happy and they never were happy with the hire. Wells is just 8-14 in his two seasons at Texas Tech but I think he's a solid head coach who deserves the whole four years most coaches get. Coach Wells did a fantastic job at Utah State where he went 44-34 in his 6 seasons making 5 bowls and winning double-digit games twice so perhaps he should be rated a tad bit higher. I guess this year will be the make or break season for Wells.
97. Tim Lester (Western Michigan)
Lester is back coaching at the school he once played quarterback for, which has a nice ring to it. However, Lester is in need of a decent season. Lester is just 24-20 in his four years as head coach of the Broncos and although he's never had a losing season he's also never had a first-place MAC finish.
98. Brady Hoke (San Diego State)
Hoke is 82-76 as a college football head coach and he's had some really impressive years before. Hoke has two double-digit win seasons with a 12-1 season at Ball State and an 11-2 season at Michigan. However, he's just 17-16 at San Diego State and although he did lead them to their first bowl there are still a lot of questions about how he'll do at San Diego State.
Texas football is back! They say this with every hire but I'm very interested to see how this will work out. If you ask me this seemed like somewhat of a lateral move. Sarkisian is just 46-35 as a college football head coach of Washington and USC. Sure, he kind of resurrected the Washington program some but he was also just 12-6 at USC.
100. Jimmy Lake (Washington)
Coach Lake is 3-1 as a college football head coach so I can't rank him much higher then where he is currently at. Do I think he's a good coach and good hire for Washington? I certainly do but the facts are we need a big sample size before really judging this hire.
---