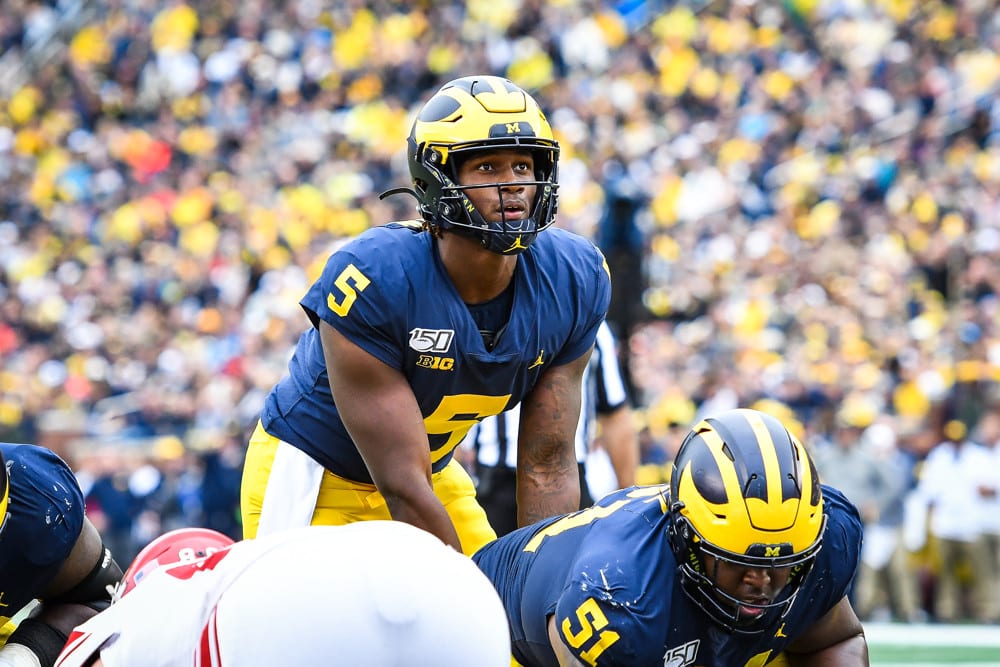 Welcome back College Football DFS fans. We're doing a bit of a new format this week. This column will only feature players from the main afternoon slate. Also, instead of giving out just a high price guy and a bargain dude, I'll now highlight three tiers of players for each position.  Tune into our weekly podcast for insights on the night slate which can be found right here.
We also now have Big 10 games included on DraftKings for the first time this year. Let's do this!
College Football DFS Picks: QB's
Big Money Man:
Sam Ehlinger – Texas ($9,900)
First off, I don't love the big money QB's this week in College Football DFS. My strategy will be to roster a mid-tier and bargain QB in order to spend money elsewhere. I also don't love Ehlinger's matchup this week at Oklahoma State. Thru 4 games, the most points the Cowboys have given up was 21 to Iowa State last week. They have yet to face an offense like Texas but it appears the Okla State D is the class of the Big 12.
With all that said, it appears Ehlinger is matchup proof. Thru five games, the Longhorn QB has already passed for 17 TD's and run for another 7. If you are doing the math, that's almost 5 TD's per game. If the first thing you do when building a lineup each week is put Ehlinger in as your QB, you've probably been pretty successful this year.
Middle of the Road Joe:
Joe Milton – Michigan ($7,700)
I know it's only one game, but Joe Milton looked pretty darn solid. After riding pine as a backup in his first two seasons at Michigan, Milton stepped in as starter and threw for 225 yards and a TD while also rushing for 52 yards and another TD against Minnesota. It's a limited sample size and a bit of a gamble to go with the UM QB this week, but I'm a gambling man and we're going to roll those dice.
The Wolverines welcome the rival Michigan State Spartans into the Big House and I'm all about fading Sparty this year. I thought the hiring of Mel Tucker as HC was an awful decision and Rutgers just came into East Lansing and won 38-27.  Michigan put up 44 on MSU last year behind 384 passing yards. Expect another 40+ point output and a second nice game in a row for Joe Milton.
Bottom of the Barrel Bob:
Spencer Sanders – Oklahoma State ($6,600)
After getting injured in the season opener, Sanders missed the next two games before returning against Iowa State last week. He had a solid game throwing for 235 yards and a TD while rushing for 71 yards and another touchdown. The rust is off and Sanders in now ready to roll.
Possibly more importantly, is the fact that the Cowboys square off against the Texas Longhorns this week. They don't play a whole lot of defense in Austin these days. Before limiting a meager Baylor offense to 16 points last week, Big 12 opponents were averaging over 45 points a game vs Texas. I want pieces of the Oklahoma state offense, and that'll start with Sanders at a bargain price to boot.
College Football DFS Picks: RB's
Big Money Man:
Chuba Hubbard – Oklahoma State ($8,000)
Let's go back to the Texas/Okla State game and I'll grab my second Cowboy in star RB Chuba Hubbard. After a somewhat slow start to the season where Hubbard was averaging less than four yards per carry, he's stepped on the gas in his last two games. Against Kansas, the junior RB gashed the Jayhawks for 145 yards and two TD's and followed it up with a 139 yard and one TD performance against Iowa State.
Against the Longhorns last year, Hubbard ran for over 120 yards and two TD's. Expect an even bigger game this go-around. Its Chuba time!
Middle of the Road Joe:
Tyrion Davis-Price – LSU ($6,100)
Coming off a huge game vs South Carolina where TDP ran for 135 yards and a TD, the sophomore RB will look to build off that momentum. He's part of a two-headed backfield with John Emery Jr ($5.8K) but leads the team in carries and rushing yards. Plus, the LSU offense looked a lot better last week with TJ Finley under center.
There's going to be a lot of O in this LSU/Aub matchup. You are going to want players in this game and someone from the LSU backfield makes sense. Auburn just gave up 283 rushing yards and 3 rushing TD's to Ole Miss. The week before they gave up 3 more rushing TD's vs SC. Give me Davis-Price but if you are a few hundred dollars short, Emery Jr is a nice play as well.
Bottom of the Barrel Bob:
Snoop Conner -Ole Miss ($4,300)
If you haven't noticed, this Ole Miss offense can really move the ball and put up some points. For only $4.3K, I can get the Robin (Snoop Conner) to Ole Miss's batman (Jerrion Ealy). While Conner may play second fiddle to Ealy, he's still averaging 13 carries and over 50 yards per game with 4 TD's.
His sophomore campaign has also been highlighted by a 128 yard and 2 TD performance against Alabama after Ealy went down with an injury. The Rebels play Vandy this week and the Commodores are letting up over 200 yards per game on the ground. Expect both Ole Miss backs to get theirs this week and snatching a RB with upside at this low of a price is a bargain.
College Football DFS Picks: WR/TE's
Big Money Man:
Jayden Reed – Michigan State ($6,300)
Reed is a transfer from Western Michigan who sat out all of 2019. Way back in 2018, he caught 56 balls for almost 800 yards and 8 TD's for the Broncos. In last week's debut for the Green and White, Reed reeled in 11 catches for 128 yards and two TD's.
His price point in Draft kings is relatively low given the opening game. Perhaps it's a flash in the pan, but the wideout appears to be Rocky Lombardi's top target. Sparty was down most of the game vs Rutgers and is 24.5 point dog to Michigan. Chances are the game script will be in Reed's favor and MSU will be playing catchup and passing often. He's also a prime candidate to rack up some garbage time fantasy points. We don't have a long track record for Reed, but for a decent price of only $6.3K, I'll take my chances.
Middle of the Road Joe:
Hunter Long – Boston College ($5,600)
For a very affordable price, you can grab a TE that has been the model of consistency this year. Long is averaging over 6 catches and 75 yards per game and has scored three times. He's had two games with nine catches and three games over 90's yards. You just can't find that kind of production in the $5-$6K range.
It's not a sexy pick and BC plays the tough Clemson D this week. However, that means the Golden Eagles will be playing from behind and forced to pass early and often. I can envision Jurkovec checking down to his favorite target throughout this game. If you try to balance your lineup to include home run threats with guys that just get on base, Long is an excellent singles hitter.
Bottom of the Barrel Bob:
Jaray Jenkins – LSU ($4,300)
In general, when taking a flyer on a cheap player, it's wise to chose one on an explosive offensive. LSU hasn't scored less than 34 points thru four games this year and true freshman TJ Finley at QB looks legit. You almost wonder if Myles Brennan will still have a job when he's healthy.
We all know Terrace Marshall Jr is the WR1, but the wide receiver with the second most catches is Jaray Jenkins. Last week against SC, the sophomore wide out caught 3 balls for 76 yards and seems to have a good rapport with the new QB. He's also yet to find the end zone so maybe he's due. There's going to be some points scored in this LSU/Aub game. If you can't fit Marshall into your lineup, taking a low dollar stab at Jenkins makes sense.