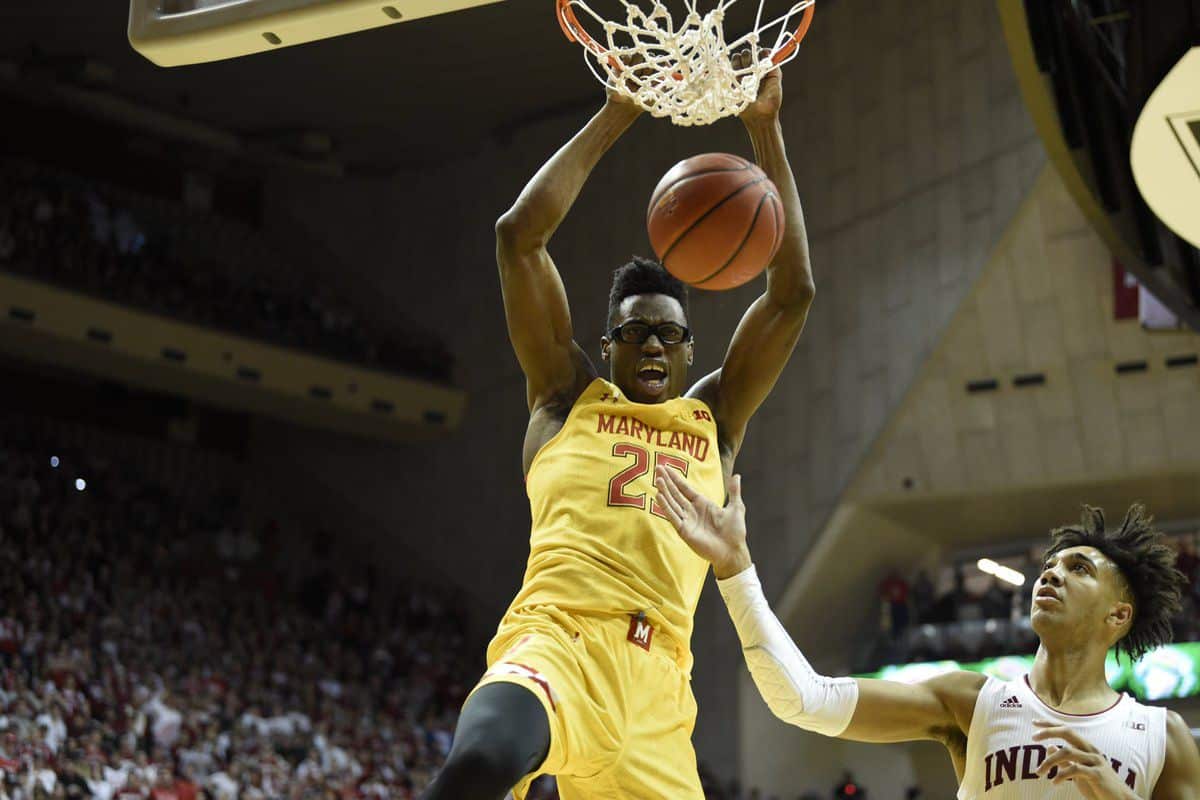 What an amazing opening night it was for Degen Madness! Michigan took down the higher-seeded Butler Bulldogs in O.T and Gonzaga held off an upset-minded UNC team in the nightcap. In case you are keeping track, the dogs were 2-0 ATS and both games hit the over. While Friday evening should be entertaining as well, here are the breakdowns for Saturday's matchups. All lines available to bet on exclusively at MyBookie.ag including live odds!
READ ALSO
Degen Madness Day One and Two Recaps: NBA 2K20 NCAA Streaming Games
Virginia Cavaliers @ Maryland Terrapins (-4.5, 83)
Give it up to the selection committee for pitting these two old ACC rivals against each other Saturday night. Rather than seeing Ralph Sampson and Len Bias battle down low, you'll be watching two dangerous teams that have their sights on advancing deep into this tournament.
The defending NCAA champions, the Virginia Cavaliers, have taken their lumps over the course of the season but they enter Degen Madness playing their best ball to date. In mid-January, UVA had lost three games in a row to Boston College, Syracuse, and Florida State and their postseason hopes were looking slim. Candidate for coach of the year, Tony Bennett, righted the ship and the Wahoos have since gone 12-2 with wins over the likes of FSU, Duke, and Louisville. By now, anyone who follows college basketball understands UVA's slow the tempo and lock it down on defense philosophy. They are ranked last in the country (353rd) in adjusted tempo and first in the country in adjusted defensive efficiency (kenpom.com). The Cavs are led by (PG) Kihei Clark and big men Mamadi Diakite and Jay Huff. Wingman Braxton Key is a swiss army knife of a player and (G) Tomas Woldetensae and (G) Casey Morsell provide depth on the perimeter. UVA may not be the most talented team in the field, but they will not beat themselves and they are money in the clutch.
While UVA enters the tournament red hot, Maryland has somewhat faltered down the stretch, losing 3 of its last 5 games. Talent-wise, their starting five can go toe-to-toe with just about anyone. The one-two punch of (G) Anthony Cowan Jr and (F) Jalen Smith is second to none in the country. Cowan is that highly coveted senior point guard that all coaches wish they have come tournament time while Smith is a projected high pick in this year's NBA draft. Other players of note are (G) Aaron Wiggins and (G) Darryl Morsell. On offense the Terps will go 5 out and play small ball which can create mismatches against teams that play with two bigs (like UVA with Diakite and Huff). Their main weaknesses are a lack of depth (especially in the front court) and what I would consider to be questionable coaching at times.
Prediction: Notre Dame happens to be the one common opponent shared between both teams this year. Virginia beat the Irish in Charlottesville in OT while Maryland won by 20 at home. Either way, I look for UVA to at least keep it close and possibly have a shot to steal one against their old rival 130 miles up the road. Additionally, if Jalen Smith gets in foul trouble it could be an early exit for the Terrapins. My hunch is Maryland wins a close game but leave no doubt, Virginia is a live dog. Give me the points and give me the under.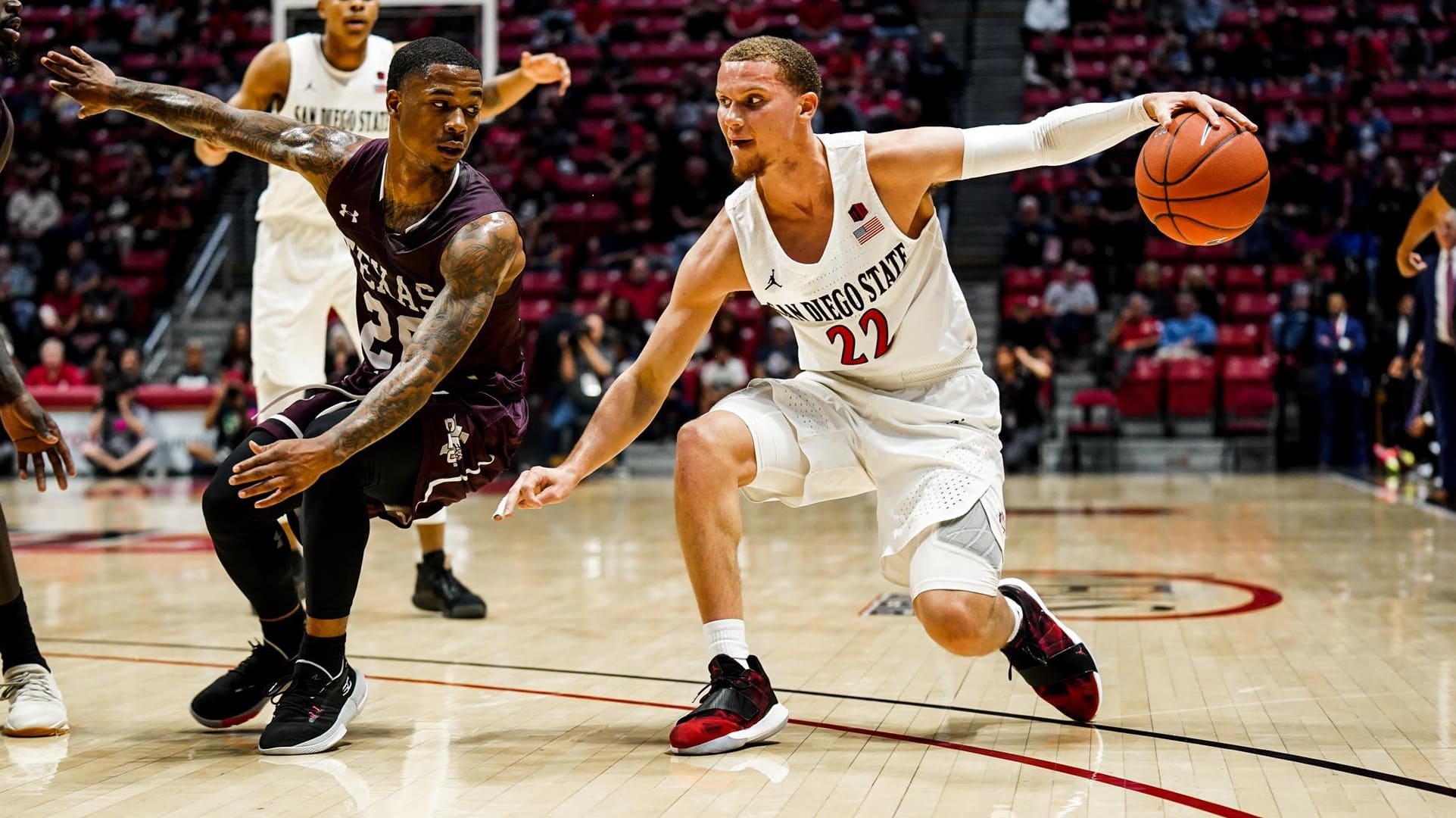 Wichita State Shockers + 5.5 @ San Diego State Aztecs (-5.5, 81)
Just when I give the committee a compliment regarding the UVA/Maryland game, they go ahead and match up two mid-majors against each other. While seeing both these teams square off against the big boys would have been exciting, this should be one hell of a contest itself.
The Aztecs started off the year 26-0 before dropping two of their last 6 games. During the win streak, they garnered impressive wins against the likes of Iowa, Creighton, and BYU while the two L's were against UNLV and Utah State in the MWC final. San Diego State is led by Mountain West player of the year (G) Malachi Flynn who averages 17.6 points a game and is ready to make himself a household name on the national level. He is joined by a solid front court of (F) Matt Mitchell and (F) Yanni Wetzel and solid role players (G) Jordan Schakel and (G) KJ Feagin in the backcourt. Come March it's always important to spot teams who value the ball and can turnover their opponents and SD ST ranks 12th nationally in assist-turnover ratio (https://www.ncaa.com/stats/basketball-men/d1/current/team/474). Additionally, the Aztecs, as a team, shoot over 77% from the free throw line which puts them 16th best in the country. These guys are a solid team across the board and are hungry to prove they belong on the biggest of stages.
Although Wichita State is the mid-major program more accustomed to being a top seed in March, the Shockers struggled at times this year and should feel fortunate to get the invite into the Degen Madness tournament. In fact, they only have one victory over another team participating in this wonderful extravaganza and that was a home win on January 9th against Memphis. Ranked 39th overall in KenPom, they flourish on the defensive side of the ball (8th in the country in defensive efficiency) but are subject to long offensive droughts (117th in offensive efficiency) which could spell trouble. A balanced team, Wichita State has 7 players who average more than 23 minutes a game while their leading scorer, (C) Jaime Echenique, only averages 11.3 points (https://www.espn.com/mens-college-basketball/team/stats/_/id/2724). It should also be noted that the 4 scholarship players who will be transferring from Wichita State after the season will suit up for this game but questions about this team's chemistry remain.
Prediction: It's quite possible that San Diego State may be better than Wichita at every position on the court come Saturday night. I suppose the Shockers are playing with house money but I expect them to get steamrolled here. Give me the Aztecs (best bet of the day) to win by close to double digits and give me the over as well.
READ ALSO
Degen Madness Day One and Two Recaps: NBA 2K20 NCAA Streaming Games