This weekend we'll get back to the five game, best of one slates in both the LEC (Europe) and LCS (North America) that offer a lot more options for different lineups and often fewer prize splits.
Wednesday offers our typical three game LPL slate with a few fascinating matchups to look at.
LNG eSports vs Victory Five (Start Time: 2am Eastern on Twitch)
LNG are the chalk on this slate for sure. Their opponents, Victory Five, have given up a whopping 20.9 kills per game in just six games since returning from the break. They're all losses. Victory Five are looking like the worst team in the league. I'm building my lineups in different ways around this matchup. Light is getting the start over Asura at the ADC position for LNG. You want a piece of this match.
TOP eSports vs Vici Gaming (Start Time: 5am Eastern on Twitch)
This is an interesting one between two teams that have had disappointing starts given high pre-season expectations. I'm favoring TOP in this spot as you can read over in my League of Legends Odds Picks post and like them to 2-0.
JD Gaming vs BiliBili Gaming (Start Time: 7am Eastern on Twitch)
JD Gaming are the most heavily favored team on the slate but I actually like the underdog BiliBili Gaming who are returning their previous top laner ADD. I'm going to be light on my exposure to JD Gaming as I think they're severely overpriced in this spot.
Cash Games
This is a challenging cash slate because of the pricing when there are three heavy favorites. When this happens you typically have to have a strong stance on the middle game, in this case its TOP vs Vici. I personally like TOP but a lot of people think it's close to an even matchup. Because of this I'll be playing limited cash games on this slate but building with a blend of primarily LNG and TOP.
Something like this: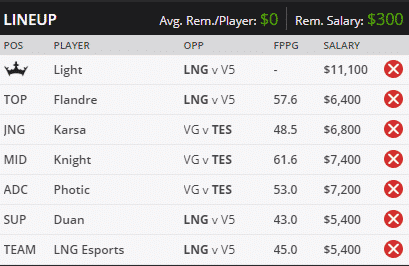 Tournaments/GPPs
In the big tournaments with such top heavy prize support you need to think outside of the box and swing for the fences with an underdog most of the time in LOL DFS unless you want to split the top prize. It's obviously higher risk and higher reward.
I like this strategy much more than a game stack which is a rare winner in LOL DFS. You want winners in every position on your roster in the best of three regions because of the GNP point bonus you get.
For tournaments tomorrow I'm fading JDG. They're deserving favorites but I also think they're severely overpriced which means we can scoop up BiliBili players for cheap that have a reasonable chance at taking down this series. I think fewer people will be on BiliBili as a dog than Vici but they're not a bad option either. If you really want to run wild you could go with a BiliBili/Vici stack and leave a bunch of money on the board in the off chance that JDG and TOP both lose.
Don't be afraid to leave money on the board in these big GPP lineups. Since there are only three matches that's only 30 players to choose from unless teams use subs. It's all about lineup differentiation! Build your lineup with an expected outcome in mind.