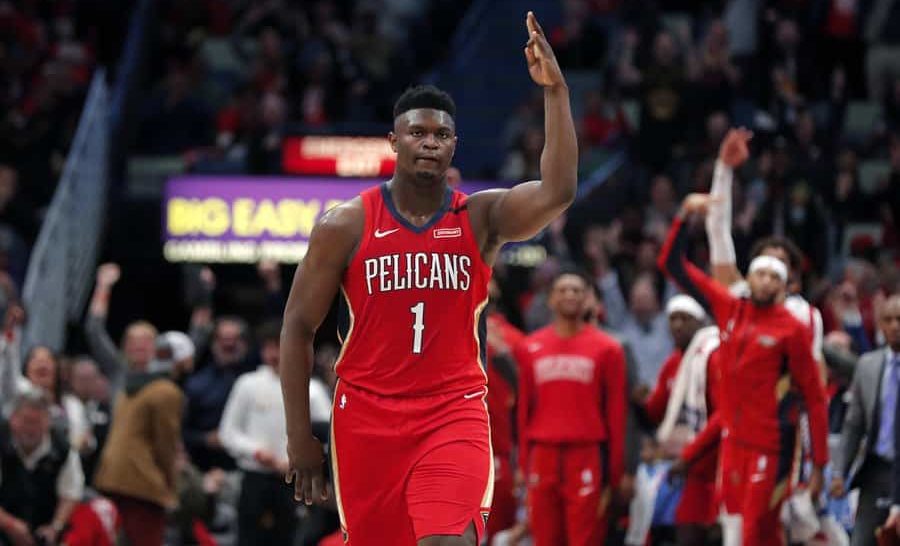 Welcome to the latest edition of NBA Monkey Knife Fight Picks! As we enter what would normally be a brutal two-game slate leading into the All-Star break, I realize that the brutality aspect only hinges on the site you're electing to play on (much like any slate, really).
In the case of Monkey Knife Fight, all is well because we don't have aggressive player pools to manage in a tournament of 40,000+ entries. When it boils down to it, we're trying to find our best angles every day to win, and part of that is knowing how and when to pick your ponds. And playing against a massive heap of entries with only two games worth of players may not be the type of task every DFS player is accustomed to finding as "fun" (while some of us, like myself, would play single-game slates of backgammon DFS if it made sense).
Let's dive into Thursday's two-game endeavors on MKF…
Use promo code SGP and receive a $100 match bonus up to $100 at Monkey Knife Fight
Boston Celtics vs. Los Angeles Clippers
More or Less (5x): Kawhi Leonard, Enes Kanter, Lou Williams
Leonard: MORE than 26.5 PTS
Kanter: MORE than 6.5 REB
Williams: MORE than 4.5 AST
In all honesty, the catch for me here was trying to peg a Boston center and I couldn't manage to find a game involving Daniel Theis. So, I made do with Enes Kanter's rebounding as my focus.
The Los Angeles Clippers have been the second-weakest team against opposing centers over the past 30 days, and the Boston Celtics have a couple of underrated ones as they get lost in the fold of more premier names. In the case of Enes Kanter, while his minute fluctuation is of utmost concern, there's no denying that he's an incredible rebounder. I think he breaks over 6.5 rebounds should he simply get 23+ minutes, which given the matchup and environment should be achievable. He's averaging 8.2 rebounds per game for the season as well.
Kawhi Leonard is averaging 27.1 points per game this season, and in an NBA Finals-caliber matchup with all eyes on Team Load Management as we approach the All-Star break, I should suspect cresting the Over 26.5 mark for points here is within reach.
Lou Williams is also in a favorable position with a shortage at the guard position with Patrick Beverley still missing time. He averages 5.9 assists per game this season and the Boston Celtics have allowed an 8.4 assist per game average to the position over the past 30 days. Looking good for Lou Will!
4 Point Play: Kemba Walker, Paul George
Goal (1.5x): 51.5, Points + Three-Pointers Made
Featuring a game incorporating three-pointers made, combined with true scorers necessary in tandem, I couldn't help myself from leaning into the two players in this game in the top 50 players in the league in three-point percentage. As an intertwined incentive, both Paul George and Kemba Walker are in the top 40 in three-pointers made (Kemba is 10th; George is 40th with having missed significant time to start the season).
Paul George is averaging 21.1 points per game this season, and recently scoring in the dynamic threshold of anywhere from 8 to 32 points in his past month. On the other hand we have Kemba Walker who has seen a much higher output ceiling in the past 30 days or so, scoring as many as 40 points in a game with a floor of 8 points, when looking at games he played his standard minutes (where foul trouble may have come into play).
I'm opting to go the "safe" route of simply 1.5x due to the 5-point gap between that selection and the 2x option (56.5 total). The fact that we have two top scorers doesn't take away from the fact that both teams rank in the top six in Defensive Rating for the season, and I see that coming into play here to affect these totals. The difference between .5x in bonus isn't worth it to me when every point is going to count with the defensive side of things considered.
New Orleans Pelicans vs. Oklahoma City Thunder
Fantasy Challenge: Zion Williamson, Chris Paul, Lonzo Ball
Goal (3x): 133.5 Fantasy Points
With two of the weaker teams in the league against point guards, I found it necessary to chase two of them featured here in Chris Paul and Lonzo Ball who happen to also incorporate high fantasy point ceilings on a nightly basis.
Oklahoma City allows an average of 8.2 assists per game to the point guard position over the last 30 days and happens to be the forte of Lonzo. The Thunder are also surrendering the ninth-most fantasy points per game (57.92 FP/G) to opposing point guards, which factors nicely into the ceiling achievement potential for Ball.
New Orleans happens to rank in the bottom nine teams against point guards for the entire season, allowing 24.9 raw points per game to the position and Chris Paul is averaging 21.75 points in the month of February, and scoring as many as 50 fantasy points (site dependent) on two occasions in his past ten outings.
Zion Williamson is playing some fantastic basketball of late and just put up his first 50+ fantasy point performance in his young career, which is a first of many to come. This may be a bit of a chase when paying homage to said performance, but the fact that Coach Alvin Gentry is allowing more freedom of usage and minute allocation to Zion is a major promise.
He'll be guarded much of the time by Danilo Gallinari, who is four inches taller than Zion but sixty pounds lighter in stature, which may certainly play to Williamson's favor when pressing the paint. I was tempted to go with Jrue Holiday instead at this third player spot, but with uncertainty looming around the return of Brandon Ingram, I didn't want to chance it when considering the potential drop in usage for Holiday should Ingram get back to action Thursday.
Use promo code SGP and receive a $100 match bonus up to $100 at Monkey Knife Fight