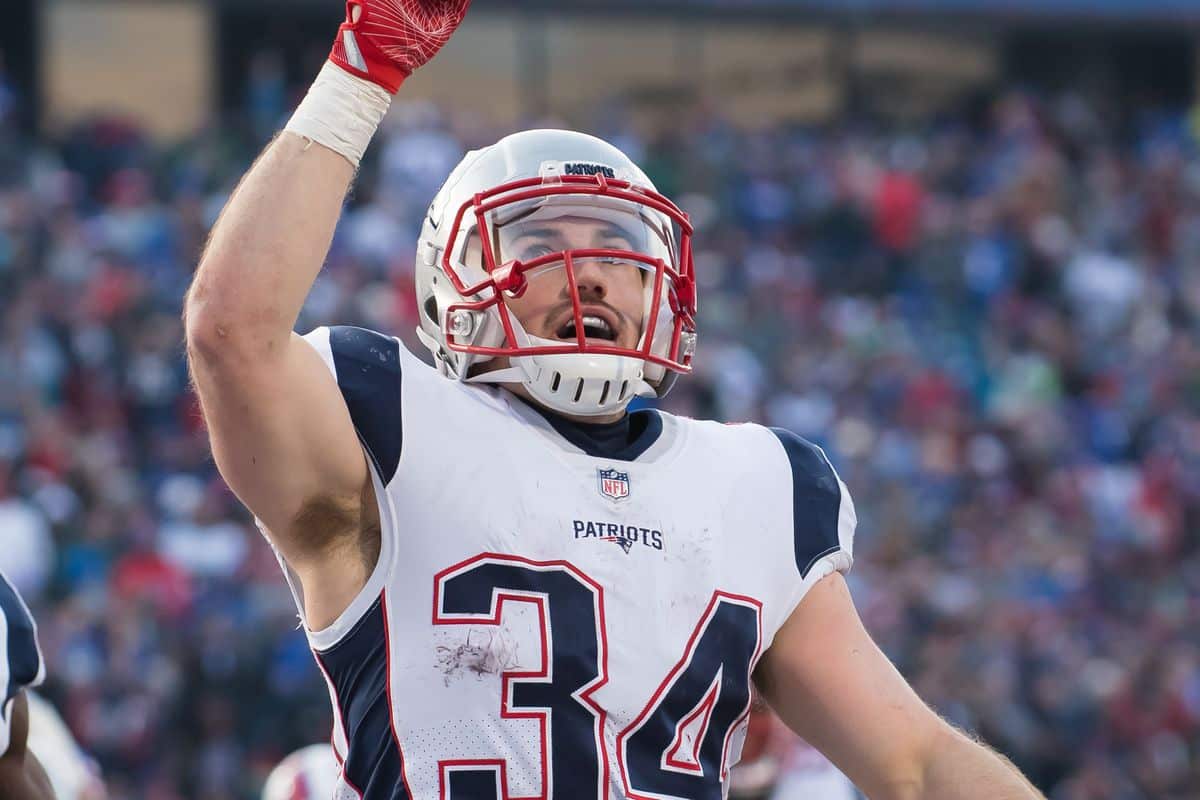 2020: another new year already filled with high hopes for many of us, yet with lofty expectations comes a need for preparedness and thick skin. This is especially true if your goals are in the Daily Fantasy Sports department (hey there, welcome to the club!).
With that in mind, I welcome you to the new year with a Wild Card Weekend Showdown Saturday slate! And what would be a better way to start than with the would-be eulogy for my beloved New England Patriots as they host their own funeral at Gillette Stadium on Saturday evening, handing the guest guillotine to the Tennessee Titans.
My pessimistic looking-glass aside, this matchup provides some very interesting narratives and will require anticipatory game flow within roster construction to reflect a variety of more likely outcomes. Let's look at some of the more promising players on this game's slate, along with some talent going potentially overlooked…
Tom Brady (NE), QB ($10,400/$15,600 Capt.)
With rumors swirling about this potentially being his last game at Gillette Stadium in a Pats uniform, Tom Brady comes into this Wild Card game having the worst season in six years if you're measuring by passer rating, where his 88.0 rating is his lowest since 2013 (87.3 rating, and a year the Pats lost in the Conference Championship Game to the Peyton Manning Broncos).
However, he's still Tom Brady and I've seen him lose blowout home playoff games in his prime to Rex Ryan, so I don't think his age plays quite the factor that the public keeps cawing about. At one point this season, Brady led the league in touchdowns of 40 yards or more.
On the other hand, the same Titans defense ranks 21st in the league against the pass per Football Outsiders' DVOA rankings, along with 22nd against the short pass (passes up to 15 yards) on the season. This will be Brady-to-James White territory, and likely some random and oft contributions from Rex Burkhead.
Tom Brady, if the Patriots are to stay competitive in this game, is going to have to play a very sound game, and this will hopefully transpire to DraftKings Fantasy Points. Naturally, he will be chalk.
Derrick Henry (TEN), RB ($12,000/$18,000 Capt.)
The clear-cut workhorse of the Tennessee Titans, Derrick Henry enters the NFL Playoffs following a monster regular season where he posted 1,746 all-purpose yards and 41 touchdowns (where 1,540 yards and 38 touchdowns were rushing). He finished the season with an exclamation mark game against Houston, romping for three touchdowns and 211 yards on the ground and solidifying himself as the NFL's top rusher in 2019.
The Patriots defense was not what it started the season as, once appearing to quite possibly be the "greatest of all time", to losing in the final minutes at home against the God awful Miami Dolphins in the last game of the season; a game which was the deciding factor in getting a bye week in the playoffs.
[can you tell I'm reeling a tad?]
At the same time, per DVOA Defensive Efficiency ranks, the Pats' rush defense still sits sixth overall and could still prove to be a massive test for Henry. But after witnessing Joe Mixon carve himself a field day against them in Week 16, I plan to roster plenty of Derrick Henry on this Showdown slate which will likely feature some sloppy weather as well, favoring the running game.
Rex Burkhead (NE), RB ($5,200/$7,800 Capt.)
While it can be difficult to pinpoint which piece[s] of the New England backfield are ever going to be "the guy" from week-to-week, it would be difficult to ignore the recent consistency of Rex Burkhead. And in the same diatribe, I could tell you how badly the Patriots need a dependably versatile contribution to the offense from someone.
Burkhead caught a touchdown in both Weeks 15 and 16 coming out of the backfield, and has a favorable matchup with Tennessee given his skill set. And since we're on DraftKings, with a full-point per reception, it's even more favorable for he and backfield mate James White (don't forget Brandon Bolden).
The Titans rank 23rd against running backs in the passing game per DVOA Vs. Receiver Type, allowing 8.2 passes to the position per game. James White is the preferred target in the red zone however, as the Patriots' second-highest target in said area with 23.26% of the target shares.
He's no lock play (so I would be hesitant in Cash Games), but Rex Burkhead is worth the risk in tournaments as he does also provide a high-ceiling potential.
Jonnu Smith (TEN), TE ($4,400/$6,600 Capt.)
Although the New England secondary just gave up everything shy of their lives to the Miami Dolphins passing game (punch me, please), the fact of the matter still remains that this is the number one pass defense per DVOA rankings, along with number one against Wide Receiver slots 1-5 (according to Football Outsiders' Defense Per Receiver Type).
Keep in mind, DVOA rankings are partially based on previous opponents they've faced, so the fact they're still atop the board of weighted ranks says a bit of something in their strengths of victory. However, the position they've slipped down to seventh in is against that of the tight end position.
Jonnu Smith (along with Anthony Firkser) is the third-highest targeted active member of the passing game via quarterback Ryan Tannehill, and the second-highest targeted Titan in the red zone for the season at 14.58% of Tennessee red zone attempts. He's scored two of his three touchdowns on the year via red zone targets, and is involved in nearly 80% of offensive snaps.
The Dolphins' Mike Gesicki just scored a touchdown against the Pats defense and Tyler Eifert was the leading pass-catcher against New England in Week 15. With the pressure the Patriots will likely be giving Tannehill, a safety net like Jonnu Smith should come in handy early and often for Tennessee. Firkser is a very sneaky tournament play as well.
Julian Edelman (NE), WR ($9,400/$14,100 Capt.)
If you are at all familiar with me, I already know what you're thinking regarding this pick: "FANBOY HOMER." And if so, thank you. But in actuality, my reasoning behind writing this play up isn't at all for the sake of homerdom, and beyond his being Tom Brady's favorite target. The intriguing notion of higher upside here comes from his ability in the passing game, and Julian Edelman is known for the quarterbacking heroics on the grand stage of the NFL Playoffs before.
I could breakdown how Edelman is practically bunk buddies with Brady, his favorite target by nearly SIXTY additional targets in 2019 (over James White), Disneyland Jedi accompaniment, and Lord knows what other top-echelon of TB12's avenues of life. But if we're anticipating game flow in the direction of this being competitive to the tune of back-and-forth lead changes, I would be hard-pressed to believe some gadgetry on behalf of offensive coordinator Josh McDaniels would escape the fold of Saturday's scheming.
What's an even deeper outlier tournament reach in thought: the Patriots gritty, low-scoring Week 11 matchup with the Eagles featured one passing touchdown between both teams, and that was of Edelman to Phillip Dorsett for a 15-yard score to decide the game. In what could also be a very low-scoring affair, Edelman's additional abilities may be the reason the Patriots can pull off a victory, along with pulling off some cash for you in the process.
His health is in question for the time being, but it would take a force of God to keep Julian Edelman outside of a Patriots playoff game plan, and his added passing abilities in big games is the edge for me here.