1. Auburn @ Florida
This game will tell us which one of these teams are probably overrated. Auburn looked great last week while Florida shut out Towson. Their 2nd FCS team on their schedule this year.
2. Michigan State @ Ohio State
Ohio State has had Michigan State's number the past couple years but is this the best Michigan State team out of the past three years? If Brian Lewerke can limit the turnovers and if the run game can move the ball some the Spartans may just have a chance.
3. Central Florida @ Cincinnati
The winner of this game will have the upper hand on playing in the AAC Championship. UCF really should have beaten Pittsburgh but Josh Heupel was over aggressive and it cost the Golden Knights the game. Cincinnati has looked great for the entire year with exception to the game against Ohio State.
5. Iowa @ Michigan
Jim Harbaugh might be tense for this one. Sure, Michigan looked great against Rutgers but that's Rutgers. No one is talking about the Iowa Hawkeyes and I'd imagine thats the way Kirk Ferentz wants it. The Hawkeyes are a veteran team that should give Michigan all they can handle.
6. Pittsburgh @ Duke
The is a huge game in the Coastal Division. If Pittsburgh loses the Panthers will be three games behind Duke and Virginia. Duke has overachieved in every way this year as David Cutcliffe so often does. This is a must win game for Pittsburgh after a close win against FCS Delaware last week.
7. Baylor @ Kansas State
Matt Rhule earned a huge win against Iowa State in Waco last week but now comes the real test as the Bears hit the road for the first time in conference play. Kansas State has overachieved my expectations this year despite losing in Stillwater last week. Manhattan, Kansas should be on fire for this one.
8. Air Force @ Navy
I mean this game is just fun. Two triple option service academy's going head to head in a college football classic rivalry. Both these teams are pretty good football teams that should be bowling come December. Air Force is coming off a nice win against San Jose State while Navy is coming off a loss to Memphis where the Midshipmen let the game slip away from them.
9. TCU @ Iowa State
Matt Campbell has lost a couple close games to start the season with losses to Iowa and Baylor. Can the Cyclones find a way to make Ames magical again? TCU is coming off a blowout win to Kansas but now must face a ISU team that really needs a win.
10. Arizona @ Colorado
Arizona dealt with some big injuries last week but the Wildcats still somehow managed to find a way against UCLA. Colorado was on bye last week but the Buffs are beat up themselves. Starters Mustafaa Johnson, Chris Miller & Lavishka Shenault are all questionable for Saturday's game against the Wildcats.
11. Tulane @ Army
Jeff Monken against Willie Fritz? Sign me up. Both former coaches from Georgia Southern. Fritz replaced Monken at Georgia Southern but then left for Tulane and now we get a former Georgia Southern coaches bowl. Army has a pretty easy schedule with the exception of a few games and this is one of them. Tulane is 3-1 and is thinking back to back bowl games. This one should be fun.
12. Texas @ West Virginia
Morgantown, West Virginia is one of College Football's best home environments but can WVU in year one of the Neal Brown era actually contend with Texas? Texas hasn't really hit the road this season with exception to a game in Houston against Rice.

13. Washington @ Stanford
Jacob Eason and Washington suddenly seem to be rolling. Stanford managed to hold off Oregon State and move to 2-3 on the season. Can the Cardinals hang with the Huskies on the farm? I have my doubts but stranger things have happened.
14. Northwestern @ Nebraska
Both these teams are coming off a loss and both these teams might be looking much worse than experts predicted. Adrian Martinez and the Cornhuskers didn't just lose to Ohio State they were destroyed on their own home field. Northwestern showed some signs of life last week as they played Wisconsin closer than any opponent had this year.
15. Illinois @ Minnesota
Row the boat. Row the boat. PJ Fleck and Minnesota are quietly 4-0 and the Gophers have a nice scheduled laid out in front of them to make a run at the West title. Illinois is 2-2 and desperately needs a win if they want their head coach Lovie Smith back for another season.
16. Utah State @ LSU
Their too good right? LSU has been dominate this year and they look like a national championship contender so there's no way Utah State stands a chance right? Utah State has been a tough out for Wake Forest, USC, Auburn, Wisconsin & Michigan State but failed to get it done. Can they work some magic in Baton Rouge?
17. Boston College @ Louisville
Boston College has been a bit of a let down this year and for that there's rumblings that head coach Steve Addazio may be on the hot seat in Chestnut Hill. Louisville had a tough loss in Tallahassee two weeks ago and would love to grab a nice ACC win here.
18. Western Michigan @ Toledo
These two could potentially be the best two teams in the MAC. Toledo is coming off a huge win at home against BYU while Western Michigan took down rival Central Michigan by double digits. This should be a good one in the MAC.
21. Ohio @ Buffalo
Once again another nice Maction game. Ohio is a contender in the MAC while Buffalo is somewhat rebuilding. The Bulls still have a bowl game on their mind but the Bulls need to take care of the ball better. Ohio QB Nathan Rourke is one of the best QB's in all of college football.
20. Virginia Tech @ Miami (FL)
Both these teams have underachieved this season. Miami's isn't as bad because they're still 2-2 despite not looking good against Central Michigan. Justin Fuente is taking all types of heat in Blacksburg and I'm starting to think this is his last season with the Hokies if things don't improve quickly.
21. Tulsa @ SMU
A nice little AAC West matchup. Tulsa is better than most think and SMU is ranked nationally for the first time since the mid 80's. There should be a ton of offense in this one. Can SMU continue their cinderella season?
22. Troy @ Missouri
Missouri already lost to one mid major in Wyoming. Sure, that was on the road but this wouldn't be the first time Troy would have won in Columbia, Missouri. Missouri has looked great since the Wyoming loss so maybe they've figured things out.
23. Oregon State @ UCLA
Two one win teams battling at a half empty rose bowl who's in? Oregon State could easily be 3-1 right now but they haven't learned just how to win yet. They lost close games to Stanford and Hawaii. UCLA was on the verge of winning two in a row before Dorian Thompson-Robinson went down with an injury in Tucson.
24. Eastern Michigan @ Central Michigan
Central Michigan lost the first rivalry game last week against Western Michigan and now faces another good MAC team in Eastern Michigan who is 3-1 with nice wins over Coastal Carolina and Illinois. This should be a fun one.
25. Temple @ East Carolina
Can ECU keep it close enough and not turn the ball over? Temple is a veteran team with a really good quarterback. ECU is just trying to get better each week under new coach Mike Houston. If ECU can force a turnover or two they may be able to pull the upset. The last time Temple hit the road they lost to Buffalo.
26. Purdue @ Penn State
Purdue is really beat up and now Rondale Moore is out. Looks to be a really tough year for Jeff Brohm in West Lafayette. Penn State is coming off one of the most impressive wins of the college football season with a 59 point win on the road against division foe Maryland.
27. Oklahoma State @ Texas Tech
Texas Tech has really underachieved for me this year. I remember hearing from several sources that Matt Wells walked into the best scenario for all the first year coaches. The Red Raiders have their work cut out for them this week as Oklahoma State and Mike Gundy come to town. The Pokes still have a Big 12 Championship game on their mind and can't afford another Big 12 loss.
28. Georgia @ Tennessee
Can Tennessee score more than the 3 points they scored against Florida? Can Tennessee stop the run at all? I have my doubts which is why this game is so far back on my list. Georgia State lost to Western Michigan by 47 points a few weeks after beating Tennessee. I have zero faith in the Vols.
29. Marshall @ Middle Tennessee
This is somewhat a big game in the Conference USA. Middle Tennessee has taken a beating from a few teams but can rebound with a nice conference win over a team that may be the favorite in their division.
30. San Diego State @ Colorado State
Rocky Long and the Aztecs had a week off to think about that close loss to Utah State and perhaps they needed that as they head to Fort Collins. Colorado State is 1-4 but I still think this team is much better than their record. The Defense is a mess but the offense has some real players. I think the Rams will hang tough in this one.
31. Vanderbilt @ Ole Miss
If anyone of these teams wants any shot a bowl game than they need this win which somehow kind of makes this game interesting. Ole Miss just got destroyed by Alabama while Vandy managed to grab a close win against Northern Illinois.
32. Western Kentucky @ Old Dominion
The Hilltoppers have surprised me with some nice wins over Florida International and UAB this year. Can they continue that run and grab a win in Norfolk? ODU is probably a bit better than their record indicates after tough losses to Virginia and East Carolina.
33. Boise State @ UNLV
Boise appears to be the group of 5 team best capable at a undefeated season here and they need not trip up in Vegas. UNLV has been a mess this year and the Rebels players must know they are playing for their coach Tony Sanchez's job at this point.
34. Ball State @ Northern Illinois
Northern Illinois is probably the best one win team in the country after a crazy road run of at Utah, Nebraska & Vanderbilt. Ball State has one win as well but that better indicates who they are. Northern Illinois is still a contender in the MAC and they should show it now that their back home in DeKalb.
35. Arkansas State @ Georgia State
Remember that Georgia State team that beat Tennessee? What happened to that team? Arkansas State is still a contender in the Sun Belt despite all the adversity this team has been through. Their coach left the team to attend to his sick wife. Their starting QB has been knocked out for the season but yet the Red Wolves keep battling.
36. Maryland @ Rutgers
Not sure what to think of this game. Coming into the year I was convinced Maryland would be garbage but they gave us a two game sample of something crazy then they went to being the type of team I imagined they were. Rutgers is the opposite a pretty bad team that I expected to be bad. Rutgers head coach Chris Ash was fired this week so here's a nice opportunity for the players to rally around a new head coach.
37. South Florida @ Uconn
Charlie Strong may be coaching for his life. Perhaps you could make that same argument for the Huskies head coach Randy Edsall. Regardless this is a must win for both teams.
38. New Mexico @ San Jose State
San Jose State is much improved and headed in the right direction but they must focus here. Here is a golden opportunity for the Spartans to grab a win that could eventually get them to a bowl game. If they get this one here and then beat UNLV & Nevada and grab just one upset than the Spartans are bowling. I know I'm getting ahead of myself. New Mexico could be thinking the same thing.
39. Georgia Southern @ South Alabama
Georgia Southern needs this win bad after some bad losses to LSU, Minnesota and Louisiana Lafayette. South Alabama seems to be getting worse and worse as the season goes along. A perfect matchup for this Georgia Southern team.
40. North Carolina @ Georgia Tech
Georgia Tech may just be the worst team in all the power 5. Yep, I think they are probably a worse team than the Rutgers Scarlett Knights. North Carolina is still a contender in the coastal division so they need to show up here and take care of business.
41. Rice @ UAB
UAB should of beat Western Kentucky but they turned the ball over too much. This UAB team despite being 3-1 is not as good as the UAB teams of the past two years which is why they need not look past this Rice team.
42. Memphis @ Louisiana Monroe
Memphis could be a sleeper to potentially run the table as a group of 5 but they must take care of business on the road against a weird Louisiana Monroe team. ULM probably should of beating Florida State in Tallahassee but then gave up 72 to Iowa State in Ames. Which ULM team is going to show up?
43. Oklahoma @ Kansas
There's no way right? Les Miles already pulled off his big upset for the year winning at Boston College. Last week the Jayhawks got destroyed on the road at TCU. Oklahoma hasn't been tested at all really. Sooners should roll big.
44. Umass @ Florida International
Umass finally got new head coach Walt Bell a win. Sure, it was at home over a really awful Akron team. Florida International has been a complete disappointment this season but now it's time to buckle down and change your season with a nice blowout win at home over Umass.
45. Liberty @ New Mexico State
The first of two matchups this year Liberty hits the road to take on the Aggies of New Mexico State. This will be their third matchup in the past two years with another coming later this year. Why? Who knows but enjoy the wackiness.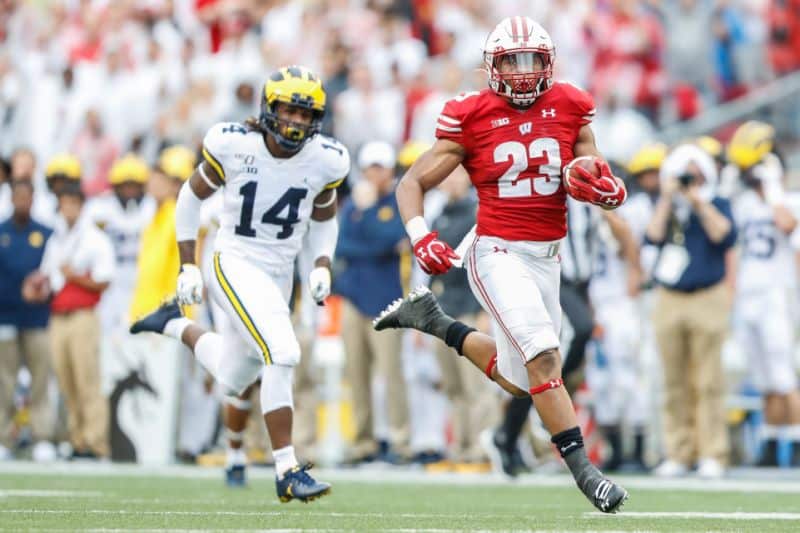 46. Kent State @ Wisconsin
Does Wisconsin ever play a game on the road? I know they opened the season on the road against a bad South Florida team but they've been at home ever since. Talk about a great schedule set up for a good run. The Badgers should roll here once again.
47. Bowling Green @ Notre Dame
Bowling Green may just be the worst team in the nation which means this game should never be on television. Irish roll big.
48. UTSA @ UTEP
The true toilet boil. Something has to give. Both these teams have one win each at the helm of FCS opponent.