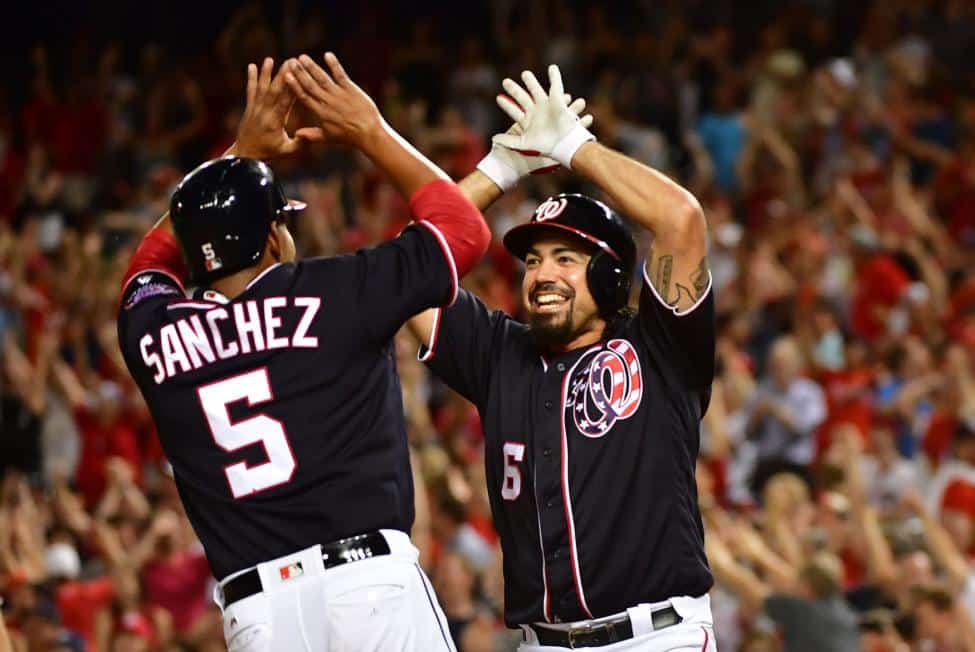 Happy Fourth of July Weekend my DFS degens!
Hopefully you've had a safe and fun filled vacation while recognizing our great Nation's independence and the continuing freedoms it provides to us on a daily basis. One freedom being the right to game how we do in 2019, and for that we should be thankful as well!
It's pretty badass getting to assemble a virtual roster of actual active players to the best of your ability and essentially get paid to do it correctly (and really well in some instances). That's a damn cool freedom if you ask me. And we get to do it knowing we're protected abroad by our absolutely awesome military as well, which makes everything about this holiday so awesome to celebrate.
And with that being said, let's enjoy that freedom to the fullest and dive head first into this weekend of killer matchups across the Major League (without tilting way too hard for any reason, of course) by doing what we do best each week: targeting some really suspect pitching with [in some cases, off-the-radar] batters in great spots.
Nationals' Weekend, Fittingly
With the given theme across the country heading into this weekend, why in the hell not have an added bonus reason to stack the stars and stripes? And if you look across the mound all weekend, it's not really much of a reach to suggest in doing so.
The Kansas City Royals pitching platoon this weekend consists of Brad Keller, Glenn Sparkman, and Jakob Junis. Immediately my interests pique when hearing that grouping and it's the introductory numbers that make me wonder where the potential ceiling may lie as a result.
Brad Keller features a lackluster 4.63 ERA, 5.38 SIERA, and 5.09 xFIP while posting only a 16.3% K%, and a lowly 8.3% swinging strike rate. This looks incredibly charming when considering Nationals bats have all been under 10% owned as of recently on larger-sized slates (which each of their slates will be all weekend). Washington is also middle of the pack in strikeout percentage (18th, 22%), walk percentage (15th, 8.5%), and wRC+ (tied 15th, 95).
While the Nats tend to be expensive at the top of the order, it's not going to keep me from rostering plenty of three-man and five-man stacks of them, especially considering you can get a Yan Gomes ($2,900 DK) batting eighth as a cheap wrap-around part of the stack to work with the bigger bats such as Trea Turner ($5,300 DK), Adam Eaton ($3,800 DK), Anthony Rendon ($5,200 DK), and Juan Soto ($5,400 DK). But I will certainly be getting to the other half of the order in Kendrick, Adams, and Robles as well.
Orioles + Blue Jays = Birds With Some Garbage Runs
Not at all like Dylan Bundy and Aaron Sanchez have me scared off of playing either side's batters on Friday, but upon glancing over Saturday and Sunday's pitching ensemble I couldn't help myself but to dig further into the likes of Gabriel Ynoa and Clayton Richard to see what type of garbage they're actually bringing to the table (and it's pretty hot).
With Clayton Richard 's dumpster fire on full display, I figured I'd glance past the gas-rag 6.51 ERA to gain a greater understanding of just how badly I'll want to stack the Orioles on Saturday: .303 BABIP, 6.59 FIP, 5.37 xFIP, 5.70 SIERA, and a whopping 6.1% swinging strike percentage. I will be all over the field rostering righties Hanser Alberto, Trey Mancini, and Pedro Severino. Switch-righty Jonathan Villar will also be a common anchor in an assured over-the-field aggregate amount of Orioles I will have in my player pool.
I have been making a common hand-building stacking staple of mine to take a majority of the opposite-handed batter from the opposing starting pitcher, and then supplement with 1-2 same-handed (ie: right for right) for when the relievers [hopefully] come in to stop the bleeding. This means I will definitely find myself some power lefty Dwight Smith Jr. and Chance Sisco as well.
On the flip side of the weekend, Gabriel Ynoa comes in looking to get lit up like a peppy Millenial's vernacular rocking a 6.22 ERA, .294 BABIP, 5.22 SIERA, and a lousy 14.9% strikeout percentage, alongside a 8.8% swinging strike rate. Do yourself a favor and gitcha some Blue Jays, because there should be plenty of power on display (barring some sort of weird lineup Sunday). Lourdes Gurriel Jr, Cavan Biggio, Rowdy Tellez, Randal Grichuk, and red-hot affordable Danny Jansen will fill out the majority of the Toronto portion of my Mass Multi Entry player pool come Sunday.
Enjoy the rest of the holiday weekend, don't tilt too hard while having fun (or, even worse, while losing), and hope to catch you on the greener side come Monday.