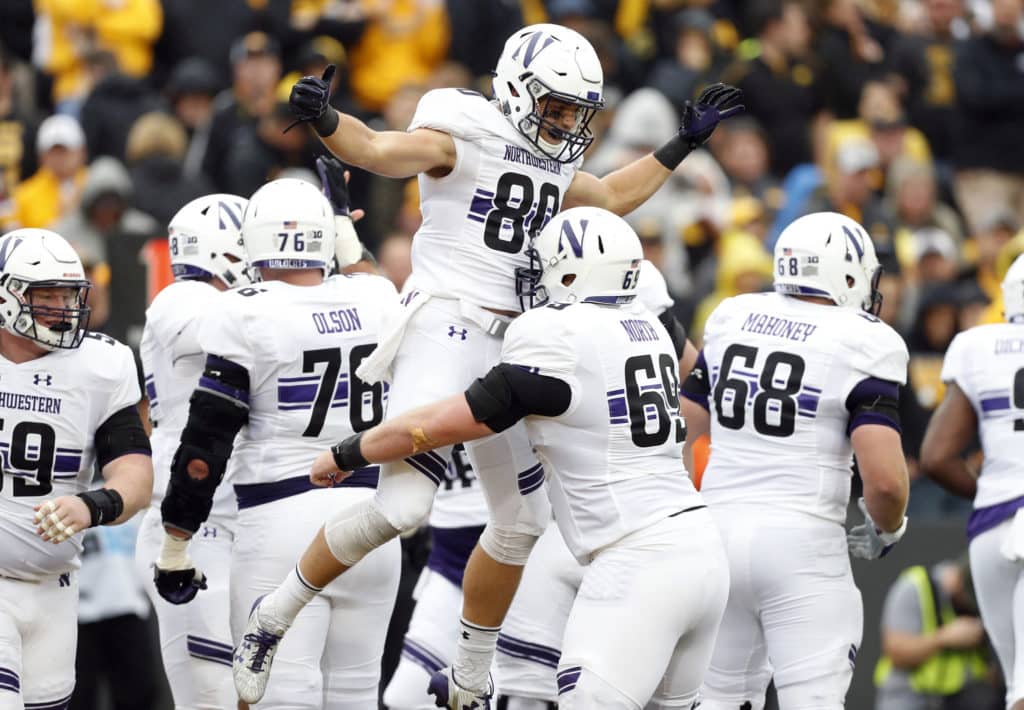 If you did not know by my Twitter handle, I played ball at Northwestern University. With my five years of experience there, if there is one thing I at least somewhat know when it comes to college football, it's the Big Ten. I've played in front of 4,000 people at 11:00am in West Lafayette, Indiana when its 37 degrees, overcast and windy, while the 15 students that actually came to the game haplessly chant 'Boiler Up' as we stomp them by 30.
I've also played in the Big House in front of 120,000 fans where we got stomped by 30 and it was so loud I couldn't hear myself think, let alone hear a snap count. Goddamnit, the Big Ten is special. Throughout the year I will be giving you my picks and previews for the Conference. So, put your big boy pants on, drop your SEC bias and let's talk some Big Ten football.
Wisconsin vs. Penn State, 11/10 12:00pm
The play: Wisconsin +8.5
In a week where Gameday is in Chestnut Hill, Massachusetts for a game with a nearly 20-point spread, this should have been the game of the week. This game should have had tons of Big Ten Championship and maybe even CFP implications. But, after two of the more disappointing seasons of any programs in the country, we have a game where both teams are fighting to get to 9 wins, and not much else.
I truly thought it was Paul Chryst destiny to coach Wisconsin and win at least 10 games every year, but alas, I was wrong. Because of the relative disappointment and up-and-down performances of both teams, this game is difficult to handicap. The angle that I am siding with here is that the look ahead line for this game at the start of the season was Penn State -3. I know Wisconsin has had a really bad year for the normally stable program that they are, but has Penn State really done enough to warrant that 5.5 point swing in the line? I say no, take the line value with the Badgers.
Maryland vs. Indiana, 11/10 12:00pm
The play: Maryland +2
Maryland let me down last week in what I thought could be a rally spot for their team in a game that, when you really look at it, was a bad matchup for the Terps. If Maryland cannot run the ball, there isn't much they can do to hurt you offensively. MSU has the #1 run defense in the country.
Bad matchup. That's on me. On the other hand, Indiana allows 4.4 yards per carry, compared to MSU's 2.53. This Indiana team is a worse version of some of their more recent teams and I really like Maryland to find some stability after a tumultuous week and become bowl eligible. Terps and the points.
Ohio State vs. Michigan State, 11/10 12:00pm
The play: Ohio State -3.5
I went back and forth on this game. The public is all over OSU and the line has stayed firm at 3.5 and even had some 3's pop up earlier in the week, most likely indicating some sharp money on MSU. If you read any of my content, I almost always will side with the sharp signals. Simply put, there are people who spend every hour of their day handicapping sports and who am I, a washed-up former college athlete with a 8-5 job (follow me @IPlayedD1), to say that these professionals are wrong. BUT, I cannot get over how bad this matchup is for MSU.
Remember what I said about MSU's run defense being the best in the country? Well, their pass defense is ranked 99th and teams with good quarterback play have given MSU fits (sup Clayton Thorson). Conversely, OSU's biggest weakness is their susceptibility to big plays, and personally, I do not peg Brian Lewerke as the quarterback to really exploit this (he big stinks) flaw. It is a joke that MSU is ranked in the top 20, and while I never like going against sharp money, I'm going to take OSU laying 3.5 on the road.
Illinois vs. Nebraska, 11/10 12:00pm
The play:  Illinois +17.5
I don't have much to say about this game. I think this line is a bit of an overreaction to Nebraska playing OSU close and think we are getting a few extra points of line value from two teams who both kind of stink. Illinois beat Nebraska outright when the talent gap was much larger between these teams back in 2015 and Illinois should have the talent to stay within this big number.
Michigan vs. Rutgers, 11/10 3:30 pm
The play: Nope.
Purdue vs. Minnesota, 11/10 3:30 pm
The play: Minnesota +11
Say it with me now: "TOO MANY POINTS!", "TOO MANY POINTS!", "TOO MANY POINTS!", "TOO MANY POINTS!". I love fading Purdue here after a sneaky huge win against Iowa last week now giving double digits points on the road. It's simply a great sell high spot in a game with too many points. Take the Fighting PJ Fleckers (fuck that guy) in a November game in Minneapolis.
Northwestern vs. Iowa , 11/10 3:30 pm
The play: Northwestern +10.5
 Let's. Go.
I am making this my "BIG TEN RUN THE BALL, PUNT THE BALL, I'LL SEE YOU IN INDY, TAKE YOUR PINK LOCKER ROOM AND SHOVE IT UP YOUR ASS, COACH FITZ IS STILL MAD ABOUT IOWA BREAKING HIS LEG IN '95, ROAD-DOG LOCK OF THE WEEK"
Do I hate that the public is on Northwestern? Yes. Very much so. This line is WAYYYY too big and frankly, that scares me a little. HOWEVER. I know the guys in that locker room, I know what their mindset was going into the ND game last week (we cared A LOT more about this week) and I know how much we LOVE playing at Kinnick. Could you play the angle that we only need to win 2 of our last 3 games to go to the Big Ten Championship? Sure, but, if we win this game we all but lock up our spot. If we lose, we still have to win on the road in Minneapolis and then play an Illinois team that would love nothing more than to knock us off. We do not want to leave this up for chance. FINISH IT THIS WEEKEND IN IOWA CITY. LETS GO CATS.