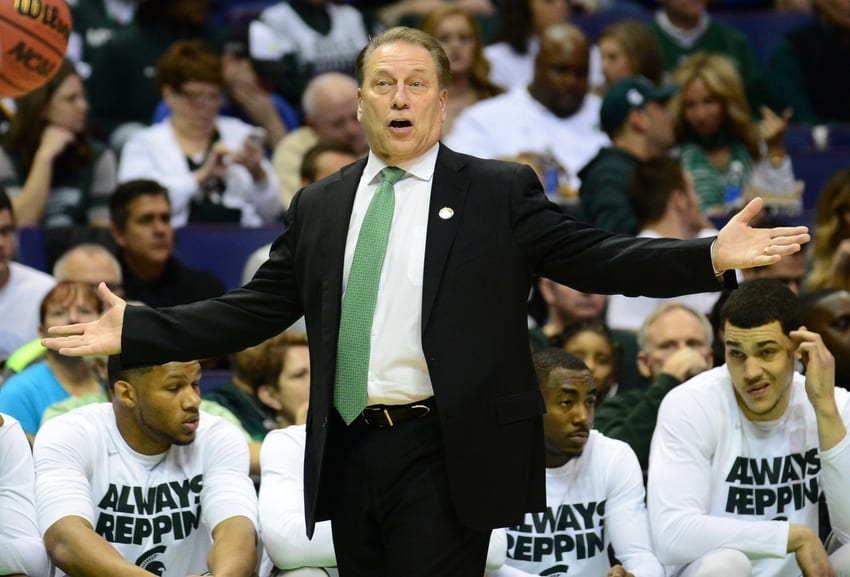 We're 35 days away from the tip off of another college basketball season which means its overtime work for me. Here is my preseason top 25 to get things started.
 Michigan State Spartans
Last year Michigan State struggled but their team was full of youth. This year not only does that youth become experienced players they lucked up when their star shooting guard Miles Bridges decided to return after declaring himself eligible for the NBA draft. Bridges was a projected lottery pick so that's a pretty big deal that he returned to East Lansing. They also return veteran point guard Lourawls Naim Jr. , Nick Ward and watch out for incoming freshman Jaren Jackson Jr.
Duke Blue Devils
The Blue Devils were already loaded when they returned Greyson Allen but then they landed Marvin Bagley III, Wendell Carter Jr. Trevon Duval & Gary Trent Jr. That's an amazing freshman class that depending on how the youth of the team grows throughout the season should have the Blue Devils contending for another national championship.
 

Wichita State Shockers
Wichita State is loaded this year but they also begin life in a new conference after joining the American Athletic Conference. This is a veteran team which always seems to fare well come tournament time. The Shockers are led by Shaq Morris , Markus McDuffie, Landry Shamet  & Conner Frankamp. Talk about experience! This team is loaded and should be the favorite to win the American in year one.
Villanova Wildcats
Jay Wright really has this program rolling and this year they should continue that tradition. Jalen Brunson is one of the best players in the country and mix his skills with Donte DiVincenzo & Mikal Bridges and you have a potential final four roster. Keep an eye on incoming freshman forward Omari Spellman he should be a force down low for the Wildcats.
Kansas Jayhawks
The Jayhawks are favored once again to win their 14th consecutive Big 12 championship This year they're mixing some freshman and transfers with some veteran talent like seniors Devonte Graham & Sviatoslav Mykhailiuk and junior Lagerald Vick. Keep an eye on Mississippi State transfer Malik Newman who at one time was the number two recruit in the nation.
Arizona Wildcats
Sean Miller should have his Wildcats as this years PAC 12 champion. When you evaluate the roster it's pretty loaded led by junior guard Allonzo Trier and sophomore Rawle Alkins. Mix those proven players with what could be the top freshman in the country in Emmanuel Akot.
Kentucky Wildcats
John Calipari continues to use his one and done philosophy which clearly has worked no matter what we may think about that. Kentucky did somehow manage to return their leading scorer and rebounder in sophomore Wenyen Gabriel. Freshman wise the Wildcats welcome in another great recruiting class led by Hamidou Diallo and Quade Green.
North Carolina Tar Heels
How could the defending champs not be in the top 10? Yeah they lost Justin Jackson but they return Joel Barry II, Luke Maye and welcome Pitt transfer Cameron Johnson. They should take a small step back but its UNC they just reload.
Cincinnati Bearcats
This Bearcat team could be serious contenders and should make the American conference quite a decent conference with the arrival of Wichita State. This is a veteran roster now led by upper classmen  Kyle Washington, Gary Clark & Jacob Evans. Mix that with last years standout freshman Jarron Cumberland who'll now be starting and you have a very dangerous team.
Oklahoma Sooners
Last year Oklahoma struggled but we all knew they would, they had one of the youngest rosters in the country and guess what they've got experience now and Lon Kruger should have them as contenders in the Big 12. Alongside their experience they welcome McDonald's All American Freshman Trae Young. It's still a really young team but the talent is certainly there.
USC Trojans
Despite their assistant coach being tied to this Adidas scandal the Trojans should be excited about their upcoming season. This is a talented roster for head coach Andy Enfield led by forward Bonnie Boatwright . Plus they welcome back Jordan McLaughlin, Chimezie Metu, & Elijah Stewart. Mix those experienced players with incoming five star recruit in Ed O'Bannon Jr. and this Trojans team could be a serious player come March.
Notre Dame Fighting Irish
Mike Brey is easily one of the most underrated coaches in America. He always seems to get the most out of his teams. This year the Irish bring back Bonzie Colson, Matt Ferrell & Martinas Geben who should provide the much needed experience to be a real player in the ACC. Keep an eye out for incoming freshman D.J. Harvey who was highly touted in high school.
Miami (FL) Hurricanes
Jim Larranaga welcomes one of the nations top recruits in Lonnie Walker to a somewhat already experienced team led by Ja'Quan Newton who must find a way to limit his turnovers from last seasons number. Bruce Brown should continue to develop at the shooting guard spot.
Saint Mary's Gaels
Randy Bennett has really got things going at Saint Mary's. This year I have them finally overtaking Gonzaga who is replacing a lot. The Gaels are led by Jock Landale, Calvin Hermanson, and welcome Ole Miss grad transfer in guard Cullen Neal. This team is fundamentally sound across the board and that's always a plus come March.
Louisville Cardinals
It's really tough when ranking the Louisville Cardinals after the Adidas scandal broke and Rick Pitino was forced to step down as head coach. Originally I had this team as a top 10 team but now David Padgett takes over as head coach and although he was one of Pitino's assistants you wonder how good of a coach is Padgett? This team has talent Deng Adel , Quentin Snider, Ray Spalding, Anas Mahmoud, & V.J. King. This year could be up to them and how well they handle the direction of the new coach.
Michigan Wolverines
John Beilein is entering his 10th year in Ann Arbor and if there's one thing we've learned from Beilein is his teams will always have some nice talented players like Moritz Wagner or Muhammed Ali Abdur Rahkman who should have the Wolverines contending again in the Big 10. Besides bringing in the top recruit in the state of Michigan in Isaiah Livers the Wolverines welcome Jaaron Simmons who is a grad transfer from Ohio.
Seton Hall Pirates
This is a very dangerous roster under head coach Kevin Willard that even I could be underrating with this ranking. The Pirates return Khadeen Carrington, Angel Delgado, Desi Rodriguez & Myles Powell. Talk about loaded, now can they find a way to take down the favorite Villanova?
Northwestern Wildcats
Chris Collins almost did it last year with the Wildcats winning a actual tournament game but regardless he has done wonders at Northwestern taking the Wildcats to their first NCAA tournament in 77 years. This year Collins returns the teams top 4 leading scorers in Bryant McIntosh, Derek Pardon, Vic Law & Scottie Lindsey. This team is loaded and looking to make a run for their first Big 10 title since 1933.
Xavier Musketeers
Chris Mack has got to be one of the most slept on coaches in all of college basketball. It'll be interesting to see if he is still at Xavier after this season because the Musketeers are loaded and primed to be a really good team this season. The Musketeers return Trevon Blueitt, J.P. Macura, and welcome grad transfer Kerem Kanter from Green Bay along with some top 100 recruits in Paul Scruggs and Naji Marshall. This team is a nice sleeper pick to win the Big East.
Gonzaga Bulldogs
This is supposed to be a rebuilding year at Gonzaga but don't tell that to Mark Few who believes this team is a national contender again this year. The Zags do return some nice pieces in Johnathan Williams, Josh Perkins and Silas Melson but those are the lone upperclassmen with exception to reserve forward and former Rice quarterback Jeremy Jones. Keep an eye out for redshirt freshman Zach Norvell Jr. who was a top recruit a few years ago.
Texas A&M Aggies
Billy Kennedy will tell you that this is by far his most talented team that he's ever had in College Station. The Aggies lucked up when Tyler Davis and Robert Williams decided to pass on entering the NBA Draft. Mix them with D.J. Hogg, and former top 100 recruit J.J. Caldwell and you have a solid contender in the SEC.
Minnesota Golden Gophers
Richard Pitino has really done a great job in Minneapolis assuming they didn't have recruiting sex parties and ties to AAU shoe company tournaments. This years Gophers team should be a player in the Big 10. The Gophers return Nate Mason, Reggie Lynch, Jordan Murphy and welcome back Davonte Fitzgerald who missed last season with a bad knee injury. Also keep an eye on four star freshman Isaiah Washington who'll get key minutes as a reserve.
Georgia Bulldogs
Mark Fox should be really excited about Georgia basketball this year, they have the talent to contend for the SEC championship. The Bulldogs return Yante Maten, Derek Ogbeide & Jordan Harris and welcome in an All American freshman in Rayshaun Hammonds. Now it's up to Mark Fox to make this all work because we've seen these Bulldogs underachieve  in recent years.
Alabama Crimson Tide
Avery Johnson has quietly been doing some great things in Tuscaloosa. Now it's time that it all comes together and the Tide make some real noise. Johnson has Dazon Ingram, Braxton Key and Ar'Mond Davis. Plus they welcome some star freshman in Herb Jones and Collin Sexton along with Ohio State transfer Daniel Giddens. This team is primed to finally make some noise and contend for a SEC championship.
Harvard Crimson
Tommy Amaker has done great things in Cambridge and this year it should finally come all together since he's really brought in some great recruiting classes. Harvard returns Chris Lewis, Corey Johnson, Seth Towns, Justin Bassey & Bryce Aiken. This team is loaded with talent and also welcome Rio Haskett and Reed Farley as compelling freshman that could play a pivotal role at some point this season. Keep an eye on the Crimson this year.
Honorable mentioned
Maryland, TCU, Georgia Tech, Rhode Island, West Virginia, Middle Tennessee, Virginia Tech, Florida, Purdue, Missouri, Wisconsin, Dayton, Oregon, South Carolina, Texas.