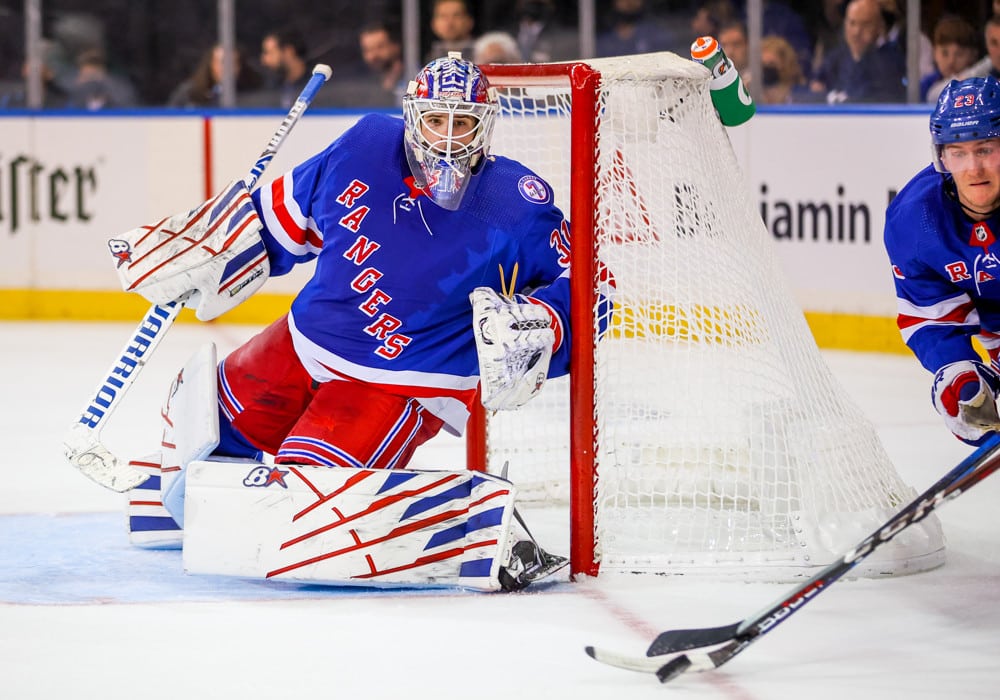 The New York Rangers are one of the pleasant surprises in the NHL this season with goaltender Igor Shesterkin among the favorites for the Vezina Trophy, Adam Fox in the running for the Norris Trophy again, and a few team futures bets in the mix as well.
Sports betting opened up in New York a few weeks ago and now the New York Rangers are back in action after a few weeks off. WynnBET launched in the great state of New York recently and there are plenty of chances for you to get some money down.
EXCLUSIVE SGPN NEW YORK CONTENT
WynnBET Launches In New York: Best Bets for New York Teams
New York Islanders Recap & Expectations Rest Of Season
Brooklyn Nets Recap & Expectations Rest Of Season

New York Knicks Recap & Expectations Rest Of Season
---
New York Rangers Season Overview
The Rangers are in the mix for a playoff spot in the Metropolitan Divison. They have 66 points (31-13-4) through 48 games for a .688 P%. That is good for third in the Metro, fifth in the East, and sixth in the NHL (by points).
The Blueshirts started out the season with a good record in October, going 6-2-1 including 5-1-0 on the road. They kept that up in November, going undefeated in four home games and 3-2-2 on the road for a 7-2-2 record that month and 13-4-3 record through 20 games.
Things slowed down for the Rangers in December and January. They went 7-4-1 in December and just 9-5-0 in January. Their main struggles were on the rod with a 3-4-0 record away from Madison Square Garden to open the new year. However, they've won both of their games in February against tough opponents. The Rangers beat the Panthers 5-1 on February 1st and beat Boston 2-1 in a shootout on the 15th.
According to Power Rankings Guru, the Rangers have the 13th-toughest strength of schedule remaining this season.
---
New York Rangers Best Bets: Player Trophy Futures
New York Rangers Best Bets: Igor Shesterkin to win Vezina Trophy (+175)
Shesterkin is the reason that the Rangers are as good as they are. He is 23-5-2 with three shutouts, a .938 SV%, and 2.05 GAA. Among regular goalies (20+ games played), Shesterkin ranks 1st in SV% and 1st in GAA.
Barring anything drastic, Shesterkin is a great bet to win the Vezina at +175. I'd bet him down to +125 or +150. He's that good.
---
New York Rangers Best Bets: Adam Fox to win Norris Trophy (+500)
Fox won the Norris Trophy last season with 74.3% of the vote. He received 40 first-place votes with Cale Makar behind him at 31. Fox led all defensemen in points last season with 47 thanks to a defensemen-high 42 assists (as well as five goals).
This season, Fox has 47 points (7 G, 40 A) in 45 games. Only Victor Hedman (50 points in 49 games) and Roman Josi (48 points in 47 games) have more points than the Rangers defenseman. Cale Makar is right there with 47 as well, however, with 18 goals to Fox's seven.
Shesterkin to win the Vezina Trophy is the better bet, but Fox is worth a look for the Norris Trophy at +500.
---
New York Rangers Best Bets: Team Futures Odds
To Win Metropolitan: +475
To Win Eastern Conference: +1500
To Win Stanley Cup: +3000
The Rangers are in the mix in the Metropolitan Division and +475 isn't a bad price for them. They're probably due for some regression, but Shesterkin is showing no signs of slowing down.
In that same vein, a red-hot Shesterkin could carry the Rangers far into the playoffs. +1500 and +3000 to win the East and Cup, respectively, are worth a look as well.

---
RELATED CONTENT
NHL Futures: Best Bets to win Hart, Vezina, Norris, & Calder at All-Star break
NHL Futures: Betting Odds, Picks, & Predictions for Each Division
---