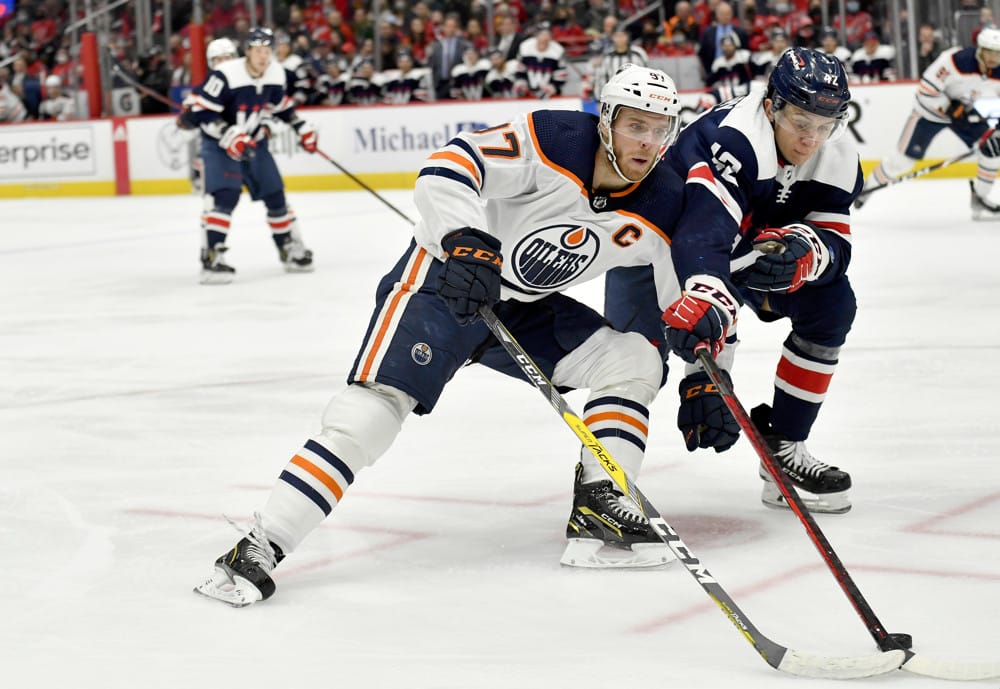 The All-Star break is here. With no NHL games going on, now seems like a great time to revisit some futures markets. First up is the NHL Player futures, looking at the Hart Trophy, Vezina Trophy, Norris Trophy, and Calder Trophy at the All-Star break.
2022 NHL All-Star Skills: How To Watch, Participants, Events, & Picks
For each trophy, I'll look at a top contender or two as well as a longshot worth watching –– or betting on at long odds right now. Let's get right into it!
All odds via DraftKings Sportsbook
NHL Futures: Best Bets at All-Star break
NHL Futures: Hart Trophy
Connor McDavid (+225)
McDavid is the odds-on favorite to win the Hart Trophy, and for good reason. He won it last season with 100% of the first-place votes. This season, the Oilers superstar has 60 points (23 goals, 37 assists) in 41 games.
Edmonton has been struggling, which kept McDavid's point total down in January. McDavid had 53 points (19 G, 34 A) in his first 32 games but just seven in his last nine contests. However, he should get back up to a red-hot pace as the Oilers pick things up. The addition of Evander Kane will certainly help.
McDavid is worth a bet at +225 to win the Hart Trophy.
Alex Ovechkin (+330)
Ovechkin is right behind McDavid in the Hart Trophy odds at +330. Ovi has won the Hart Trophy three times in his career, but not since 2013. He didn't finish in the voting last season and finished just 13th in 2020. But Ovi is a different animal this season.
The Russian sniper has been chasing down Wayne Gretzky. He's on a mission. Ovechkin is fifth in the league with 58 points (29 G, 29 A) through 46 games. If he finishes with close to 50 goals it's going to be hard to not name him the MVP, especially given the Capitals' performance this season.
Nathan MacKinnon (+3000)
MacKinnon at +3000 odds for the Hart Trophy seems crazy. He's missed some time this season, only playing in 31 of the Avalanche's 44 games, but he's racked up 43 points (9 G, 34 A) in that span. His 1.39 points per game is fifth-best in the league, and fourth-best among players with more than 11 games played.
At 30-1, MacKinnon is worth a small play for a potentially big payout.
---
NHL Futures: Vezina Trophy
Igor Shesterkin (+175)
Shesterkin is the favorite to win the Vezina Trophy by a fairly wide margin, with Andrei Vasilevskiy behind him at +550. The Rangers netminder has kept his team in nearly every game he's played in this season and has stolen more than a handful of wins for his club.
Among traditional stats, Shesterkin leads the league with a .937 save percentage, eight points higher than the next qualified goalie (Andersen, .929). He is also a crazy 22-5-2 this season –– the Rangers are 8-8-2 without him. His goals-against average of 2.10 is only behind Andersen (2.01) in the NHL.
According to Hockey Reference, Shesterkin has had a "quality start" (a start with a better SV% than the league average) in 22 of his 28 games. He's only had one "really bad start" (starts with a SV% below .850). Per Natural Stat Trick, he leads the league in goals saved above average at 25.64 –– Saros is second at 21.54 then Andersen at 16.5. So yeah, he's that good.
Shop around if you can, but Shesterkin is the frontrunner at +175 among Vezina Trophy candidates.
Juuse Saros (+1200)
Saros should have much shorter odds than +1200 for the Vezina Trophy. He's been tremendous for the Predators, helping Nashville to exceed expectations –– by far –– so far this season. He's 24-11-3 with two shutouts, a 2.35 GAA (8th), and .927 SV% (3rd). Without Saros in net, the Preds are 4-3-1.
It's worth noting that Saros has played the most out of any goalie so far this season. He's played in 38 games, all starts, which leads the league. Tristan Jarry has made 37 appearances while Andrei Vasilevskiy is two starts behind him at 36.
I mentioned Saros' GSAA (21.54) above and that isn't a fluke. You'll see these odds come down as the season moves along, so get in on him now for the Vezina Trophy.
---
NHL Futures: Norris Trophy
Cale Makar (+150)
Makar is making a name for himself around the NHL and might just be the best player on the Colorado Avalanche (sorry, Nate). The young defenseman is tied for 25th in the league among all skaters with 44 points, tied for 34th with 18 goals, and tied for 42nd with 26 assists. Among just defensemen, Makar ranks T-3rd in points, 1st in goals, and T-8th in assists.
The only defensemen ahead of Makar in points are Victor Hedman and Adam Fox. Fox is the reigning Norris Trophy winner but just suffered an injury that could hurt his chances. Hedman has won it once before, finishing in the top three four other times, so he can't be overlooked at +350 either.
Still, Makar makes the highlight-reel plays that catch the attention of Norris Trophy voters. He's a good bet at +150 for the Norris Trophy.
Roman Josi (+1000)
Josi is tied with Makar with 44 points (13 G, 31 A). He plays 25:03 per game, the same as Makar, but is known more for his two-way play while some may view the Avalanche defenseman as an offensive dynamo. Some voters could lean towards Josi, who along with Saros is leading the way for the Predators.
At 10-1 odds, Josi is worth a stab after winning the Norris Trophy in 2020.
---
NHL Futures: Calder Trophy
Trevor Zegras (+225)
We've all seen the highlight-reel goals (and assists) that the Ducks rookie has scored this season –– and the oddsmakers have as well. He both scored on The Michigan/lacrosse goal last week and had a Michigan-style assist earlier in the season. Not to mention the other mind-boggling plays he makes on a nightly basis.
Zegras doesn't lead rookies in any of the main statistical categories, but he's among the leaders in all three. He's second in points (32), third in goals (12), and fourth in assists (20). He's a big part of the Ducks offense and the highlight-reel plays only help his case for the Calder Trophy.
Grab Zegras at +225 to win the Calder before the odds drop again.
Anton Lundell (+900)
Lundell has burst onto the scene recently for the Florida Panthers. He had a five-assist night to end January, which was a great way to end a stellar month for the kid. Since the holiday break, Lundell has 20 points (5 G, 15 A) in 18 games. He's making his presence felt in a deep Panthers lineup.
Don't count Lundell out at +900 for the Calder Trophy, especially if he gets a bigger opportunity as the season moves along.
Matt Boldy (+7500)
It would take one hell of a second half for Boldy to win the Calder Trophy, but at +7500 he may be worth a play. He scored a goal in his NHL debut on January 6th and hasn't slowed down. He is currently on a four-game point streak and has 10 points (4 G, 6 A) in 10 NHL games thus far.
Boldy is currently playing on Minnesota's second line and top power-play unit. Take a stab at Boldy at +7500 odds to win the Calder Trophy.

---
RELATED CONTENT