NHL All-Star Weekend is in the books and it's time to get back to some meaningful hockey. On Friday, I looked at some of the best NHL Futures bets on the individual side of things.
Best Bets to win Hart, Vezina, Norris, & Calder at All-Star break
Now, we're going to look at the top teams in each division. The NHL Futures market is one that you should be trying to cash in on throughout the season, and the All-Star Break is the perfect time for that.
For each division, I'm going to look at the top few teams and how they've done so far this season, then get into my picks and predictions. Let's get into it!
All odds via DraftKings Sportsbook
NHL Futures: Atlantic Division
Atlantic Division Favorites
It's looking like a three-horse race in the Atlantic Division. The Panthers, Maple Leafs, and Lightning are separated by just eight points, with Toronto (eight points behind Florida) having five games in hand. It's a tight race between three of the favorites to win it all this season.
Florida Panthers +140
32-10-5 (69 PTS in 47 GP, .734 P%)

The Panthers are the odds-on favorites to win the Division. They have the most points in the league (they've played three more games than the Avalanche who have one less point) and the second-best point percentage in the East (behind Carolina).
The only negative thing about the Panthers is their road record. They're an amazing 23-3-0 at home, but just 9-7-5 on the road. Both of those should regress as the season moves along. However, the Panthers are showing no signs of slowing down.
Toronto Maple Leafs +200
29-10-3 (61 PTS in 42 GP, .726 P%)

The Maple Leafs are right behind the Panthers in terms of point percentage. They're built for the long haul and are a great regular-season team. Toronto is pretty good both at home (16-4-1) and on the road (13-6-2).
The question with the Leafs is if they can keep it up. Auston Matthews, John Tavares, and the rest of the star-studded bunch are hoping to finally slay their playoff demons this season. They may want to keep the pedal to the metal in the regular season in order to do that so they get the easiest first-round matchup.
Tampa Bay Lightning +200
30-10-6 (66 PTS in 46 GP, .717 P%)

The Lightning are the reigning two-time Stanley Cup champions for a reason. They've battled through injuries to Nikita Kucherov and Brayden Point this season and are still among the best teams in the league.
Andrei Vasilevskiy has been a workhorse for the Lightning this season, per usual, with a 25-7-4 record, .922 SV%, 2.23 GAA, and two shutouts. He's one of the best goalies in the league to go along with one of the best defensemen in Victor Hedman and the Steven Stamkos, Kucherov, Point trio up front.
---
Atlantic Division Longshots
Boston Bruins +2500
26-14-3 (55 PTS in 43 GP, .640 P%)

The Bruins are the only other Atlantic Division team with odds shorter than +50000 (no, that's not a typo). Patrice Bergeron leads the way for them along with Brad Marchand and David Pastrnak up front. Taylor Hall has been a nice addition but the Bruins lack center depth.
Goaltending has also been an issue for Boston. Tuukka Rask just recently returned but he'll need some time to get settled.
---
Atlantic Division Picks & Predictions
Florida Panthers +140
I can't pick against the Panthers at plus-odds, even with the Leafs and Lightning right behind them. The Panthers have the second-easiest remaining schedule, per Power Rankings Guru, and they're a deep team.
Eight different players have already scored at least 10 goals and 11 players have at least 20 points in 47 games or fewer. Sergei Bobrovsky has found himself again with a 23-4-3 record, .920 SV%, and 2.56 GAA. Spencer Knight has been up-and-down behind him, but he is 3-2-0 with a .913 SV% (146 saves on 160 shots — 14 goals against in 5 starts) since the holiday break.
Boston Bruins +2500
I'd sprinkle a little bit on the Bruins as well at +2500. That implies a 3.85% chance to win the division and I could see them going on a run. They're the best 5-on-5 team in the league with a 55.77% xGF, so once they get some goaltending they could be a scary team to play against.
I don't advise betting a lot on Boston, but I'm not counting them out. They're trending in the right direction with a 12-4-1 record in 2022.
---
NHL Futures: Metropolitan Division
Metropolitan Division Favorites
Carolina Hurricanes -155
31-9-2 (64 PTS in 42 GP, .762 P%)
The Hurricanes are the best team in the East (second-best in the NHL) and they seem to fly under the radar for some reason. They don't have a lot of star power but there really aren't any weaknesses in Carolina.
Carolina is just as good on the road (15-5-1) as they are at home (16-4-1).
---
Metropolitan Division Contenders
Pittsburgh Penguins +275
27-11-8 (62 PTS in 46 GP, .674 P%)
The Penguins kept themselves afloat early in the season while dealing with injuries to Sidney Crosby, Evgeni Malkin, Bryan Rust, and Jason Zucker, among others. Tristan Jarry has been a rock in net, going 25-8-6 with a .923 SV% and 2.21 GAA after a down season.
Pittsburgh is the team that could threaten Carolina.
New York Rangers +450
30-13-4 (64 PTS in 47 GP, .681 P%)
Igor Shesterkin has carried the Rangers this season. He is the favorite for the Vezina Trophy with a 22-5-2 record, .937 SV%, and 2.10 GAA. The Rangers have the fourth-worst 5-on-5 xGF% this season at just 45.10%.
Chris Kreider has had a great season thus far as well with 33 goals in 47 games, and he doesn't even lead the team in points. Artemi Panarin has 52 and Mika Zibanejad has 52. Reigning Norris Trophy winner Adam Fox also has 47 points.
---
Metropolitan Division Longshot
Washington Capitals +1600
25-13-9 (59 PTS in 47 GP, .628 P%)
Alex Ovechkin is chasing Wayne Gretzky and keeping the Capitals in it. However, they're looking at a Wild Card spot rather than the top spot in the division.
---
Metropolitan Division Picks & Predictions
Carolina Hurricanes -155
It may seem like a boring pick to bet on the favorite, but the Hurricanes should be much bigger favorites here. They're one of the best teams in the league in terms of record and the numbers back it up. Carolina has the fifth-best xGF% at 5-on-5 in the league at 53.87%. The Canes also have one of the best save percentages in the league at .924 at 5-on-5 (11th) and .917 overall (2nd).
The Hurricanes are a really solid team that wouldn't be hampered too much by one or two injuries. They have a good foundation, coaching staff, and are poised to make a deep run this season.
Go bet on the Hurricanes at -155 (or better) to win the Metropolitan Division.
---
NHL Futures: Central Division
Central Division Favorites
Colorado Avalanche -500
32-8-4 (68 PTS in 44 GP, .773 SV%)

The Avalanche are the best team in the league. Period. There's not much value in a -500 line, though.
Nathan MacKinnon may miss some time with a concussion and facial fracture, which could see them go on a bit of a cold streak (perhaps only winning seven out of 10 games instead of eight or nine). If their odds come down a bit, they could be worth grabbing.
Central Division Contenders
Minnesota Wild +600
28-10-3 (59 PTS in 41 GP, .720 SV%)
The Wild are really the only team that could catch the Avalanche. They're nine points behind with three games in hand, and have a slightly easier remaining schedule. Minnesota reminds me of Carolina in a way. Both teams don't have a ton of star power, play well at 5-on-5, and have strong goaltending.
Having said that, it'll still take a lot for Minnesota to catch Colorado.
---
Central Division Picks & Predictions
Colorado Avalanche -500
As I said above, I wouldn't bet on them now, but rather keep an eye on their odds throughout the next few weeks. If they drop a bit it'll be worth snagging if you're comfortable laying the juice and having your money tied up.
---
NHL Futures: Pacific Division
Pacific Division Favorites
Vegas Golden Knights -115
27-16-3 (57 PTS in 46 GP, .620 P%)
The Golden Knights just keep trucking along. They've been bitten hard by the injury bug with Max Pacioretty missing more than half of their games and Mark Stone missing 19 himself. Alec Martinez has only played in 11 games as well. Oh yeah, they have this guy who might be pretty good, Jack Eichel, who should be ready to play in the coming weeks.
Robin Lehner has been good enough in the crease with a .910 SV% and 2.76 GAA, going 19-12-1 in his 33 games.
Calgary Flames +200
23-13-6 (52 PTS in 42 GP, .619 P%)
The Flames were one of the teams hit hardest by COVID this season and that has actually benefitted them as they didn't have to play too many games shorthanded. They have four games in hand on the Knights and are only five points behind them.
Calgary has been a bit surprising this season, led by Johnny Gaudreau with 54 points and Matthew Tkachuk with 45. Andrew Mangiapane has been on a mission this season as well with 20 goals already. Jacob Markstrom has held down the fort in the crease with a .923 SV%, 2.20 GAA, and seven shutouts. He's gone 17-10-5 in 33 starts. Daniel Vladar has been great backing him up as well, going 6-3-1 with a .911 SV% and 2.64 GAA.
---
Pacific Division Contenders
Edmonton Oilers +700
23-16-3 (49 PTS in 42 GP, .583 P%)
The Oilers are only barely contenders because they have two of the best players in the world. Connor McDavid and Leon Draisaitl are the engine of this team, but they can only carry them so far. Edmonton saw that during a 2-11-2 stretch from December 3rd to January 20th.
However, it's hard to count those two out. I don't see the Oilers getting past the Flames and Knights, but crazier things have happened.
---
Central Division Picks & Predictions
Vegas Golden Knights -115

I'm a big fan of the Golden Knights this year. They seem to never be out of any game and can beat any team on any given night, even while dealing with injuries. Eichel should help them out a ton as a top-line center.
Shop around for odds if you can, but I have to back Vegas to win the division. I'd bet on the Golden Knights now before their odds get longer when Eichel comes back.
Calgary Flames +200
I wouldn't bet on the Flames just yet, but if the odds for them get longer they'd be a good hedge or secondary option to Vegas. They have almost the exact same point percentage and could be looking to add help at the deadline.

---
RELATED CONTENT
NHL Futures: Best Bets to win Hart, Vezina, Norris, & Calder at All-Star break
2022 Olympic Men's Ice Hockey Preview, Odds, & Betting Picks
2022 Olympic Women's Ice Hockey Preview, Odds, & Betting Picks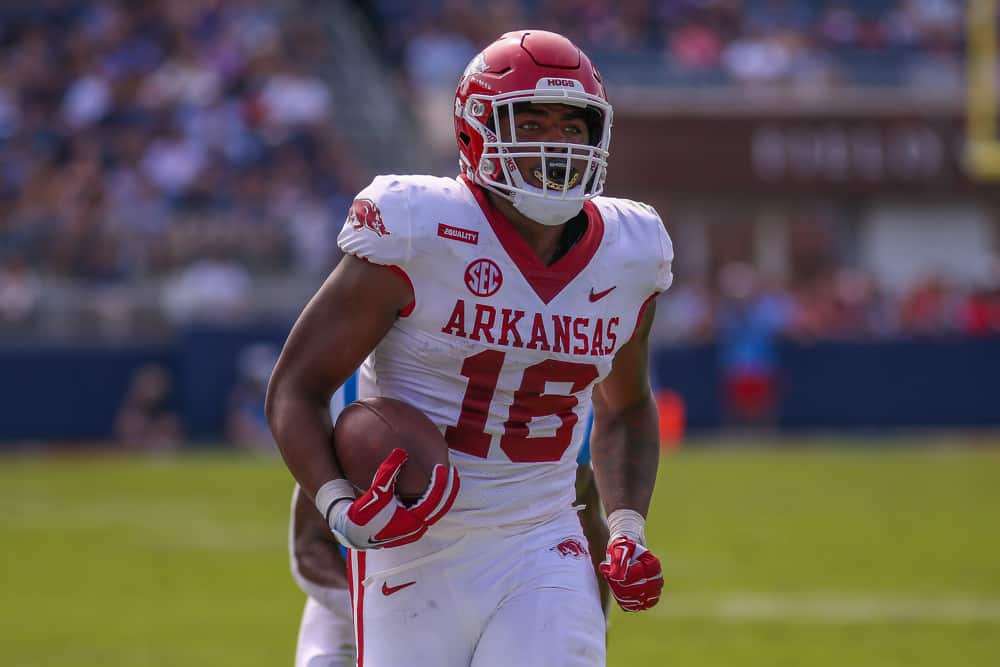 ---