The tight end position can give you a huge advantage in fantasy football. However only if you are one of the lucky ones to land one of the big three. After those three are gone, some people prefer to punt the position and weekly stream their starter. This is why I am here today, to help show you the tight ends to draft in round 13 or later. Along with giving you a road map for the month of September. I will lay out a few weekly options to target off waivers and why! Let's not waste any time and dive right into it!
EXCLUSIVE SGPN FANTASY CONTENT
SGPN Fantasy Football Projections
SGPN Fantasy Football Rankings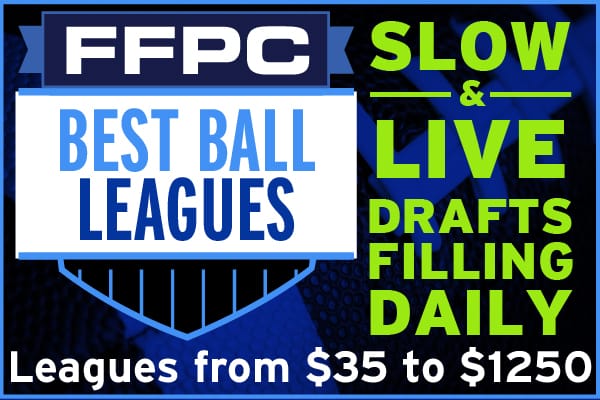 Tight Ends to Draft
The day of the draft comes and you decide you want to stream tight end instead of going after one of the big three. The best case here is to wait till round 13 or later in your drafts to snag your week one starter. With this strategy, you can optimize your other positions while still landing a solid option in Week One. Below are a few tight ends to draft in round 13 or later.
Jordan Akins (TE) Houston Texans
The Texans lack many wide receiver options this season. With this, I am all in for Jordan Akins as a week one streaming option. They face the Jacksonville Jaguars who finished third in fantasy points given up to tight ends last season. As they allowed an average of 10 fantasy points per game. Along with this PFF has this matchup ranked a 9.4 out of 10 in their strength of schedule metric. This equates to the third easiest match-up in week one. With both teams being weak on the defensive side of the ball I expect a higher scoring game with a decent amount of passing. With Akins' athleticism, he should be involved in the passing game a lot.
He will have TE1 upside in week one and is currently being drafted as TE22 at an average of pick 249. So in many leagues, he will go undrafted, due to this he is a great last-round tight end to draft if you punt the position.
Davis Mills throws to TE Jordan Akins & TE Brevin Jordan. pic.twitter.com/s3G56JtHwV

— Drew Dougherty (@DoughertyDrew) August 31, 2021
Tyler Conklin (TE) Minnesota Vikings
The Vikings just lost Irv Smith Jr. to a knee injury. They also went out and acquired Chris Herndon from the New York Jets to help supplement Smith's absence. However Herndon has not yet arrived in Minnesota, so let's look past him and find a great stream option for week one. Tyler Conklin is a two-dimensional player who showed good skill last season in the passing game. He is slated to start week one, as Herndon will not be up to speed most likely. The matchup is great as they face the Cincinnati Bengals. They ranked sixth in fantasy points given up to the tight end position in 2020, allowing 9.3 per game.
This game features two struggling defenses and two electric passing games. I expect a lot of points to be scored in this game. I expect Conklin to get in on this action as well. He will have a low-end TE1 upside in week one. Although his ADP is likely to rise this week, currently he is going undrafted. He is another great late-round steal, I would feel comfortable taking him in the 13th or 14th personally.
https://twitter.com/DimersCom/status/1340757851535364096?s=20
Week Two Tight Ends to Stream
Dawson Knox (TE) Buffalo Bills
The Bills have a tough matchup in Week One against the Steelers, with this I expect Dawson Knox to be fairly quiet. This should allow him to keep his 11 percent roster ship on Sleeper. The Bills face the Dolphins in week two, this ranks as the second easiest matchup on the PFF strength of schedule metric. We have seen Knox be used a decent amount in the passing game, I expect the Bills to be passing a ton again this season. With Knox's ability to create yards after the catch he could produce TE1 numbers in week two if he finds the end zone. This makes him a perfect target to stream at the tight end position.
https://twitter.com/thecheckdown/status/1249487783925665792?s=20
Tyler Kroft (TE) New York Jets
The Jets take on the New England Patriots in week two. PFF has this ranked as the fifth easiest matchup of week two. With the strength of the cornerbacks on the New England roster, the Jets will have to look elsewhere when passing. This is where Tyler Kroft comes into play. With his impressive preseason, he has shown that he is ready to contribute to this team's passing attack. I expect that he becomes a safety blanket for young quarterback Zack Wilson. With Mike LaFleur coming over from San Fransisco, I also expect the tight end to be involved heavily in the passing attack. This makes him a perfect tight end to stream in week two with low-end TE1 upside in week two.
https://twitter.com/TheHQNerd/status/1430601294662754305?s=20
Week Three Tight Ends to Stream
Kylen Granson (TE) Indianapolis Colts
The Colts draw a favorable matchup in week 3 as they face the Tennessee Titans. This is going to be a huge game for both teams, last season the Titans struggled against tight ends. They gave up 8.2 fantasy points per game to tight ends. I expect Carson Wentz to target his tight ends a lot this season as he always has. With this in mind, the Colts have said they intend to use Jack Doyle and Mo Alie-Cox more as blocking options to help protect Wentz and improve the run game. They intend to use Kylen Granson in the passing game more. Currently, he is rostered in only 1.1 percent of sleeper leagues. I expect him to be on waivers still by week three still. His upside in week three will be TE1 numbers making him a perfect tight end streaming option.
https://twitter.com/FFBallAllDay/status/1426200183231107075?s=20
Juwan Johnson (TE) New Orleans Saints
The Saints draw the New England Patriots in week three, this is the fifth easiest matchup for tight ends that week. Juwan Johnson has emerged as an important part of the passing attack this offseason. Adam Trautman was set to break out this season. However, Johnson's emergence may slow this. The Saints lack wide receiver depth, so the tight ends will be important in the passing attack. I expect Johnson to see a good amount of opportunity in week three, as the Patriots have solid cornerbacks who will lock down the top wide receiver options. He is currently owned in only 5 percent of sleeper leagues, I expect this to rise some. However, if he is available by week three in your leagues I would target him as a tight end streamer.
https://twitter.com/DBro_FFB/status/1433059339925966848?s=20
Week four Tight Ends to stream
C.J. Uzomah (TE) Cincinnati Bengals
Last season before C.J. Uzomah sustained an injury he showed that he can handle the role as a receiving tight end.  In week four the Bengals will face the Jacksonville Jaguars, this ranks as the third easiest matchup that week. Making for a perfect streaming option as the Jaguars allowed 10 points per game to tight ends in 2020. Last season the Bengals threw over 600 times and I expect the same as the defense has not improved in 2021. Although they have three very skilled weapons outside, Uzomah can find a role in the short to underneath area. I see Uzomah with high TE2 upside in week four,  along with only being rostered in four percent of sleeper leagues making him a good tight end to stream.
I think CJ Uzomah will be on a lot of rosters by midseason pic.twitter.com/P94mBfc5Da

— AlfredJF (@AlfredJF) August 5, 2020
Chris Herndon (TE) Minnesota Vikings
By Week Four Chris Herndon should be caught up to speed with the offense. He will see a split role with Tyler Conklin most likely, however, Herndon is the more athletic option. He will take over most of the passing work. In week four the Vikings draw the Cleveland Browns who allowed 9.8 fantasy points to tight ends in 2020. In a game, the Vikings will need to pass I expect Herndon to see a decent amount of usage allowing him to carry TE1 upside if he finds the end zone. Herndon is rostered in 13 percent of Sleeper leagues currently and this may rise by week four. However, if he is on the waiver wire he is a must-add here.
Highlights of new #Vikings TE Chris Herndon
pic.twitter.com/h30JfC5Non

— Sean Borman (@SeanBormanNFL) August 31, 2021
RELATED CONTENT
Fantasy Football Draft Strategy: How to Draft with RB Zero
Fantasy Football Draft Strategy: How to Draft in SuperFlex
10 Late Round Fantasy Targets: Fantasy Football Sleepers
Fantasy Football Injury Report: August 26 Update
Fantasy Football Risers: Preseason Stars and Top Performers
Impact Rookies to Draft for 2021