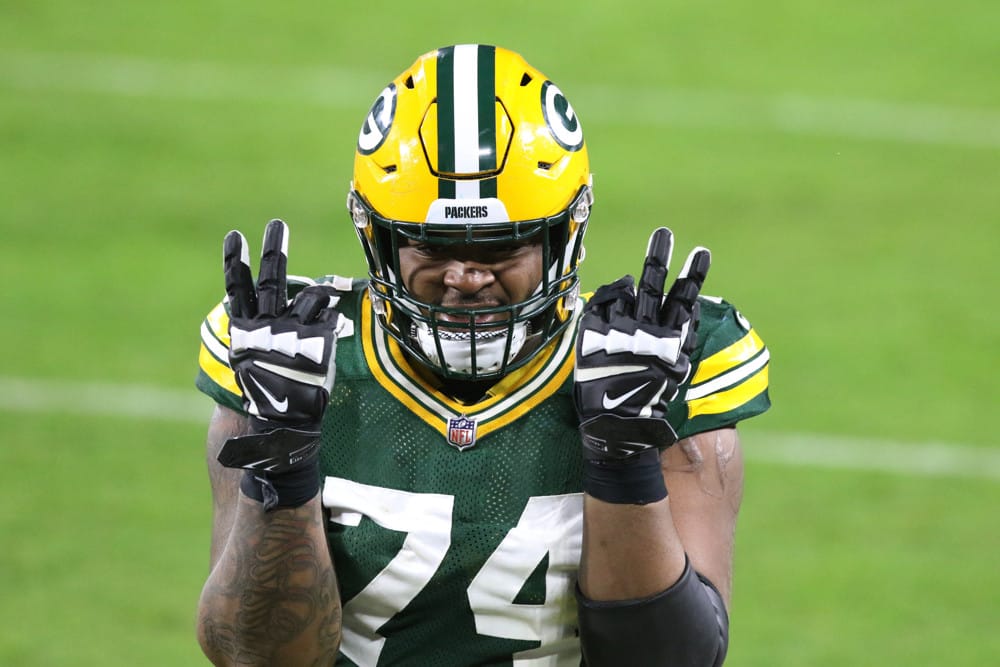 Although we've hit somewhat of a dead period in the betting world, there's good news. There are tons of NFL props available for the upcoming season if you're willing to tie some money up for an extended period. It is several different markets available for NFL props, but none are more lucrative than win totals. Today, we're going to take a look at the 2021 NFC North win totals and give a play on the over or under for each team. All lines in this article are courtesy of DraftKings Sportsbook, so slide over there and get down on these win totals today!

NFC North Win Totals 2021 Picks
(click on team name for gambling & fantasy preview for that team)
Win Total: 7.5 (o+100/u-120)
The 2021 season marks the beginning of a new era for Chicago. Mitch Trubisky is now gone, and the Bears have a trio of talented players in the quarterback room in Andy Dalton, Justin Fields and Nick Foles. The opening day starter will most likely be Dalton, but there is reason to believe we could see either Foles or Fields or both of them under center for Chicago as well before the end of the season.
The Bears will feature a very stout defense and they have an offense that potentially could have a lot of pop as well. They almost feel like the forgotten team of the division as they are projected to finish third in the NFC North. However, I like taking a stab on Chicago to win the division this year. I am all over the over on the win total of the Bears. I am very confident that they can find a way to win at least eight games this year.
Pick: Over 7.5 (+100)

Win Total: 4.5 (o-140/u+120)
Detroit is one team that appears to be in it for the long haul. Their offense is much like it has been for years now, and that is very top-heavy. Matt Stafford is now gone at quarterback. This means that Jared Goff will take over the offense which is interesting. The Lions went a horrid 5-11 last season, and there is very little surrounding the team this year that points to much improvement on this number either.
The defense of Detroit doesn't look very improved despite the addition of top draft pick Jeff Okudah to the secondary. Their offense doesn't exactly scream high-scoring to me either. It appears as though the Lions have their eyes set on the 2022 season already, and there is very little to get excited about here. A tough division mixed with a tough non-division schedule will spell disaster for Detroit as I like the under on this win total.
Pick: Under 4.5 (+120)


Green Bay Packers
Win Total: 10 (o-140/u+105)
The Aaron Rodgers fiasco has seemingly come to an end. Rodgers will stick around for at least one more go-around with the Packers this year (given that he isn't traded mid season). That being said, we have a win total of 10 set now for Green Bay. Tough schedule or not, this one feels like a no-brainer either way. The Packers always seem to find a way to get to 12+ wins no matter how hard the path is.
It is worth noting that Green Bay's defense doesn't look strong on paper. However, their defensive unit didn't look stout on paper last year either and they still ended as a top 10 unit in most categories. As long as Rodgers is under center with a pretty good offensive line and weapons like Aaron Jones and Devante Adams surrounding him, I have faith in the Packers. This is one of the NFC North win totals you can lay the juice on comfortably.
Pick: Over 10 (-140)

Win Total: 9 (o-110/u-110)
We are wrapping things up here with the co-favorites to win the division in Minnesota. The men in purple are coming off a disappointing 7-9 season, and not a lot has changed for the team. Their offense will be very similar to last year's squad. The defensive side of the ball for the Vikings looks better than average on paper. However, there is still quite a few question marks on this side of the ball for them as well.
This is a difficult win total to handicap, and I truthfully don't have a strong feel on this one. Minnesota, like the rest of the division, will face a tough schedule this year. They also failed to put together quality wins last year which concerns me. I would proceed with caution when betting this win total. However, I lean to the under given last year's results and the all-around tough schedule ahead for the Vikings this season.
Pick: Under 9 (-110)

---
AFC West Win Totals 2021 NFL Betting Picks
AFC North Win Totals 2021 NFL Betting Picks
AFC South Win Totals 2021 NFL Betting Picks
AFC East Win Totals 2021 NFL Betting Picks