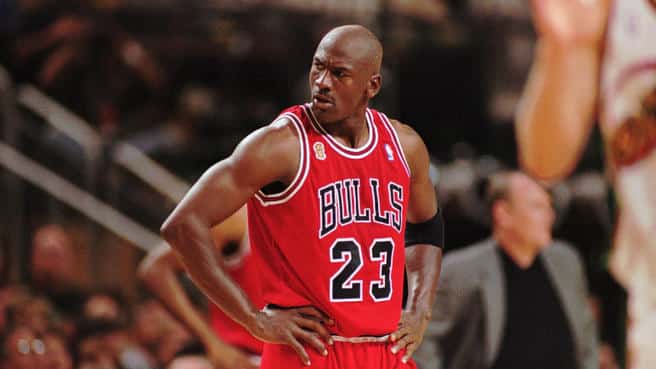 What's old is new again. Michael Jordan is all the rage in 2020 due to the widely viewed and highly regarded documentary The Last Dance. While MJ never really has gone out of style – icons rarely do – this documentary has introduced him more deeply to a whole new generation of fans. It's also uncovered, once again, his ridiculous, vicious, competitive streak and his inability to suffer fools lightly. Or forgive and forget.
So, in that vein, here are 10 players who got on the bad side of MJ, and subsequently, had their careers ruined.
1) Isiah Thomas
Maybe it's a bit of a stretch to say that Isiah Thomas, a Hall of Famer and considered one of the greatest players ever, had his career ruined by Michael Jordan, but humor me.
What does a NBA Champion, NCAA Champion, Pan American Games champion have missing from his resume? An Olympic gold medal. And, based on reliable reports, MJ's hatred for Zeke was the reason he was denied this last jewel for his resume, with Jordan insisting that he not be picked for the Dream Team.
RELATED
Michael Jordan's Worst 5 Gambling Losses
10 NBA Players Michael Jordan Hates
2) Kwame Brown
It wasn't just opponents' whose careers Jordan ruined – teammates often got an even harsher brand of MJ's "love."
After drafting high schooler Kwame Brown #1 overall when he was president of the Washington Wizards, Jordan came out of retirement to become his teammate. He then proceeded – reportedly – to ridicule and berate the youngster to the point of tears on the regular. Brown never did live up to his #1 draft position and was out of the NBA by age 30.
3) Rodney McCray
Staying on the teammate tip, Rodney McCray had a solid NBA career prior to being acquired by Jordan's Bulls for the 1992/93 season. He was good for about 13 points, 7 boards and 5 assists a game – a real solid player.
Then apparently in a team practice, Jordan told him he was a "loser" and "always was a loser," and that broke McCray. McCray went on to only attempt three shots a game that year and retired shortly after, at the age of 31.
4) Christian Laettner
This time we turn to an Olympic Dream Team teammate – Christian Laettner, the only college player on the squad.
While there is no proof out there that Jordan directly ruined Laettner, the college star wasn't nearly as effective in the NBA as originally hoped. And playing with a teammate the with the skill level – and intensity – of Jordan surely didn't help the youngster's confidence heading into his NBA career.
5) Charles Barkley
While the fracture of their tight friendship didn't happen until they both were in retirement (Charles Barkley had the audacity to critique Michael Jordan's front office skills), Barkley's playing career was also ruined by his close friend.
Jordan never was shy of reminding Barkley that he wasn't nearly the level of player that he was, and when Chuck made his one NBA Finals appearance – with my beloved Phoenix Suns – Jordan's Bulls made sure he retired ringless, something he is still ridiculed for today.
6) Patrick Ewing
MJ's rival on the Knicks, Patrick Ewing, is another NBA legend who had to retire minus a NBA championship ring. Not just that, but since Chicago and New York are both in the Eastern Conference, Jordan made sure that Ewing didn't even get to play in a NBA Finals, other than during his brief baseball foray.
Plus, Ewing's freshman season at Georgetown ended in defeat in the NCAA championship game at the hands of Jordan and North Carolina.
7) Karl Malone
The third all-time great that Jordan denied the ultimate resume capper is of course Karl Malone. The Mailman, along with Hall-of-Fame teammate John Stockton (who could also be included on this list), had two cracks at Jordan's Bulls in the NBA Finals in 1997 and again in 1998. But both times they were turned away by Jordan.
8) Craig Ehlo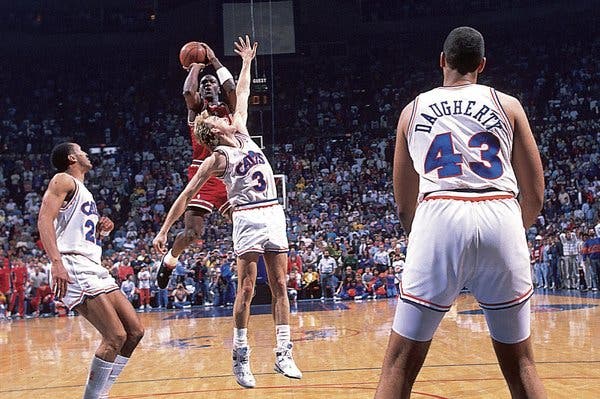 Craig Ehlo had a very good 14 year NBA career, even scoring his career high of 31 points against the one and only Michael Jordan. But when you hear his name, you think of one thing – that photo above. That would be of "The Shot," when Jordan hit the series-clinching jumper against Ehlo to bounce the Cavs out of the 1989 NBA Playoffs.
9) Byron Russell
As with Ehlo, Byron Russell is best remembered for being the victim of a MJ highlight. Jordan hit the championship-winning jumper over Russell in the 1998 NBA Finals, a shot that he pretty clearly pushes off on Russell to make.
And, to add insult to injury, Jordan said the reason he came back from his first retirement was due to Russell trash talking him while he was away from the game, telling him he could guard him.
10) Muggsy Bogues
Hard to say Muggsy Bogues had his career ruined – 5'3″ guys are supposed to make the NBA, let alone last for 14 seasons. But during a 1995 NBA playoff game (once again, reportedly) Michael Jordan told Bogues to, "Shoot it, you fucking midget," and destroyed his confidence. And, if you look at his career numbers, Bogues really never did reach his normal statistical heights (excuse the pun) the rest of his career.
RELATED
Michael Jordan's Worst 5 Gambling Losses
10 NBA Players Michael Jordan Hates
23 Gambling Stats From Michael Jordan's Career