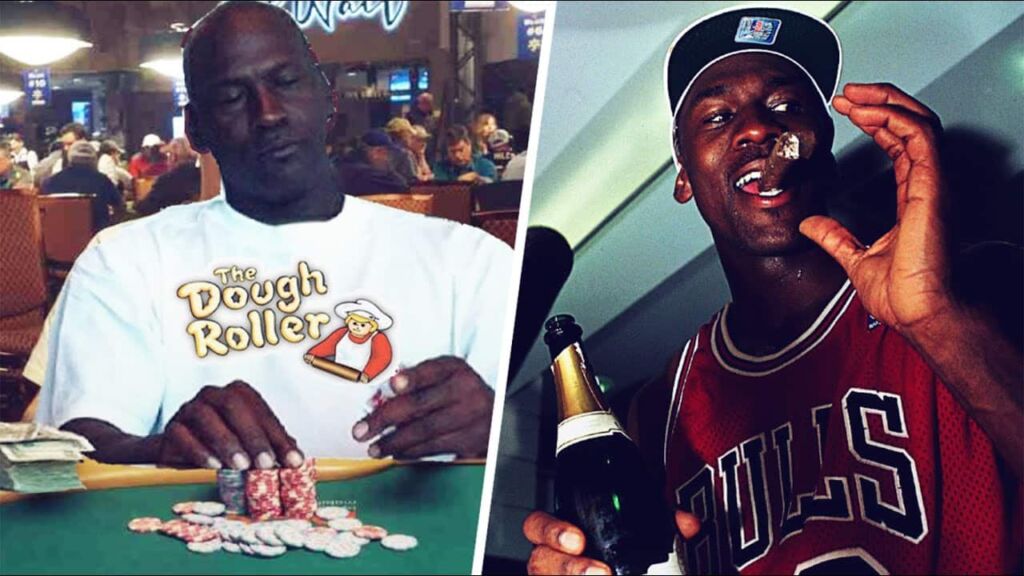 While we're waiting for the next part of The Last Dance, it's a perfect time to take a look at Michael Jordan's massive gambling habit. Many say M.J.'s first retirement was directly related to his gambling issues, while some claim that Mike's father was murdered due to Air Jordan's gambling depths.
After the Bulls' first three-peat, the NBA launched the investigation into Mike's gambling issues. The Association wanted to know whether Jordan had violated any league rules, and four months later, M.J. stunned the basketball world with his sudden retirement.
Just a few days later, the Association dropped its investigation, stating Michael Jordan hasn't broken any rules. Still, San Diego businessman Richard Equinas claimed that in 1992 he overheard Jordan's telephone call. Equinas said that Michael talked about a betting line of seven points.
MJ's competitiveness led him into the world of gambling. Jordan knew he's the best on the floor. He had a streak of 632 games without losing three in a row. In six championship years, MJ's Bulls tallied a 388-104 record in the regular season and went 90-26 in the playoffs.
Winning more than 77.0% of your games through a six-year span is completely ridiculous. Try to find a sports bettor who wins 77.0% of his wagers. You won't find him. Therefore, Jordan wanted a bit of that juice and had some very bad gambling losses.
RELATED
23 Gambling Stats From Michael Jordan's Career
Celebrities Who Are Degenerate Sports Gamblers
5. Writing a check to a drug dealer
Back in 1992, Michael Jordan testified in a money laundering and drug trial of James "Slim" Bouler, a convicted drug dealer. The police found a check for $57K, and it turned out that Mike had written it to clear his golf gambling losses.
People started to talk about Mike's uncontrollable gambling addiction, even if $57K meant nothing to one of the wealthiest athletes at the time.
4. $100K on Rock, Paper, Scissors bet
Many of Michael Jordan's teammates spoke about MJ's love for gambling. They say Mike would bet on literally anything. Jordan's former teammate Jay Williams spoke about these crazy bets:
"Think about gambling to the next degree. Rock, paper, scissors — you bet $20,000 all day long. Why wouldn't you? You get bored, "Williams said. "And don't get yourself down in the dice game. Don't be in the corner and let some dude keep fading you out and all of a sudden you're down $100,000 and he's like, 'Yo, bet it back — rock, paper, scissors for $100,000."
3. Wagering ridiculous money on the golf course
His Airness loved to play golf. Of course, he loved to bet some serious money while playing it even more. Charles Barkley often tells stories about playing golf with MJ and betting
"Back when I would play it was pretty much even (between me and MJ)," Sir Charles said. "But I tell you what, and I apologize to Michael for saying this … we'd be playing golf with certain people on a couple of hundred dollars a hole. But he'd like to play for, like, $100,000."
Barkley recalled a time when he was told to move out of the way for Jordan to take a putt for the small sum of $300,000.
"It was crazy, man. But I never understood why they were playing for that much."
RELATED
10 Current NBA Players Charles Barkley Hates
10 NBA Players Michael Jordan Hates
2. Golf depths and the famous Equinas story
So, how good was Michael Jordan on the golf course? According to Richard Equinas, Jordan was a pretty bad golfer. In his book Michael & Me: Our Gambling Addiction… My Cry for Help!, the businessman wrote that MJ owed him $1.2 million and refused to pay the whole sum.
However, Jordan refuted this claim in an interview with Ahmad Rashad just before the 1993 NBA Finals:
"I would be sick if I lost $1.2 million," Jordan said. "And he would be sick if he reduced it to $300,000. He exaggerated to a point, and I've come up with my own conclusion to why he exaggerated … It sells books."
1. $5 Million loss at the craps table
Reportedly, his biggest gambling loss came in Las Vegas. Mike lost $5 million at the craps table on one night. At least, his friends won a big part of that money at the very same table.
Undoubtedly, Michael Jordan is a proud member of the NBA Hall of Gamblers. He always wanted to win, not only on the basketball court, so he tried every possible way of gambling.
Finally, here's my favorite story about Jordan's gambling addiction. While waiting at the airport, MJ bet his teammates that his luggage will come first. Jordan won the bet, but his teammates didn't know that Mike actually bribed the airport staff to make sure his bags will arrive first.
RELATED
Madden Simulation Betting