1. Jeff Tedford (Fresno State)
The year before Tedford arrived in Fresno the Bulldogs won just one game. Tedford's first year they won 10 games going 10-4 he followed that up going 12-2 last year and both those losses were by single digits.
2. Josh Heupel (Central Florida)
Sure, Huepel walked into a great situation but who would've thought they'd go undefeated in the regular season again? His team even played LSU close in a bowl game despite starting a freshman QB due to Mckenzie Milton's injury.
3. Jeff Monken (Army)
Monken has to be one of the top coaches in the country considering the jobs he has done at both Georgia Southern and now Army, which went 11-2 last year and losing to Oklahoma in Norman in overtime.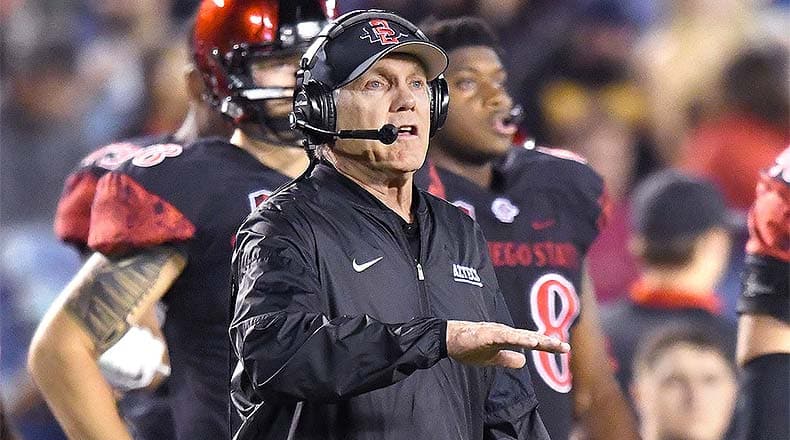 4. Rocky Long (San Diego State) 
Rocky Long isn't just a great coach. He's a legend when it comes to defense and the innovator of the 3-3-5 defense. Long won for a long time at New Mexico and since becoming San Diego State's head coach, he's 71-35 and hasn't missed a bowl game. Plus he's won double-digit games three times.
5. Dana Holgorsen (Houston)
Holgorsen becomes perhaps the first head coach to leave a power five conference for a group of five school after leaving West Virginia for Houston. Holgorsen was 61-41 as head coach of the Mountaineers and was a huge get for the Cougars.
READ ALSO:
10 College Football Coaches Who Are On The Hot Seat
Top 25 Sandwich Rankings From Our Top Sandwich Scout
6. Bryan Harsin (Boise State)
The team has dipped a little bit since Peterson left for Washington, but Harsin is still 52-15 at Boise State with only one non double-digit win season.
7. Mike Norvell (Memphis)
It's hard to believe Norvell is still at Memphis. He's 26-14 in 3 seasons, including one 10 win season.
8. Chris Creighton (Eastern Michigan)
Some may be surprised I have him this high, but you'll need to understand just how bad Eastern Michigan was prior to Creighton arriving. They were arguably the worst Division 1 program. They hadn't been to a bowl since the '80s and now Creighton has been bowling twice in three years, including a nice two wins against the Big 10.
9. Ken Niumatalolo (Navy)
Sure, Niumatalolo is coming off a down year but let's not frown on that too much. He is 87-55 as head coach of the Midshipmen, including multiple wins over Notre Dame, Pittsburgh, and Indiana, as well as wins over Virginia, Wake Forest, Missouri, and Rutgers.
10. Charlie Strong (South Florida)
Strong is 17-8 as head coach of South Florida. Although his previous job was considered a failure, Strong did have a great run at Louisville. Last season Strong was just 7-6 at South Florida but had wins against Georgia Tech and Illinois from the power 5.
11. Willie Fritz (Tulane)
Fritz is just 16-21 in three seasons at Tulane but he's fresh off a bowl season in New Orleans and things are headed in the right direction. Fritz also had a nice run at Georgia Southern prior to his time at Tulane.
12. Craig Bohl (Wyoming)
Bohl won notoriety from his run at South Dakota State with Carson Wentz. Don't look now, but he's is beginning to work his magic again at Wyoming. Bohl has had the Cowboys bowl eligible for the past three seasons and the program is the best it's been in some time.
13. Lance Leipold (Buffalo)
Leipold won several national championships at Wisconsin-Whitewater and is fresh off a 10-win season at Buffalo. If anything, you could make the case he should be higher on this list. The Bulls have been bowl eligible for the past two seasons and things have never been better for them.
14. Troy Calhoun (Air Force)
Calhoun is 87-67 in his run at Air Force and although he's currently in his biggest slump of his career, he's a very good coach. The Falcons have came up with back to back 5-7 win seasons but that should change this year.
15. Rod Carey (Temple)
Carey hasn't coached a game at Temple, but he's on this list because Carey was money at Northern Illinois – going 52-30, including two double-digit win seasons and several MAC Championships.
16. Bill Clark (UAB)
There's a solid argument that Clark should be in the top 10. Clark resurrected the UAB football program after 3 seasons away and even crazier is that Clark stayed the course after coaching one season with the Blazers in 2014. Clark is 36-18 as head coach of UAB and he's never not been bowl eligible. Plus, he's coming off a 11 win season.
17. Butch Davis (Florida International) 
Sure, Davis has left two other programs with NCAA infractions but you can't argue that the guy wins. Davis is 17-9 after taking over a awful FIU team.
18. Jason Candle (Toledo)
Candle is in his third year as head coach of the Rockets, racking up a 28-13 record with one double-digit win season. He might not be in Toledo much longer after this year as the Rockets are a contender yet again in the MAC.
19. Luke Fickell (Cincinnati)
There's a good chance Fickell is too far down on this list but there's also a chance last year was just a one year wonder. Fickell is 21-17 in his two years with the Bearcats but he's also coming off a nice 11-2 season.
20. Seth Littrell (North Texas)
Littrell passed on a head coaching job at Kansas State to come back to the Mean Green. Winning at North Texas has been an incredibly hard job for anyone, but Littrell is working magic. He's 23-17 in three years including back to back nine win seasons.
21. Skip Holtz (Louisiana Tech)
Holtz might of failed at South Florida but he's done well at East Carolina and Louisiana Tech. He is 44-33 at Louisiana Tech and has taken the Bulldogs to bowl games in five of his six seasons
.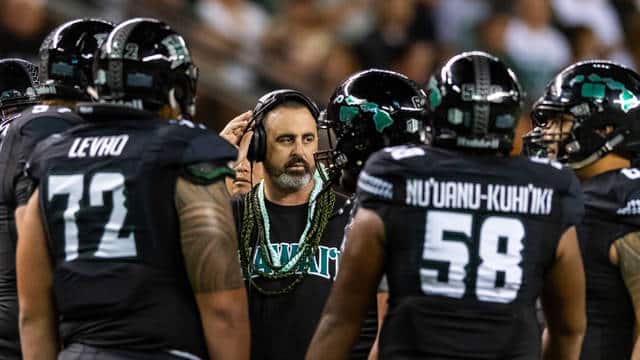 22. Nick Rolovich (Hawaii) 
Rolovich is a June Jones disciple and he took over for an absolutely awful Hawaii program thanks to Norm Chow. Since then, Rolovich is 18-22 in three seasons with two bowl games for the Rainbow Warriors.
23. Doc Holliday (Marshall) 
Holliday is 70-46 at Marshall with three double-digit win seasons and has only missed a bowl once in the past six seasons.
24. Gary Anderson (Utah State) 
Anderson once had a great run at Utah State and now he's back after some weird seasons in the power five front. Anderson took Utah State to a nice 11-2 season back in 2012 and he comes back to an absolutely loaded Aggies team.
25. Rick Stockstill (Middle Tennessee)
Stockstill is a winner and he's proven that over a long period of time. The Blue Raiders are 87-78 under him, including one double-digit win season and 10 bowl eligible seasons.
READ ALSO:
10 College Football Coaches Who Are On The Hot Seat
Top 25 Sandwich Rankings From Our Top Sandwich Scout