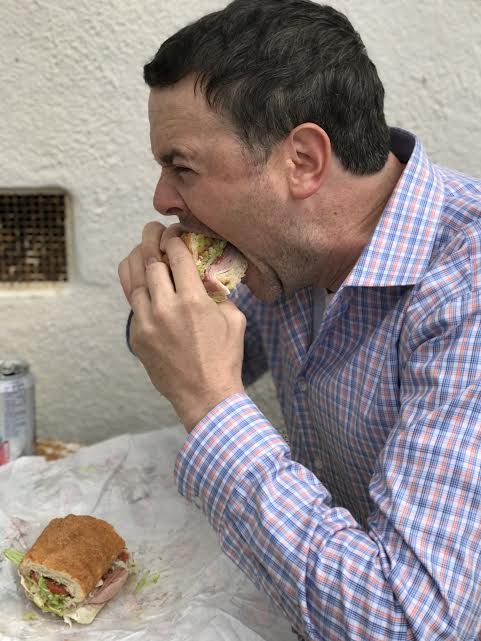 I should note that all these sandwiches should be served with pickles on it or on the side. If they do not give you pickles, then they are hacks who deserved to be punched several times in the face.
1. Italian Cold Cut
It's hard to fade the Cold Cut even if you are somehow at a shitty sandwich place. Plus it's easy to make at home. Consistently it the key in having the Cold Cut my top-rated sandwich.
2. Pulled Pork BBQ
Talk about an underrated sandwich. Done well, it may be the best in the league.
3. Steak & Cheese
Look, a good steak and cheese are hard to beat. Unfortunately, sometimes this sandwich can miss if you have some hacks making it. I prefer provolone cheese with it.
4. French Dip
This is the UCF of sandwiches because it came out of nowhere and has au jus on the side to dip your sandwich in. It's rewriting the rules of the sandwich.
5. Reuben
When done well, it's almost flawless, but talk about one that can miss if amateurs are making it. That alone holds it back from being a top seed.
6. Chicken Cutlet
This is often hard to find, but it's a bomb ass sandwich plus it's fun to say. Repeat "chicken cutlet" allowed five times fast and perhaps you'll giggle and set out to find one.
7. Prosciutto
Look the Italians are fucking amazing on all accounts when it comes to food. I could eat this sandwich every day and be completely happy with life.
8. Club
Look, it's got everything you really want on a sandwich. A combination of meats, lettuce, tomato, etc. Can't go wrong with the Club. Preferably on rye with dijon mustard.
9. Turkey
Look it's not sexy but it's consistent and always there for you. This is the Cal Ripken Jr. of sandwiches. Just shows up to work every day and never misses a day.
10. Patty Melt
This is a long slept-on sandwich. It's basically a burger cooked with onions and served on pumpernickel bread. Love a good Patty Melt.
11. BLAT
Wait, what? Yep. I'm showing my true California colors now. I love the OG BLT, but whoever thought of adding avocado to it needs to be involved in the space program because they're a fucking genius.
12. Hot Pastrami
Look it's basically a Reuben sandwich and at times you can be fooled that it is. However, when done well it's fantastic. It's the tranny of sandwiches for sure though.
13. Ham & Cheese
This is a basic classic, much like the turkey. Only I find turkey just a bit more consistent than ham.
14. Prime Rib
Perhaps this needs to be ranked higher but I haven't had one in a bit so stay tuned to the rankings. Once again, served with au jus really, it adds a nice little bonus.
15. Tuna Melt
Look tuna is a 50/50 when you are out in the world. If you are at a classy joint, then it's a safe bet that it'll do you right. It's a big gamble if you are at a random place you know nothing about.
16. Cuban
I've never been to Cuba, but somewhere along the way these communists made a pretty fucking good sandwich. This is the Fabio of sandwiches and I have no fucking idea what that means. Some call it a Havana sandwich, but this shit is delicious by any name.
17. Grilled Cheese Sandwich
Always a slept on classic. I love this sandwich, preferably with a bowl of tomato soup.
18. Chicken Parm
It's not an everyday sandwich, but when done well, it's pretty fucking bomb.
19. Tri-Tip
Perhaps this should be higher but I feel like it's hard to find and similar to the pulled pork sandwich.
20. BLT
Regular BLT is always a classic. They are the Green Bay Packers of the sandwich world. They're impossible to hate.
21. Roast Beef
Haven't had one in a minute, which is why it's so far back, but I have fond memories of my roast beef sandwich days.
22. Salami
Not sure this is available out in the world. Maybe if you find a bomb ass Italian joint. This is a bomb ass sandwich.
23. Peanut Butter & Jelly Sandwich
If the BLT is the Green Bay Packers, then the PB&J is the Chicago Bears. You can't hate either unless you are a die-hard of one of the other.
24.  Chicken Salad
The salad sandwich world is unique. I think chicken salad beats egg salad, but consistency is always a problem in the sandwich salad world.
25. Chicken Cordon Bleu
Haven't had one of these in forever, but like a fine ass ex-girlfriend that was great with the sex, you'll always have great memories. Look, I don't know what I'm talking about but the sandwich is a fucking good one.