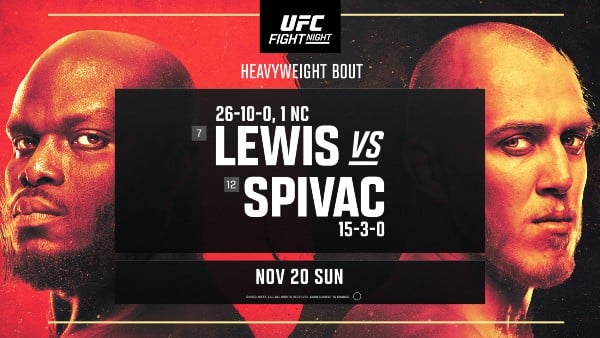 What an event UFC 281 was! Two new champions were crowned, and the event tied records for the number of stoppages we got. Will UFC Fight Night: Lewis vs Spivak (aka UFC Vegas 65) be able to keep pace? Probably not, but we do have a fun heavyweight scrap in the main event. Here are my UFC Vegas 65 predictions for Saturday.
RELATED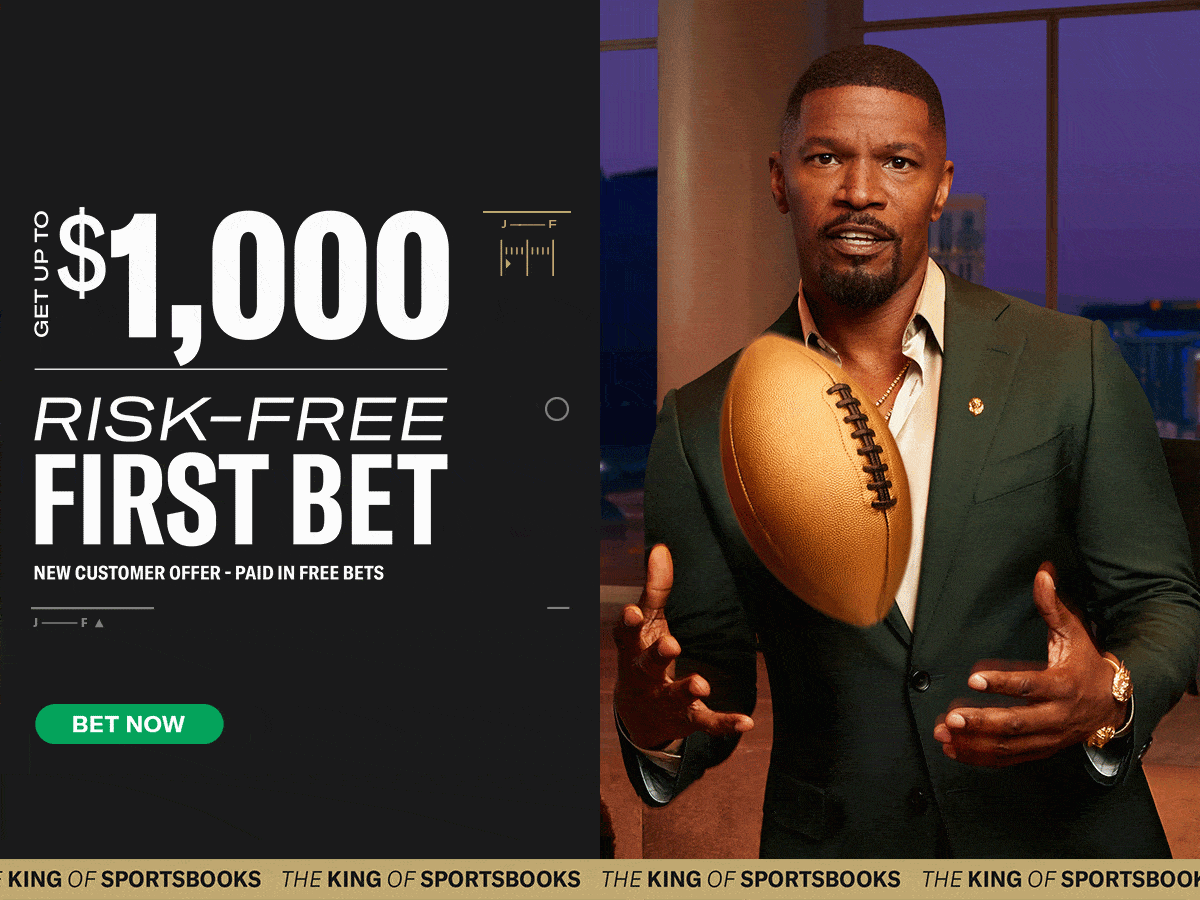 UFC Vegas 65 Predictions
All odds courtesy of WynnBet
Derrick Lewis (+160) vs Sergey Spivak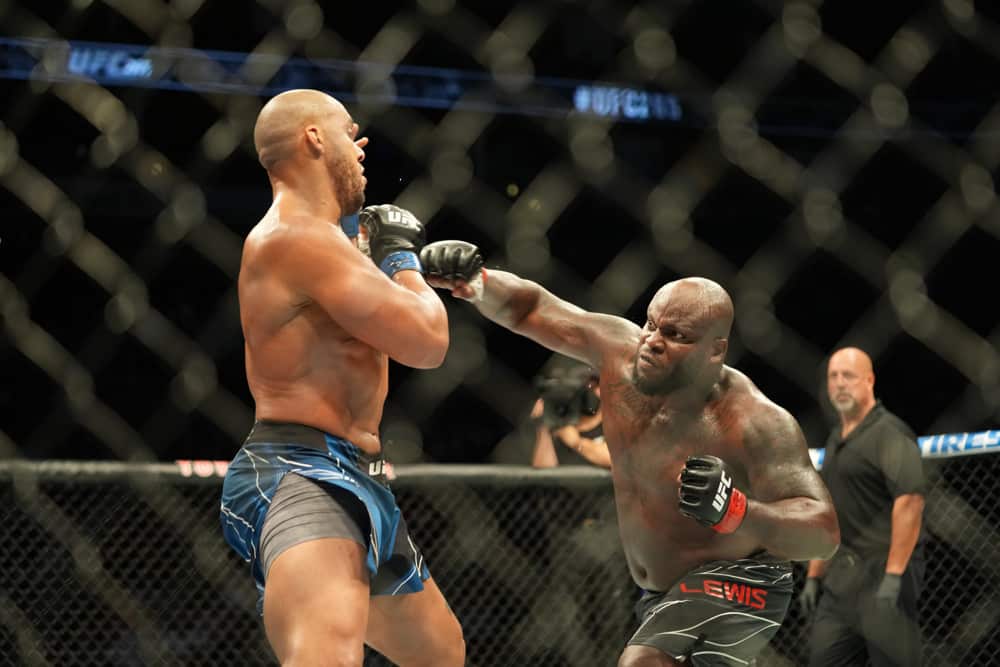 I wasn't going to do this, but I let my MMA Gambling Podcast co-host Gumby persuade me, and I am taking personal favorite Derrick Lewis in the main event. Sergey Spivak is a better grappler, probably a better technical striker, and is 10 years younger than Lewis. But all that doesn't matter when you're dealing with Derrick Lewis. If he finds himself taken down, he just stands back up. The only real way to slay him is to be a dynamic, powerful striker, which Spivak is not. Let's get that dog money.
Kennedy Nzechukwu (-175) vs Ion Cutelaba
The days of Ion Cutelaba being an above-average UFC fighter seem to be in the rearview mirror, as he's lost two straight and has gone 1-4-1 over his last six. Kennedy Nzechukwu is a better striker, has great power (seven knockouts in 10 wins), and is WAY bigger, with an eight-inch reach advantage.
OUT COLD. Kennedy Nzechukwu connects with a BOMB to end it 😱

[ 📱 LIVE on Fight Pass, ESPN2, #ESPNPlus ] pic.twitter.com/r8A0HnGknt

— UFC (@ufc) March 7, 2021
Waldo Cortes-Acosta (-220) vs Chase Sherman
I didn't have much faith in Waldo Cortes-Acosta beating too many heavyweights in the UFC, but then he got Jared Vanderaa in his UFC debut, and now he's being served up Chase Sherman. My fears have been assuaged. 'Salsa Boy' may be raw, but he's got power and athleticism and is better than Sherman is at this point in their careers. It seems the bettors agree with me, as WCA's number has been creeping up since it was originally posted at -160.
Andre Fialho (-110) vs Muslim Salikhov
Andre Fialho opened as a +155 dog, but has since moved into the pick 'em range for his welterweight fight against Muslim Salikhov. Salikhov, the so-called 'King of Kung Fu', looked totally washed up and old in his last fight, so I'm definitely fading him here. And Fialho is 10 years his junior and has four inches of reach on him. I just wish it was still for plus money.
Jack Della Maddalena (-470) vs Danny Roberts
I LOVE Jack Della Maddalena as a fighter, and so do the oddsmakers apparently, giving Danny Roberts no chance in this fight. Roberts is a step up in competition for the Aussie prospect, but Della Maddalena is way younger and way better than him. His rise to the upper reaches of the welterweight division shall continue unfettered.
OH MY, OH MY 😳

🇦🇺 Jack Della Maddalena came with a PURPOSE! #UFC270 pic.twitter.com/ghZwK85WF1

— UFC (@ufc) January 23, 2022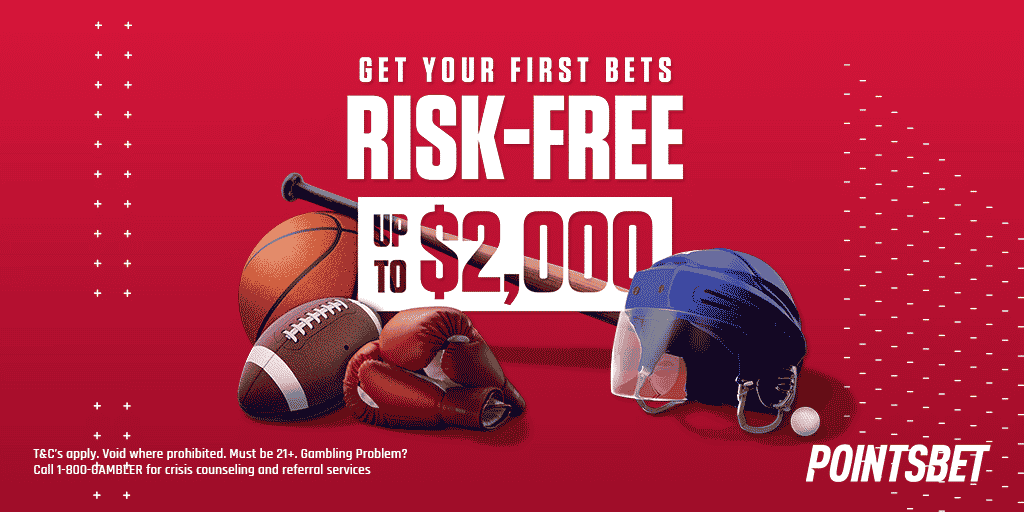 Charles Johnson (-160) vs Zhalgas Zhumagulov
Charles Johnson had a rough introduction to the UFC, taking on uber-prospect Muhammad Mokaev on short notice. While that fight didn't go his way, this one against Zhalgas Zhumagulov should. ZZ is a putrid 1-4 in the UFC, and Johnson is bigger and younger, which you know is always irresistible to me.
Maryna Moroz (-185) vs Jennifer Maia
The 'Iron Lady' Maryna Moroz is on a roll, having won three in a row, the last fight via submission. It was in that fight, against Mariya Agapova, that she showed great grappling and wrestling to go along with her striking game. She should be better than Jennifer Maia wherever this fight takes place – and, hey – she's bigger and younger as well! Make it four straight wins for the Ukrainian.
Miles Johns (-140) vs Vince Morales
Miles Johns is stepping in here on about two weeks' notice, which is usually grounds for fading a fighter. But the fact he's a betting favorite speaks to him being better than Vince Morales. This goes for the striking and the grappling. Morales spends most of his time striking from distance, yet gets outstruck. Johns is the pick.
This angle of the Miles Johns knock out is fantastic.

JUST BLEED#UFC265 pic.twitter.com/fiFQg2EerB

— Alex Behunin (@AlexBehunin) August 7, 2021
Ricky Turcios (-145) vs Kevin Natividad
Kevin Natividad is another fighter who spends most of his time striking from distance despite being outstruck by his UFC opponents. 'Pretty' Ricky Turcios is going to be able to outstrike him, and definitely will be the better grappler here. The former TUF champ gets back in the win column on Saturday night.
Vanessa Demopoulos (+100) vs Maria Oliveira
Maria Oliveira is way bigger and way younger and a better striker than Vanessa Demopoulos, yet I'm not picking her. What's up with that?! Oliveira's strength of schedule is horrendous, while Demopoulos' is very strong, and her grappling is top-notch, an area that Oliveira has a weakness in.
Brady Hiestand (-155) vs Fernie Garcia
Back on the 'bigger and younger' train with Brady Hiestand. He has four inches of reach and seven years of youth on his side over Fernie Garcia. And he'll be the superior grappler in his matchup. Plus, he was fighting with a torn ACL throughout his TUF and UFC career, which has now been repaired.
Tereza Bleda (+150) vs Natalia Silva
The women's flyweight opener on Saturday is a really tough one to call, but I'll go with the dog in newcomer Tereza Bleda. A half-a foot of reach advantage and four years younger than Natalia Silva, she's also fought much tougher competition over her 6-0 pro MMA career. This should be an interesting grappler vs grappler matchup.
Wow Tereza Bleda ground and pound is just viciously intended to end fights whenever she gets on top mount!#GamblingTwitter #UFC281 #UFCVegas65 pic.twitter.com/ApZEYy2XxF

— PropAholic (@MMA_PropAholic) November 12, 2022
Overall Record: 898-616
2022
Record: 292-162
Earnings:  -($741.50)
Return on Investment:  -1.6%
Related Content