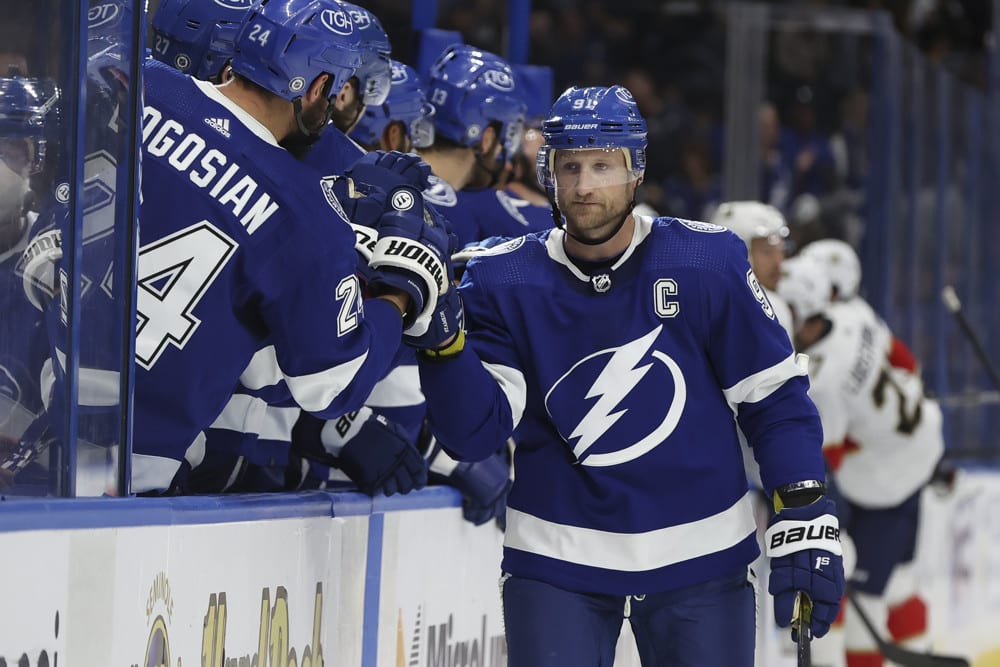 NHL Opening Night is here! After a long offseason, hockey is back. The Tampa Bay Lightning closed out the 2020-21 NHL season by lifting the Stanley Cup and they'll open the 2021-22 season by raising their banner. The Pittsburgh Penguins will look to spoil, but don't have a healthy roster. In the nightcap, the expansion draft darlings face off as the Vegas Golden Knights host the Seattle Kraken for their first game.
Let's get right into the best bets for NHL Opening Night!
NHL Opening Night: Penguins at Lightning
The reigning back-to-back Stanley Cup Champion Tampa Bay Lightning raise their banner to open up the 2021-22 NHL season. Meanwhile, a shorthanded Pittsburgh Penguins team looks to spoil their fun.
Penguins at Lightning Odds
The Lightning are heavy favorites at -250 with the Penguins at +205 as huge underdogs. The total is set at 5.5 goals.
On the puck line, Tampa Bay -1.5 is +110 with the Penguins +1.5 at -130.
Penguins at Lightning Best Bets
Tampa Bay Lightning -1 (-160) / To win in regulation -160
The Lightning have history on their side and are just a much better team on paper. The Penguins are without Sidney Crosby and Evgeni Malkin, leaving Jeff Carter and Evan Rodrigues as their top-six centers. Even Jake Guentzel is out due to COVID protocol.
Tampa Bay, on the other hand, is locked in and ready to roll with Brayden Point, Nikita Kucherov, Steven Stamkos, Victor Hedman, and Andrei Vasilevskiy all healthy.
Take your pick between the -1 or to win in regulation. The -1 saves you with a push if the Lightning win in overtime.
The Lightning have won the past four meetings overall (all three at home in regulation) and last five meetings at home (all in regulation). There have been some one-goal games, though, so I lean to the TB to win in regulation -160 as my best bet.
Tampa Bay Lightning over 3.5 goals (-105)
This shouldn't be too difficult for Tampa Bay. They scored four or more goals in four of the last five meetings at home, including a 4-2 win last season. The Penguins' depth will be tested as will Tristan Jarry. The Lightning are going to strike more than a few times in this one.

---
NHL Opening Night: Kraken at Golden Knights
It's the Expansion Draft Cup! The 2017-expansion Vegas Golden Knights play host for the NHL's newest team's first game. The Seattle Kraken will take the ice in a regular-season game for the first time tonight.
Kraken at Golden Knights Odds
The Golden Knights are even bigger favorites than the Lightning at -270. The Kraken are huge underdogs in their first game at +215. The total is set at 5.5 goals.
On the puck line, Vegas -1.5 is -105 with the Kraken +1.5 at -115.
Kraken at Golden Knights Best Bets
Over 5 Goals -130
This may look like a defensive battle between two teams with good goalies in Philipp Grubauer and Robin Lehner. And that's because it is. However, I see the Golden Knights racking up at least two or three goals with the Kraken excited to get going out of the jump and putting up a few goals themselves.
You can get Over 5.5 goals at +110 instead if you don't want to lay the juice. However, the goal total being odd is set at -210 to even at +170. The oddsmakers see a decent chance of a 3- or 5-goal game, and five is much more likely. I actually don't hate even goals at +170 if you're into that.
Vegas Golden Knights over 4.5 goals (+240)
One of my worries about betting the total is that Seattle won't hold up their end of the bargain. If you're skeptical as well, Vegas to score over 4.5 goals at +240 seems like good value.
The Golden Knights scored five or more goals 20 times in 56 games (35.7%) last season. That includes nine of 28 home games (39.28%) –– +240 is an implied probability of 29.41%. They also scored exactly four goals in 10 games for 30 of 56 games (53.57%) over 3.5 goals (+105 –– implied probability 48.78%) which provides some value as well.
---
Best of luck in your betting this season! Be sure to bookmark our NHL Picks page for picks on every single game every day! Follow me at @RGilbertSOP on Twitter if you have any questions or comments, or just want to talk some hockey! 
---
NHL Division Previews:
Atlantic Division Preview & Betting Guide: Maple Leafs, Lightning, Bruins, Panthers
Atlantic Division Preview & Betting Guide: Canadiens, Red Wings, Senators, Sabres
Central Division Preview & Betting Guide: Avalanche, Wild, Stars, Jets
Central Division Preview & Betting Guide: Blues, Blackhawks, Predators, Coyotes
Pacific Division Preview & Betting Guide: Golden Knights, Oilers, Kraken, Flames
Pacific Division Preview & Betting Guide: Canucks, Kings, Sharks, Ducks
Metropolitan Division Preview & Betting Guide: Capitals, Flyers, Devils, Blue Jackets
Metropolitan Division Preview & Betting Guide: Islanders, Rangers, Penguins, Hurricanes