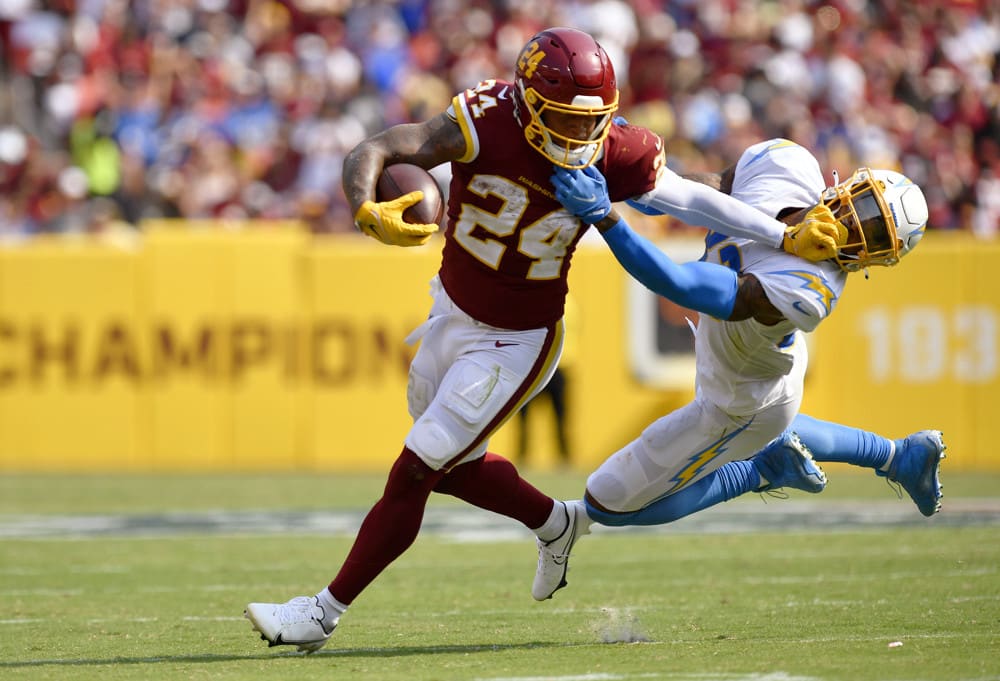 Even though the excitement of opening weekend has died down, more football is already here and with it, the Week 2 NFL Thursday Night Football DraftKings showdown contests are live. Last week, we were treated to an out of the ordinary offensive weekday game between the Bucs and the Cowboys. This week, we might not be so lucky. Combined, the Washington Football Team and the New York Giants scored 29 points in their opening games.
This means fantasy points could be at a premium again in a low-scoring, offensively starved contest. Finding the right players in a game like this is even more important as missing out on the only player to score a touchdown could leave you staring up at the cash line instead of safely inside it. Below are some suggestions to help you put together a winning roster.
As always, the players below are not meant to be considered a "core four." These are simply players to consider as you are building your lineups. Play one, play them all, it is entirely up to you. My job is to help you see the reasoning behind selecting these players and how they can help you win.
EXCLUSIVE SGPN FANTASY CONTENT
SGPN Fantasy Football Projections
SGPN Fantasy Football Rankings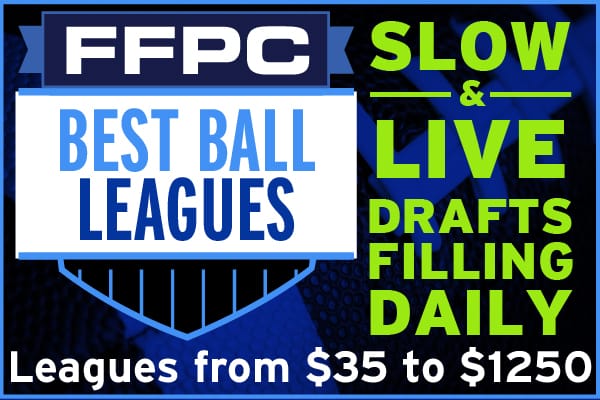 Week 2 NFL Thursday Night Football DraftKings Picks
Antonio Gibson – Captain $14,400; Flex $9,600 (RB) Washington Football Team
Going into the 2021 season, the excitement of Fitzmagic swept the Nation's Capital. Week 1 swept that excitement under the rug. Ryan Fitzpatrick left the game just two quarters into his first game with the Washington Football Team. A hit by the Chargers defensive end Uchenna Nwosu in the second quarter caused what has been determined as a hip subluxation. Perennial backup Taylor Heinicke was called in relief for the rest of the game. This suddenly made Antonio Gibson the lone bright spot in Washington's game against Los Angeles. Gibson had 20 carries for 90 yards while adding 3 catches on 5 targets for 18 yards. What's more, he was involved in 10 of the first 16 plays of the game for the Washington offense.
.@AntonioGibson14: Still fast

📺 » CBS | #LACvsWAS pic.twitter.com/aRpipJ7NRE

— Washington Commanders (@Commanders) September 12, 2021
With the news that Heinicke will be the starter this Thursday, Gibson is firmly in play for your Week 2 Thursday Night Football lineups. Washington's offense was still quite sluggish after Heinicke entered the game, but Gibson's usage was still substantial. There is not much to suggest that this dynamic will change, especially on a short turn around. On top of that, Gibson will be facing a Giants' defense that gave up over 100-yards and a touchdown to Melvin Gordon last week. Given the fact that this game will return us to the low-scoring, slugfest Thursday Night games we are used to, running backs should be a lock on your rosters. Both of these team's ball carriers are among the highest priced players on the slate. Enough said. Have no fear in adding Gibson to your roster and even in the Captain spot in an entry or two.
Sterling Shepard – Captain $12,00; Flex $8,000 (WR) New York Giants
It might be too early to crown Sterling Shepard as the Giants runaway lead wide receiver. Even still, the longest tenured New York pass catcher picked up where he left off in the last game of the 2020 season. He caught 8 of 10 targets for 112 yards and a touchdown in the season finale. Last week, he kicked off the 2021 campaign by snaring 7 of his 9 targets for 113 yards and a touchdown. Shepard was impressive on his 37-yard touchdown catch, shucking a couple of Broncos defenders on his way to the score. Many predicted that newcomer and former Detroit Lion Kenny Golladay would be the man from the jump. Apparently, Shepard had something to say about that.
THERE WE GO SHEP!!!!

📺: @NFLonFOX & Giants App pic.twitter.com/zzTm86kR0m

— New York Giants (@Giants) September 12, 2021
Week 1 notwithstanding, it might be too much to ask for Shepard to turn in a similar performance to his last outing. That said, we may be witnessing a strengthening of the bond between Daniel Jones and Shepard. After back-to-back 100-yard games, he very much could have reinserted himself into at least the team's number two wideout conversation. Last week, Washington surrendered 100 yards to Keenan Allen. Mike Williams was next on the list with 8 catches for 82 yards and a touchdown. It is not out of the realm of possibility that Shepard can have a Williams type game. If he does, it would be a nice addition to your Week 2 NFL Thursday Night Football rosters.
Logan Thomas – Captain $11,100; Flex $7,400 (TE) Washington Football Team
Sometimes, opportunity doesn't always equate to volume. Washing tight end Logan Thomas is a prime example of this. In his first game of the season, Thomas only saw two targets. He did catch all of them though, turning them into only 30 yards. What saved his day was a touchdown catch on the first drive of the second half. It was the only offensive touchdown of the day for the Football Team. He ended the afternoon as the third highest targeted pass catcher on the team. Most of those came with Heinicke in the game. In such a low output game for Washington, any production was good production.
BINGO.
BULLSEYE.
RIGHT ON THE MONEY.

📺 » CBS | #LACvsWAS pic.twitter.com/HBa97A7UyV

— Washington Commanders (@Commanders) September 12, 2021
Last week, the New York Giants allowed Denver tight end Noah Fant to catch 6 passes for 62 yards. There is a strong possibility that we can expect the same kind of night from Thomas this week with the potential for another touchdown. There were not many targets to go around last week for Washington pass catchers and there very well not be many again this week. That said, taking a shot on Thomas in a tournament lineup could pay out well should he indeed find the endzone again. This slate could come down to who can actually put together a six point play. Taking a shot on the only member of the Football Team to get there this season might just be the difference in seeing green or not.
Kadarius Toney – Captain $2,700; Flex $1,800 (WR) New York Giants
One of the biggest ways to take down tournaments is to go where others don't. Many will look at Kadarius Toney's negative 2 yard receiving last week and keep scrolling. Several factors were working against the rookie that could have contributed to his disappointing debut. Whether it was his injury, lack of practice, or just opening day jitters, he was clearly not ready to play last week. On the bright side, he managed to catch both of the passes thrown to him. It's safe to assume that this will not be the norm for New York's first round draft pick going forward.
With that in mind, this is where you can literally take advantage of a great tournament play in your Week 2 NFL Thursday Night Football lineups. You have to think that with a few more practices under his belt, Toney will make more of a contribution this week. He'll have a solid opportunity as well against a Washington defense that allowed Justin Herbert to throw for 337 yards. At his price, you don't need a lot for him to hit value. Even a 5 catch 50 yard game gives you a little more than five times his price tag in return. Not to mention his price unlocks the possibility to roster both quarterbacks with enough left over to build a decent lineup. Load him up for sure in at least one of your Week 2 NFL Thursday Night Football tournament rosters.
More Fantasy Football Content
Ten NFL Week 1 Fantasy Football Reactions
Week 1 NFL Fantasy Overreactions I SGPN Fantasy Football Podcast (Ep.27)
SGPN Fantasy Football Rankings Week 2 Update