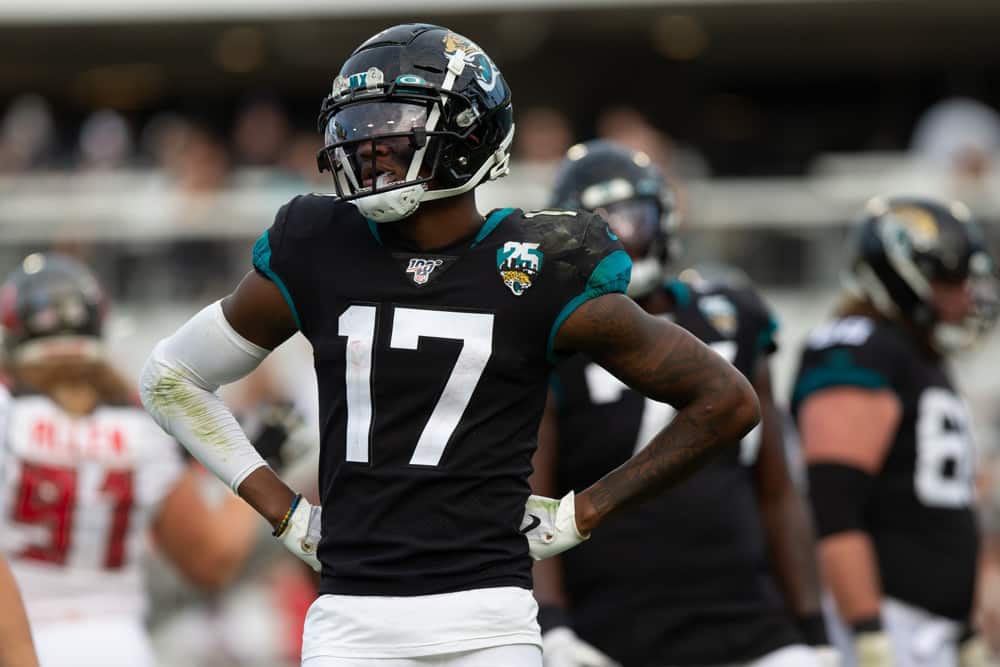 The preseason is in full swing and the NFL season will be here before we know it. With this live game action, we have seen some early risers and fallers in our rankings. Along with that, there are some unfortunate injuries happening. Most recently to rookie Travis Etienne's season came to an end. With these injuries, doors will open for other players to climb our fantasy football rankings. With this being said I am here to discuss a few players and how they have moved in our group rankings. Let's get right into the August 24 Fantasy Football rankings update!
EXCLUSIVE SGPN FANTASY CONTENT
SGPN Fantasy Football Projections
With just the click of a button, you can have access to the fantasy football rankings of eight fantasy football experts: Dan Titus, Nick Dant, Scott Reichel, Ryan Kramer, Sean Green, Rod Villagomez, Jeremy Popielarz, and Adam Pelletier. However, NFL depth charts and news can easily change our perceptions of individual players. That is why these rankings will be updated every single week.
Now, let's discuss some players that have been moving up or down our boards over the past week.
Carson Wentz (QB) Indianapolis Colts
We saw Carson Wentz dip in many rankings when his injury was first announced, he had a 5-12 week recovery timetable. This was what affected his overall ranking for many. Although not playing in any preseason games yet, he has returned to practice which is a great sign. To go with this he has also looked very effective in the drills and 11 on 11s. He is on track to hit that 5-week recovery timeline and be ready to go week one.
This is great news and for many, he has climbed back up fantasy rankings on August 24. He has moved up to the mid to low-end QB2 range in this update. He looks to be a great second or third quarterback in SuperFlex formats.
James Robinson (RB) Jacksonville Jaguars
With the news that Travis Etienne will miss the entire season with a Lisfranc injury, James Robinson, aka "RB1nson" is back on fantasy draft boards. Right now he should slot in around RB25 and may climb higher depending upon how camp goes. Last year Robinson was effective and had 10 total touchdowns in only 14 games. With a full 17 game slate, look for him to achieve even greater heights.
Keep an eye on camp reports, RB1nson might climb as high as RB18 before all is said and done.
Michael Carter (RB) New York Jets
This UNC rookie was set to have a real opportunity to take over the led role in a wide-open running back room. However early indications out of camp are not great. Michael Carter has yet to play with the top unit in any of the two preseason games. He has seen playing time with the second unit though. In this limited action, he has shown good ability. Unfortunately, it seems like Ty Johnson is looking like the lead back come Opening Day. The question is for how long?
With the current state of the backfield, I was forced to move Carter down a few spots. It appears he will not get the lead role we all thought he would early in the season.
Javonte Williams (RB) Denver Broncos
We talked about one of the former UNC tandem so let's talk about the other half.  Javonte Williams has played in both preseason games mostly with the top unit, and he has looked very good. Melvin Gordon has been nursing an injury and has missed a lot of camp and all the preseason action. This opened the door for Williams sooner than expected. With this opportunity, he has done very well. He has shown great vision, bust, and blocking ability.  It looks like he may take over the lead role sooner than expected.
With how Williams has looked in camp and the preseason I was hard-pressed not to move him up a few spots. Even in the tandem that we will most likely see in 2021, Williams will have low-end RB2 upside.
DJ Chark Jr. (WR) Jacksonville Jaguars
The offseason the storyline was to buy DJ Chark, with the incoming rookie Trevor Lawrence we hoped they would mesh. With this, we hoped we could see the Chark of old. However early on this is not the case. Chark is sidelined with a hand injury that required surgery. This has not been good for him, as free agent Marvin Jones has really begun to build chemistry with the rookie quarterback. Chark is expected to return for the start of the season. This is good news, however, the chemistry will not be there early on for Chark and Lawrence like many had hoped.
This is a tough league for rookie quarterbacks and chemistry and trust are vital. For these reasons, I had to drop Chark from the WR2 fantasy rankings and into the high WR3 range for the August 24 update.
Logan Thomas (TE) Washington Football Team
The tight end landscape is always a hard one to predict after the top four. This offseason with the addition of many weapons to the Washington Football Team's roster many of us faded Logan Thomas. However, in the early parts of the preseason and camp Thomas has shown great chemistry with former teammate Ryan Fitzpatrick. Thomas had fallen out of the TE1 discussion for many, however, he is back in that discussion for me. Especially with Curtis Samuel missing most of camp with an injury.
With all this good news I had to move Thomas up a few spots to a low-end TE1. I would not be surprised to see him continue to climb the ranks as we draw closer to the season opener.
MORE FANTASY CONTENT
Fantasy Football Injury Analysis: 5 Players to Avoid Drafting
10 Late Round Fantasy Targets: Fantasy Football Sleepers
Funny Fantasy Football Names 2021
Last Year's Fantasy Football Busts and their 2021 Outlook
Fantasy Football Draft Strategy: How to Draft with RB Zero