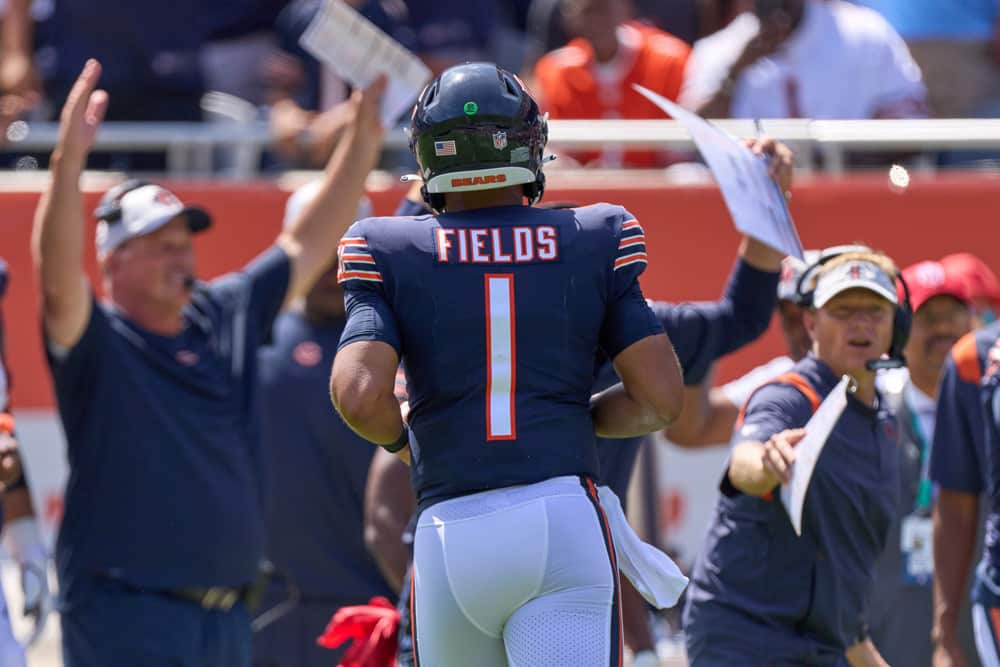 The countdown is on. With the first full week of preseason games in the rear-view mirror, there are only 3+ weeks left until NFL Opening Sunday. While it's important not to overreact to a single exhibition game, our rankings should be at least slightly adjusted to what we saw on the field. Whether it's rookies who had positive outings or veterans battling for starting positions, a lot transpired. Players like Dak Prescott, Trevor Lawrence, Justin Fields, and Damien Harris are moving up this update of the SGPN Fantasy Rankings.
EXCLUSIVE SGPN FANTASY CONTENT
SGPN Fantasy Football Projections
SGPN Fantasy Football Rankings
With just the click of a button, you can have access to the fantasy football rankings of eight fantasy football experts: Dan Titus, Nick Dant, Scott Reichel, Ryan Kramer, Sean Green, Rod Villagomez, Jeremy Popielarz, and Adam Pelletier. However, NFL depth charts and news can easily change our perceptions of individual players. That is why these rankings will be updated every single week.
Now, let's discuss some players that have been moving up or down our boards over the past week.
SGPN Fantasy Football Rankings Update August 17
Dak Prescott (QB) Dallas Cowboys
Before we get into what we saw on the field, Dak Prescott is back in the headlines with another injury issue. For a player returning from a fractured ankle, the last thing Cowboys fans wanted to hear about was another ailment. While it appears that the MRIs came back clean on Prescott's shoulder, it's still lost time for a guy looking to shake off the rust.
Additionally, the term "injury-prone" is now starting to be bandied about. If Dak is healthy, he should put up big numbers in this Cowboys offense, but until I see him in live-action, I'm dropping him a spot or two.
Justin Fields (QB) Chicago Bears
By all accounts, it was an impressive first performance for rookie first-round pick Justin Fields. He started off slow, but Fields ended the day passing for 142 yards on 14 of 20 attempts and a TD while also rushing for 33 yards and another TD. Additionally, and possibly, more importantly, the Bears' offense did absolutely nothing with Andy Dalton or Nick Foles under center.
Justin Fields' dual-threat possibilities have had fantasy managers salivating since he was drafted. It now appears he'll see the field sooner than expected. Be sure to monitor and watch for any update on his preseason progress, but for now, bumping him up a spot or two in your fantasy rankings would be wise.
Trevor Lawrence (QB) Jacksonville Jaguars
While we're talking rookie QBs, let's discuss the #1 overall pick in this year's draft. His stats for the day (6-9 for 71 yards) weren't shabby. However, Trevor Lawrence took a couple of sacks and fumbled once. If you are high on the Lawrence, it's way too early to change your mind, but it should be noted that other rookie QBs looked better.
Also of note, the leading WR for the Jaguars last weekend was Marvin Jones. Jones caught three balls for 52 yards. Jones was a forgotten acquisition in the offseason with most people expecting DJ Chark and Laviska Shenault to be the Jags' best options at wideout. However, the veteran has had previous fantasy relevance in Detroit and early signs are pointing towards value in Jacksonville too.
Zach Wilson (QB) New York Jets
The other rookie QB who will be playing early is the former BYU Cougar, Zach Wilson. Wilson also looked competent in passing the first test of his career. He threw for 63 yards on 6 of 9 attempts. There were no big splash plays but Wilson was efficient. Additionally, he led the Jets on a scoring drive and another drive that advanced into Giants territory before ending on downs.
With most of fantasy nation looking to fade the Jets, we may be overlooking Wilson's value. Other than Lawrence, Wilson is the only rookie QB guaranteed to start on Day One. The Jets will be playing from behind often which could mean soft defenses and garbage time points. This has him climbing the fantasy rankings in this update.
Damien Harris (RB) New England Patriots.
First and foremost, Damien Harris played with the starters in New England's game vs Washington. During that time he ran for 17 yards on four carries. While rookie RB Rhamondre Stevenson may have stolen the show, that was against third-stringers in the 4th quarter. Harris, after receiving praise all throughout mini-camp, ran with a combination of power and speed and is atop the Patriots' depth chart. He appears to be moving into RB2 territory.
MORE FANTASY CONTENT
Funny Fantasy Football Names 2021
Fantasy Football Draft Strategy: How to Draft with RB Zero