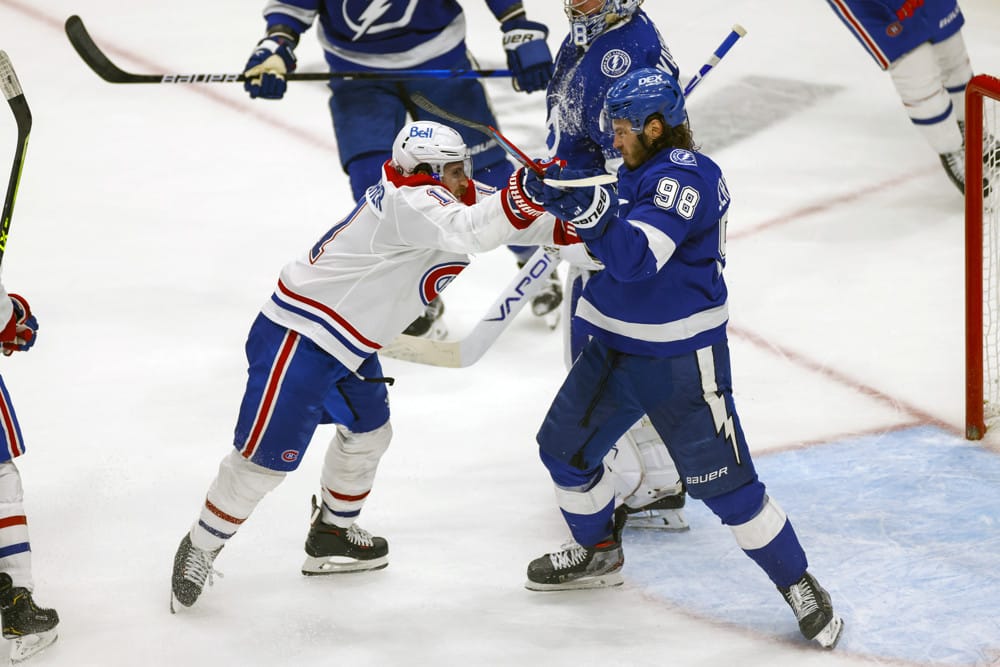 The Stanley Cup Final continues tonight with Game 2 in Tampa Bay.


Make sure to bookmark our daily NHL Picks page to get the best bets for every single game!
The Tampa Bay Lightning beat the Montreal Canadiens 5-1 in Game 1. Tampa Bay outshot the Canadiens 27-19 and controlled play overall. But it's a new game now and a chess match of adjustments in the Stanley Cup Final.
Odds are provided by DraftKings.
Stanley Cup Final, Game 2: Lightning vs. Canadiens
The Lightning are heavy favorites at -210 with the Canadiens at +180 on the money line. The total is set at five goals.
As mentioned above, it was all Lightning in Game 1. They scored five times on Carey Price as they rolled to an easy victory. However, the game was a bit closer than it looked.
At 5-on-5 play (adjusted for score and venue) the Canadiens out-attempted the Lightning 40-39, but they were outshot 24-16. The Expected Goals were about even with Tampa Bay having a slight 1.84-1.55 edge. The Canadiens even had more scoring chances than the Lightning when adjusted for score effects.
The Canadiens may not have deserved to make the playoffs, but they've been proving people wrong and may do so again in Game 2.
Montreal has been in this spot before. They lost Game 1 to the Golden Knights, 4-1, and people thought their run was over. But they bounced back with a 3-2 win in Game 2 and I could definitely see something similar happening here in the Stanley Cup Final.

Stanley Cup Final, Game 2: Lightning vs. Canadiens Best Bets
Parlay: Canadiens +2.5 & Under 6.5 Goals (-143)
Parlay: Canadiens +1.5 & Under 5.5 Goals (+133)
This is a bet that I mentioned on the Stanley Cup Final preview podcast and although it didn't hit in Game 1, I'm going right back to it in Game 2. You can take the +2.5/U6.5 if you're comfortable laying the juice, +1.5/U5.5 if you want plus-odds and/or believe in Montreal, or sprinkle a bit on both.
I'll start out with this stat: The Canadiens have not lost back-to-back games in the NHL playoffs since losing three straight to the Leafs. Even in those three straight, they never lost back-to-back games by more than one goal. Montreal's coaching staff has done a great job of adjusting after losses.
The stat also carries over to the Lightning. They haven't won back-to-back games by more than two goals all playoffs, and they only did that once (6-4, 2-0 in Games 3 and 5 against Carolina). After winning by three or more goals, the Lightning have lost 4-1 (Florida), won 2-1 (at Carolina in Game 1 after beating Florida in Game 6), and lost 3-2 in overtime (New York after winning 8-0 in Game 5).
Going back to last year's playoffs, the Lightning won by 3+ goals four times. In their next games, they won 3-1, won 2-1, lost 2-1 in double overtime, and won 5-4 in overtime.
The +2.5/U6.5 parlay seems like the best bet here and I'll be throwing some on the +1.5/U5.5 as well.
Tampa Bay Lightning to win in regulation (-122)
If you just want to bet on the outcome of the game, this is the bet I recommend. All 13 of the Lightning's wins in the 2021 NHL Playoffs have come in regulation. Five of the Canadiens' six losses have come in regulation.
I like Tampa Bay to win the game, but don't want to lay the -210 juice or risk the puck line (especially given the +1.5/U5.5 parlay).
#DegensOnly Call Your Shot: Tampa Bay to win 2-1 (+1100) or Tampa Bay to win 3-2 (+900)
Montreal should try to slow the game down and clog up the neutral zone even more to avoid a shooting (and scoring) gallery like in Game 1. They were only down 2-1 after two periods of play in Game 1 and allowed a late power-play goal for the fifth marker.
The Canadiens are going to be hungry to keep the game close and try to even it up heading back home for Game 3. And hey, +1100 and +900 are pretty good payouts if they hit.
The odds are always changing. Be sure to check both DraftKings and Pointsbet for the best prices when you place your bet.
---
Follow along with me throughout the Stanley Cup Final on Twitter (@RGilbertSOP) or in the Sports Gambling Podcast Slack chat.