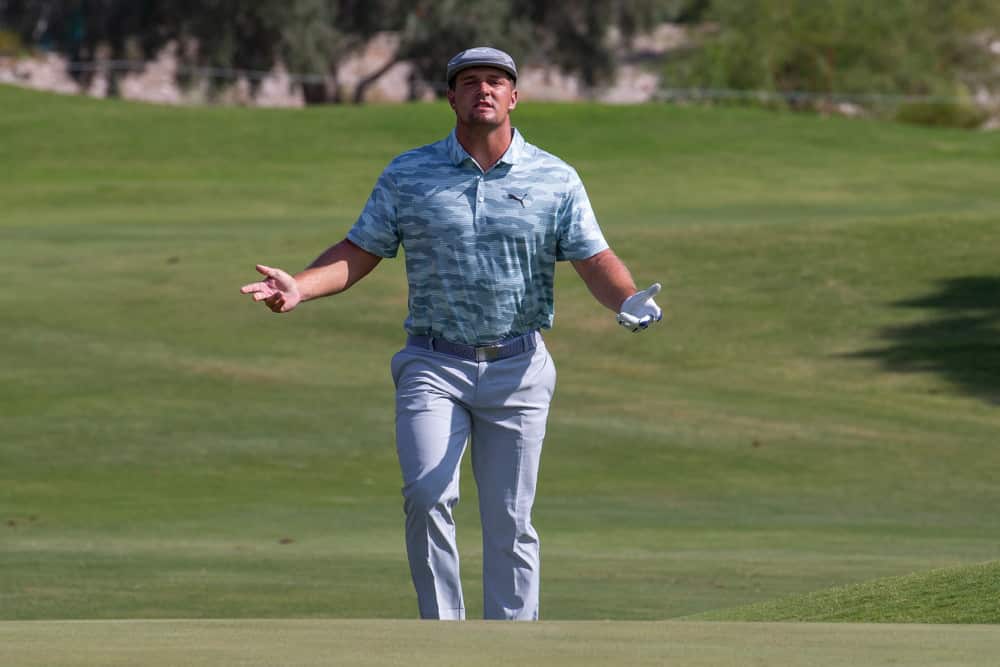 Who will win The Masters? Please check out The Masters Golf Tournament 2020 Preview for the types of golfers you should look to target for your Masters picks. With that in mind, here are my favorite Masters longshots and expert picks to put on the Green Jacket (with Masters odds courtesy of MyBookie.ag).
Masters Odds Favorites
All Roads Go Through Bryson – 8/1
There are several articles written on all the ways Bryson DeChambeau will dismantle Augusta National. Kyle Porter of CBS Sports wrote a piece about how many wedges Bryson will hit into each green. Golf.com put out a seemingly click bait article calling Bryson's recent practice round as "Jaw Dropping". Those who read the article, however, did in fact marvel at the club choices Bryson used into some greens in his round. And just today, ESPN put out a similar piece with commentary from Andy North of how exactly Bryson can neutralize the toughest holes on the golf course.
While there's so many think-pieces about why Bryson will win the 2020 Masters, there aren't a lot of articles about why he won't.
Let's attempt to make the argument, shall we?
Bryson's plan, if executed properly, will win him the Green Jacket. Augusta National is not built to defend against a guy who carries the ball 340 yards off the tee and has a flip wedge into soft, receptive greens. If Bryson has his wedges dialed in, he's going to have a very easy time running away from the field.
So what can go wrong? For starters, Bryson struggled last year with his wedges. Where the bomb and gouge master plan would short circuit is if he couldn't take advantage of his short distances to the green. Either he wouldn't stick it close to the hole, or he'd deposit a shot into a bunker. Whatever it was, Bryson at times would neutralize all the advantages he had over the field with poor wedge play.
This is borne out in the statistics. In 2020, Bryson ranked the following in proximity to the hole from the following distances:
75-100 Yards: 55th (16'2″)
100-125 Yards: 105th (19'8″)
125-150 Yards: 169th (25'4″)
But here's where this anti-Bryson argument is misguided. With all the rain expected this week, Augusta National is going to play much longer than the 7,452 scorecard yardage. While players who hit it far and high will enjoy an advantage this week, Bryson has separated himself from all the other bombers on the PGA Tour. In 2020, Bryson's carry distance on all his drives was 314.1 yards. The next closest competitor in the field this week is Matthew Wolff – who carries it a full 11 yards less in the air.
While the Par 5's are birdie holes for almost all the players, it's the Par 4's where Bryson will have the biggest edge over the field. On most of these holes he'll be hitting it some 20-40 yards closer to the green than everyone else in the field. Even if he has his B+ game with his wedges, he'll more than likely be hitting it much closer to the hole than his competitors will with yardages much longer out.
The only other factor to consider is his inability to use his greens reading book. Bryson takes painstaking measures in studying it before each putt. Many attribute it to why he's such a good putter. But do we really think Bryson is just going to wing it without the greens reading book? He always has a plan! He probably spent most of his practice round last week rolling balls on the green to calculate the stimpmeter and the slope, and he'll memorize it for the tournament. Or he'll consult a greens reading book on Augusta greens and memorize it that way. Bryson is smart enough and has the drive to figure out a technical problem such as that.
All signs point to a second straight major victory for Bryson DeChambeau. Between his strategy and the bomber friendly weather conditions, his coronation as Masters Champion seems inevitable at this point. It's up to him to close the deal, and the only one who knows if that will happen is him.
But take my word on it – it he executes his plan to perfection, no one will beat him. Masters odds don't lie.
So if it's not Bryson, then who has the firepower to beat him? Here are the candidates…
Justin Thomas – 10/1
The stats speak for themselves. Over everyone's last 50 rounds, no player has gained more strokes tee-to-green than Justin Thomas. I don't need to repeat all the weapons in Justin Thomas' arsenal, as you likely already know what they are.
What leads me to believe he can get over the top this week is the lack of fans. Thomas seems like a perfect fit for Augusta National, but has admitted that he gets in his head too much there. Part of the reason is the reverence of Augusta National in the golf world. But another reason is the electricity and the energy of all the patrons who walk its hallowed grounds. Without fans this week, I think that's going to help him stay in the moment.
The weather forecast also is shaping up to be a Justin Thomas week. Thomas has had the most success on soft golf courses with little wind. In these conditions, his ball striking dominance over the field shines through.
As a proven winner, he has the game to go toe to toe with Bryson.
Dustin Johnson – 12/1
Dustin Johnson is one of the few players in the field who can match the firepower of Bryson off the tee. In 2020, Dustin carried the ball 302 yards in the air, one of the longest clips in the field. With wet conditions reducing rollout on the fairway, players who have long carry distance will have shorter irons in hand for their approach. Like Bryson, Dustin enjoys a considerable length advantage over the rest of the field.
Dustin is playing his best golf since the Spring of 2017. That year, Dustin won three straight tournaments and was primed to claim a Green Jacket. Unfortunately, a slip down the stairs the Tuesday of the Masters forced him to withdraw. Dustin now has a second chance to cash in on his stellar form leading up to the Masters. Over his last 50 rounds, Dustin is gaining 1.62 strokes tee-t0-green, second in the field. He's then cashing in on the great ball striking with good putting, gaining just under 0.25 strokes per round with it. It's not an elite clip, but for as efficient a ball striker as he is it's more than good enough to get the job done.
With his ball striking on point, his wedge game solid and his putter cooperating, a long overdue second major victory is in his sights.
Brooks Koepka – 18/1
It's happening again. Brooks is a contender in Masters odds again.
On the eve of a major championship, once again bettors see the crescendo in Brooks Koepka's form. Koepka started off slowly at the Houston Open, but after a driver change on Friday his ball striking dramatically improved. He fired 65-65 over the weekend while gaining a little under 3.5 strokes with his ball striking. With strong putting numbers heading in, his game is rounding into form once again.
More importantly, Brooks has plenty of firepower to handle the longer Augusta National conditions this year. Like Dustin Johnson, Brooks has plenty of carry distance to set himself up to hit shorter approaches into receptive greens. While Koepka struggled at times with his irons during 2020, he was very precise with his wedges and mid irons. Of everyone in the field, no player hit his approach shots closer from 150-175 yards than Koepka did during 2020. That will be a popular approach distance for him this week on the Par 4's.
After just missing out on a Green Jacket last year, Koepka is back to try and claim one of his own this weekend.
Masters Odds Longshots
Tyrrell Hatton – 28/1
To be fully transparent, there are some red flags to Tyrrell Hatton. He's not the longest player off the tee, carrying the ball only 284 yards in the air on average. He'll have more longer approach shots into greens than many of the favorites.
Second, he does not have a good track record at Augusta. In 10 career rounds he's lost almost a full stroke per round to the field. Course history sometimes is overrated for handicapping, but for the Masters it's a critical factor.
Hatton has the ability to overcome these shortcomings. For starters, Hatton is a fantastic iron player, particularly with his long irons. Of the 68 players in the field who qualify, Hatton lead all of them in proximity to the hole from 175-200 yards in 2020. Players who are short off the tee will have to striker their long irons well in order to stay in the hunt. Hatton does just that.
Second, there are countless examples the last decade of players who don't have good course history but wind up winning the Masters. Charl Schwartzel played in one Masters (a T30 finish) before winning it in 2011. Bubba Watson's best finish at the Masters was a T20 before he took his first Green Jacket in 2012. Danny Willett played his first Masters in 2015 and finished T38 – the next year Jordan Spieth handed him the jacket. No one thought Sergio Garcia would win his first major at Augusta given his history – he checked that box off there in 2017. And Patrick Reed missed the cut in 2 of 4 previous Masters with a high finish of T22, only to win in 2018.
The bottom line is while course knowledge is important at Augusta, it could have more to do with being familiar with the course than having success there. And once a player puts it all together with his game, he can use it to post a much better finish.
Tyrrell Hatton is a much better player now. The performances and statistics he has put up over the last year are light years better than anything he had done both on the PGA Tour and European Tour. And Hatton is the total package. He's an excellent ball striker tee-to-green and can roll the rock very well on the greens. Over his last 50 rounds, Hatton has gained a stroke per round with his ball striking and half a stroke per round on and around the greens.
A total package is needed to win the Green Jacket. Tyrrell Hatton has the ability to do just that.
Jason Day – 50/1
The question for bettors this week is what version of Jason Day will they get?
There's the good version of Jason Day that posted ball striking numbers similar to his dominance of 2015 and 2016. Across the Workday Charity Open, the Memorial, the WGC-FedEx, the PGA Championship, the CJ Cup and the Houston Open day gained 2.01 strokes per round tee-to-green.
On the flip side of the coin, Jason Day has a massive floor. Also during that stretch, across the Northern Trust, the BMW Championship, the U.S. Open and the Shriners he lost 1.27 strokes to the field tee-to-green. He also had a devastating withdrawal from the CJ Cup while in contention, screwing over all his backers that week.
There is either elite Jason Day, or atrocious Jason Day. There has been no in between.
At 50/1, however, Jason Day has demonstrated enough upside with the ball striking to warrant a 50/1 flyer bet. Bettors know that he can roll the rock on the greens and has a great track record at Augusta National. If good Jason Day shows up, he could come out of nowhere to win this tournament.
Masters Odds Related Posts
Masters Fantasy Golf Picks, DraftKings Targets