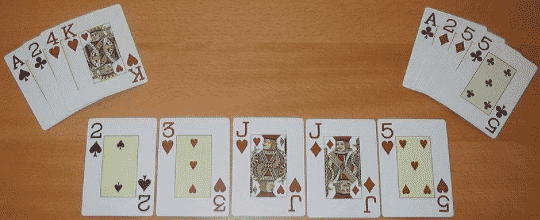 There has long been an argument that, although there is an element of luck in poker, it is fundamentally a skill game. We're all familiar with Texas Hold'em poker, which is the game we see on our TV screens and have probably tried out with our friends or online. Most would agree that skill is essential.
However, there is still some "gambling" required in the game, and experienced players will admit this is usually when the pot odds say it's the right thing to do. Essentially, it means the amount you must bet, and the potential reward must be justified against the probability of you actually winning the hand.
With all that being said, there is another variant of poker you may not have heard about, and therefore never tried, that has considerably more "gamble" involved – and it's called Omaha.
The reason you may not have heard about it is that it is so rarely shown on television.
Four Cards, Twice the Fun
The fundamental difference with Omaha is that each player receives four hole cards (cards dealt face-down to them), whereas in Texas Hold'em, you get two.
Poker hand rankings remain the same, but the fact that each player has four cards increases the number of poker hands he can make.
That means in most games more players are willing to enter every pot because they already have a made hand, or they have the chance to improve to a better hand.
And when more people enter a pot, the number of chips going into the middle tends to mount up quickly.
How does this equate to more gambling? We're glad you asked. It's because in Omaha, especially in games played by less experienced players, more people will play draws, tempted in even if the odds are not really justified.
It's certainly true that many inexperienced players overvalue their Omaha starting hands. Because you get to use two cards from a choice of four hole cards, straights, flushes and even full houses are far more common.
So, a player remaining in a pot because he hopes to hit a straight on the river might already be behind to someone with a better straight, a flush, or some other monster hand.
Another common rookie mistake is thinking that a decent pair within your hole cards is an excellent starting hand. A pair of aces in Omaha may be good right at the start of a hand, but as soon as the flop arrives, you might already be behind unless you have improved.
A good example of holding Omaha aces is if the flop comes A-K-K, meaning you now have a full house of aces over kings. Hopefully, your opponent does not have two kings, making him quads! A bad example is if the flop comes 7-8-9, meaning anyone with a 5-6, 6-10, or 10-J in their hand already has a made straight.
In complete contrast, anyone holding two aces pre-flop in Texas Hold'em has the best two cards you could wish for.
With more people willing to enter the pot, and rookie mistakes for you to exploit, you might think learning a little more about Omaha poker is a good idea. It's sensible to try out the game on Replay Poker first because you don't have to risk any real cash.
Playing for free money is the perfect way to get started. You can pick up the rules to Omaha fast, see how other players perform, then start testing out various strategies to see what works best for you. Once you have the basics nailed down and have grown some confidence about your ability, then perhaps it will be time to put your money where your mouth is and try to win a few bucks.
The pros love Omaha primarily because they can play in more pots -and those pots can get substantial as a result. Back in the day at Full Tilt Poker, the online poker room, the high stakes pot-limit Omaha cash games became legendary.
It wasn't uncommon to have more than a million dollars of chips in play with famous players like Phil Ivey, Tom Dwan, and Patrik Antonius.
Maybe if you get your practice in and use the gambling urge sensibly, you, too, could soon be mixing it with the big names?